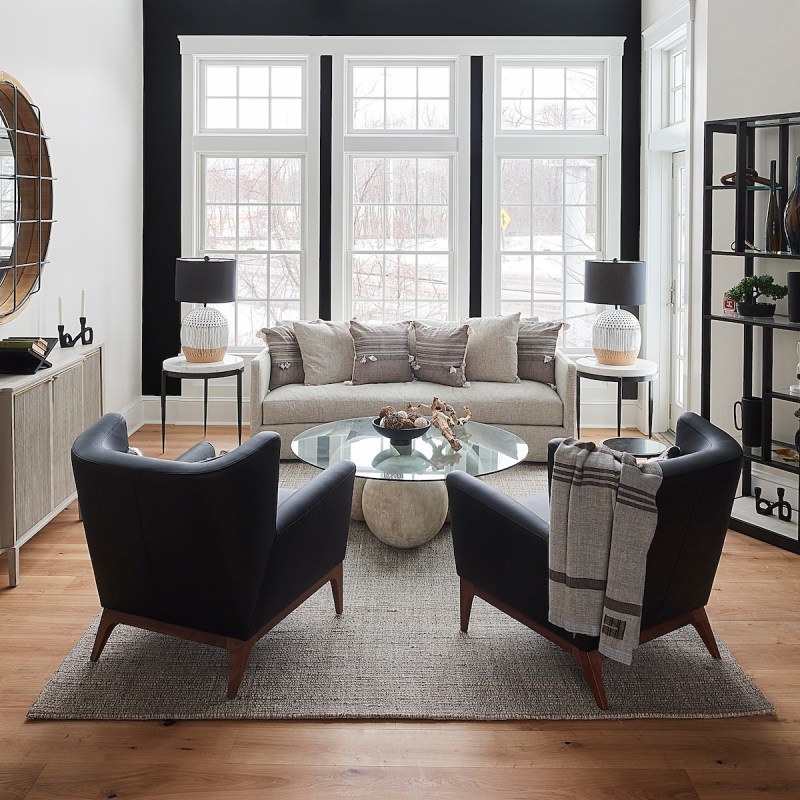 Beautiful Brunswick is hemmed in by many waterway bays, coves, and inlets along its quintessential ragged Maine coastline. Maquoit Bay, Androscoggin River, Thomas Bay, Buttermilk Cover, and too many others to mention create charming coastal shoreline vistas that flow through and around Brunswick.
There are lots of great stay options when planning a vacation getaway to this historic college town. From luxurious boutique hotels to on-the-water campgrounds, Brunswick has an option that is perfect for your individual getaway style.
Some information in this piece was obtained during a sponsored press trip, but all recommendations are my own.
1. The Federal
Just steps away from the bustling downtown area is The Federal — an elegant, boutique hotel. The easy casual vibe in the chic lobby sets the tone for your entire stay. Sunlight streaming through the soaring windows illuminates the modern décor while cozy chairs welcome you to come and sit for a while and contemplate life.
The spacious suites at The Federal allow you to spread out and revel in the extra space. With a separate living space, guests can enjoy a private area to relax in style. Exemplary service, elegant furnishings, and a comfortable bed are just a few of the excellent amenities at The Federal.
Reserve a table at 555 North, located just off the hotel lobby. An upscale dining experience delivered in a comfortable setting, 555 North is a must-visit for every foodie visiting Brunswick. The chef's tasting menu is always a wonderful choice when dining at a new-to-you venue. It is the best way to enjoy a selection of the very best dishes delivered from the kitchen.
2. OneSixtyFive
Across from The Mall is the beautiful OneSixtyFive. With an inviting wrap-around front porch, you can happily sip your coffee and people watch all morning. It is a coveted spot along the pretty green space. For Brunswick visitors who are looking for an authentically charming Maine experience, OneSixtyFive needs to be on your radar.
There are three stay options; one will be just perfect for your style. The Main House — an 1848 renovated beauty with spacious rooms and modern amenities — is steeped in elegant Maine character. The newly built Carriage House is bright and Maine-modern. Finally, The Cottage, a stand-alone building, offers a lofted sleeping space and a kitchenette imparting a homey feel.
Every vacation needs a delicious Sunday Brunch. OneSixtyFive offers a selection of delicious brunch items to fuel your Sunday drive explorations.
3. The Brunswick Hotel
The Brunswick Hotel offers guests an uncluttered, modern décor right in the center of Brunswick. Walking distance to all the shops and restaurants downtown, at The Brunswick Hotel, you can park your car and explore the area on foot — the best way to absorb the charm of this pretty little city.
Noble Kitchen + Bar is located in The Brunswick Hotel. Offering thoughtfully prepared local cuisine, the restaurant is a popular choice with area residents and visitors. When the seasonal patio is open, enjoy a sumptuous al fresco meal. During the colder months, the cozy restaurant and bar wrap you in warm tones and satisfying cuisine.
4. Thomas Point Beach Campground
If camping is the key to your destination nirvana, then Thomas Point Beach Campground has a wooded site waiting for your tent or trailer. Running alongside Thomas Bay, campers have access to the tidal beach, wide-open fields, a playground, and all the other amenities you need to set up in wilderness style. Roasting s'mores and sleeping under the stars never looked so good.
Day trippers can also visit Thomas Point Beach for a nominal entry fee. During the clamming season, you can watch clam diggers out on the low-tide sand scooping up buckets of bivalves. Steamers over the campfire for dinner are delicious.
5. Private Home Rental
Private rental properties, like this stunning ocean view home in Harpswell on nearby Orrs Island, is perfect for a small group of friends or a family getaway. Beachy colors and seaside décor blend with views of the water and make this three-bed, two-bath Vrbo property feel like your own private summer paradise.
The highly rated, premier-host rental is close to all the fabulous things to do in Brunswick, Bath, and Freeport, yet far enough away to feel like it is your personal private oasis. It is a lovely spot to sink into a relaxing, hustle-free getaway stay.
6. Kennebec Inn
In nearby Bath, the Kennebec Inn is exactly what you would expect from a classic coastal Maine bed and breakfast. Charming décor showcasing beautiful four-poster beds, crisp white linens, and the aroma of a sumptuous breakfast each morning make the Kennebec Inn a popular vacation destination. The in-ground pool is an unexpected amenity — grab a summer read, take a dip, and leisurely nap away the afternoon.
B&B-style travelers will enjoy staying at the beautiful Kennebec Inn. The inn is a short walk to downtown, close to nearby Brunswick and Freeport, and a perfect jumping-off point to explore the coast of Maine.
7. Log Cabin Inn
Just south of Brunswick is Bailey Island. Here you will find the downeast Maine-style Log Cabin Inn. Cozy quilt-covered beds, beautiful water views, and a country cottage charm that imparts a relaxation vacation vibe are the hallmarks of the Log Cabin Inn.
Visitors who are looking to get away and be away should head to Bailey Island. It is the perfect spot to anchor your quiet, peaceful vacation destination. Be sure to drive down the tip of the island and visit the Lands End Gift Shop for all your Maine souvenir needs.
Other Brunswick Hotels
Downtown Brunswick, home to Bowdoin College, is filled with comfortable chain hotels where you will find a level of service you expect from your favorite tried and true accommodations. Many are budget-friendly and a stay at one of these hotels will allow you to spend more on all the delicious local restaurant fare.
Local chain hotels include the Fairfield Inn & Suites Brunswick Freeport, the Best Western Plus Brunswick Bath, and the Comfort Inn Brunswick.
Visit Brunswick Maine
With so many different stay options in Brunswick, you will find something special to perfectly suit your vacation getaway style. There are so many fun things to do in Brunswick and neighboring coastal Maine towns, it is a wonderful spot to anchor your vacation getaway. Pick your accommodation style and head out to explore this beautiful piece of Maine's rugged coastal landscape.