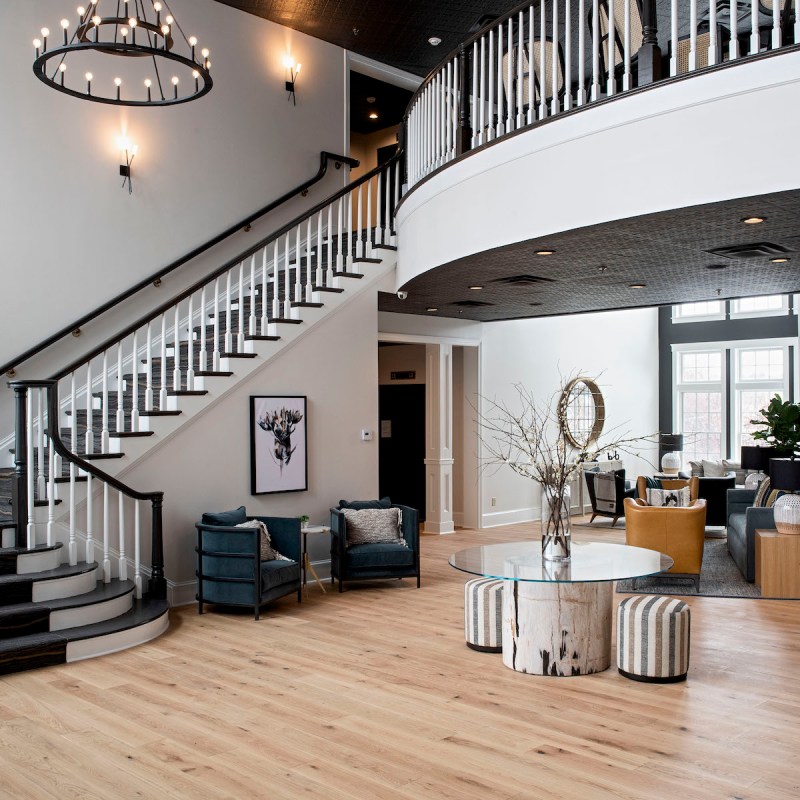 History and charm abound at The Federal Hotel in Brunswick, Maine, a picture-perfect New England getaway that caps off any visit to the Pine Tree State. From out-of-this-world dining at the onsite restaurant 555 North to picturesque views of the Androscoggin River, this hotel has everything you need for a relaxing and unforgettable stay.
My visit to The Federal Hotel was a hosted press trip. All opinions are my own.
Amenities
Complimentary Morning Coffee
The Market (local flavors, drinks, and snacks)
Complimentary High-Speed Wi-Fi
Fitness Room
Yoga/Stretching Room
In-Room Device Streaming
Plush Robes
Conference Rooms
Room Types
With just over 30 guest rooms in total, visitors to The Federal Hotel will have a choice between two sections of the hotel: the Federal House and the East Wing — what the hotel deems as the "historic wing."
Federal House
Housing the two premier suite styles in all of The Federal Hotel, there are four different suites available in the Federal House section of the property. Indulge in pure luxury by booking the 450-square-foot Captain Stone Suite or the 600-square-foot Narcissa Stone Suite. Remembering two of the historic property's most important tenants, both the Captain Stone and Narcissa Stone Suites feature a king bed, sleep four people, and have living room areas.
East Wing
Tapping more into the history of The Federal, the East Wing features king, queen, double queen, and ADA-accessible king suites, as well as the East Suite — the only East Wing suite with a living room area. Each with its own unique and historic touches throughout — like the decorative fireplace in the East King where I stayed — this wing of the hotel is gleaming with modernity sprinkled on top of years of history.
Hotel Class
The Federal is a boutique hotel with a limited number of guest rooms.
"Cosmopolitan ambiance and modern comforts merge with the unique historic character of this historic 1810 Brunswick landmark," states The Federal's website.
How To Get To The Federal
Located on Water Street right along Maine's Androscoggin River, The Federal Hotel is best reached using U.S. Route 1.
Parking
There is parking located on site with easy access to the back entrance of the hotel. Parking is free for the entirety of your stay.
History Of The Federal
The Federal Hotel was built in 1810 and was formerly known as both The Daniel and Captain Daniel Stone Inn. Born less than 10 years before the hotel was built, Narcissa Stone, daughter of Daniel, became her family's matriarch when her 9 brothers and sisters were orphaned by the deaths of Daniel and his wife Nancy Hinkley. Known as "one of the most influential women ever to live in Brunswick," Narcissa took over her father's businesses and continued to grow them until her death in 1877. After years serving as one of Brunswick's most historic properties, it was reimagined in March 2022 as The Federal Hotel.
555 North
Known as "a Portland favorite reimagined," 555 North is the shining star of The Federal Hotel. Led by husband-and-wife duo Steve and Michelle Corry, the restaurant was originally established in Portland and was simply known as 555. But just before the pandemic, the Corrys decided to close up shop in Portland, later moving north and opening up 555 North at The Federal Hotel.
What To Order
To start you off, you'll have a choice between small plates or shareables. For our appetizers, we had the seared tuna and the Bangs Island mussels. Taking advantage of the food that Maine is best known for, we couldn't avoid the seafood at 555 North — and it did not disappoint.
For our main course, we had the Five Steak House filet and it was one of the best steaks I've eaten in my life. It was cooked to perfection. And personally, it set the standard for what a "melt-in-your-mouth" steak should taste like.
When it comes to drinks at 555 North, there are six signature cocktails and an extensive wine and beer list. I started with the Cicada Song — Lunazul blanco tequila, watermelon, hibiscus, and lime — then moved to the Forge Cellars riesling from Seneca Lake in Upstate New York.
Although we were much too filled to enjoy dessert, you should go for the crème bruleé to top off this splurge-worthy restaurant experience.
Types Of Travelers At The Federal
With its limited number of guest rooms, The Federal is best for accommodating smaller groups, whether it be a girls' weekend or a couple's getaway. With its largest suites sleeping just four people, it is a more intimate hotel focused on giving guests as much space as possible.
What Is Near The Federal?
If it's world-renowned seafood you're looking for in Maine, Red's Eats in Wiscasset is a must-visit while staying at The Federal — just under 30 minutes from the hotel. Known for its colossal lobster rolls and the lines that form outside of this award-winning seafood shack, you should be very prepared to wait in line for 1–2 hours here. But the result is nothing short of amazing. While the lobster rolls are a can't-miss, there are menu items at Red's that will satisfy any seafood or meat lover. If you do Red's right, you shouldn't be hungry for quite some time afterward.
One Thing I Would Change About The Federal
Being that The Federal is a boutique hotel, it does not necessarily go above and beyond when it comes to amenities. No refrigerators in the suites mean there is no place to store leftovers or drinks in your room, which was the one downside that stood out to me.
Would I Stay Here Again?
The Federal makes for an almost-perfect home base for your Maine adventures. Located in a more-secluded area of New England, the property serves as a true escape from the real world, exuding charm in all corners of this historic hotel. For future visits to the Brunswick area, The Federal Hotel will certainly be my first option 10 times out of 10.
Contact
10 Water Street, Brunswick, Maine 04011
(207) 503-3893