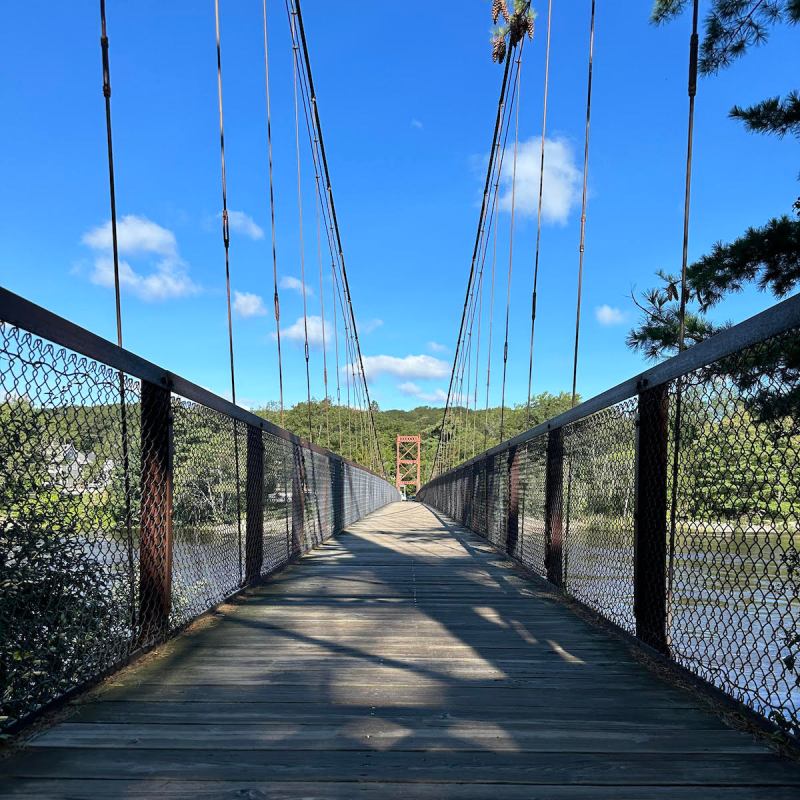 Historic, charming, and walkable, Brunswick, Maine, is a fun destination to spend a few days exploring the coastal enclave of Northern Casco Bay. The downtown area is filled with cute shops, many eateries, and beautiful historic homes. A scenic drive through Brunswick and the surrounding area offers rocky coastal views and fun spots to enjoy unique only-in-Maine adventures.
A historic college town, Brunswick has a young hip vibe gracefully meshed with old-time New England charm.
Some information in this piece was obtained during a sponsored press trip, but all recommendations are my own.
1. Androscoggin Swinging Bridge
Not too long to cross, but definitely bouncy, the Androscoggin Swinging Bridge is a fun stop on a sunny day. Spanning the wide Androscoggin River, the pedestrian suspension bridge was built in 1892 for Brunswick mill workers living in Topsham to gain easy access to the mill.
Next to the bridge are undulating walking trails along the river that offer pretty views of the water and the bridge through the tree-lined banks. These trails provide a short walk and a wonderful place to stretch your legs.
Pro Tip: Small parking lots on each end of the bridge are convenient for a short visit.
2. Historic Downtown
Downtown Brunswick is filled with charming shops, wonderful galleries, beautiful old buildings, and a wide assortment of restaurants. While strolling through town, you may find yourself stopping often to window shop, taking a quaint downtown New England pic, or enjoying a bite to eat. Every trip up and down the main drag, you will discover something you missed last time around.
3. Bowdoin College
In the heart of Brunswick is the beautiful Bowdoin College campus. Tree-lined pathways are filled with busy students heading to class. Verdant lawns are resting spots for pods of students studying or simply enjoying the weather. The campus is dotted with picture-perfect historic brownstones, exactly what you would expect from a small New England college.
Founded in 1794, Bowdoin College is home to the Bowdoin College Museum of Art — a space for learning, but also thoughtful, contemporary exhibits.
Another on-campus museum is the Peary-MacMillan Arctic Museum. It is home to Arctic treasures and dedicated to the namesake Bowdoin College alumni. Collections showcasing Arctic exploration, cultural history, and regional art offer a peek into the mysterious frozen region.
The Harriet Beecher Stowe House is currently faculty offices, however, Beecher Stowe lived there from 1850–1852 when she wrote Uncle Tom's Cabin. Known to have harbored fugitive slave John Andrew Jackson during her residence, the home is recognized as a National Historic Landmark and a National Underground Railroad Network to Freedom site.
Pro Tip: There is one public space in the building to enjoy: Harriet's Writing Room.
4. Food Trucks
On the Main Street Mall & Gazebo area along the Federal Street Historic District, you will find pop-up food trucks serving up hungry visitors, locals, and college students. From tacos to seafood, the planned pull-in truck spots attract trucks and hungry foodies from near and far.
The trucks sit on a long greenspace (Main Street Mall) which is the perfect venue for a picnic lunch, afternoon nosh, or early dinner.
5. Bailey Island
A drive along the shoreline south to Bailey Island, Sebascodegan (Great Island), and Orrs Island is a lovely way to enjoy rugged coastal views. Filled with charming little towns and villages, it is an area barely impacted by the passage of time. The drive is sprinkled with galleries and unique small shops along the way. At the tip of Bailey Island, where the road ends and the water begins, is Land's End Gift Shop filled with unique Maine gifts and souvenirs.
6. Thomas Point Beach
On a beautiful sunny day, Thomas Point Beach & Campground is a fun family stop. Visitors can enjoy the tidal beach, picnic lunch area, playground, and fields for a day, or set up camp for a longer visit.
Seasonally, clammers can be spotted at low tide digging up these tasty bivalves ready for the steamer and butter dipping.
Pro Tip: There is a nominal entry fee for day guests and campsites.
7. Flight Deck Brewing
Craft beer aficionados will enjoy a brew at Flight Deck Brewing. The brewery is in the re-developed Brunswick Naval Air Station's Small Arms Firing Range — a cool and unusual venue. Sporting a large indoor area that opens to fun outdoor seating with picnic tables and congregation areas, the brewery is buzzing with youthful energy.
The beer is fabulous and their wood-fired pizzas come in a selection of hip flavors. Order a slice of hot honey pepperoni for the win.
8. Kate Furbish Preserve
A hike through the Kate Furbish Preserve in Brunswick Landing (the former Brunswick Naval Air Station) is a wonderful way to enjoy Maine's woodland trails. With a selection of easy-to-moderate trails, there is a hike for every outdoor enthusiast. There are close to 12 miles of trails passing through timber forests, marshes, and waterways, and the scenery is quintessentially Maine.
Pro Tip: Download a map before venturing out, some trails are not clearly marked.
9. Hamilton Audubon Sanctuary
The Hamilton Audubon Sanctuary located in West Bath offers an easy 2.5-mile hike. The sanctuary is the perfect place to look for coastal shorebirds and waterfowl. It's just the spot to stretch your legs, breathe in fresh air, and find your getaway zen.
10. Maine Maritime Museum
You will want to venture over to nearby Bath, the location of the enormous Bath Iron Works. It is also home to the Maine Maritime Museum. Perched along the Kennebec River, the views of the river are lovely. Inside the museum, you can wander through exhibits showcasing the history of Maine ship building. Outside, there are a few of the original buildings from Percy & Small, offering a fascinating peek into the ship-building history. The yard is dominated by a full-size sculpture of the schooner Wyoming. Stand under the sculpture's "ribs" and absorb the massive size of this wooden sailing ship.
Pro Tip: The Maine Maritime Museum offers seasonal narrated boat tours, from 30-minute mini-tours to 3-hour nature and lighthouse tours.
11. L.L. Bean Flagship Store
A short drive from Brunswick is the iconic L.L. Bean Flagship Store. More than simply flannel shirts and the classic Bean Boot, there are five distinct stores on the Freeport campus. You can shop at the main store where everything you never knew you needed is on display. Other stand-alone shops include the Bike, Boat, and Ski store; the Hunt and Fish store; the Home store; and the Outlet store.
Pro Tip: Plan plenty of time to browse. There is a plethora of shopping opportunities surrounding the L.L. Bean campus.
Where To Stay
Just around the corner from the hustle and bustle of downtown is The Federal. Elegant and peaceful, it is a wonderful spot for a quiet Brunswick stay. Traditional yet contemporary, The Federal exudes a casual luxury that you would only expect from a beautiful boutique hotel.
Pro Tip: Book a reservation at the hotel's 555 North restaurant. The chefs' creations are a combination of familiar classic flavors served up with a modern elegance.
A Brunswick Getaway
Part of the fun of visiting Brunswick is getting there. A coastal Maine road trip is always a great idea — especially if you love hunting for the tastiest lobster roll.
The Amtrak Downeaster train runs from Boston to Brunswick and is a fun way to travel from point to point. The train has several stops including Exeter, New Hampshire; Old Orchard Beach, Maine; Portland, Maine; and Freeport, Maine.