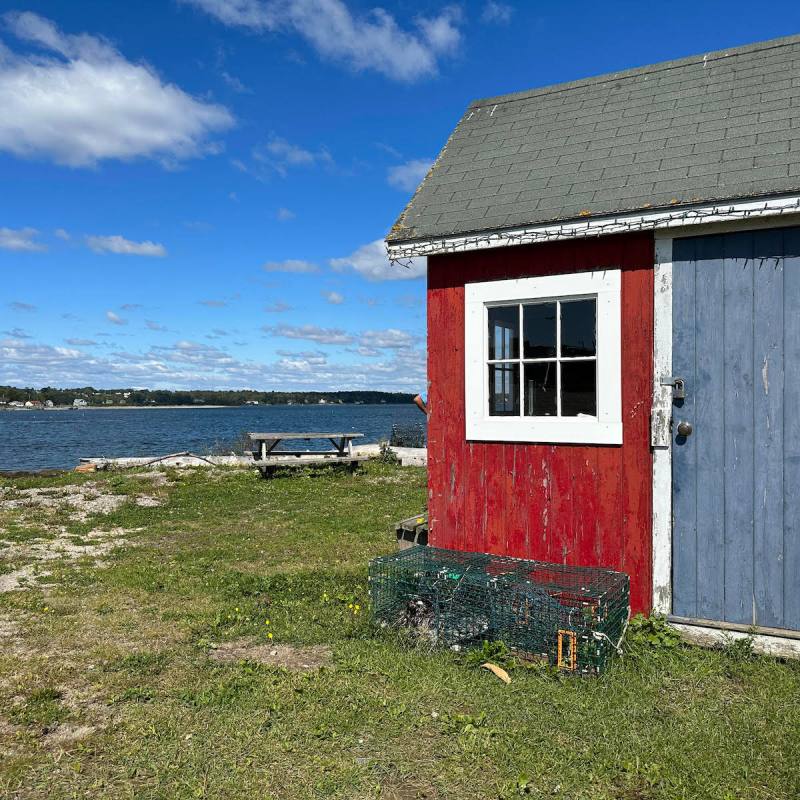 Small towns with a thriving collegiate student body are synonymous with great food. The variety of restaurants, bakeries, pubs, and food trucks required to support hungry students, academic staff, and visiting families easily transforms quiet college towns into foodie paradises. Bowdoin College, in the heart of Brunswick, Maine, has done just that.
Visitors will find everything from award-winning breweries, gluten-free menus, authentic cultural cuisine, and fine-dining restaurants clustered around the downtown college campus. Brunswick is a charming New England town and a food lover's vacation destination.
Some information in this piece was obtained during a sponsored press trip, but all recommendations are my own.
1. 555 North
Steeped in casual elegance, 555 North offers diners expertly crafted dishes showcasing local ingredients. Located in The Federal, 555 North exemplifies the trend of luxury hotels offering upscale dining — and not just for its guests. It also enjoys a thriving local following. Ask for a table on the long porch and you will be treated to views of the front garden as you sip and dine.
With a seasonally inspired menu, you will find delicious flavors like the Bangs Island mussels or burrata toast for starters. Seasonal pasta entrées share the menu with classic filet-, fish-, and fowl-inspired fine-dining offerings. Leave room for dessert; the crème bruleé with guava custard is divine.
Pro Tip: 555 North is a popular dining destination; reservations are recommended.
2. Noble Kitchen + Bar
The dark ceiling beams and wood trim illuminated with cozy lighting at Noble Kitchen + Bar transports you to memories of late family dinners where the courses keep coming deep into the night. It is a wonderful spot for gathering with friends and family or a quiet dinner for two. Located in the Brunswick Hotel, Noble Kitchen + Bar is a popular fine-dining restaurant in Brunswick.
Daily specials, like the burrata with toasted sourdough, highlight seasonal ingredients when they are at their peak. Menu staples like the leek wrapped cod loin and duck confit will tantalize your taste buds into a happy dance.
Pro Tip: The kitchen's full dinner service is available until 1 hour before closing, however, a limited bar menu is available until last call.
3. Flight Deck Brewing
Repurposing and reimagining is part of the Maine mindset — waste not want not. At Flight Deck Brewing, they took this mantra to a higher calling. The brewery is located at the former Brunswick Naval Air Station, now Brunswick Landing, in the former Small Arms Firing Range. Built as a utilitarian structure, it now houses Flight Deck Brewing's stainless steel tanks and an airy tap room. The tap room opens to an expansive patio with picnic tables, small group seating, and the Flight Deck Pizzeria.
Grab a pour, order a pizza pie, and kick back to enjoy the day. Specialty pizzas like Flying Dirty, a pepperoni topped pie with a hot honey drizzle, or the Crispy Contrail piled with bacon, ranch, jalapeno, and fried onions pair perfectly with their selection of richly crafted draft beers. The brews have equally unique and appropriate monicors like P-3, Pre-flight Checz List, and Landing Lights.
Pro Tip: Visit Flight Deck Brewing's Beer Finder where you can sip their brews at restaurants and bars in Maine.
4. Wildflours Bakery
Wildflours Bakery is a gluten free establishment that serves up delectable baked goods so tasty, you won't know they are gluten free goodies. The variety of muffins, cakes, and pies reflects Maine's fresh seasonal produce. Inspirational flavor combinations like the cranberry coconut muffin or the iconic Maine blueberry muffin are a tasty treat and a joy to devour.
Pro Tip: Wildflours Bakery is a few blocks from Maine Street. There is no seating at the bakery; it is strictly grab and go.
5. Wild Oats Bakery
When you enter Wild Oats Bakery, the array of delicious choices can be overwhelming; take a moment to breathe and decide what is your heart's desire.
First, you come upon a long counter of fresh bakery goodies like muffins, scones, cookies, and more. But explore further and you will find so many options. Freshly baked bread, organized on a day of the week bake schedule, includes all the classics and more. Anadama, abenaki, potato, and irish soda bread are just a few of the yeasty options. Pies, cakes, and tarts fill the shelves. Made-to-order sandwiches and paninis tempt you with high-end ingredients while housemade breads are the epitome of a sandwich as a meal.
Pro Tip: There is a large self-service dining hall where you can enjoy your sumptuous repast.
6. Gelato Fiasco
At Gelato Fiasco, each spoonful of all-natural creamy goodness melts on your tongue as your eyes roll back in sheer joy of its deliciousness. Iconic flavors sit next to unexpected delights such as candied ginger, Maine wild blueberry crisp, torched marshmallow s'more, and sweet resurgam to name just a few.
The over three dozen gelato and sorbetto options will require multiple visits to sample all your new favorites. It may be a challenge to hone your favorites to just one or two.
7. Cook's Lobster & Ale House
A short scenic drive from downtown Brunswick takes you to Bailey Island where you will find Cook's Lobster & Ale House. Maine lobster is the one dish you must try when visiting this coastal oasis. With porch dining views of Casco Bay, Cook's Lobster & Ale House serves up lobster in a variety of preparations.
You can indulge in a classic lobster roll dripping in warm butter, or have it cold and tossed with mayo. Perhaps you would prefer tackling a whole steamed lobster, a lobster BLT, lobster mac and cheese, lobster stew, or a salad with lobster meat — enjoy your fill of sweet Maine lobster.
8. Sea Dog Brewing Co.
Sea Dog Brewing Co. in Topsham, just over the Androscoggin River from Brunswick, is a casual eatery where the brews and pub grub are delicious. Their Maine lobster roll is piled high with lobster salad and served with crispy french fries. Other tasty sandwich options include the buttermilk fried chicken, the prosciutto caprese, and a selection of yummy burgers.
Pro Tip: Request a seat on the patio where you will be dining right at the edge of the river.
9. Taco The Town
Food trucks and college towns go together like PB&J. In the center of Brunswick is a beautiful long green mall, just the spot to spend a sunny afternoon reading a book or enjoying a picnic. The park has pre-planned spots for food trucks amping up your picnic fare. Taco The Town is one of the regular trucks. Known for their authentic Mexican food offers and daily specials topped with magical salsa, you can gauge your own level of spicy bites.
Pro Tip: Check Taco The Town's Facebook page before heading over to the park. Food truck hours can be somewhat changeable
Dining In Brunswick
There are a plethora of excellent restaurants cooking up authentic international cuisine in Brunswick. ZaoZe Cafe & Market serves up lunch options including togarashi edamame, lamb and celery pot stickers, kung pao cauliflower, and other Asian delights. 
The offerings at Enoteca Athena are inspired by traditional Italian and Greek recipes. Fried halloumi, assorted bruschetta, and gyros are a few of the dining delights on their menu. 
The Brunswick Diner is a 75-plus-year throwback and they are still slinging breakfast dishes that are tasty, tried, and true. A hearty benny, eggs your way, chicken and waffles, and classic diner fare will fuel you for a day of exploring Brunswick.