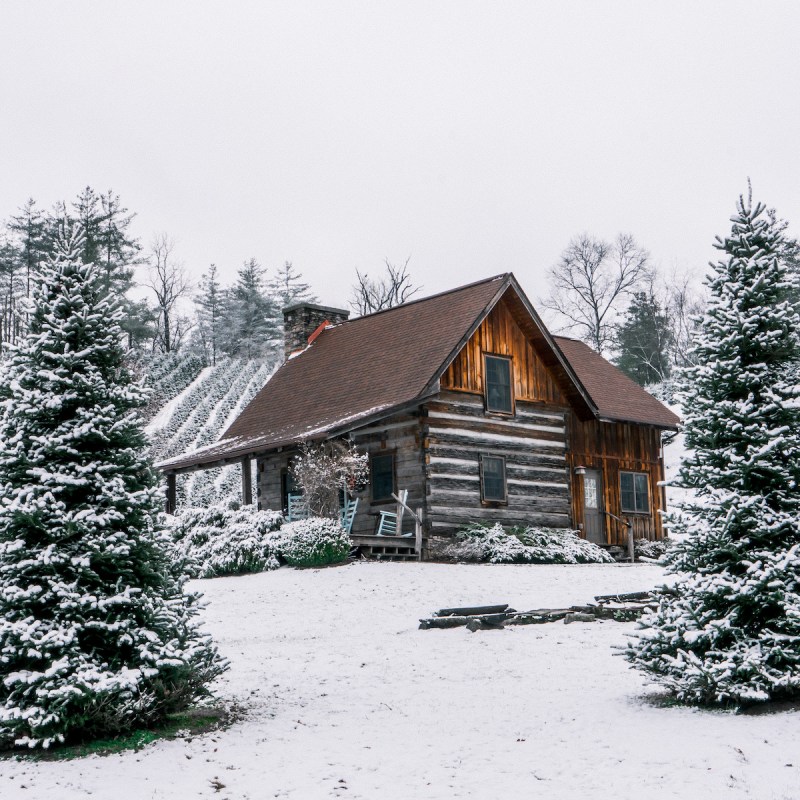 In my ongoing quest to visit all of the continental national parks, I've been researching cabin rentals near Great Smoky Mountains National Park, which straddles North Carolina and Tennessee.
Cozy cabins in the Smoky Mountains abound, from basic options to luxurious offerings. The national park gateway towns, such as Pigeon Forge and Gatlinburg, have plenty of cabin accommodations, while lodging in more remote locations allows for a truly serene and romantic getaway.
Check out these appealing cabins in the Smoky Mountains — one of which might be ideal for your next trip.
1. Oak Haven Resort & Spa
Cabins range in size from one to seven bedrooms at Oak Haven Resort & Spa, just north of Sevierville, Tennessee, in the foothills of the Smoky Mountains. Each cabin on this property features a well-equipped kitchen, stone fireplace, gas grill, washer and dryer, and a hot tub on a private porch.
Open year-round, the resort is especially inviting to families with its number of onsite amenities including a seasonal pool, playground, basketball court, walking trails, and 1-acre catch-and-release lake. Adults can relax at the full-service spa.
2. Dancing Bear Lodge
Dancing Bear Lodge in Townsend, Tennessee, is a 38-acre mountain retreat. Cabins have different layouts, amenities, and a number of bedrooms for all budgets. Each maintains a cozy aesthetic and offers modern amenities including hot tubs, Wi-Fi, and fireplaces.
While some cabins have kitchens, guests can also enjoy the onsite dining facilities, which include romantic Appalachian Bistro and casual Apple Valley Cafe. Most recently, the Hallmark Channel used Dancing Bear Lodge as a filming location for Love in the Great Smoky Mountains.
3. Eagles Ridge Resort
With cabins that can fit up to 30 people, Eagles Ridge Resort is a perfect destination for a family reunion. Some cabins even have amenities like indoor pools, game rooms, and theater rooms. But if it's a cozy escape for two that you're looking for, go for a one-bedroom cabin with a name like "Love Nest" or "Mountain Rendezvous." There are 233 cabins at this property in Pigeon Forge, Tennessee, and many are pet-friendly.
4. The Swag
The Swag is a boutique resort on 250 acres and it sits at 5,000 feet above sea level. It's a literal stone's throw (25 feet) from Smoky Mountain National Park near Waynesville, North Carolina. Couples can take advantage of the romantic property with horseback riding, wine and cocktail tastings, picnics, couple's massages in the hillside spa, or the sunset over the mountains while soaking in a private outdoor tub. All meals are included with your stay in one of the seven private cabins.
5. LeConte Lodge
If you're game for adventure, and don't mind rustic lodging, consider a cabin reservation at LeConte Lodge — the only place in Smoky Mountain National Park where you can stay overnight in a permanent structure. (All other accommodations are campsites.)
The cabins with full-sized bunk beds are accessible only via a 5- to 9-mile hike. They're available from late March to mid-November. You'll sleep in one of seven hand-built, rough-hewn log cabins with propane heat and kerosene lanterns. Cabins do not have electricity and restrooms with flushing toilets are communal. Breakfast and dinner (with wine for purchase!) are served family-style in the dining room.
6. Boyd Mountain Log Cabins
When you book one of the eight cabins at Boyd Mountain Log Cabins in Haywood County, North Carolina, you'll stay in an authentic hand-hewn log structure that dates back 150 to 200 years. Each has been carefully restored, decorated with period antiques, and named after its original location. The 175-acre property is also home to a tree farm with 60 acres of Fraser fir Christmas trees, as well as a stocked fishing pond and nature trails.
7. Lands Creek Log Cabins
Family owned and operated, Lands Creek Log Cabins is 3 miles north of Bryson City, North Carolina, and 3 miles from the Great Smoky Mountain Railroad, an entertaining adventure for the family. One- to four-bedroom cabins — some with bunk beds in lofts for kids — are found on the top of a ridge, next to a creek, and nestled in the woods.
This is a budget-friendly basecamp for adventure, not only in nearby Smoky Mountain National Park but also at Fontana Lake for fishing, swimming, and boating in the summer. The cabins are open year-round and the property has paved roads for easy accessibility in wintry weather.
So Many Cozy Cabins In The Smoky Mountains
Dozens of vacation rental agencies offer a plethora of options for cabin lodging in the Smokies. In addition to Vrbo and Airbnb, you might peruse websites like these: Stony Brook Cabins, Bear Cove Cabins, Bryson City Cabin Rentals, and Mountain Laurel Chalets. Also check out Evolve and Vacasa.
Whether you're planning a romantic getaway or a multigenerational family vacation in the stunning Smokies, you're sure to find the ideal cozy cabin for your trip.