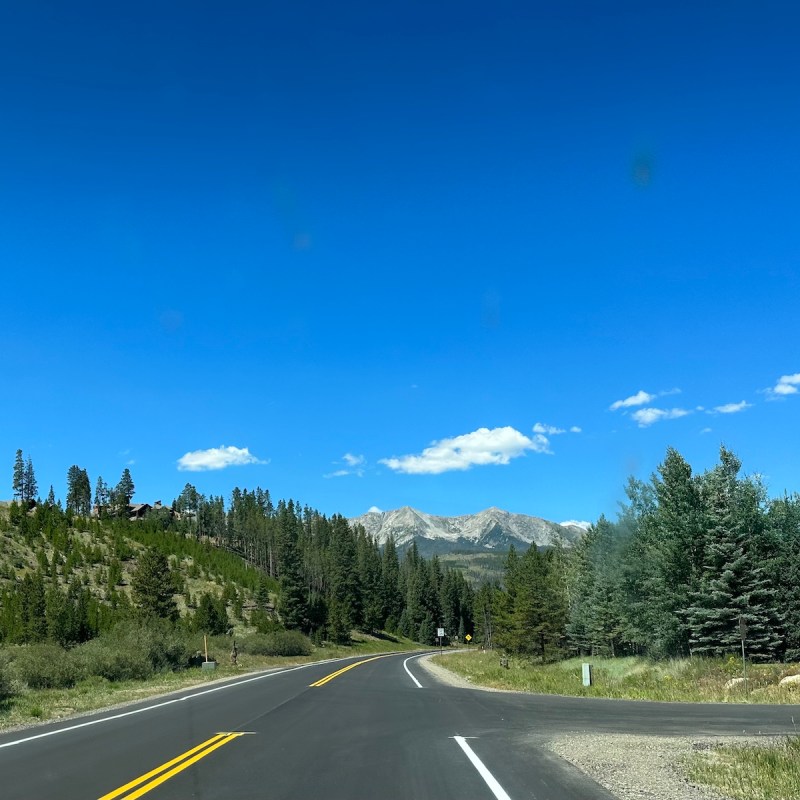 With its breathtaking views of the Rocky Mountains and endless outdoor activities, it's no surprise that the charming mountain town of Breckenridge is an excellent vacation spot in summer and fall. In Colorado's picturesque Summit County, Breckenridge offers stunning views, fresh air, and numerous activities for every visitor. Whether you're looking for a couple's weekend getaway or a longer stay, there are plenty of things to do in Breckenridge during the summer and fall that will make your visit truly memorable.
I visited Breckenridge in August with my husband and was delighted with the many things to see and do. I had always heard about the winter sporting options but found plenty to do in the summer, and I'm sure as the leaves change, Breckenridge would be gorgeous in the fall. It is a vibrant playground with a plethora of outdoor activities.
Check out what makes Breckenridge the ultimate destination for couples, nature lovers, and thrill seekers alike!
B Like Breckenridge™
Promoting using less, walking more, respecting wildlife and nature, leaving no trace, and sticking to the trails, the Breckenridge Tourism Office encourages everyone to B Like Breckenridge™.
Visitors are encouraged to go car-free as much as possible while in Breckenridge. This is easy to do with so much of the downtown being walkable. Buses and shuttles that run frequently, biking trails, and a gondola are available. It all helps to keep congestion and pollution to a minimum.
When we visited, we used all the above transportation to get around.
Hiking
Breckenridge is a great place to go hiking in the summer and fall. With over 250 miles of trails, there are plenty of options for all levels of hikers. Whether you want to take a leisurely stroll along a river or tackle a steep mountain trail, you'll find something perfect.
For an easy hike, check out the Blue River Trail that runs through the heart of town, or the Trollstigen Trail to see the Breckenridge Troll. If you're up for a challenge, climb up to the 14,271-foot summit of Quandary Peak, which offers stunning panoramic views of the Rockies.
Pro Tip: Parking at the Quandary Peak trailhead requires a parking pass or reservations if riding the shuttle.
Bicycling
Breckenridge's vast network of bike trails is perfect for those who seek adventure on two wheels. My husband and I tried out e-bikes for the first time and Breckenridge is great for e-biking. The e-bikes help you to go uphill with less effort. You can rent bicycles and e-bikes at Carver's Bike Shop.
Breckenridge Distillery
The Breckenridge Distillery crafts award-winning rum, whiskey, gin, vodka, and more. It is the "World's Highest Distillery" and is most widely known for its blended bourbon whiskey. Breckenridge Bourbon is among the most highly awarded craft bourbons in the United States. Their spirits have won many national and international awards.
The distillery offers an immersive guest experience — which includes a guided tasting of their spirits — through distillery tours. You can also learn about their distilling process, barrel aging, and bottling.
They also have an award-winning restaurant with show-stopping cocktails. We dined there and shared several small plate dishes. I highly recommend the sticky ribs.
Breckenridge Music
All summer long, you can find live music in Breckenridge like jazz, classical, and other genres. You can enjoy open-air concerts for free at the AirStage, orchestra performances by the National Repertory Orchestra, and many other musical programs at the Riverwalk Center. The live music lineup typically runs from mid-June to mid-August, so visit the Breckenridge Arts District website to check the schedule and buy tickets beforehand.
History
Breckenridge has a rich history dating back to the gold rush era. Discover the town's past by embarking on a walking tour with Breckenridge History, taking you through well-preserved historic buildings and landmarks.
There are also historical tours to the French Gulch and the Reiling Dredge on the outskirts of town. We enjoyed this tour with guide Leigh Girvin. She had a wealth of knowledge and we learned quite a bit about the area and its history.
If you're feeling brave, take a ghost tour that explores the paranormal side of Breckenridge's history!
The mining museum offers fascinating history about the area in a climate-controlled setting.
Dining
Breckenridge will delight foodies. Here are a few of our favorite restaurants in Breckenridge to try:
Summer Dogsledding
Experience the thrill of summer dogsledding with your partner! This exciting activity is sure to make your weekend getaway even more memorable. You can experience dogsledding without the snow and cold. You'll be able to admire the stunning scenery as your team of huskies takes you on an unforgettable journey through the Rockies.
During our visit, we went summer dogsledding with the Good Times Adventures Kennel, a short 15-minute drive outside of town. They have over 150 Siberian huskies who can't wait to hit the trails. When you visit during the summer and early fall, you get a tour of the kennel and the dogsled trail ride.
Fishing
Fishing is another popular activity in Breckenridge during the summer months. The Blue River and other nearby streams offer excellent trout fishing opportunities for novice and experienced anglers alike. There are also several local lakes for fishing.
White-Water River Rafting
If you're looking for an exhilarating adventure during your couple's getaway in Breckenridge, white-water rafting should definitely be on your list! Several companies offer guided tours down some of Colorado's most beautiful rivers — from gentle scenic floats to thrilling Class-V rapids — so there's sure to be something that suits your skill level and adventurous spirit!
Ride The Gondola
For breathtaking views of the mountains without any strenuous hiking, take a free ride on the gondola up to Peak 8 Base Camp. You'll be rewarded with stunning panoramic views, making your weekend getaway even more memorable! They have a variety of activities like mini golf, bungee trampolines, a mountain coaster, and more entertainment.
For more spectacular views, purchase a ticket to ride the Colorado Superchair farther up the mountain to the Alpine Camp — 11,000 feet above sea level. There is a climbing wall, hiking, and an Alpineer Challenge Course. The views from the top are phenomenal.
Where To Stay
There are many places to stay in and around Breckenridge. For convenience, I recommend the Mountain Thunder Lodge, which is close enough to town to walk to everything yet still has a removed rustic setting with trees and great views.
We stayed in a one-bedroom and had a lovely living area with a fireplace and kitchen.
Tips For A Successful Breckenridge Couples Getaway
Know The Symptoms Of Altitude Sickness: Altitude sickness is common due to the high elevation (9,600 feet). Know the signs and symptoms. Please don't ignore them.
Stay Hydrated: It is essential to drink extra water a few days in advance and during your time in Breckenridge to help combat altitude sickness.
Carry A Refillable Water Bottle: There are refill stations around town to refill your bottle and Breckenridge tap water tastes mountain-fresh and is clean.
Use Sunscreen: You are at a higher elevation and sunburn is common even on cloudy and overcast days.
Wear Comfortable Shoes: You will be doing a lot of walking so wear comfortable shoes.
Download Map: Download the town map for quick reference.
Install Breck Free Ride App: Download the Breck Free Ride App before arriving.
As you can see, Breckenridge is an outdoor enthusiast's paradise during the summer and fall. Whether you're an adrenaline junkie or a history buff, you will surely find something that will pique your interest. So, pack your bags, grab your hiking boots, and head to Breckenridge for a couple's getaway.