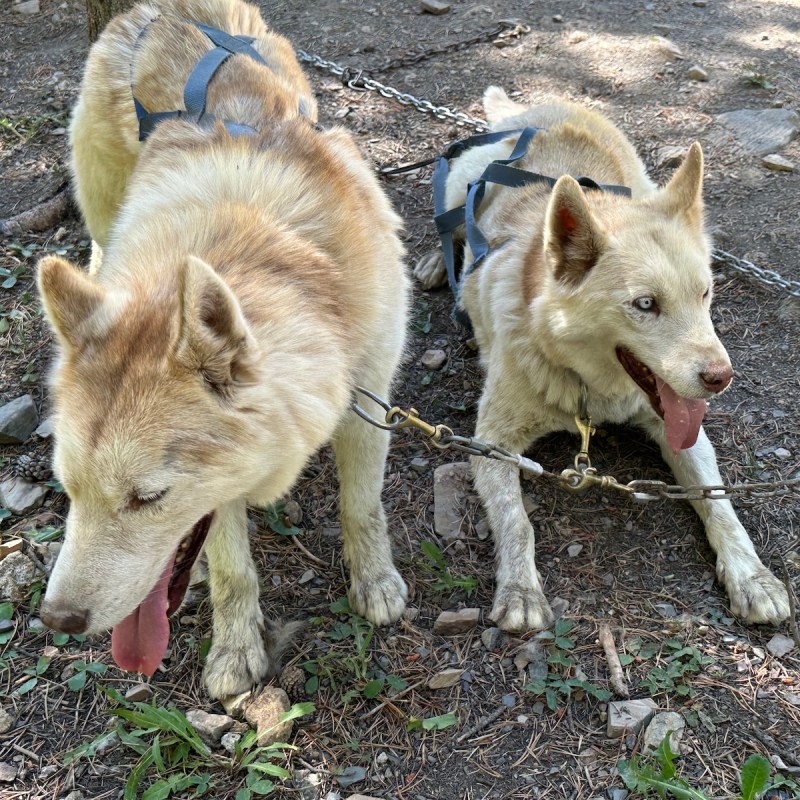 When you think of dogsledding, you probably imagine a picturesque winter wonderland with snow-capped mountains in the backdrop, mushers wrapped up in warm fur, and a pack of huskies pulling the sled. But did you know that dogsledding is an activity that can be enjoyed even during the summer months?
That's right! You can experience the thrill of dogsledding in the summer and early fall with Good Times Adventures Kennel in the Rocky Mountains of Breckenridge, Colorado. Instead of a regular sled, they use a wheeled dog sled. In our case, a wheeled golf cart in neutral pulled behind the team of Siberian huskies.
My husband and I visited in August and had the most incredible dogsledding adventure. It's perfect for those seeking something out of the ordinary.
My visit to Breckenridge was hosted. All opinions are my own.
What Is Summer Dogsledding?
Want to experience the thrill of dogsledding without the cold weather? Summer dogsledding is the perfect alternative for those who prefer warmer temperatures or don't have the right cold-weather gear. It's just like winter dogsledding but with a different type of sled, and instead of gliding on snow, you'll ride on dirt and gravel trails.
At Good Times Adventures, the dogs pull a six- or eight-person golf cart in neutral through the trails of Colorado for an exciting ride. The dogs are hitched to the cart like winter dogsledding with a different kind of sled/cart.
Snowless dogsledding allows you to experience different types of terrain, like rocky paths or grassy hillsides, that would otherwise be impossible for traditional sledding due to lack of snow cover. This means that every time out on the trail is an adventure!
Siberian Huskies
When you head to Alaska for some dogsledding, you'll be cruising with Alaskan huskies or Alaskan malamutes. But it's all about the Siberian huskies at Good Times Adventures in Breckenridge.
Like their malamute cousins, the friendly and strong Siberian huskies love to exercise, making them natural-born runners. The huskies have strength and stamina and can withstand long distances in cold-weather conditions.
Siberian huskies typically weigh between 35 and 60 pounds and stand between 21 and 23 inches tall at the shoulder. They have a thick coat in various colors, including black, white, gray, red, sable, and more!
Siberian Huskies are strongly pack-oriented, which makes them great team players, working together to pull the sled/cart. The handler/guide places pairs of dogs in different but equally important positions on the team, starting with lead dogs, which follow the guide's directions, and ending with the "wheel dogs," which help pull and steer the sled.
Good Times Adventures Kennel has 150 lively Siberian huskies you will meet during your summer dogsledding adventure. You might even get to see some happy and full-of-energy pups. We saw a litter born just a few days before we visited.
Social Animals
Each dog has their own name and unique personality. Our fantastic tour guide, Sarah, knew all their names and told fascinating stories about their history and personality traits. She provided tips on how to interact with each dog and encouraged us to socialize with them.
You won't believe how friendly and social these dogs are! I even got some doggy kisses! They crave attention, and when one starts howling, they all join in. Imagine the spectacle of 150 dogs howling together; it's like nothing you've ever seen or heard before! It is loud and a bit hilarious.
Kennel Tour
An added treat during the summer dogsledding season is the opportunity to tour the kennel and meet the baby puppies and the 6-to-9-month-old huskies as part of your dogsledding experience. A kennel tour is not included during the winter dogsledding season.
We learned about the feeding and care routines for the dogs and how they change with the seasons. Keeping water bowls full is a priority during the summer and it is essential to provide warm food like a stew for them in the winter. The dogs must receive a balanced diet of essential vitamins and minerals daily.
On average, Siberian huskies live between 12 and 15 years, depending upon various factors. The dogs at Good Times Adventures Kennel run until they are 8 or 9 years of age and then are retired. Retired dogs are often adopted by husky lovers within the state.
Training
These dogs are trained to pull the wheeled sled and take you through the beautiful scenery of the Rocky Mountains. During your ride and tour, you'll have the chance to learn about the dogs and their training.
The dogs are trained to understand their roles and how they should interact with each other when running together. They learn basic commands such as "hike" (for starting), "gee" (for turning right), and "haw" (for turning left).
During winter, the dogs may make several dogsled runs per day, but during the summer months, they only run once every other day due to the heat. We stopped several times during the run for the dogs to drink water and rest.
Summer Dogsledding
It was apparent that the dogs loved to run. The team went wild with excitement when it was time to get hitched for our ride. Once they were hitched, we loaded onto the cart and off we went.
The dogsled ride lasted approximately 45 minutes. We started on a hill and the dogs pulled us down the hill and then we veered off onto a dirt trail into the forest.
Did I mention there might even be a squirrel-chasing incident along the way? Yep, these well-trained dogs still love a good chase! During our ride, a squirrel ran in front of the team and the dogs veered into the grassy area beside the trail. The guide quickly commanded them back into formation and away we went.
If you're visiting Breckenridge, Colorado, during summer or early fall, you must give dogsledding a go. It's a must-try activity that guarantees fun, stunning views and a one-of-a-kind adventure. And let's not forget about the adorable, lively dogs that will be your companions for the day. Trust me, you'll create unforgettable memories and have a blast.
Tips For Safe Summer Dogsledding
It's important to remember safety for both yourself and the dogs. Here are some tips for safe summer dogsledding.
Choose A Reputable Tour Operator
Tour operators like Good Times Adventures Kennel have well-maintained equipment, trained and experienced guides, and they follow proper safety instructions.
Dress Appropriately
You'll need clothes that can handle the rugged terrain and get dusty. Weather can be unpredictable in the mountains, so it is always good to dress in layers.
Wear Close-Toed Shoes
No flip-flops or sandals.
Sun Protection
Use sunscreen and a hat to protect your skin from harmful rays.
Awareness
While it's important to soak up the scenery and enjoy the ride, it's also important to be aware of your surroundings. Avoid taking selfies or distractedly looking around while on the sled/cart.
Follow Your Guide's Instructions
Listen carefully to your guide's instructions for your safety and that of the team of dogs. They have extensive experience and know how to handle any situation that may arise.
Bring Your Camera
You will want to take photos of the dogs and some of the sights you see during your adventure.
By following these tips, you'll have a fun and safe summer dogsledding adventure that you'll never forget.