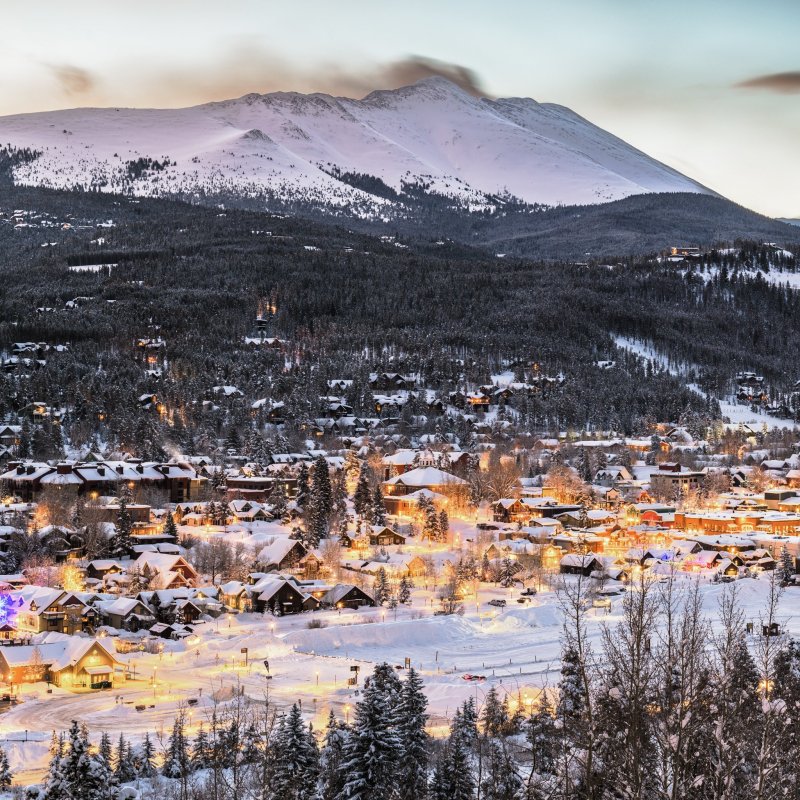 Breckenridge Ski Resort, or Breck to her fans, is one of those places you visit, fall in love with, and return to every chance you get. The mountain offers supreme snowbound fun for all ability levels on five peaks.
Downtown Breckenridge's historic Main Street is quaint and cozy with an architectural mix of Old West architecture, brownstones, and a touch of modernity with a backdrop framed by the snow-covered runs.
Of course, Breckenridge has world-class skiing and snowboarding, drawing visitors from across the country and around the globe. It is also a small town with a tight-knit community feel. The locals are open and friendly, and the visitors are happily spent from hitting the slopes. But there are plenty of fun activities for non-skiing days too.
If Breckenridge is in your future, you have to plan a winter visit. Here are the best things to do.
1. Breckenridge Ski Resort
Breckenridge Ski Resort is a five-peak resort that offers 187 trails supported by 35 lifts — a combination of gondolas, magic carpets, and chairlifts — and an adventure-seeking culture that suits snow chasers. For high-energy skiers, Peak 6 and Peak 10 will get your adrenaline rush on. If you are looking for something a little tamer or a few warm-up runs, head over to Peak 7. If you have a large group who are intermediate skiers, Peak 9 is family friendly. Locals will tell you the heart and soul of Breck is Peak 8, where it all began. You must take a run or two down this center mountain's trails.
Breck's terrain parks have much to offer the trickster intent on perfecting their jump. Four parks and an 18-foot halfpipe silently await your arrival. For beginners, there is Highway 9 with small jumps, rails, and boxes to hone your moves. Park Lane and Frontier offer intermediate lines that will test your skills. The mac-daddy park is Freeway, which sports four enormous jumps and an 18-foot halfpipe. Proceed with caution — this is an extreme terrain park geared toward experts.
Just like its sister mountain resort, Vail, no matter which trail you hit, the views will astound you, the snow will fall away before you, and the sun will hopefully provide you with the perfect Colorado Bluebird day.
2. Dog Sledding
If you love the outdoors and want to experience a different kind of adventure, try mushing. Good Times Adventures will have you dog sledding along behind a team of exuberant huskies just for fun. Everyone on the tour will have a chance to run the dogs and ride along, swapping seats throughout the 6-mile route. The rush of managing a team of powerful sled dogs through the Colorado Rockies is a joyous, heart-pumping experience.
If you are sledding late in the season, keep an eye out for the mountain wildflowers that bloom in very early spring. Snowdrops and low chiming bells add a promise of spring popping up surrounded by a blanket of snow.
3. Snowcat Adventures
Zip on down to the Breckenridge Nordic Center for a Nordic Snowcat Adventure. Your privately guided 90-minute tour transports you in a heated snowcat across Breck's cross-country ski trails. With your guide entertaining you, be sure to enjoy a hot chocolate or adult beverage along the way.
4. Fly Fishing In The Blue River
The Rocky Mountain vistas are enhanced by the Blue River running through Breckenridge on its way to the Dillon Reservoir. Ultimately joining the mighty Colorado river, Blue River amps up the beauty in this outdoor enthusiast's enclave.
River fly fishing is a beloved pastime, and the intrepid angler can enjoy winter fishing when they take a break from the slopes. According to Mountain Angler, off-season fishermen "can find excellent mid-winter midge and tiny stonefly ("snowflies") fishing directly below the dam.
5. The BreckConnect Gondola
If you don't ski but want to get the thrill of riding in a gondola, Breck offers the BreckConnect Gondola. You can ride the BreckConnect from town to the base of Peak 8. The ride is short but gives you a feel of the exhilarating gondola rides up the mountain.
On a bright, bluebird day, from the summit, you will have stunning panoramic views. The Colorado Rockies' Tenmile Range and Mosquito Range, split by the Continental Divide, are impressive, snow-covered peaks.
Editor's Note: If you don't ski but love the environment in ski towns, you will love our list of the best ski destinations in the U.S. for non-skiers.
6. Winter Hiking And Snowshoeing Trails
Hiking isn't just a summer activity — it is an exhilarating winter activity, too. When the sun is shining and the weather is temperate, hiking or snowshoeing through the wooded trails is like walking through your own private, snowy winter wonderland. If you are going to hit the hiking trails in the mountains during the winter months, be sure to have microspikes, yaktrax, or crampons — you will need them on the slippery, hard-packed surfaces.
A good, well-traveled jaunt for beginner hikers is the Sallie Barber Mine Trail. (Breckenridge began, of course, as a mining town.) The 2.8-mile out-and-back hike rewards travelers with lovely views of the mine with Keystone mountain in the distance.
Carter Park is the trailhead for a large system of Breckenridge trails; be sure to download your route before you get there. The Carter Park to Moonstone to Barney Ford Trail is the most popular hiking trail. A moderate 4.2-mile out-and-back trail that begins with a steep incline may have you breathing heavily due to the high altitude. The trail levels out some once you mount the first crest.
7. Panning For Gold
Welcome to the wild west! The Colorado gold rush in French Gulch was the site of several mines operating between 1859-1946. Experience a private gold mine tour while you listen to the fascinating history of the mine. Take a guided tour into the Country Boy Mine, an easy 2,000-foot round-trip walking tour of the mine (no steps or climbing). Try your hand at gold panning — if you find some, you can keep it.
8. Fat-Bike Snow Rides
Do you miss biking in the winter? Have you tried riding a fat-tire bike? The large wide tires give you traction on the snow-covered trails allowing you to enjoy biking year-round.
The Gold Run Nordic Center offers hourly, half-day, and seasonal fat bike rentals. With a Golden Run Nordic Pass, you can access their snowshoe trails for your riding pleasure.
How about a Fat Bike Beer and Distillery Tour to get you out in the fresh air? Included in the 2.5-hour tour is a bike rental with a helmet and tastings at local establishments. Fat biking is a wonderful winter alternative to mountain biking, but just beware — when you combine it with a local adult beverage, you must exercise extra caution.
9. The Breckenridge Troll
Isak Heartstone, otherwise known as the Breckenridge Troll, is the creation of Thomas Dambo. The beloved 15-foot-tall sculpture guards the Illinois Gulch trailhead, greeting guests with a knowing smile. Made of recycled materials and scrap wood, he sits quietly surveying his pine forest and curious guests. Isak is happy to join you as you strike a pose for a picture with this gentle Colorado giant.
10. International Snow Sculpture Championships
When you live to create art, you use the raw materials that surround you. Breckenridge Snow Sculpture Championships showcase snow artists with gorgeous, gravity-defying sculptures. These massive temporary works carved from pristine white snow are amazing to view during the day. They take on a completely different look at night when colorful lights cast highlights and shadows over the pieces.
As you stroll along the path, you will marvel at each piece ranging from fanciful creatures to lifelike models. The installation is awe-inspiring and boggles the imagination.
Plan your trip to visit Breck at the end of January through early February to get a peek at this championship art show.
11. Shopping On Main Street
The Main Street Breckenridge area is home to classic retail shops you would expect to find in a ski town: North Face, Columbia, Patagonia, and the like. It is also home to some local gems. The Rocky Mountain Underground sells handcrafted skis, gear, and apparel. It is definitely worth a look-see; you can even enjoy an adult beverage while you contemplate your purchase.
Best Restaurants In Breckenridge
Options are your friend, and Breck offers plenty of options. You can dine on the mountain or stroll into downtown Breckenridge for a nibble. One thing is for sure; you will work up an appetite on the slopes.
Breckenridge Distillery Restaurant
Enjoy modern American Cuisine from the Breckenridge Distillery Restaurant, offering expertly prepared dishes inspired by seasonal and regional food sources. After a day of hitting the slopes, you can relax in rustic luxury while you enjoy a romantic dinner. Start with a cocktail like their Barrel-Smoked Strawberry Horchata made with their own spiced rum and espresso vodka with coconut, strawberries, almonds, and cinnamon. For dinner, try the Prime Porterhouse for two served with a mushroom hash and a side of Cauliflower Gratin. Finish up with a local favorite; the Bourbon Float; Breckenridge Bourbon over vanilla ice cream, cherry syrup, and Coke.
The TBar
The TBar Restaurant is the classic apres-ski spot with a wrap-around porch and views of the slopes. This is the place where everyone gathers for a hearty snack and adult beverages. Share the House Smoked Chopped Brisket over Waffle Fries with queso and bbq sauce to quiet the mountain hangries and hold you over until dinner. Pair your snack with a local brew or a Buttered Up Toddy made with Breckenridge Spiced Whiskey and house-made honey rum butter. The toddy will warm your toes and tickle your fancy.
Bread+Salt
Frisco is a short, scenic drive out of Breckenridge and home to Bread+Salt. A classic breakfast spot that serves perfectly executed, hearty breakfasts. The kind you want to eat the day after. There is usually a line, but it moves fairly quickly and is definitely worth the wait. The chilaquiles — eggs with chipotle chile, crema, queso fresco, avocado, and tortilla chips — are super satisfying. If something sweet is on your mind, go in for the Nutella and berry pancakes — so good.
Best Resorts In Breckenridge
Crystal Peak Lodge
One of Breckenridge's signature properties is Crystal Peak Lodge. The lodge is a modern rustic ski-in/ski-out resort in the heart of Breck. Crystal Peak has everything you need on a ski getaway and more, including ski lockers, billiards, and in-town shuttle service.
Gravity Haus Breck
Gravity Haus Breck is also a Breckenridge property located at the base of Peak 9. A modern hotel with an outdoor adventurer vibe, it's the quintessential ski-in/ski-out lodge. Breck Haus surrounds her guests with a comforting community-first flair.
Editor's Note: Here are more fantastic Breckenridge restaurants.
Beautiful Breck
It's easy to fall in love with Breckenridge, part of the Vail Resort Corp. The laid-back mountain town vibe and friendly people will speak to your outdoor-loving nature. Be prepared to start planning your next Breck getaway before you even finish your last run.
For more Colorado vacation inspiration, in Breckenridge and beyond, consider: