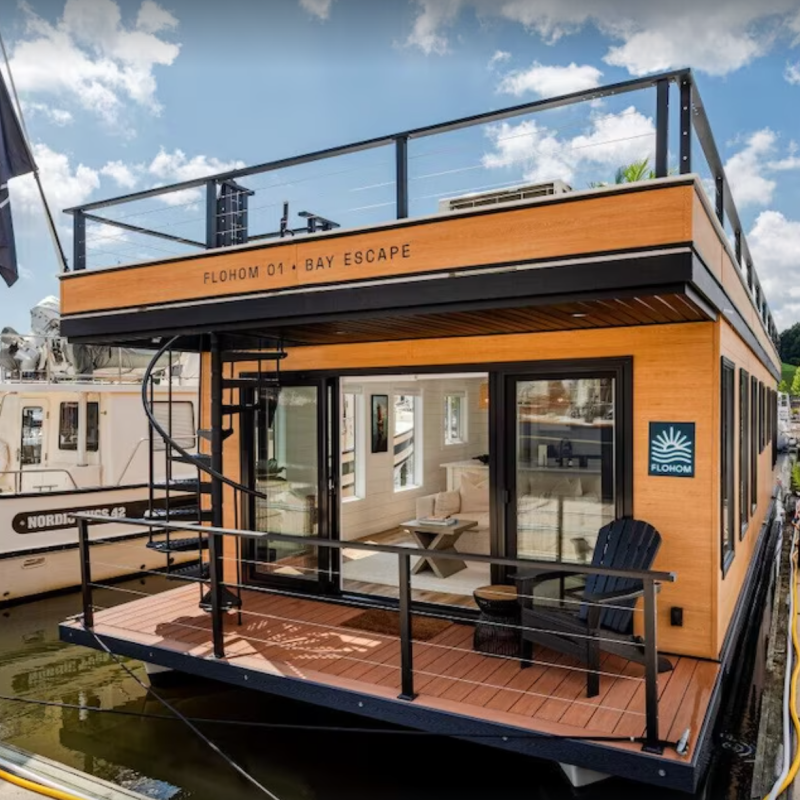 Renting a houseboat is a unique experience that doesn't have to be saved for the summertime. One spring, my husband and I booked a stay on a houseboat that was docked on the Anacostia River when we couldn't find an affordable place to stay in D.C. We also rented a floating tiki hut in Key West one winter, which was a much more affordable way to stay on the water (quite literally) than a waterfront hotel. Both make for an awesome couples' retreat. Staying on a houseboat is a lot like staying in a camper, while a floating home can require a little more work, such as using a generator.
You don't have to be able to drive a boat to stay on one. Most houseboat vacation rentals are stationary, so all you have to do is sunbathe, fish, stargaze, and catch the sunrise or sunset over the water.
Below, we've curated the highest-rated houseboat vacation rentals in some of the best places to embark upon such an adventure: California, Florida, Maryland, North Carolina, Tennessee, Texas, and Wisconsin.
California Houseboat Vacation Rentals
Just 15 minutes from San Francisco, Sausalito offers plenty of fantastic houseboat rentals, but The RMS Sage is one of the most gorgeous in the arts community. This Northern California stay offers easy access to the Muir Woods, the beach, and wine country. Take in superb sunsets and spectacular sunrises from the sundecks. Gazing at the moon and stars through the skylight is nothing short of magical. Book the RMS Sage for an extraordinary getaway on the water!
Dreaming of Sausalito – your dream vacation awaits you
Top guest reviews
This must be one of the most gorgeous houseboats in Sausalito. Loved everything about the experience – great communication, wonderful location, beautiful space, lovely decor, everything needed for a home away from home. Not to mention the luminous rooms & sun decks, superb sunrise views, spectacular sunsets, AND moon & stars through the skylight over the master bed. Magic! Thank you such a wonderful month.
Speaking of San Francisco, houseboats are one of the most affordable stays in the Bay Area. Named after one of the most popular and lively tourist resorts on the island of Corfu, Sidari welcomes you with blissful sunlight streaming through its windows, exuding a slight African tropical flare in its décor. Step onto the new front deck for afternoon tea or champagne cocktails amid the lush garden for added privacy. Inside, the open floor plan features a glistening white kitchen with modern rattan chairs and a bar area. Enjoy sweeping views of deep water and a glimpse of San Francisco from the charming living room with a corner fireplace. The back deck offers breathtaking bay views where you can savor your meals or soak up the sun on the loveseat.
With a private boat dock hosting kayaks and bicycles, explore the waterways and nearby restaurants. Embrace the enchantment of Sausalito's vibrant community and mesmerizing birdwatching. Sidari offers an unforgettable floating home experience where you'll never want to leave this idyllic oasis.
Florida Houseboat Vacation Rentals
Experience the beauty of Home A Wave, a fully furnished houseboat with a large top deck bedroom and stunning sunset views! This floating home offers 1.5 baths, a well-equipped galley with modern amenities, and a utility room with a washer and dryer. Witness breathtaking sunsets from the spacious top deck. Don't miss the chance to book this enchanting houseboat for a memorable vacation!
Dreaming of Orange Park – your dream vacation awaits you
Top guest reviews
We had a great experience aboard this lovely floating houseboat. The decks provide space and vistas of sunsets and sunrises. The tiki bar In the marina was a great addition that provided live music and cocktails. I would definitely stay aboard again. Highly recommend
There's no shortage of restaurants, bars, historical attractions, and beach rentals in Pensacola. Seaclusion, a charming houseboat located in Seville Harbour Marina on Pensacola Bay, offers the ultimate floating getaway. This two-bedroom, one-bathroom houseboat comfortably accommodates four people and offers a fully equipped kitchen with full-size appliances. Relax on the front porch as dolphins and manta rays swim right up to the boat!
Local attractions, festivals, restaurants, art galleries, and shopping can all be found within walking distance. Enjoy easy access to intercostal waterways, downtown, and the Florida Panhandle's famous pristine white beaches. Beautiful Pensacola Beach is just a short drive away. If you bring a watercraft, dockage is available, and there's trailer parking nearby. An onsite restaurant at the marina is super convenient for a quick meal.
Dreaming of Pensacola – your dream vacation awaits you
Top guest reviews
Relaxing, quite enjoyable
Unique idea for accommodations, right on water, in marina. Very convenient since our friends brought their boat and it was tied up right next to their boat house. TV and wifi was very difficult and spotty. Little bugs were flying around inside and out on porch.
The place was great. Really nice place especially if you have a boat you can take out and enjoy the pretty water! We saw lots of dolphins and manta rays, they all came right up to the boat.
This was a wonderful property! Located in the downtown marina, it was clean and very comfortable. There was a restaurant on site which made the stay so convenient! Everything was very clean and well maintained. I would definitely stay there again!!
This is our second trip to the crawfish festival and both times we have stayed at the boathouses at the harbor. Really don't want everyone to know about this place but they deserve a great review.The location is perfect to enjoy anything you want to do in the downtown area but when you are ready to relax you get to go and hang out on the porch at your own houseboat. Very quiet and very clean. We are looking forward to our next visit.Thanks to everyone involved with our trip!!
Read Less ∧
Read More ∨
Moored on Sarasota Bay, the Floating Oasis is a dreamy all-season houseboat. Take the dinghy to access the boat, which has A/C, a shower, and electricity thanks to solar panels and a generator. While essential amenities are provided, the power supply is limited. Enjoy sunset views from the balcony's full-size bed and lounge chairs. Sunbath and stargaze from the turfed top deck. Immerse yourself in the beauty of Sarasota Bay while keeping an eye out for dolphins and manatees!
Dreaming of Sarasota – your dream vacation awaits you
Top guest reviews
Kevin & Tanya March 2023My girlfriend and I absolutely loved it. We rented the paddle boards and played around the bay. The rooftop lounging in the sun and at night looking at the stars was so romantic. We left the doors open at night and the ocean breeze is to die for. This was very cozy, so romantic, and lots of fun. Fishing at night with a bobber was a blast. I used a bobber to keep the rig out of the seaweed. They were small fish but lots of action with frozen shrimp. I turned down the drag just to make it even more exciting. We were very close to Siesta Key and OMG the baby powder sand was something to add to your bucket list. The Ringling mansion was beyond opulent and it is a bucket list item as well. Lots of restaurants and shops. LOVED IT!!!!!
Experience the unique charm of Joe's Floating Home on South Hutchinson Island! Located in Causeway Cove Marina, this one-of-a-kind houseboat offers an unforgettable getaway. Swim in the emerald waters of the Treasure Coast and explore downtown Ft. Pierce's vibrant scene with shopping, restaurants, live entertainment, and microbreweries. Joe's Floating House provides all the comforts of a real home, including a full kitchen, two bedrooms, two baths, and a washer and dryer. Enjoy stargazing from the deck while grilling your favorite meal.
With access to the Wet Whistle deck and bar, as well as jetski, boat, and kayak rentals, the possibilities for adventure are endless. Free transportation through the city's Freebee service adds to the convenience. This remarkable floating home can be your romantic retreat or accommodate up to six guests for an unforgettable stay. Plus, the owner provides two free paddle boards for guests to enjoy! Don't miss out on this extraordinary experience at Causeway Cove Marina. Book now for an extraordinary houseboat vacation!
Dreaming of Fort Pierce – your dream vacation awaits you
Top guest reviews
This was the best stay of my life!! Excellent area and close to everything. Exceptionally clean houseboat. Very comfortable and island atmosphere. Will always stay here from now on when in the area!
I booked a stay on this houseboat as a quick weekend getaway for my family. It was our first time staying on a floating houseboat. My family and I had an excellent experience. The home was very clean and comfortable. It's conveniently centrally located with the beach, shopping and dinning just down the street. Parking was a breeze. Would highly recommend giving this experience a try!
Great stay at the floating home.It has all the amenities of a condo, is steps to the ocean and jet ski/boat rental, and a minutes from the restaurants. Great place
We had a great time! Thank you.
This small slice of heaven was just what we were hoping for when we booked. It is just as the photos appear and even has 2 full bathrooms! The master bedroom has amazing views out the huge window and the king size bed has a really comfortable matress. The master bathroom has a washer/dryer combo, and the biggest walk-in shower you could ever want. Everything is new and fresh inside and the outside with the views and deck seating is amazing. There is a marina bar that is very nice to grab a drink before visiting any of the local resturants for a great meal. I highly recommend the taco dive and sunshine cafe. Both are a short 2 min drive away. There is also on-site waverunner or boat rentals and/or tours. So convenient. You won't be disappointed and way better than a hotel. Its truly a floating 2 bedroom little slice of heaven and a must try that you will enjoy. Just don't book it too much as we plan on visiting over and over again!
Read Less ∧
Read More ∨
Maryland Houseboat Vacation Rentals
Discover the perfect oasis to relax, reconnect, and explore Annapolis! Located just a few miles from downtown, this brand-new, well-appointed, and permanently docked houseboat offers a truly unique and exclusive stay. Dine al fresco or just relax with a beverage on the rooftop deck. Guests get access to a lovely community pool as well as a private fire pit by the dock.
Dreaming of Annapolis – your dream vacation awaits you
Floating in Baltimore's Inner Harbor, FLOHOM 1 | Bay Escape offers unparalleled experiences and convenient access to on-the-water and waterfront activities, as well as popular Baltimore attractions. Watch magical sunrises and sunsets from the deck of this luxurious houseboat. Offering a taste of the Charm City's rich culture, history, and diverse culinary scene, the vibrant neighborhoods of Federal Hill and Inner Harbor are just steps away.
Dreaming of Baltimore – your dream vacation awaits you
Top guest reviews
What's not to love? The boat was exceptionally decorated. Everything was the highest quality. The rooftop deck was phenomenal. Easily walkable to all Annapolis has to offer. Our host was great too! We will be back!
Welcome aboard Cass-N-Reel, a luxurious 432-square-foot houseboat located in Kent Island's picturesque narrows. Take in views of the Chesapeake Bay from a lounge chair on the houseboat's covered rear-facing deck. Several waterfront bars and restaurants offer a taste of the eastern shore's delights within walking distance. This houseboat makes for a great base for exploring the Chesapeake Bay Bridge, Annapolis, Washington D.C., St. Michaels, and Ocean City.
Dreaming of Grasonville – your dream vacation awaits you
North Carolina Houseboat Vacation Rental
Discover a unique vacation rental community floating atop the Cape Fear River — Riverwalk Villas at The Cove. With gentle river rocking and peaceful sunset views, your stay promises to be refreshing and restorative, leaving you eager to return. The dockside community offers the perfect blend of adventure, luxury, and relaxation. Enjoy spacious open-concept living areas, a well-equipped kitchen, and comfortable bedrooms. The large patio with an outdoor bar offers a favorite spot for morning coffee, afternoon reading, or evening spirits.
Downtown Wilmington's attractions, shops, restaurants, live music, and events are just steps from this houseboat vacation rental's location in Port City Marina. Explore the historic downtown, Wrightsville Beach, and more within a short drive.
Dreaming of Wilmington – your dream vacation awaits you
Top guest reviews
First visit to Wilmington…can't wait to visit again! Such a unique experience, we absolutely loved the house boat. The location was fabulous and it was wonderful being on the riverwalk. Marcia was a phenomenal hostess from the excellent communication to the spotless amenities. Thank you for sharing your stunning boat with us! Will definitely stay here when we return!
Living on a boat for a week, especially a property as beautiful as this, was an incredible experience. This turns the whole idea of a houseboat on its head, as this was a spacious, beautiful decorated property that made me wish we could stay longer.
Beautiful property and excellent location. We enjoyed the space for a much needed girls getaway, but you could also thoroughly enjoy the space for a romantic getaway. Communication throughout was outstanding! Spacious & luxurious just as displayed in photos.
Read Less ∧
Read More ∨
Tennessee Houseboat Vacation Rental
Nestled in Volunteer Landing Marina, this restored 1984 50-foot Jamestowner houseboat is just a short walk from downtown Knoxville and scenic Volunteer Landing. Golf carts are provided for transporting your belongings. Furry friends are welcome with prior approval and a fee. Quiet hours are observed from 10 p.m.–7 a.m., ensuring a peaceful atmosphere for all marina patrons.
Embrace the privilege of staying in this family-oriented facility, making memories that will last a lifetime. Book now for an unforgettable getaway on the water in captivating East Tennessee!
Dreaming of Knoxville – your dream vacation awaits you
Top guest reviews
I really enjoyed the beautiful boat. Very peaceful!
First time overnight on a houseboat. We had all the comforts of home. It was a great experience.
A wonderful weekend getaway with the family! Angie was a wonderful host – friendly, responsive, and an overall pleasure to work with. Would recommend highly to anyone looking for a memory-making trip!
Beautiful clean houseboat. Relaxing on the water vacation. Close to public transportation to explore downtown and surrounding area. Owner is available to answer any questions or concerns. Love this property.
Such a cute little place 🙂 There were just 2 of us friends and we loved our stay. Anyone over 6ft might need to be careful they don't hit their head walking around (but that was not a problem for us!)Angie was communicable, but just the right amount 🙂 Would definitely stay again.
Read Less ∧
Read More ∨
Texas Houseboat Vacation Rental
Experience the enchanting Casa Ocaso, a cozy 42-foot Gibson houseboat on Lake Travis. Take in the famous Hill Country sunsets from the boat's rooftop deck area and enjoy paddle boarding or napping to the soothing waves. Although the boat must stay docked at the marina, guests can swim off the private swim deck.
Dreaming of Austin – your dream vacation awaits you
Top guest reviews
Accommodations were clean and view was great. Had helpful gentleman give us a hand and were a great help. Would stay again no questions asked.
Had an absolutely amazing time! Beautiful sunsets, had a blast people watching as they come in off the charters! Had a couple hiccups, but the property owners were quick to get this fixed and corrected! They were there for any and all questions! I will be booking again in the future!
We were in Austin for business and stayed an extra night to celebrate my husband's birthday, and the houseboat seemed like the perfect adventure! Communication was fantastic with the owners, and the staff at the marina was very helpful! The houseboat is darling, and even though the weather didn't cooperate, we had a great time! The bed was comfortable, and all the unique features of a houseboat made it feel special.
The listing was accurate and the place is lovely. We came to town for an event and only stayed one night. It was very clean, comfortable and had everything we needed. The host was accommodating and the communication was excellent and prompt. We will definitely be returning for a longer trip next time!
Read Less ∧
Read More ∨
Wisconsin Houseboat Vacation Rental
Door County Houseboat Rentals has a one-of-a-kind lodging experience awaiting you on the edge of Sturgeon Bay. Discover Pier Relaxn', a newly constructed floating cottage nestled in the serene bay canal of beautiful Door County, Wisconsin. Enjoy the stunning sunrises and sunsets from the spacious upper deck.
Guests get access to the Community Center with its heated saltwater pool, clubhouse, pickleball court, and pavilion area with gas grills and an open-air fire pit. Experience the tranquil Sturgeon Bay shoreline from the water by renting a run-about boat, kayak, or stand-up paddle board. With all the comforts of home and a host of amenities, Pier Relaxn' promises an unforgettable vacation in Door County.
Dreaming of Sturgeon Bay – your dream vacation awaits you
Top guest reviews
The owners were very friendly and great to communicate with. The floating cottage was very clean and spacious. It made our first, hopefully of many, trip to Door County very memorable. We will make the trip back! Traci
We had a great time in this cottage on water. Did have to get some dramamine for a couple land lovers. We had a small problem and the staff responded right away and was very courteous and knowledgeable. The owner came around to check everything was OK, he told us he built the cottage! It was well built and lovely. Had the best sleep ever!
Read Less ∧
Read More ∨

Whether you're in pursuit of relaxation or adventure, these houseboat vacation rentals offer a refreshing getaway that promises to leave you with cherished memories of the water.