It can sometimes be a challenge to come up with new and interesting vacation ideas, so when the notion of "houseboats you can actually stay in" came up, my interest definitely piqued. What's not to like about this unique opportunity to stay on the Bay Area water in beautiful Sausalito?
Described by one of our scribes at TravelAwaits as "a laid-back town with a Mediterranean vibe," there are lots of great things to do while enjoying this amazing destination, including taking a trip on the ferry, hiking in Angel Island State Park, a trip to check out the Bay Model Visitor Center, and so much more!
This list was pulled together cautiously — all of these San Francisco Bay area options are very highly rated with lots of reviews. While this is always part of our criteria, this was especially important given the limited number of houseboats in Sausalito available to rent. So please turn on Otis Redding's (Sittin' On The) Dock Of The Bay and enjoy — every one of these looks pretty amazing!
If you subscribe to the "go big or go home" philosophy, you're going to want to take a few minutes to check out The Yellow Ferry, touted by the hosts as one of the world's most spectacular homes. Formerly known as the SS City of Seattle, originally launched in 1888, The Yellow Ferry combines luxury and convenience on the open water in 2,500 square feet of space — including a 1,000 square foot great room that is divided into separate dining and lounging areas. You truly have to see this one to believe it. Note: The Yellow Ferry is part of a tight-knit houseboat community and not available for birthday parties, cocktail parties, weddings, business retreats, or other large gatherings.
Dreaming of Sausalito – your dream vacation awaits you
Top guest reviews
Generally, our stay was fantastic! There were, however a few little issues that could've made the stay from a 3.5 to a 5! The upstairs toilet could not take any toilet paper. If there was any, it would flood to the rim. Downstairs bathroom, the lever stuck, thus having the water pump run for hours without our knowledge of it! The owner/property manager knocks on the door at 2:30am, assuming that we "left the shower on!" He then told me that he'll meet me downstairs, through a connecting door only to realize that it was the toilet lever sticking up, allowing the water to run. Easy fix! Another issue, was the newly painted surface to the kayaks and paddleboards. Waited a day before we could go to the dock to access the water toys. It's a strict check-in time, which we adhered to, but, when we got there, we couldn't access the water, which we had planned on. The beauty of Sausilito, it's ambience and the property was very beautiful. The kitchen was excellent! The fireplace and living room area is charming! The dining room area, we couldn't open all the doors to take in the air of sunset. I would suggest to have the windows cleaned to have a nicer and clearer view. The bedrooms were nice but could use newer bedding and an update on the bedroom decor. Other than that, we had a wonderful stay at the Yellow Ferry! It is a very pretty property!
Owners are responsive and helpful
This is an iconic houseboat in the Sausalito houseboat community and the space is just gorgeous. Huge, fully stocked kitchen with a Wolf range, everything was as promised in the description. I would recommend this for anyone who would like to experience a unique and wonderful lifestyle in a truly beautiful place.
Thoroughly enjoyed this houseboat. All the comforts of home right on the water. Whenever we're in SF we'll be staying here!
Read Less ∧
Read More ∨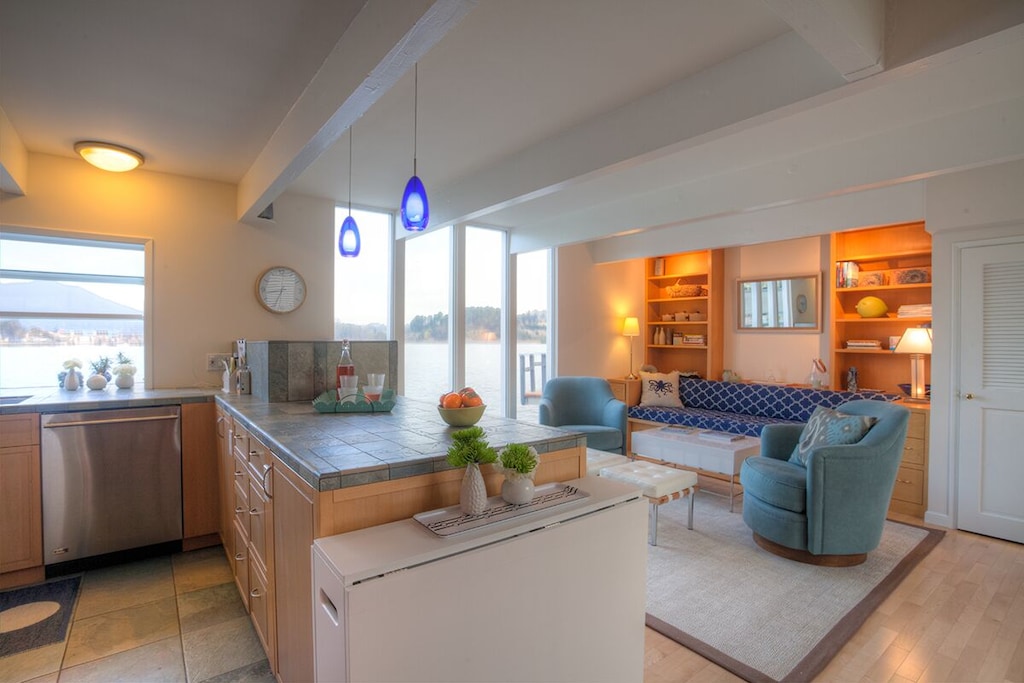 This gorgeously remodeled floating home comes with an uninterrupted view of Mt. Tamalpais! With two bedrooms and two baths, this houseboat sleeps four and includes a full kitchen with stainless steel appliances, floor-to-ceiling windows in the living room that overlooks the water, and a den. Both bedrooms have queen beds and access to a deck — step outside for morning coffee or an evening cocktail! Note: this is a two-story home that has stairs, and can be rented for a minimum of 30 days.
Dreaming of Sausalito – your dream vacation awaits you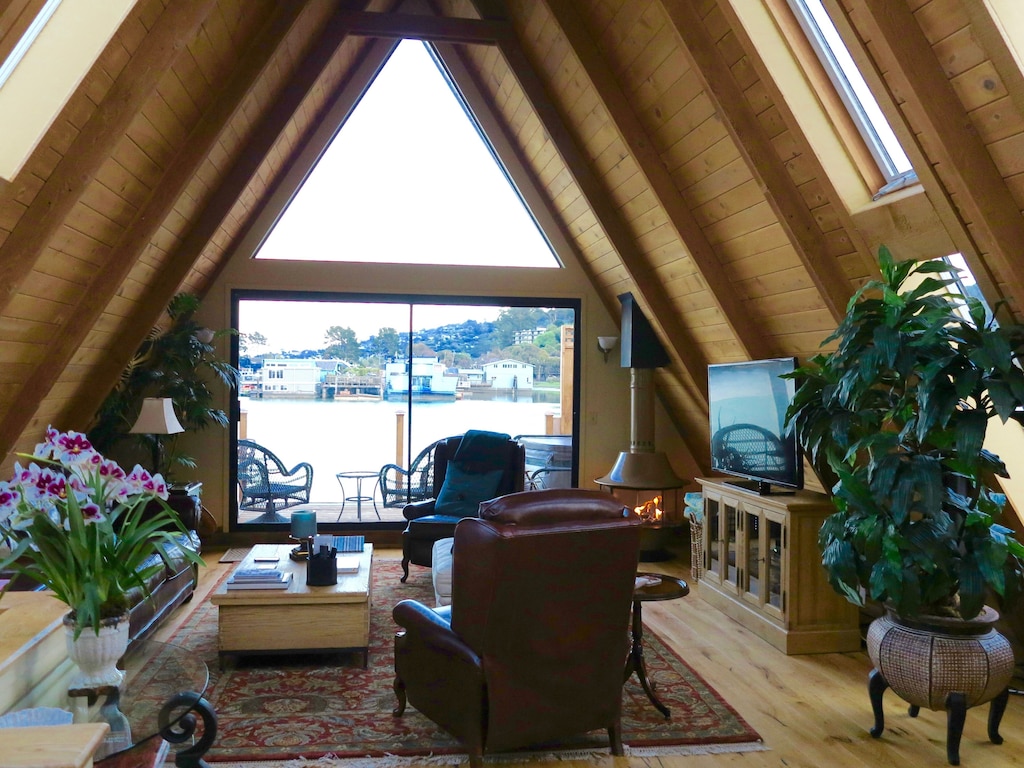 This unique A-frame is a charming 2 bedroom houseboat that is just minutes from San Francisco and only an hour from Napa Valley. Relax in the large master bedroom that features hardwood floors, a fireplace, a large smart TV, and windows that look out to the bay. The fully equipped kitchen has a dining area for six and connects to a living room that has vaulted ceilings, skylights, a gas fireplace, and hardwood floors. Unwind on your spacious deck with some morning coffee or afternoon wine, then relax in the spa — so much to do in this beauty! Note: this is a 30-day minimum rental.
Dreaming of Sausalito – your dream vacation awaits you
Top guest reviews
The owners Melinda and her husband gave us a tour of the house on our arrival, and they couldn't have been nicer. The house was immaculate, and the kitchen and bathrooms seemed to be newly remodeled. The house was fully stocked both in the kitchen and bathrooms. The view of the Richardson Bay was beyond expectations and was fun to watch the tide go in and out. Hope to repeat next year.
A beautiful A frame houseboat, with all the details you might need! fabulous hot tub, steam shower and easy access to the Sausalito/Mill Valley bike path. We would definitely stay again, this is the perfect spot to relax and be immersed in the beautiful nature of the region.
We had the best time on the houseboat. Communication was quick and easy, the amenities were all you could want/need, and the boat was comfortable and lovely. My mom, sister and niece all agree it was the best vrbo accommodation and experience we've had.
Sea Chalet is a 5 star property on the water! Absolutely beautiful and peaceful and such attention to detail! Perfect for your stay in the Bay area. Everything is perfect from the steam shower and heated bath floor to the linens to the deck with the hot tub to the fully stocked updated kitchen. Easy parking, close to the ferry to SF, close to downtown Sausalito, convenient to Mill Valley. Kayaking w/ the seals, hiking only 5 min. away, Sonoma and Napa close by. I can't wait to return!
What a fun place! Located on one of the prettiest docks of the Sausalito houseboat community, this A-line home offers a wonderful water view (not all of the homes do), a unique community, attractive furnishings and thoughtfully considered amenities. I have rented a number of VRBO/Home Away homes, and this was the most convenient in terms of all the little things that were provided: from a welcoming bottle of wine and chocolates to lots of towels, toilet paper, a well-stocked kitchen and so on. All of your needs are anticipated, and that's not always the case. We loved our stay, close to the city (9 minutes without traffic during the holidays!) and an easy commute to wine country. But it's tempting to just sit on the deck, use the hot tub and watch all the great birds! Sublimely relaxing. The only inconvenience would be one affecting anyone with difficulty managing stairs, as the two bathrooms are both on the lower level with the bedrooms. But rest assured that this is a pretty, fully functional and very comfortable rental in a great location! We hope to return…soon!
Read Less ∧
Read More ∨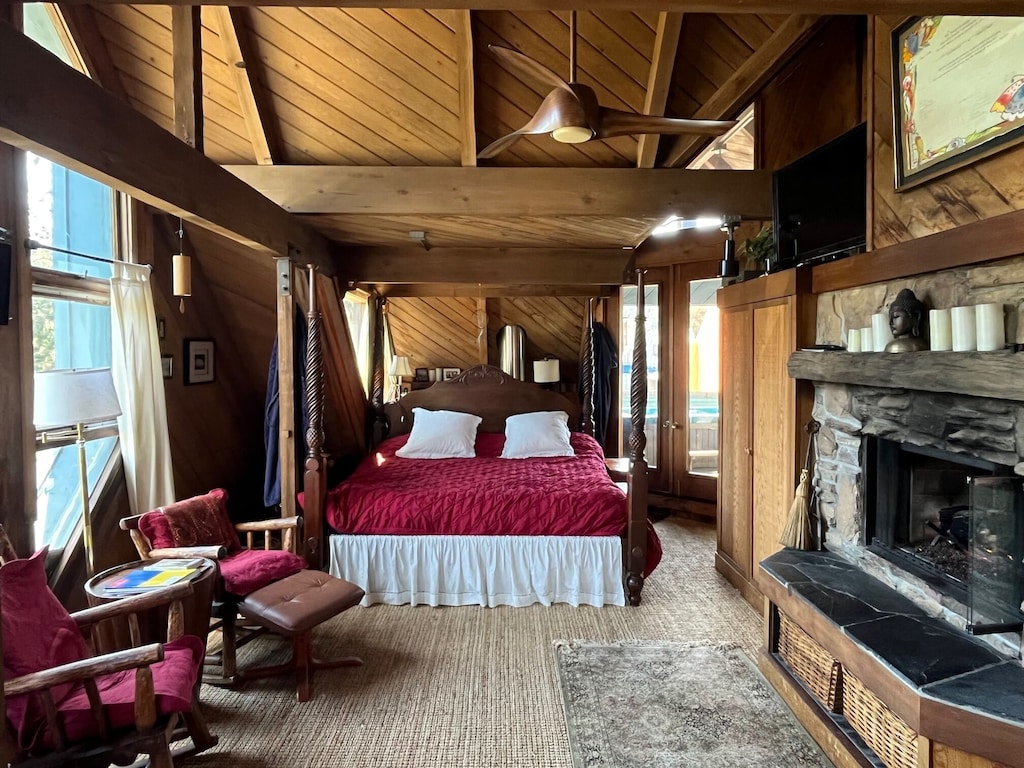 This luxurious option offers houseboat living at its best! Just 20 minutes from downtown San Francisco and an hour from wine country, this one is ideal for entertaining. The master bedroom comes with a fireplace and an adjoining balcony with a hot tub. The second bedroom has an adjoining sitting room, and the fully equipped kitchen is adjacent to the dining area that seats up to eight guests. The living room is comfortable and features authentic art from around the world, and the porch off of the living room offers you the chance to enjoy amazing sunsets over Mt. Tamalpais. There are great restaurants and shops nearby, and you're only a five-minute drive from the Golden Gate Bridge! This is a 3,000-square-foot gem that is sure to please.
Dreaming of Sausalito – your dream vacation awaits you
Top guest reviews
We had a lovely stay on the houseboat. I lived on one previously,for 15 years so it was a homecoming for me. Friendly neighbors and of course a wonderful location.
This is the third time that we have booked a houseboat in Sausalito. While all of our experiences have been positive, this boat was by far, the nicest, decorated with art from around the world, comfortable beds and living area and an amazing deck on top of the house overlooking the bay. The houseboat is walking distance from many businesses and restaurants and a walk or bike ride from downtown Sausalito. The owner was helpful, friendly and accommodating in every way. I can not say enough about the boat, the owner and the overall experience. Thank you Wilford!
Cosy, quirky and comfortable. Such an interesting home with all the many different artefacts and books around for you to enjoy. They reminded us so much of places we have lived in or travelled through, maybe that is why we felt so at home !Thank you for sharing your home Wilford and also thank you to Gail and Kathy who were so helpful with restaurant suggestions and recommendations on where to visit.We have had a wonderful stay and thank you for the wine !Ian and Jennie Kirk – Cape Town
An absolute magical vacation for our family of 6. The boys and girls all enjoyed the Kayaks, roof top, and the various quiet reading nooks throughout this very spacious houseboat. A fabulous location to venture off to Napa, the East Bay, and of course all the magnificent sites of San Fran. Loved meeting the owners and learning all about their favorite travel destinations as the HB is filled with treasures from near and far.
We stayed for 10 heavenly days and enjoyed every second. Wilford & Carole and their floating home haven is a true sanctuary. We kayaked every day and reveled in the hot tub, bedroom fireplace and all the art, and the VERY creatively inspiring environment. Luxury, adventure and the best of being "at home" while away.
Read Less ∧
Read More ∨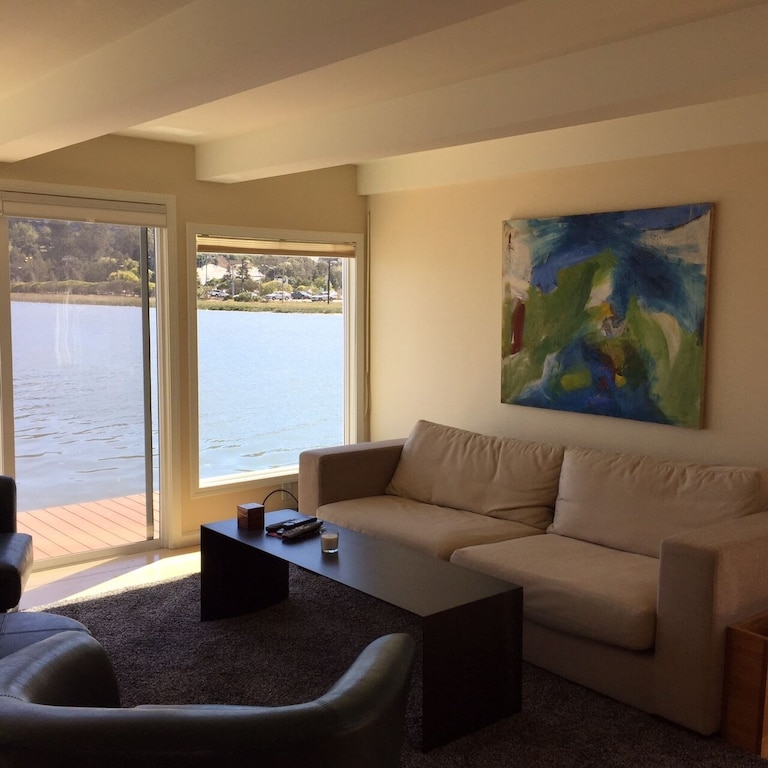 This cozy Sausalito floating house has it all! With water and beautiful shipyard harbor views surrounding you, this modern and elegant houseboat has a king-size bed, a queen sofa sleeper, and an expandable dining table. The fully equipped kitchen is a cook's dream, and you've even got a washer and dryer at your disposal. This is the perfect getaway close to San Francisco, with great restaurants, wine country, and lots more!
Dreaming of Sausalito – your dream vacation awaits you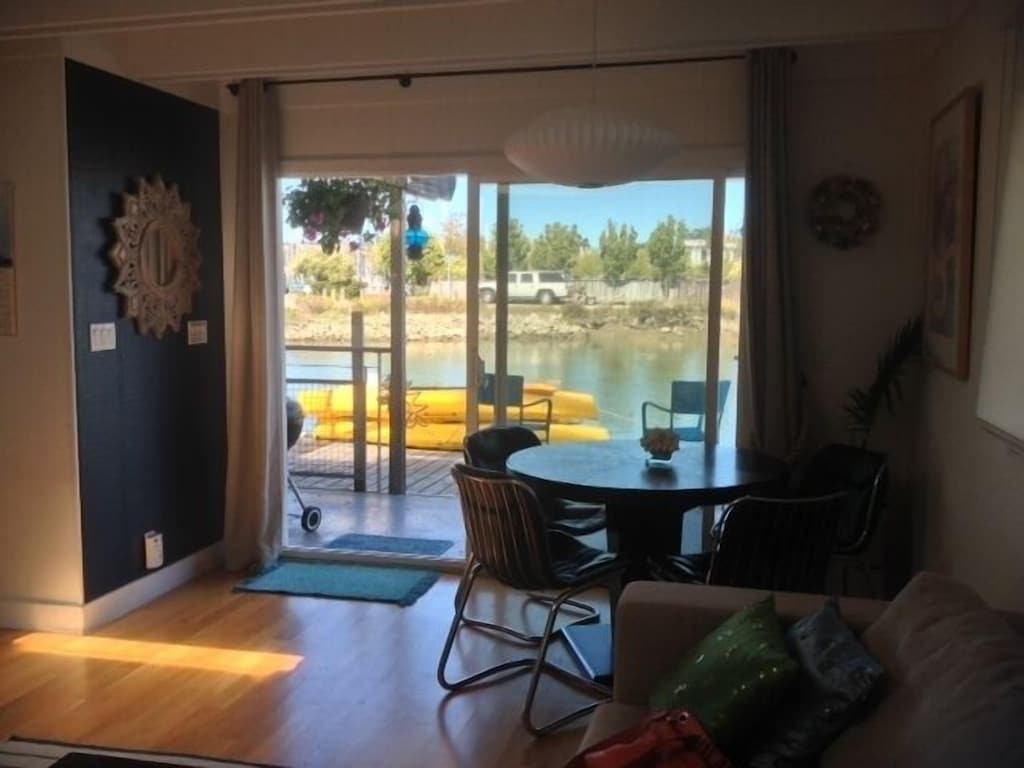 This floating home offers two bedrooms and one bath, a fireplace, and a washer and dryer. Relax on the large outdoor deck to enjoy the beautiful views, or utilize one of the available kayaks and hit the water. Inside you'll find a table for four off of the kitchen, and room for two more at the counter. The nicely decorated living room has space to entertain and a view of the water — definitely worth a look. The deck is absolutely worth checking out!
Dreaming of Sausalito – your dream vacation awaits you
Top guest reviews
We love this place. Very clean and well equipped, this home is perfect for a couple, with room for occasional guests. The neighbourhood of floating homes is quiet and respectful of privacy inspite of the close proximity houses. Anna, our hostess is prompt and efficient regarding any problems that might arise, And, as a testiment, this was our second stay here.
Thank you – what a great place for our family's vacation. Unique accommodation with easy access to shopping, city, natural attractions. Great communication from owner – super helpful!
Thank you – what a great place for our family's vacation. Unique accommodation with easy access to shopping, city, natural attractions. Great communication from owner – super helpful!
Loved staying here. The house was just perfect with everything you need. Comfortable, cozy and nicely furnished. Communication with the owner was terrific – so responsive! Hope to go back and would definitely recommend.
Loved staying here. The house was just perfect with everything you need. Comfortable, cozy and nicely furnished. Communication with the owner was terrific – so responsive! Hope to go back and would definitely recommend.
Read Less ∧
Read More ∨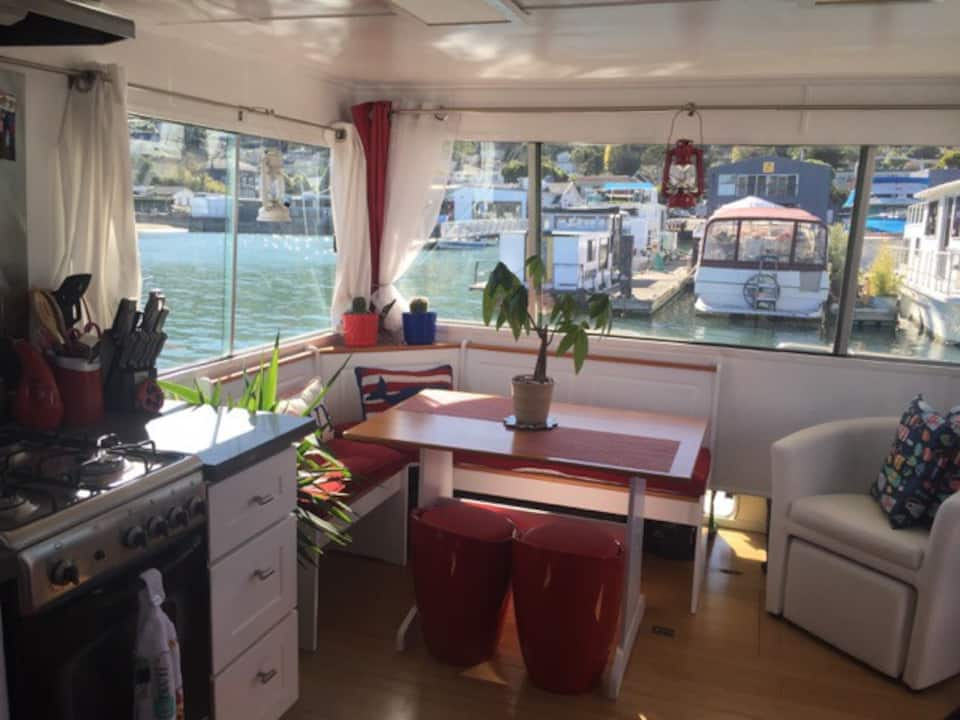 Rent Now
$146/avg nightly
Whether on vacation or working from the water, this cute and cozy houseboat Airbnb rental comes with fabulous views of the water, the hills, and offers absolute tranquility — and high-speed internet! You will certainly enjoy the rooftop deck — a great place to relax, read a book, grab a bite, get some sun, or even work. This one comes with a nice-sized kitchen and a full-size refrigerator. There are restaurants and shops within a 10-minute walk. Great price! Note: the boat is secured well to the dock, but does rock gently at times depending on the wind. Those who are prone to motion or sea sickness are advised to take note.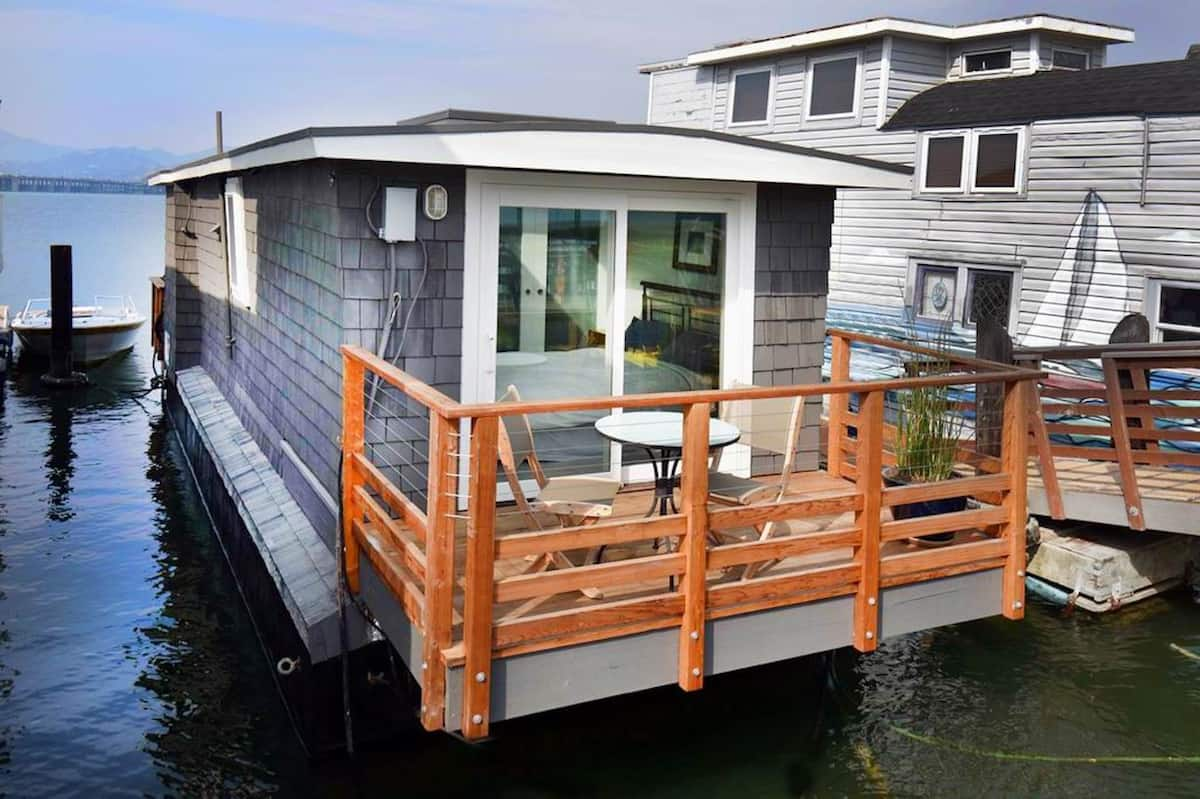 Rent Now
$149/avg nightly
Looking for a small but luxurious floating home? Check this one out! Enjoy the beautiful sunsets and iconic views — life on the water with all of the amenities of a house. This one is a great bargain and includes the use of kayaks and bikes. The photos make it appear that you may see lots of wildlife! Note: this host only accepts bookings of one month or longer.
Rent Now
$180/avg nightly
Designed for outdoor entertainment but still cozy on the inside, the Getting Nauti is a floating loft — an unforgettable escape that comes with a full kitchen, deep freeze, a full bathroom, TV, internet, and an outdoor theater. You are going to love the views from any of the three outdoor decks! Note: this is a monthly rental.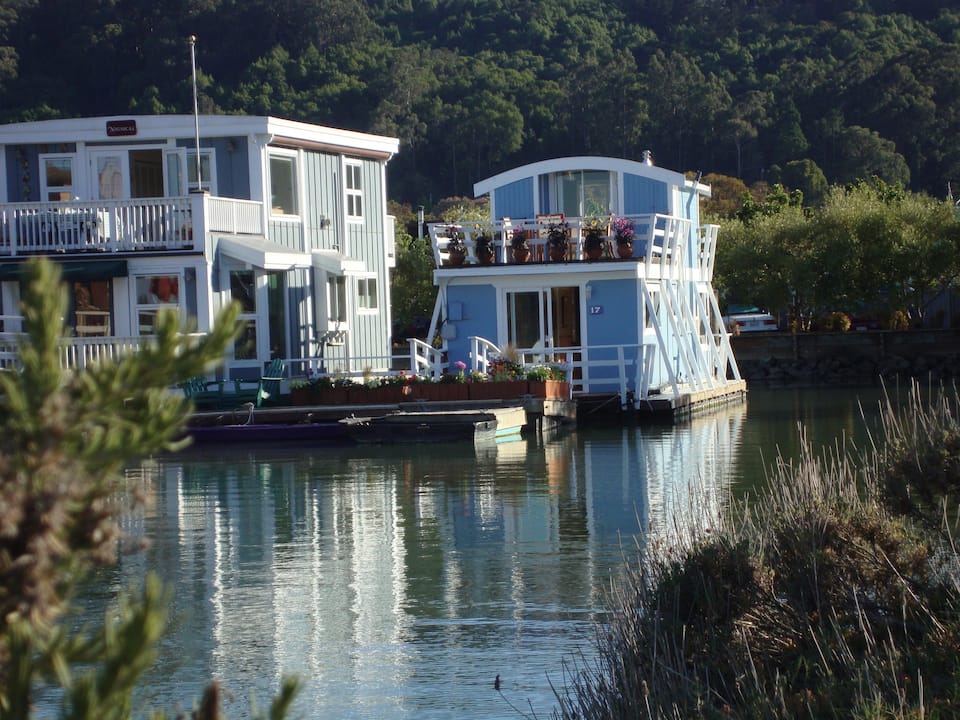 Rent Now
$261/avg nightly
This floating guest cottage is a freestanding home that blends nostalgia with today's amenities. You're going to love the sweeping views of the bay, rolling hills, and the majestic slopes of Mt. Tamalpais. The main front room includes a dining table for 6, a sofa, a captain's chair, and a gas stove. The kitchen comes with a full-sized gas range oven and other modern appliances. Ideal for a couple or a single guest, this is the perfect option if you want to get away but remain close to the conveniences and fun offered in Sausalito. Check it out today — this one is extremely highly rated and in high demand!
To find more things to do while floating in and around Sausalito, check out: