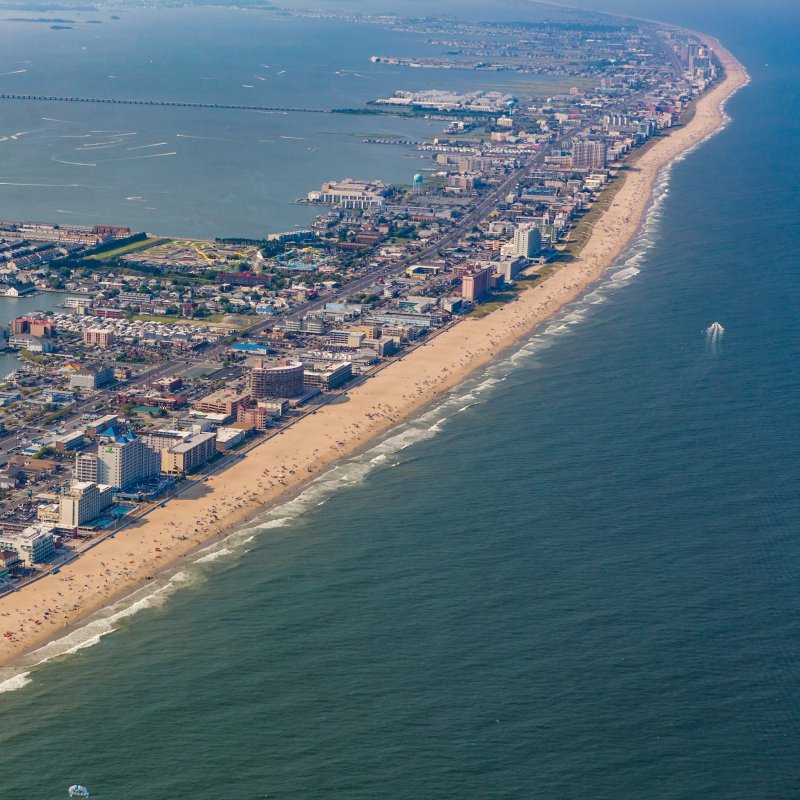 The food, the beach, the action, and the boardwalk draw visitors to Ocean City year after year. With so many oceanside activities available, you will have to choose strategically if you are only here for 48 hours.
Things To Do In Ocean City
Ocean City has something for everyone. It is a party destination for the younger crowd. It is family-friendly for the multi-generational group. It also offers a wide variety of options for young-at-heart visitors.
Whether you want to just kick back or are itching for adventure, you will find Ocean City is the perfect vacation spot.
Enjoy The Sun And Sand
Beach life is the anchor of Ocean City. There are 10 miles of gorgeous beach and no beach sticker required. You are free to enjoy the sand, sun, and sparkling water. Whether you want to relax in your own little spot in the sand or get wet and splash around, this beach has it all.
Surfing beach areas rotate with the waves and are separate from the swimming areas. You are welcome to watch the show as accomplished surfers show off their moves and newbie surfers perform hilarious accidental antics.
The Ocean City Beach Patrol provides beach wheelchairs to ensure your stay is as enjoyable as possible for everyone.
Play On The Water
No matter what your favorite on-the-water pastime is, you can find it here in Ocean City.
Paradise Watersports can hook you up with jet ski rentals and parasailing outings.
Odyssea Watersports can serve up pontoon boats, kayaks, and SUP (Stand Up Paddle) Board rentals for a more subdued water-bound experience.
If you want to leave the driving to someone else, visit M.R. Ducks for a wide selection of tours, including their most popular Assateague Adventure that takes you out to Assateague Island to view the wild ponies. You can also jump on the OC Rocket for a wild speed boat ride. Alternatively, If you have young pirate fans in your group, book a ride on the Duckaneer for some pirate fun at sea.
Hit The Links
The Ocean City area is home to 17 championship golf courses. Choosing just one may take a minute.
According to Golf Advisor, the two courses on the must-play list are the Links at Lighthouse Sound and Bayside Resort and Golf Club (about 30 minutes outside of town).
The Links at Lighthouse Sound is a public course notable for its spectacular marshside holes. The par three, fifth hole plays up to 218 yards over the marsh where the green is surrounded by water on three sides. This is the course's signature hole and boasts panoramic views of the Ocean City skyline.
The Bayside Resort and Golf Club is a Jack Nicklaus Signature Golf Course. The semi-private course offers golfers a variety of natural scenery including traditional tree line and wide-open fairways mixed with winding doglegs through the marshland.
Fishing For Feisty Marlin
Deep-sea fishing is a unique experience that everyone who loves to fish should try at least once. After you try it, you will never look back. The OC Girl fishing charters will take you on a deep-sea adventure of a lifetime.
All aboard before sunrise for a trip out to troll for marlin and tuna. Once you have snagged your catch, with the help of the crew if necessary, they will fit you into a fighting harness and you will be in a battle with one of the most tenacious fish on the East Coast. Sun's out, guns out is the call of the day for an angler fighting down a feisty marlin.
See And Be Seen
You can't have a conversation about Ocean City without discussing its three-mile-long, classic, wooden boardwalk.
Don your best summer play clothes and try to walk the boardwalk end to end without stopping. It's impossible. Amusement rides and arcades sit next to amazing restaurants and beachy shops. When you need a break, grab a seat on one of the many benches for your people watching enjoyment. It is also the best spot to enjoy a snack, perhaps some ice cream or a fried dough.
Free Weekly Events
There is always something to do here, and Ocean City offers several free, family-friendly events for visitors' enjoyment.
On Wednesdays and Fridays there are free movies on the beach, Don't forget your beach chair and blanket.
If you are there on a Thursday, the beach fireworks begin at 10:30 p.m. For the party crowd, you can dance on the beach to a local DJ while waiting for the fireworks to begin.
Sundaes In The Park showcases local bands, fireworks, and ice cream trucks selling their sweet, creamy frozen treats.
For a complete list of dates and times, you can visit the Ocean City Free Family Fun page.
Best Restaurants In Ocean City
Seafood is the mainstay of East Coast dining. Maryland is renowned for her crab harvest. It is on the menu of any legitimate Ocean City restaurant in one form or another. If you have never tried fresh Maryland crab, be sure to add it to your vacation bucket list.
Fine Dining
Choose the outdoor deck or indoor dining at Fager's Island Restaurant and Bar for an indulgent dinner featuring American and Pacific Rim cuisine served up in a quiet refined atmosphere.
Start with the Crab Claw Cocktail for a classic Maryland dining experience. Follow up with their Chilean Sea Bass served with Plum-Sesame Glaze or the Catch of the Day prepared to your liking.
Cocktails, Appetizers, And A View
The Hobbit Restaurant is away from the hustle of the beach but well worth the short trip off the boardwalk. Grab a seat and enjoy the peaceful water views while you munch happily away on Cherry Bomb Calamari (fresh fried Calamari with cherry bomb chili sauce and Shanghai aioli). A must-try is Purk's Duck Cigars (duck confit wrapped in pastry and fried, served with cherry honey syrup and almonds). Another amazing option is Lollipop Lamb Chops (blackened lamb chops with sweet potato hash and honey aioli). Of course, everywhere in Maryland has a crab dish. Try their Crab Stack (Maryland jumbo crab with homemade guacamole, spiced gazpacho, and ranchero chips).
It's too hard to choose just one, so order one of each and have appetizers for dinner with a tropical cocktail and gorgeous views. Bon appetit!
Beachside Barbeque
Bull On The Beach will tickle your tummy with soulful southern barbeque, beachside. Their Cuban sandwich with pit beef, ham, swiss, and a pickle on rye all grilled to juicy goodness is hard to beat. The Open Pit Beef Sandwich highlights 21-day aged top round pit beef. There is no asking "Where's the beef?" here.
Where To Shop In Ocean City
You can find lots of one-of-a-kind shops along the boardwalk. They beckon you to come in and look around. It's the perfect place to find that Ocean City memento or souvenir gift. Two important coast vacation shopping stops are a reliable surf shop and the classic sweet stop.
K-Coast Surf Shop will entertain you with its huge selection of surf gear. Whether you are an expert at hanging ten or just want to buy the T-shirt, K-Coast is a fun store to wander through.
They have three locations in Ocean City and offer board and gear rentals.
A beach vacation isn't complete without a trip to the local candy store. Ocean City sports two fine sweet treat establishments: Candy Kitchen and Dolle's. Both offer must-have saltwater taffy and the required box of vacation fudge along with other sweet tooth satisfiers.
Best Hotels In Ocean City
If you want to be in the center of the action, you can stay right on the boardwalk, just steps from everything. You can also find a more quiet repose just a short distance away.
Fager's Island
Fager's Island is a quick ride from the beach, but it seems like it's miles away. The sister accommodations, the Lighthouse Club Hotel and the Edge Hotel, offer their guests an elegant oasis away from the hustle and bustle of the boardwalk. It is a serene spot to return to at the end of a crazy-busy beach day.
On The Boardwalk
Steps from the wooden boardwalk is Plim Plaza Hotel. With views of the Atlantic Ocean from the hotel porch, you can enjoy the spectacular view while being in the thick of all the action. A short walk to all the activities makes this spot perfect for a close-to-the-action stay.
Pro Tip
Ocean City is a fun and adventurous destination for a weekend getaway or a full week's vacation. You will have a fabulous time just exploring the boardwalk and beach. If you are looking for a little more action, book one or two special adventures.
If you have some extra time, consider a road trip to some of the different beach towns north of Ocean City. You can explore the possibilities on our Delaware road trip: beaches, history, and charming towns.