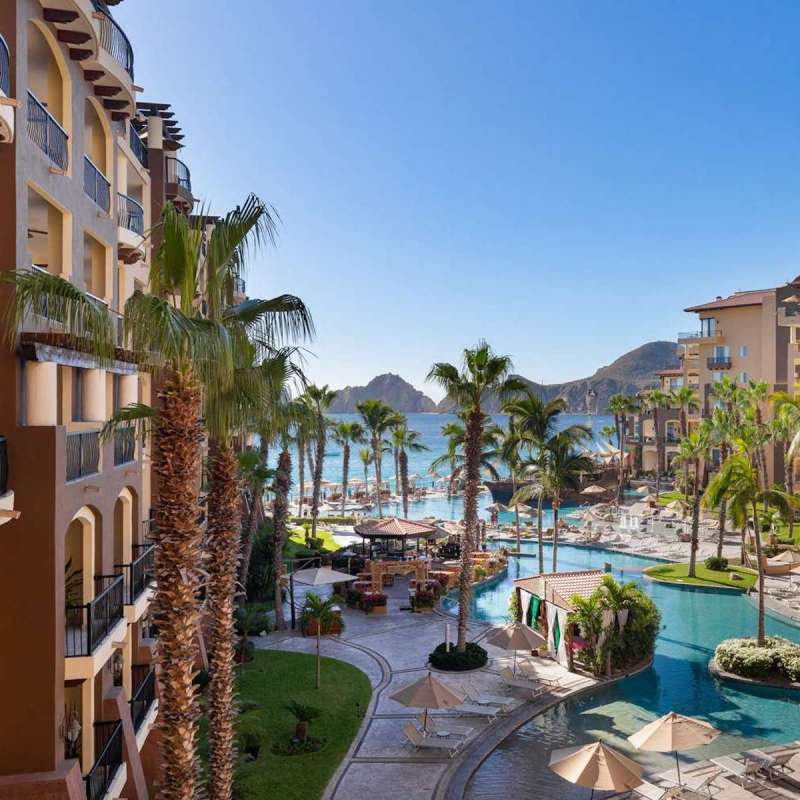 TravelAwaits' 2023 Best Of Travel Awards, presented by
AllTrails
and with the support of
Luggage Free
, the premier luggage shipping service, showcases our readers' favorite destinations and businesses. Nominations and voting took place earlier this year, and we hope the final selections inspire your future adventures; congrats to all of the winners!
There's traveling, and then there's vacationing. If you're after a vacation, an all-inclusive resort in Mexico or the Caribbean belongs at the top of your list. Having been around the world, I can say without hesitation that my family's vacations in Mexico (Cabo and Riviera Maya) and the Caribbean (Jamaica, St. Thomas, and the Bahamas) have delivered on all the things you're after when you book an all-inclusive: sand, sun, gorgeous rooms and suites with air conditioning, delicious and abundant food, staff who go above and beyond, and onsite activities galore.
Dreaming of or actively planning your getaway? Become inspired by our readers' picks for the best all-inclusive resorts in Mexico and the Caribbean.
Best All-Inclusive Resorts In Mexico And The Caribbean
1. Royal Uno All Inclusive Resort & Spa (Winner)
Cancun, Mexico
The super family-friendly Royal Uno All Inclusive Resort & Spa in Cancun is the best all-inclusive resort for anyone looking for "endless fun" — and fast. The resort is just a 20-minute drive from Cancun International Airport. All the rooms and suites offer an ocean view, or you can upgrade to beachfront — with options for a private whirlpool, private plunge pools, and terraces, too. This resort reminds me of one oceanfront resort I visited not too long ago.
Amenities include the Alea Spa, a kid-friendly water park, and plenty of fitness and family-fun options between the fitness center and Cancool game room. There's also a gift shop, a kids club, and seven dining options, including swanky Palotinte for Mexican, Miamare for Italian, and Aora for Asian, plus Kukul Cantina steakhouse; a casual snack shack; and the Star Bar.
Don't Miss: The gorgeous and sprawling sun deck, a cocktail lounge with plunge pools overlooking the ocean, also known as "the coolest place to be at Royal Uno."
2. Hotel Xcaret Mexico
Playa Del Carmen, Mexico
Xcaret is a big name in Mexico, and for good reason. The company's Riviera Maya adventure parks are known for their water slides, zip lines, rafting and floating, cenotes (limestone sinkholes with pool-like openings), and cultural programming. As of 2017, Grupo Xcaret is offering its finest at all-inclusive resorts, too.
Its flagship all-inclusive resort, Hotel Xcaret Mexico, is an all-suite, family-friendly option that includes access to its parks. Like at all Mexico all-inclusive resorts, the suites are situated so you can jump into the private pools directly from your terrace, or book in Casa Fuego, the resort's dedicated adults-only resort area, which boasts its own restaurant, too.
Dining options are plentiful, with 11 restaurants, including ultra-modern Ha' (led by Michelin-starred Mexican Chef Carlos Gaytán), romantic cave dining at Las Cuevas, and an entirely vegan menu at Bio. Note that some restaurant reservations are upgrades that come at an additional cost above and beyond Xcaret's All-Fun Inclusive.
Don't Miss: Xcaret Xailing — the resorts' All-Fun Included sailings to Isla Mujeres on a Xcaret ferry or catamaran.
3. Villa Del Arco Beach Resort & Spa
Cabo San Lucas, Mexico
The five-star Villa del Arco Beach Resort & Spa is a family-friendly all-inclusive resort that emphasizes elegance in its suites, landscaping, and dining options. Make the most of included kayaking and paddle boarding, sand and water volleyball, and, if you check in with littles, the extensive lineup of kids' programming. In addition, guests have access to theme night performances at neighboring Villa del Palmar.
Villa del Arco is probably foodies' best all-inclusive resort as it has five restaurants included in their all-inclusive package, most of which offer open-air seating with ocean or pool views. Suites boast kitchens and terraces. There's even a two-bedroom option with a counter-height bar and full-on dining room, perfect for the family vacationing together.
To conclude, people who have limited vacation time look forward to all-inclusive packages as a way to maximize their time off. They don't want to plan and coordinate every aspect of their vacation. That's why all-inclusive resorts in Mexico attract all kinds of travelers, from families and couples to groups of friends and solo travelers.
Don't Miss: Treat yourself to a reservation at the award-winning (and dazzling — think marble everything) Desert Spa.
4. Sandals South Coast
White House, Jamaica
Love water? Then this is your all-inclusive resort. Sandals designed this entire resort, where you'll be treated to 2 miles of white sand and three beachfront swimming pools, to "embrace the coastline." Rooms and suites include overwater honeymoon bungalows with big South Pacific (think Fiji or Bora Bora) vibes as well as butler suites with private-pool "sanctuaries."
At South Coast, PADI-certified scuba diving is included, as are kayaking, waterskiing, glass-bottom boat rides, and an array of leisure sports and fitness-center activities. Choose from nine restaurants that feature the flavors of Paris, Asia, and the Mediterranean as well as seafood and Caribbean specialties.
Don't Miss: Your chance to try Appleton Estate Jamaican rum — distilled on the island since 1749 and served at South Coast's swim-up and sit-down bars and restaurants.
5. Moon Palace Jamaica
Ocho Rios, Jamaica
Moon Palace Jamaica is one of the best all-inclusive resorts in the Caribbean. It elevates the family-friendly, all-inclusive experience to new heights with its entertainment, activity, and culinary offerings. Think dedicated children's programming in The Playroom and at The Dreamery (exclusive to Palace Resorts), an "ultra-modern" arcade and video game lounge, and non-motorized watersports like scuba diving included.
You'll have five restaurants and six bars to choose from or treat yourself to room service, available 24/7. This all-inclusive resort even boasts a menu of baby purees "prepared with the healthiest ingredients" and delivered directly to your room or suite.
Don't Miss: A trip outside the resort to climb Dunn's River Falls (one of the most enjoyable things my family did in Jamaica!), a mere 10-minute drive from the property.
6. Excellence Playa Mujeres
Playa Mujeres, Mexico
This all-suite, "adult-only playground" just 35 minutes north of Cancun International Airport (and directly across from Isla Mujeres), promises "a sprawling and serene tropical escape." Swing in a hammock hung over one of the property's river-style pools, choose from over a dozen beautifully modern restaurants, and stay active in mind and body with a Spanish, cooking, or dance lesson, all included during your stay.
Note that The Excellence Collection prioritizes its Excellence Club members with exclusive pools, hot tubs, and bars as well as dedicated suites throughout the resort (and at its four other properties), so it's worth considering an Excellence Club reservation when you book.
Don't Miss: A round of golf at nearby and highly recommended Playa Mujeres Golf Club or Puerto Cancun Golf Course, known for its "quirky and unusual layout" and unique situation in a 180-acre eco-reserve.
7. Secrets Royal Beach Punta Cana
Punta Cana, Dominican Republic
Adult-only Secrets Royal Beach Punta Cana is an architectural delight that also affords guests access to almost half a mile of "palm-studded white sand beach." This Hyatt property in Punta Cana features six pools and ample lounging areas. Rooms and suites feature furnished balconies or terraces, 24/7 room and concierge services, and luxurious soaking tubs.
Choose from eight restaurants that range from the super-casual Barefoot Grill and open-air Olio to formal Bordeaux for French fare (and a wine cellar!), plus 11 bars (note that two are for Preferred Club members only, so book accordingly).
Don't Miss: Drinking and/or dancing the night away at Eclipse Nightclub, which features an outdoor terrace, dance floor, and DJ-spinning tracks from 10:30 p.m.–2 a.m.
8. Club Med Punta Cana
Punta Cana, Dominican Republic
Club Med Punta Cana promises "unforgettable family escapes" — with the environment in mind. You'll love your room or suite, dining, and experiences much more knowing over 20 percent of the resort's electricity comes from solar panels integrated into the landscaping.
This summer, this all-inclusive resort in Dominican Republic is unveiling 80+ newly renovated, two-bedroom accommodations perfect for family and friend groups. Dine at three restaurants: Hispaniola, a beach bistro with wine cellar; Samana, world fusion with a raw bar; and Indigo, surf and turf plus vegetarian options with expansive ocean views.
Don't Miss: The Circus School by Club Med experience — a totally unique playground where you can climb up silks, fly on a trapeze, learn to juggle, and even take part in a circus show. Alternatively, check into the L'Occitane spa for pampering inspired by the best of Marseille and the south of France.
9. The Caves Hotel
Negril, Jamaica
The Caves, one of Island Outpost's four unique properties, is a "natural preserve turned traveler's nirvana." Built atop and into a striking limestone headland, the hotel has just 12 "rooms" (all suites, cottages, and villas defined by their boho beachy vibes) and accommodates a maximum of 24 guests, meaning a truly intimate experience for every vacationer.
While this is a waterfront hotel, note that it is not on a sandy beach, meaning you might want to venture off-property for your sand and sun. While at the resort, enjoy three restaurants, romantic private-dining offerings, an intimate saltwater pool and Jacuzzi, and watersports like scuba diving, cave diving and snorkeling orchestrated by The Caves's dedicated water sports director. The Caves also has an AVEDA spa.
Don't Miss: Drinks at Blackwell Rum Bar, which is built into the caves the hotel is named for.
10. Azul Beach Resort
Cancun, Mexico
This all-ages all-inclusive promises something for every member of the family, with offerings from toddler activities and a kids' spa menu to fine dining at award-winning adult-only "dining concept" Le Chique (recognized by S.Pellegrino & Aqua Panna as one of the 50 best restaurants in Latin America 2022).
Expect sleek and modern design throughout with pops of blue (azul) that nod to the sea. The property features eight restaurants, eight bars, half a dozen pools, and a host of suite layouts (including some with soaking tubs and/or private hot tubs) to choose from. Spend a day at the beach catching rays on an ample "Bali bed," enjoy live entertainment put on around the property, or try a signature Mexican tequila tasting.
Don't Miss: An evening beach bonfire built just for you and yours.
11. Divi & Tamarijn Aruba
Oranjestad, Aruba
If you equate vacation with long walks on the beach, Divi & Tamarijn Aruba all-inclusive resort deserves your consideration. Wake to a mile and a half of powdery white sand awaiting you each morning. The resort also has four pools, a private golf course, 10 all-inclusive restaurants, two optional (upgraded) fine-dining experiences, and half a dozen bars.
Note that Divi and Tamarijn are technically distinct properties, though guests at either have access to both. Divi is the resort's take on luxe accommodations, while Tamarijn is its family-friendly offering. Whichever you choose, you can enjoy your vacation knowing Divi & Tamarijn is recognized as one of "the most eco-friendly and community-friendly resorts in the hospitality industry."
Don't Miss: Drinks at the micro-mini open-air Bunker Bar, a former WWII bunker (circa 1941).
12. Barceló Maya Grand Resort
Playa Del Carmen, Mexico
This six-hotel resort invites you to create your dream vacation by checking into the perfect room — whether it's an adult-only suite or a family-friendly swim-up — then enjoying amenities galore. All told, the property has more than two dozen restaurants and 50 swimming pools, including the region's largest infinity pool at adult-only hotel Barceló Maya Riviera.
Book at one of the Premium Level hotels for expedited check-in, access to a premium lounge, discounts at the spa, salon, and gift shop, and priority reservations at select restaurants.
Note that access to other hotels' restaurants and amenities is based on your booking, so be sure to read the fine print!
Don't Miss: Family-friendly escape rooms and bowling lanes (booked at an additional cost), perfect when any or everyone needs to get out of the Sun!
13. Hotel Xcaret Arte
Playa Del Carmen, Mexico
Hotel Xcaret Arte is Grupo Xcaret's answer to the adult-only (16+) all-inclusive experience. Like Hotel Xcaret Mexico, it offers an "All-Fun Inclusive" experience (detailed above) but in a decidedly elegant atmosphere.
In addition to its eight pools and 10 restaurants, it's also home to textile, painting, pottery, and Latin dance workshops that invite you to be inspired by your experience on the Yucatan. The all-suite accommodations feature stunning views and thoughtful details that pay homage to Mexico's diverse artists.
Don't Miss: Extra pampering at Muluk Spa, a "mystic sanctuary" of stone and water.
14. Grand Velas Los Cabos
Cabo San Lucas, Mexico
Grand Velas Los Cabos is all about luxury, from its seven gourmet restaurants to its suites, including the two-story adult-only Wellness Ocean View. Whichever accommodations you choose (some are family-friendly, and kids' activities and programming are offered), caffeinate for your day with personal in-room Nespresso coffee makers.
Grand Velas helps its guests vacation sustainably. Enjoy the beauty of its white sand and lush grounds knowing the resort offers avocado seed straws, is proud of its composting program, and promises to keep its beaches safe for nesting turtles.
Don't Miss: Sundowners at open-air Miramar Bar, where the reds and oranges of the bonfires and plush lounge furniture compliment the sky.
FAQs
When to Book Your All-Inclusive Resort Getaway To Mexico or the Caribbean?
As a general rule, destinations like Mexico and the Caribbean can really vary in price depending on the season. The least expensive time to travel is from September to December, excluding holidays. Christmas and New Year's Eve are the most expensive time for booking all-inclusive resorts. When it comes to weather, most tropical destinations are warm to hot year-round though, but some places like the Bahamas can be chill in winter.
Do I Need to Tip at an All-Inclusive Resorts?
Yes, it is certainly encouraged at all-inclusive resorts in Mexico and the resorts in the Caribbean even though it is still an optional gesture. However, you don't need to tip every time and the people you'll tip are wait staff, bartenders, room attendants, tour guides, etc. Tipping encourages the resort's staff to take your service to the next level. Just remember, before you tip anyone, double-check if your tips will be accepted.
What to Consider When Choosing an All-Inclusive Resort?
You should consider the price, the reviews, and additional costs above all. Price can vary from a couple of hundred dollars a day to well over $1000 depending on the level of luxury you want. For reviews, it is best to take a look on TripAdvisor to see detailed guest reviews. When it comes to add-ons, always look for extra costs for airport transfers, spas, water sports like scuba diving, premium drinks, and special event dining.
Why Are All-Inclusive Resorts in Mexico So Affordable?
It is mainly because it's a country with a lower cost of living. Food, supplies, and labor costs are typically lower in these countries, which helps to keep operating expenses down. Therefore, all-inclusive resorts can sell their services at a much lower price than resorts in other parts of the world. With that said, remember that the quality of the accommodations and amenities at all-inclusive resorts can vary greatly.
Is All-Inclusive Worth It in the Caribbean Islands?
Yes, it is worth it to go to resorts in the Caribbean, as long as you do your plan ahead. Do your homework, know what is included and what activities you want to enjoy in the Caribbean all-inclusive resort of your choice. All-inclusive doesn't mean the same thing for everybody and, in that sense, some all-inclusive Caribbean resorts will be worth the money, while others will not. If you're an experienced traveler, you would know by now that with some resorts, the truth is in the fine print.