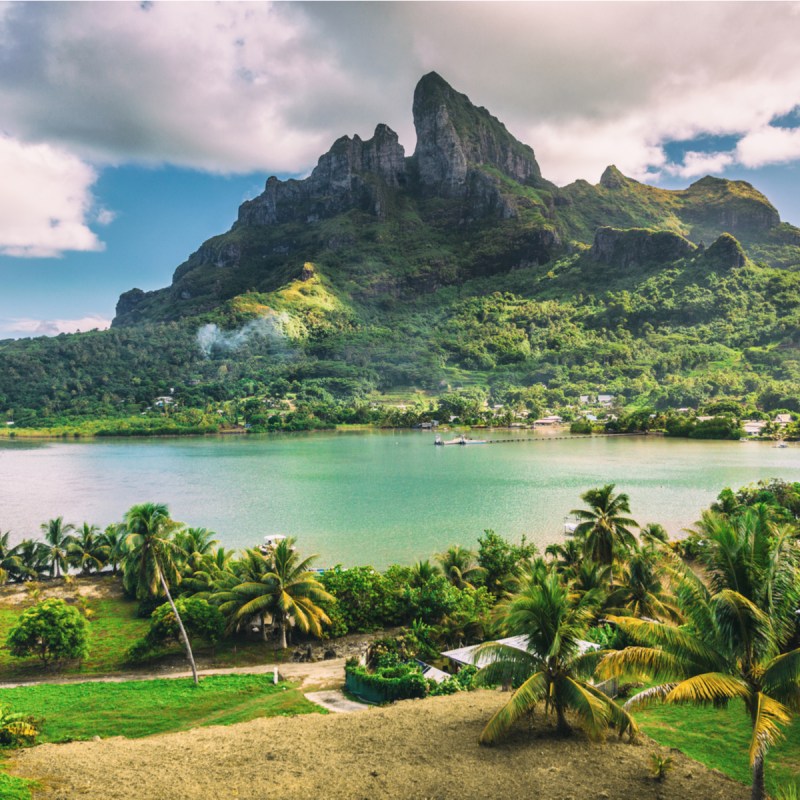 It's imperative to feel comfortable and safe while traveling.
Medjet
provides premier air medical transport, travel security, and crisis response memberships, providing peace of mind for an affordable price.
Fiji and Bora Bora are both dream island destinations in the South Pacific. Fabulous beaches, tropical vegetation, and colorful marine life together with excellent accommodations and a great variety of activities make these two islands desirable and popular vacation destinations. But there are also plenty of differences that need to be considered before making your choice between the two.
Fiji is an island nation comprised of more than 300 islands and islets. It is located approximately 1,300 miles northeast of New Zealand. Bora Bora, by contrast, is just one island surrounded by many sand-fringed islets, called motus, and a coral reef–protected lagoon. It is located just northwest of Tahiti and is part of French Polynesia. The distance between these two islands is 2,000 miles, so there is a lot of ocean between them.
Fiji Vs. Bora Bora: 6 Key Differences To Know Before You Visit
1. Size, Geography, And Climate
The two main islands of Fiji are called Viti Levu and Vanua Levu. Eighty-seven percent of the population lives on these two islands. 
Viti Levu is the location of the capital, Suva. Two other important cities on Viti Levu are Nadi, where the international airport is located, and Lautoka with its sugar cane mills and a seaport.
There are also the island groups of Mamanuca and Yasawa just to the west of Fiji. Mamanuca is famous for turquoise waters and is a paradise for experienced surfers, while Yasawa is known for quality beaches. The most outlying island group in Fiji is Ono-i-Lau.
Fiji is one of the most developed economic regions of the Pacific, with the main source of income being tourism, forests, minerals, fish, and sugar cane, so there's a lot of things to see and do in Fiji.
Fiji has a hot, humid, and rainy season from December to April. The islands are of volcanic origin, and eruptions occasionally still occur. The highest elevation is Mount Tomanivi on Viti Levu. The ecosystem of Fiji is divided into tropical moist forests and tropical dry forests. The interior of the islands is sparsely populated, with a concentration of inhabitants along the coastlines.
Due to it being only one island, there is no island hopping on Bora Bora — unless you consider trips to the small motus or a day trip to Tahiti, as it is around 160 miles from its western coast.
Bora Bora is surrounded by its major attractions, the multicolored lagoon and its protective barrier reef. The island's interior is dominated by the two peaks of extinct volcanos, Mount Pahia and Mount Otemanu.
The major city, Vaitape, is located on the west side of the island, whereas the airport is on Motu Mole. There are several flights a day to Papeete. The main source of income for Bora Bora is tourism; the production of copra, derived from the island's coconut trees, has lost importance.
The official language of Bora Bora is French, but due to the many visitors from the U.S. and Australia, English is no problem. Fiji has three official languages: English, Fijian, and Hindi.
Bora Bora's dry season, and the best to visit, is from May to October.
2. Getting There And Getting Around
Getting to Fiji from the U.S. takes many hours, but it's relatively easy because there are direct flights from LA to Nadi Airport. There are also flights from Vancouver via Honolulu.
Traveling to Bora Bora is a bit more complicated, as you have to make your way to Tahiti first. From there, there are flights to Bora Bora, but the airport is on a motu surrounded by water, which means you will need an (expensive) water taxi to take you to your hotel.
Getting around Fiji is quite easy. Highways encircle the two major islands, so you can rent a car and drive. Other options are taxis (make sure they are metered), buses (if you are not in a rush — but then again, who is on an idyllic island?), ferries, and flights (which are the fastest way). Here is a good overview of the transportation system in Fiji.
Pro Tip: It is tempting to explore the many islands of Fiji and to visit off-the-beaten-path locations and villages. Be aware that you can't just walk into a village though. A gift-giving ceremony called sevusevu is requested. You must bring a small gift, usually kava, to the chief of the village and thereby ask permission to visit. Not doing so is considered disrespectful and may even be construed as trespassing.
On Bora Bora, your best choice of transportation is to rent a bicycle. The entire island has only a circumference of 18 miles, so it doesn't take you long to traverse the island. If you want more exotic transportation, you can take a bus called Le Truck. They are notoriously unpredictable, but if you see one approaching, you can just stop it where you stand and it takes you around the island. There are hiking paths through ancient villages and lush vegetation, with tours by friendly and knowledgeable guides from Polynesian Island Tours. Hiking tours are available every day with the exception of Sunday. For the very fit and adventurous, there is even a 6-hour climb to the peak of Mount Pahia.
Many of the great resorts of Bora Bora sit on their own motu and offer shuttle services to the main island. There are also water taxis and boat excursions to explore wherever you desire.
3. Beaches
Being the beautiful South Pacific islands they are, beaches are, of course, an important feature of both. The main difference between Fiji and Bora Bora is that Fiji has more beaches because the archipelago is larger — but they are also more difficult to get to as they are spread out. The beaches of Bora Bora are of equal quality, but far less in number. They are easier to get to due to the small size of the island.
On the other hand, many Bora Bora beaches are private on motus, owned by the resorts that are located there — and therefore have to be paid for. The only public, and arguably most beautiful, beach on Bora Bora is called Matira Beach, but as such, it can get crowded, so make sure to arrive early to reserve your spot.
The most beautiful beaches of Fiji are on the outer islands, with one exception: Natadola Beach on Viti Levu. It is only accessible by taxi and you have to pay to enter the resort, but you can redeem the money if you eat there or use their spa. Another fabulous beach only to be reached by boat is the exclusive Horseshoe Bay at Matangi Private Island Resort. They also have tree houses, so you might consider spending the night.
4. Cost Of Vacation
Let's say it up front: None of the South Pacific islands come cheap, and neither Fiji nor Bora Bora are an exception. Having said that, Fiji is more affordable than Bora Bora. In Bora Bora, everything, not just the luxurious accommodations, costs an arm and a leg. Even everyday items like toothpaste or sunscreen.
If you are looking for a full-out, no-expenses-spared luxury stay, Bora Bora is the better option. This has a lot to do with the fact that Bora Bora is a very popular honeymoon destination. We have already mentioned the private resorts that offer you everything you could desire… for a price.
In Fiji, due to the fact that there are so many islands to choose from, you can find somewhat cheaper, but rather basic accommodations in the form of bures, which are traditional Fijian bungalows with thatched roofs. On the other hand, luxurious overwater bungalows are also available, like the Marriott Resort overlooking Momi Bay. There are a lot of resorts and hotels to choose from on Fiji.
5. Dining Experience
Bora Bora is part of French Polynesia, therefore the cuisine influence is French. The top ingredients are fish and fresh fruit. A Bora Boar specialty is poisson cru, which is raw tuna marinated in lime juice and coconut milk. Pineapple, bananas, and coconut all grow locally and therefore are delicious and fresh.
In Fiji, Indian cuisine dominates because some 47 percent of the population is of Indian descent. As on Bora Bora, fish is a major ingredient, but so are sweet potatoes, cassava, coconut, curries, and nan bread. A Fiji specialty is lovo: a mixed barbecue of meat, fish, and vegetables, wrapped in banana leaves and cooked in an underground oven.
A word about kava, the typical island drink: Be aware that it is a totally legal, mild narcotic that might leave your lips slightly numb or tingling. Kava is not only a drink but also a lifestyle, subject to ceremonies and used to celebrate reunions and socializing. That's why kava plays a major role whenever you are visiting a Fijian home or village. It's made from the root of a pepper plant and brewed in a big bowl that is passed around and drunk by every member of the meeting. An important part to remember whenever you are participating in a kava ceremony: never ever wear anything on your head, not even your sunglasses.
6. Culture And Vibe
Bora Bora is influenced by French traditions, and being such a small island, it invites a quiet island life. People are very friendly and welcoming. If you choose the bicycle option to get around, don't miss looking at some ancient Polynesian temples.
Life in Fiji is more urban, especially in Nadi, which has a large Indian population. Visit the largest and newest Hindu temple in the southern hemisphere, Sri Siva Subramaniya.
Pro Tip
The people of both islands are extremely friendly and polite, so reciprocate by learning these words: Bula ("welcome") for Fiji and la orana ("hello") for Bora Bora. It will bring a smile to people's faces every time.