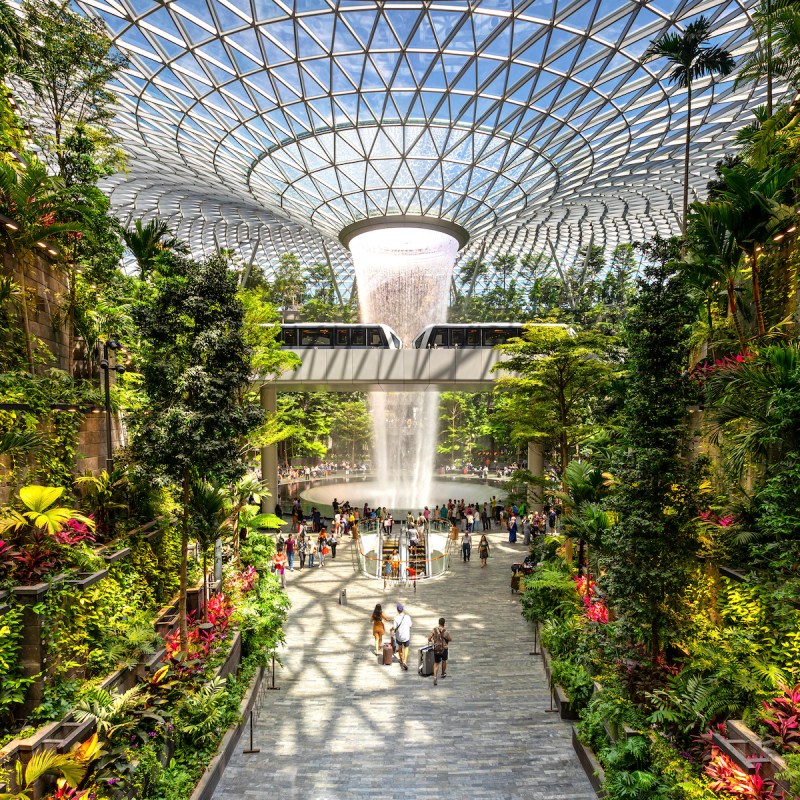 TravelAwaits' 2023 Best Of Travel Awards, presented by
AllTrails
and with the support of
Luggage Free
, the premier luggage shipping service, showcases our readers' favorite destinations and businesses. Nominations and voting took place earlier this year, and we hope the final selections inspire your future adventures; congrats to all of the winners!
Exceptional services, amenities, and overall travel experiences at the best airports in the world give meaning to the phrase "the journey is the destination." Offering a glimpse into the culture, efficiency, and hospitality of their respective cities, these airports are not just gateways to your destination but destinations in themselves.
Whether you find yourself exploring the vibrant cities of the United States or embarking on a global adventure, these airports will enhance your journey with their seamless operations, stunning architecture, diverse dining options, and unique offerings. Let's explore the best airports in the world, as chosen by TravelAwaits' esteemed readers in our annual Best Of Travel Awards.
Best Airports In The United States
1. Kansas City International Airport (MCI) — Winner
Kansas City, Missouri
Located in the heartland of America, Kansas City International Airport offers a stress-free and efficient travel experience. Its unique terminal design, beautiful art, and world-famous KC barbecue make it a favorite among travelers. Glass passenger boarding bridges at all 39 gates make Kansas City International Airport the largest all-glass facility in the country. The new KCI terminal hosts the largest public art project in Kansas City's history, featuring the works of 28 international and regional artists. Don't pass through without sampling the award-winning barbecue at the new Barbecue Experience.
2. Hartsfield-Jackson Atlanta International Airport (ATL)
Atlanta, Georgia
As one of the busiest airports worldwide, Hartsfield-Jackson Atlanta International Airport stands out for its exceptional connectivity and world-class facilities. Travelers can enjoy a wide range of shopping, dining, and entertainment options during their layovers.
"They have great lounges, good transport into the city, lots of affordable hotels nearby, and a straightforward train system to help you make your connection safely," retired flight attendant Heather Earl tells us.
3. Chicago O'Hare International Airport (ORD)
Chicago, Illinois
Acting as the major international hub of the Midwest, O'Hare impresses travelers with its extensive flight options and efficient operations. With its diverse dining choices and convenient transportation links, ORD ensures a pleasant journey for all passengers. Got grandkids in tow? Terminal 1 houses a four-story-high brachiosaurus and the Field Museum store. No kids? Airline pilot Christy Karsten's 10 Favorite Ways To Spend A Long Layover At Chicago O'Hare Airport includes doing yoga and visiting the spa.
Pro Tip: Keep an eye out for the grazing herd of goats that help maintain the property.
4. San Francisco International Airport (SFO)
San Francisco, California
Although it may be one of the most expensive airports to fly out of in the U.S., San Francisco International Airport is another one of our readers' faves. Situated 13 miles south of the city, SFO is super convenient and easy to get in and out of, whether it's by train or car. This major Bay Area airport is known for its stunning architecture, eco-friendly initiatives, and breathtaking views of the San Francisco Bay. Travelers can enjoy a myriad of amenities, from art installations to gourmet dining options.
5. Minneapolis−Saint Paul International Airport (MSP)
Minneapolis, Minnesota
Serving as a major hub in the Upper Midwest, Minneapolis−Saint Paul International Airport lies about 10 miles from Minneapolis and St. Paul. Between the ease of check-in, security, and amenities, MSP provides a seamless travel experience. Its modern facilities, impressive art collection, and excellent customer service also contribute to its well-deserved spot on this list.
6. Phoenix Sky Harbor International Airport (PHX)
Phoenix, Arizona
Phoenix Sky Harbor International Airport offers a warm welcome to visitors with its easy navigation, wide variety of shops and restaurants, and inviting desert-themed ambiance. Travelers appreciate the airport's efficient layout and convenient access to downtown Phoenix, which is just a few miles away.
Sky Harbor is also one of the best layover airports. If you find yourself here for any stretch of time, check out the Desert Botanical Garden. Just 10 minutes northeast of Sky Harbor, "The garden is a fantastic place to stretch your legs after a long flight or the perfect spot to soak up that last bit of sunshine before you fly home from Phoenix," according to TravelAwaits contributor Sage Scott.
Pro Tip: Another excellent outdoor activity just minutes from Sky Harbor, Hole in the Rock Trail at Papago Park offers a relatively easy hike with amazing views (especially at sunset).
7. Baltimore/Washington International Thurgood Marshall Airport (BWI)
Baltimore, Maryland
Baltimore/Washington International Thurgood Marshall Airport provides excellent connectivity to both Baltimore and the nation's capital, Washington, D.C. With its modern infrastructure and exceptional customer service, BWI ensures a hassle-free travel experience. While you're here, head to Obrycki's between gates B-7 and B-9 for an authentic Maryland crabcake.
8. Palm Springs International Airport (PSP)
Palm Springs, California
Located in the stunning desert oasis of Palm Springs, Palm Springs International Airport captures the essence of the region's laid-back and glamorous atmosphere. Travelers can enjoy the airport's unique art exhibits, beautiful outdoor spaces, and convenient facilities.
TravelAwaits contributor Stacy Woeffel says that many tourists make the mistake of trying to save money by flying into surrounding southern California airports such as LAX. According to Woeffel, having to make your way to the valley from one of these larger airports is decidedly not worth it.
Best Airports Outside Of The United States
1. Vancouver International Airport (YVR) – Winner
Richmond, British Columbia, Canada
Situated amidst picturesque mountains and the Pacific Ocean, Vancouver International Airport lies on Sea Island, about 7.5 miles southwest of downtown Vancouver. Combining natural beauty with modern amenities, YVR offers travelers a serene and welcoming environment, efficient services, and indigenous artwork.
2. Amsterdam Airport Schiphol (AMS)
Amsterdam, Netherlands
Canal houses stand shoulder to shoulder, lining the web of waterways that weave their way through Amsterdam, welcoming travelers to one of the busiest airports in the world. Tiptoe through the tulips to your connecting flight at the ultra-modern Amsterdam Airport Schiphol. Its seamless and enjoyable experience, contemporary design, extensive shopping options, and excellent connectivity make AMS a favorite among global travelers. Security lines are fast and functional, toilets flush with the wave of a hand, and dining and shopping options abound at this beautiful airport. Schiphol Plaza offers everything from designer shops to Dutch souvenirs.
3. Paris Charles De Gaulle Airport (CDG)
Paris, France
Piano music wafts past the designer shops at Charles de Gaulle as passengers head to the lower level for an espresso and croissant before a flight. As one of the largest in the world, this grand yet efficient airport is the largest in France and is Air France's main hub. Located just outside the enchanting city of Paris, the international airport offers a wide range of services and amenities, including gourmet dining options, luxury shopping boutiques, and art installations that showcase the city's cultural heritage.
4. Singapore Changi Airport (SIN)
Singapore
Renowned as one of the best airports globally, Singapore Changi Airport sets the bar high for excellence in travel experiences. With its lush indoor gardens, state-of-the-art facilities, entertainment options, and even a rooftop swimming pool, SIN provides a truly extraordinary journey for passengers. In addition to superb (and affordable) local food outlets, serious shopping, artwork, and luxurious lounges, the airport features 10 gardens. A cactus garden, a butterfly house, and a sunflower garden are among many others.
According to TravelAwaits contributor Ulrike Lemmin-Woolfrey, "Some 2,000 trees and palm trees, and 100,000 shrubs and bushes have been planted inside the airport, offering you a nature trail between gates."
Pro Tip: Head to the Orchid Garden to see the airport's own Dendrobium Singapore Changi Airport orchid.
5. Munich International Airport (MUC)
Munich, Germany
Efficiency seamlessly blends with Bavarian charm at Munich International Airport. Impressive architecture, world-class shopping, and diverse culinary offerings allow travelers to experience the rich culture of the region before even leaving the airport.
Lemmin-Woolfrey adores the airport's indoor/outdoor space. "Between terminals, there is a huge, open plaza full of greenery," she says. "Under the canopy is an open beer garden," where you can sample beer and local delicacies. Got grandkids in tow? Head to Visitors Park to check out the mini-golf course and playgrounds and see the exhibition planes.
6. Copenhagen Airport (CPH)
Copenhagen, Denmark
Copenhagen Airport offers a sleek and contemporary travel experience that reflects the city's renowned design sensibilities. With its efficient layout, Scandinavian-inspired architecture, and an array of shops and restaurants, CPH ensures a pleasant and stylish transit for passengers.
The Danish capital is an international hub, entertaining many a 6- to 8-hour layover. Visitors can actually see a lot of the city within that time as several of the city's major attractions are just a 15- to 20-minute trip from the airport.
7. Rome–Fiumicino International Airport/Leonardo Da Vinci (FCO)
Rome, Italy
Also known as "Leonardo da Vinci," Rome–Fiumicino International Airport welcomes visitors with a touch of Italian elegance and history. Travelers can indulge in exquisite Italian cuisine, browse designer stores, and even admire art and archaeological displays while exploring this bustling airport.
There are worse places to have an overnight layover than Rome, but if you're only there for a bit, grab a cappuccino and enjoy some high-end window shopping.
8. Zurich Airport (ZRH)
Zurich, Switzerland
Zurich Airport perfectly embodies Swiss efficiency and precision. With its modern infrastructure, well-organized layout, and wide range of amenities, ZRH ensures a smooth and comfortable travel experience. Travelers can also enjoy breathtaking views of the Swiss Alps from the airport's observation decks. The city center of Zurich is just 8 miles away.
Read more from our 2023 Best Of Travel Awards.
Related Reading: