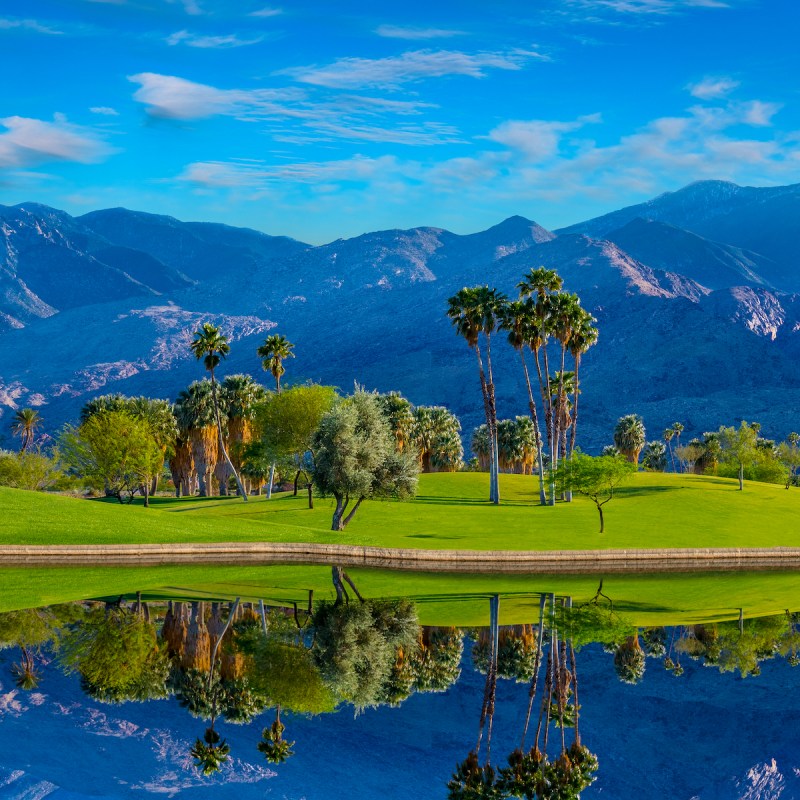 The name "Palm Springs" conjures images of beautiful people lounging by the pool with tiki drinks in their hands. Whether driving in from nearby parts of California or flying across the country, the allure of this destination in the sun reaches far and wide. Here are six mistakes to avoid when you make Palm Springs your next destination.
1. Only Visiting In The Winter
From movie stars to presidents, Palm Springs and the Coachella Valley have been a winter destination to soak up the sun and shake off the chill. Many tourists follow the celebrities and flock to this sunny spot from January through April. But Palm Springs is a great year-round vacation spot with plenty to attract visitors outside the prime in-season months.
Many think the valley is uninhabitable in the summer when temperatures can top 120 degrees Fahrenheit, forgetting that around 300,000 people live here 12 months out of the year. Summer visitors will find that most attractions and restaurants stay open year-round. Hotels offer deep discounts for the summer months.
For instance, the trendy Kimpton Rowan hotel in downtown Palm Springs can run close to $500 a night during the height of the winter season. But show up in July and you'll only pay about half of that for a luxury stay. If golf is your thing, greens fees at the major courses in the area also drop like a three-inch putt, putting some of the nicest courses within reach of the average duffer.
Pro Tip: The key to making the most of your time during a summer stay in Palm Springs involves taking advantage of early morning and evening times. Getting up with the sun gives visitors time to take in outdoor activities before the temperatures reach truly uncomfortable levels, while nighttime temperatures drop back into a pleasant range, meaning dinner and drinks under the stars is on the must-do list. Plan to hand out inside in the middle of the day, perhaps taking time for a siesta to recharge your batteries for the evening's activities.
2. Not Flying Directly To Palm Springs International Airport (PSP)
Looking at airfares, it's tempting to save some bucks by flying to Ontario (ONT), Hollywood Burbank (BUR), or Los Angeles (LAX) for your trip to Palm Springs. Airfares can run $100 or more lower to fly to those bigger airports, but travelers should remember that those airports, ranging from 75 to 130 miles away, will mean a trip through Southern California traffic to complete your journey to Palm Springs. There's really only one practical way to drive into the Coachella Valley from the west — along the I-10 corridor — meaning traffic jams along that route can easily take the ideal 2-hour commute from LA to Palm Springs and inflate it to as much as 4 hours or more.
Palm Springs International Airport (PSP) hosts 12 airlines, including the big four (American, Delta, Southwest, and United) plus a number of regional carriers like Alaska and Sun Country. When you look at fares for both PSP and other Southern California airports, keep in mind the drive you'll have to reach the valley if you choose to fly to the LA area to start your Palm Springs trip.
Pro Tip: Rental car prices can be volatile in any city these days, so it's always hard to make a direct comparison. But typically, it costs about the same to rent a car in Palm Springs as it does in Los Angeles. Check prices, but it's likely you won't save anything on a rental car by flying to the LA area.
3. Not Venturing Out Of Palm Springs To See The Other Coachella Valley Communities
Palm Springs is certainly the most well-known city in the Coachella Valley. But there are eight other cities in the valley (Cathedral City, Coachella, Desert Hot Springs, Indian Wells, Indio, La Quinta, Palm Desert, and Rancho Mirage) that boast their own attractions. While all share the same warm, desert vibe, each has its own personality worth sampling. La Quinta has a quaint Old Town with shops and restaurants nestled in the crook of the mountains near the famous La Quinta Resort. Palm Desert is the valley's shopping heaven with upscale shops running for a mile along its famous El Paseo. And, strangely enough, Cathedral City boasts some very famous gravesites, from Frank Sinatra to Sonny Bono.
Pro Tip: A drive along California State Route 111 from Palm Springs to Coachella will take you nearly 30 miles across the valley and to every Coachella Valley city except Desert Hot Springs.
4. Limiting Nature Time Only To Joshua Tree National Park
There's no question Joshua Tree National Park is a truly unique place to experience the vast beauty of the open desert. But the Palm Springs area has other natural wonders worth a stopover. Among the best are the Indian Canyons on the Agua Caliente Indian Reservation, located just south of Palm Springs proper. Lush, palm-filled oases spring up from the brutal desert, providing a shady hike along flowing water where Native Americans first made their homes in the Coachella Valley desert.
Year-round entrance to the canyons is via paid ticket with discounts for seniors, children, and the military. Further east, just north of Palm Desert and La Quinta, you'll find the Thousand Palms Oasis Preserve, part of the Coachella Valley Preserve. This 880-acre spread features dense palm trees lining a pristine desert creek lying right on the San Andreas Fault. Admission to the preserve is free, which is open from 7 a.m. to 5 p. m. Wednesday through Sunday.
Each attraction is a good way to spend a couple of hours seeing California's nature at its finest. Note that both the Indian Canyons and the Thousand Palms Oasis Preserve involved a good deal of walking and some hikes up hills or steps. Be sure to wear comfortable shoes and take rest breaks as needed.
Pro Tip: Many of these desert oases are subject to the whims of the weather. For instance, when rain or snow melt has been heavy, Indian Canyons will close due to flooding. Conversely, at the driest times of the year, the water may not be flowing at all. It pays to check ahead to see that any outdoor attraction is open when you plan to visit.
5. Missing Out On The Area's Authentic, Cheap Eats
It's easy to find many fine dining choices from the top restaurants in Palm Springs, Palm Desert, La Quinta, and the other Coachella Valley cities. But be sure to take time to sample some of the area's authentic Southwestern and Mexican cuisine. These local establishments not only offer the distinctive flavor of the desert and local culture, but also deliver big taste at a small cost.
One must-try is Arriola's Tortilleria in Indio. Reporters have traced its history back as the longest-running tortilla shop in all of Southern California. The small shop has no seating area, but pick up one of its signature tamale boats and take it to enjoy al fresco at a nearby Indio park.
Another favorite is Tacos Gonzalez in La Quinta, a tiny storefront taco shop that specializes in 2-dollar street tacos served up with everything from chicken to pork to spicy chorizo.
If it's a burger you're seeking, Palm Desert has a place voted as one of the ten best burger joints in the country — Grill-A-Burger. With 30 specialty burgers on the menu, there's something for everyone. For a side the whole table can share, try the garlic fries. A single order is enough for four people and is sure to keep the vampires at bay.
Pro Tip: While some of the valley's fancier restaurants close for the slower summer months, the local favorites pretty much all stay open year-round, guaranteeing you can find the best tastes the Coachella Valley has to offer whenever you visit.
6. Not Sampling The Coachella Valley's Signature Fruit, The Date
When we think about fruit, we tend to think about apples, peaches, oranges, and others that lay glistening in our grocer's produce section. But the Coachella Valley is home to nearly all of the dates grown in the United States, accounting for more than $200 million in 2021.
The best place to sample dates and find out more about their history and cultivation is at Shields Date Garden in Indio. A local landmark since 1924, the year-round attraction allows visitors not only to buy dates and date products, but to take a $5 tour of a date garden and find out about what the proprietors cheekily call the "sex lives of dates" (hint: people have to get very intimate with the dates to help them reproduce). An accompanying free film tackles the subject in the Shields "Romance Theater."
Pro Tip: If you want to try dates for yourself in the most delicious way possible, try a date shake. Shields sells them, as does local ice cream shop Lappert's in its Palm Springs and two Palm Desert shops. The shakes aren't fruity per se, but instead have a rich brown sugar-butterscotch taste that is sure to leave you wanting more.