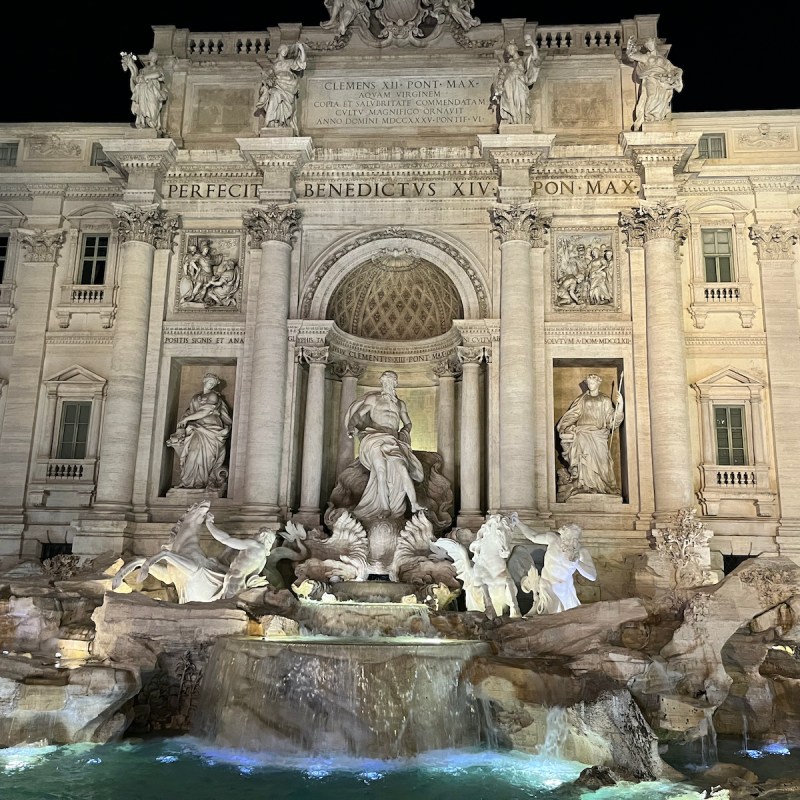 Shortly after scoring a great deal on a recent international flight, I took a closer look at my reservation and found a bit of a surprise. The return home — Split to St. Louis — was going to take 36 hours.
Wait, what?
Upon further review, I realized I was going to have an overnight layover in Rome. While some might see this as an inconvenience and try to rebook, I was absolutely thrilled. It had been years — back to my honeymoon, actually — since I had visited the Eternal City. I was determined to make the most of my 15 hours in Rome, and I managed to make it a fun and memorable ending to an already-incredible vacation!
Here's how I did it, and how you can do it, too.
1. Have A Solid Transportation Plan
Getting out of the airport and into your layover city as quickly and painlessly as possible is key.
In my case — arriving in Rome at 5 p.m. local time and having to head out by 8 a.m. — taking a taxi or ride-share wasn't the best option. I knew I'd be fighting traffic both ways, and that would cost precious time and money. Instead, I booked a round-trip ticket on the Leonardo Express, a direct train that leaves Leonardo da Vinci–Fiumicino Airport roughly every 15 minutes. It drops passengers off at the Termini station, a centrally located transportation hub in the heart of Rome. It's budget-friendly, about $30 for a round-trip ticket, and the trip only takes 30 minutes. What's more, the trains are clean, comfortable, quiet, and largely run on time. Score!
Of course, you might decide a car service or shuttle is your best bet. But have your plan getting to and from the airport nailed down in advance. You're going to leave plenty of the rest of your layover up to chance — more on that in a moment — but your plan to get to and from the airport should not be one of them.
2. Choose Accommodations Carefully And Strategically
Where you'll actually call home base during your brief stay in a layover city is also important to determine in advance. I decided I wanted to be in the center of Rome, walk as much possible, and see as much as I could during my evening. I also wanted to stay as close to Termini as possible, so I could quickly ditch my luggage, freshen up, and head out immediately. Last but certainly not least, I also wanted to make sure I was in both a vibrant and safe part of town.
Again, a little bit of research when choosing your accommodations goes a long way in making your overnight layover a success. I ended up going with an Airbnb apartment just a 10-minute walk from Termini. My host — who was highly rated — was in contact with me from the time my flight touched down, kindly met me at the apartment, and gave me a few quick recommendations before leaving me. After that, I unpacked my overnight bag, made myself a bit more presentable, and continued my Roman adventure.
3. Assemble A Shortlist Of Must-Sees
While much of the magic of a quick overnight layover is leaving things to chance, I did find it helpful to map out a couple of must-see spots. Rome is beautiful at night; it truly glows. I knew I had to see the incredible Colosseum and the gorgeous Trevi Fountain. Even at night, I suspected that the people-watching would be fabulous. Another benefit: Like other places in Europe, the Romans love to stay out late. I knew cafes, bars, and, most importantly, gelato shops would all be open while I roamed throughout the evening.
Yes, it was unfortunate that many of the sights were closed during my short time in Rome. It's also a bummer you can't see as much as you'd like with extremely limited time. However, seeing a couple of favorites at my leisure — and beautifully lit, by the way — was far better than not seeing them at all. It's all about the perspective, and I was thrilled to have the whole night ahead of me. I made sure I had navigation on my phone ready to go, and quickly oriented myself before setting out.
4. Be Ready To Walk — A Lot!
Sure, you could hire a car and do drive-bys of city sights during an overnight layover. That's a perfectly fine choice when your time is limited, or if you have mobility issues. However, I knew I wanted to get my steps in, especially since I had a long international flight the next day. And when I took a look at navigation from my apartment to the Colosseum and then through to the Trevi, I knew it was going to be an ambitious night.
But the weather was perfect, I had great running shoes and comfortable socks on, and I was so psyched to get out there. I'm extremely directionally challenged, so having a navigation app on my phone made all the difference. As I walked along, I paused to peek at different monuments and interesting buildings. I wasn't on any sort of timetable or in a rush. It was a lovely amble, and I always felt safe, even solo.
At the end of the night, I had logged 7 miles. I was tired but so happy. I easily reached both of my shortlist sites, and worked off a few calories while doing it.
5. Eat — And Drink — Like A Local
Speaking of calories, I absolutely fueled up before and during my evening jaunt around Rome. It was one of the things I was most looking forward to, after all!
At the recommendation of my apartment host, I first headed to a small osteria with outdoor seating and no menu. Instead, my server brought a large sandwich board over to my table, listing all of the pastas and specials for the evening. I chose a simple cacio e pepe, elegant and simple but so tough to make at home. Paired with a lovely Italian red and a green salad, it was the perfect carb-up I needed before my big night on the town!
From there, I headed out for the Colosseum, then zig-zagged my way over to the Trevi. I knew I was getting close as the streets, filled with cafes and shops, became more crowded. After I tossed my coin over my shoulder, I stopped off for a gelato before heading back toward the apartment. Along the way, I stopped at a locals' coffee shop for a cappuccino. My last stop of the night was at a small grocery store near my apartment, where I grabbed half a bottle of lovely prosecco and some fresh figs for the perfect nightcap while watching just a bit of late-night Italian TV.
For me, one of the best parts of an international trip — no matter its duration — is sampling the food and drink. Be sure to do the same on an overnight layover. No matter if you make a swanky reservation or simply cobble together a late-night menu as I did, you won't regret it. They're still vacation calories, after all!
6. Be Open To Whatever Might Pop Up
While I had a good idea of the ground I wanted to cover in Rome, I also left myself open to exploring nooks and crannies as I found them. For instance, as I made my way up to the Trevi, I passed a square crowded with Romans enjoying the evening. I decided to take a brief detour to check it out and found myself in the middle of the charming Piazza della Pilotta, marveling at the music, street performers, and overall vibe of this off-the-beaten-path gem.
That's the beauty of an overnight trip: You're not going to have a hard and fast itinerary because you're not going to be able to actually enter any of the sites. So take your time, mosey along, and soak up the overall ambiance. You never know what you might come across!
7. Try To Get At Least A Little Rest
A final note. My days of pulling all-nighters are sadly long gone. And I didn't want to be a total wreck when I got home. So I made a pact with myself that I would get at least 5 hours of sleep. This actually still gave me plenty of time to enjoy Rome, while still feeling somewhat fresh the next morning before making the hike back up to Termini and on to the airport.
It's a tough balance between wanting to cram in all you can and getting enough rest so that you won't be a zombie the next day, or worse — oversleep and miss your flight! As difficult as it is, I recommend setting a curfew for yourself and sticking to it. Remember: This sort of overnight trip is simply an amuse-bouche! You can always return to an overnight layover location when you have a lot more time.
Related Reading: