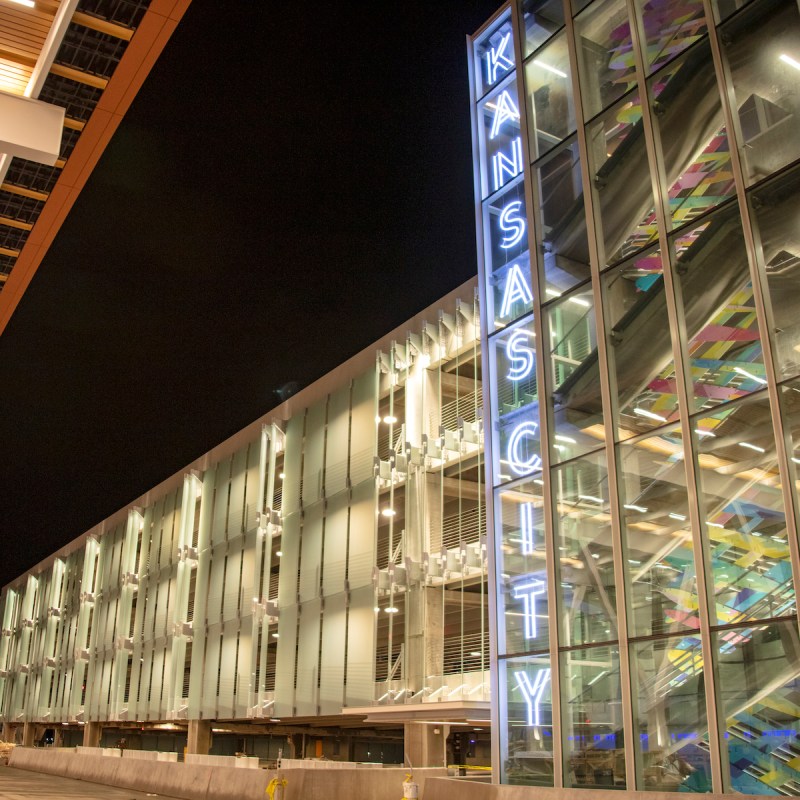 Kansas City is eagerly awaiting the February 28 opening of its new terminal at Kansas City International Airport (MCI). The terminal is packed with passenger-friendly, inclusive features that are a "breath of fresh air!" According to Build KCI (the project team), "The new single terminal is the largest single infrastructure project in Kansas City's history."
Out With The Old
Terminal A, closed for many years, was razed to make room for the new single terminal and parking garage. The old terminals B and C will be demolished when the construction of the new one is complete.
What remains? Since this is not a new airport project, all three existing runways, tenant buildings, and other facilities on the airport campus remain.
In With The New
The new facility can't open soon enough. It answers the prayers of travelers who are impatient to leave the old, declining terminals behind. The new terminal includes 15 family restrooms, 10 dedicated infant feeding rooms, a family play zone, indoor/outdoor pet relief areas, meeting spaces, and all-glass passenger jet bridges.
Designed with an eye to inclusivity and accessibility, the building showcases a sensory room, all-gender restrooms with adult-sized changing tables, and an "airplane simulation room" so travelers can practice going through security and boarding a real plane.
First Arrivals And Departures
All flight operations, arrivals, and departures scheduled for after 1 a.m. CST on Tuesday, February 28, will take place in the new terminal. Before 1 a.m. on February 28, the old terminals will handle these operations. Southwest Airlines flights will be the first to take off from and land at the new terminal.
Art Abounds
The new terminal hosts the largest public art project in Kansas City's history, with the works of 28 international and regional artists. View this map showing the locations of the artworks.
World-Famous Barbecue
When you visit Kansas City (even if you are just passing through the airport), you must try our world-famous barbecue! Just to set the stage, two new 2,400-pound meat smokers were recently delivered to the construction site to be installed as part of the Barbecue Experience at MCI, which includes an 8,000-foot restaurant.
Black Magic, featured in the new Barbecue Experience, was crowned Grand Champion at the inaugural Made for KC Barbecue Championship. Food made with Black Magic's recipes will be sold for the first year the terminal is open, including during the 2023 NFL Draft.
MCI's many new eateries (and "watering holes") include Meat Mitch, a barbecue restaurant, Martin City Brewing, Soiree Steak & Oyster House, Bloom Baking Co., Jay "Hootie" McShann's Blues Bar, Brown & Loe, The Leagues Sports Lounge & Eatery, Bo Lings, Boulevard Brewing, Buffalo State Pizza Co., and several Kansas City area coffee roasters.
Parking Space Utopia
Finally, after years of frustration, MCI parkers will rejoice in the new 6,300-spot, multi-level parking garage. Powered by solar panels, the parking garage abuts the new terminal. A nearby 900-space surface lot provides overflow parking.
Pro Tip: Per Build KCI, travelers with confirmed tickets will get an email that tells them where to park.
Want to learn more about what Kansas City has to offer? Check out these articles: