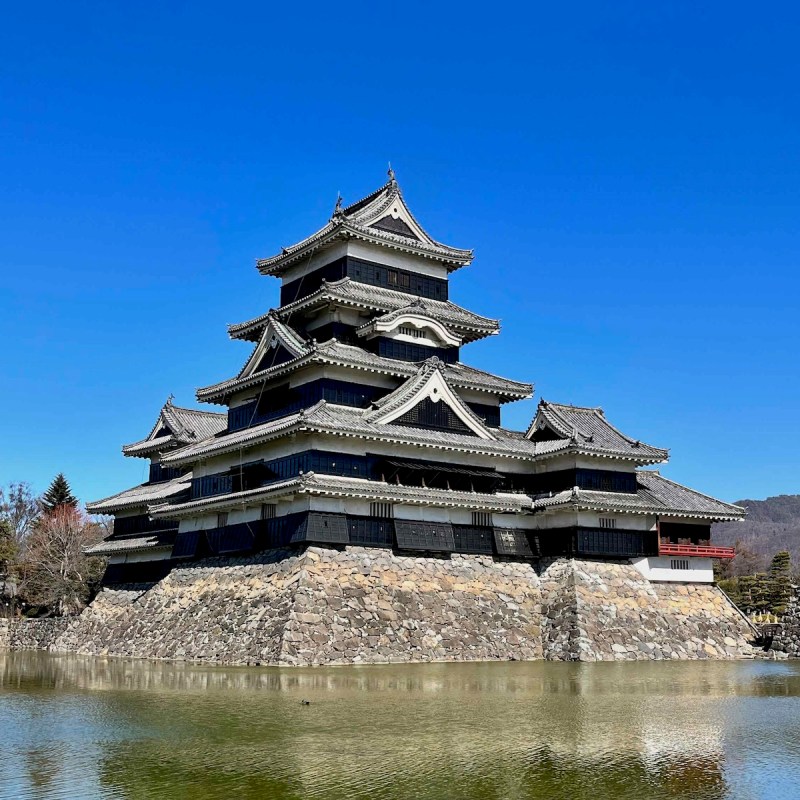 When people head to Nagano, it is often a day trip from Tokyo to see the snow monkeys at Jigokudani Park. Some may spend a few days on the ski slopes. These are wonderful things to do in Nagano Prefecture (otherwise known as a county in Japan).
But there is so much more to do in Nagano. Beautiful vistas, temples, art museums, and wonderful food are awaiting in the area. We spent 3 days there and didn't have enough time for all that we wanted to see and do. And you can't go wrong in any season. Here are, in no particular order, 13 incredible things to do in Nagano Prefecture.
1. Zenkoji Temple
Zenkoji, located in the heart of Nagano, is one of the oldest, most important, and most popular temples. The temple houses one of the first Buddhist statues that was brought to Japan from India in the 7th century. The statue (a copy) is only displayed every 7 years. The "Key to Paradise" found in the basement is accessed via an underground passage below the inner chamber. It is in complete darkness and an exciting discovery. In addition, the temple features a garden and is especially picturesque during the cherry blossom season.
There are lodgings along the street leading up to the main temple from the Sanmon gate. These temple lodgings are available for devotees to spend the night and be at the temple for the early morning sunrise prayers. The streets leading up to the main hall are also lined with shops selling souvenirs and ritual prayer items.
2. Matsumoto Castle
Matsumoto Castle, originally conceived as a fortress, is one of the few remaining original castles registered as a UNESCO World Heritage Site. Completed in the mid-1500s, the castle boasts a moat brimming with bright and colorful koi fish. The carp are so huge you can even spot them from the very top of the castle on the sixth floor. Entry to the castle is free and there are volunteer guides who give tours in several languages.
Be careful when climbing the keep, the stairs are extremely steep, and no footwear is allowed. You will see ancient guns, armor, and other war artifacts on several of the floors while ascending to the top. The views are excellent; you can even spot the Hida Mountains (Northern Alps) on a clear day.
3. Matsumoto City Museum
Matsumoto is the birthplace and current residence of renowned international artist and sculptor, Yayoi Kusama. The Matsumoto City Museum of Art showcases the largest collection of her artwork. One room holds one of her famous yellow and black polka-dotted pumpkin sculptures. Several of her colorful polka-dotted flower and plant-themed outdoor sculptures are in front of the museum.
4. Nawate Street
Located between the castle and the train station, Nawate Street is open only to foot traffic. It is full of cute cafes, souvenir shops, and even a shrine. The shops represent a good example of Edo-period (late 1700s and early 1800s) architecture. Explore the side streets in neighboring Nakamichi and you may stumble upon a brewery or traditional craft shops selling lacquerware and other local crafts
5. Ishii Miso Brewery
Nagano is Japan's largest miso producer, and you can see how it is made and grown just outside of Matsumoto. The tasty paste is made traditionally using wooden barrels for fermentation. You can have a meal and purchase the region's best miso.
6. Obuse
Obuse is a small walkable historic town dating back to the Edo period, located just a 30-minute train ride from Nagano City. You'll find delectable chestnut pastries and wonderful art. It's perfect for a day trip from Nagano City.
7. Gaisho-In Temple
Katsushika Hokusai is one of the most important Japanese artists from the Edo period. In Obuse, you can see one of his last masterpieces at the Gaisho-in Temple, on the outskirts of Obuse. The mural of a phoenix painted on the ceiling of the temple stares down at you. No matter which corner of the hall you stand in, you feel its eyes directly piercing straight at you!
8. Hokusai Museum
After visiting Gaisho-in Temple, you can learn more about Hokusai at the Hokusai Museum. He spent the last years of his life in Obuse, so it's a natural place for a museum devoted to his work. Hokusai started his career in woodblock prints and moved to painting later in life. His work was collected by many famous artists, including Vincent van Gogh, Claude Monet, Degas, Gaugin, and others.
9. Chestnut Delicacies In Obuse
After experiencing the art in Obuse, it's time to sample the culinary offerings. Chestnuts and chestnut creams are a specialty, and they are delicious. They are freshly made and don't travel well, so you must eat them immediately. You won't be disappointed. If sweets are not your thing, check out the sake brewery in town for a sake tasting.
10. Hakuba Happo Olympic Park
Hakuba in Nagano Prefecture was the site of the Winter Olympics in 1998 and is being considered as a future site. This makes Nagano a very popular place for skiing and snowboarding.
Hakuba Happo-One Snow Resort hosted several skiing events during the 1998 Winter Olympics. Besides skiing, you can snowboard, snowshoe, trek, and even bathe in one of the highest outdoor onsens (hot springs) in Japan, known for its healing properties.
Pro Tip: Hakuba Happo-One Resort is only a 65-minute bus ride from the Nagano City train station. There are several restaurants and lodging choices as well as gear rental on site.
11. Oyaki
Nagano is known for oyaki (a street food), Soba, and horse meat sashimi. We tried the first two but declined the third. Oyaki are pan-fried Japanese dumplings made with a chewy wheat dough stuffed with vegetables, mushrooms, or meat. Sweet oyaki are filled with azuki red beans. They are tasty and perfect as a snack, breakfast, or lunch item. We bought them for our Shinkansen train rides.
12. Soba Noodles
Nagano is known for buckwheat production and soba noodles. We decided to investigate a stand-up soba shop at the train station. At the stand-up shop, you select your noodle, purchase tickets for the noodle of your choice from the vending machine, and present the ticket to the kitchen. Your order is quickly delivered to your standing counter for you to slurp your delicious meal! This is where the locals eat. It's perfect for a cold winter's day — delicious, affordable, and quick.
13. Nagano's Onsens
Nagano is one of the best places to experience an onsen — a traditional bath with water from Japan's natural hot springs. It's best to do an onsen in a mountainous region like Nagano. This is a great activity after a day of skiing or hiking to see the snow monkeys. You can do a full onsen, or, like us, a foot onsen.
Visiting Nagano And The Surrounding Area
Nagano Prefecture is larger than Nagano City. The Prefecture is made up of many towns, with Nagano City being in the center.
Matsumoto City lies in the valley below the Hida Mountains. Less than an hour's bullet train ride from Nagano City, the city is an easy day trip or a weekend destination. The train ride has lovely views of the mountains.
You can base yourself in Nagano City and do day trips, or spend more time in the prefecture. Obuse is great for a day trip while Matsumoto can be a weekend or a destination for a few days.
Obuse can be reached by a 30-minute train ride and is small enough to walk around or hire taxis from the train station. Matsumoto is more spread out and better done by hiring a car or doing a tour from Nagano.
There are more things we could have added to this list. In Matsumoto, you can visit the Japan Ukiyo-e Museum (woodblock prints), the Daio Wasabi Farm, the Timepiece Museum, and hike Mount Norikura. In Nagano, the Nagano Prefecture Shinano Art Museum and Togakushi Shrine are worth visiting. There are also many wonderful towns nearby to experience.
Related Reading: