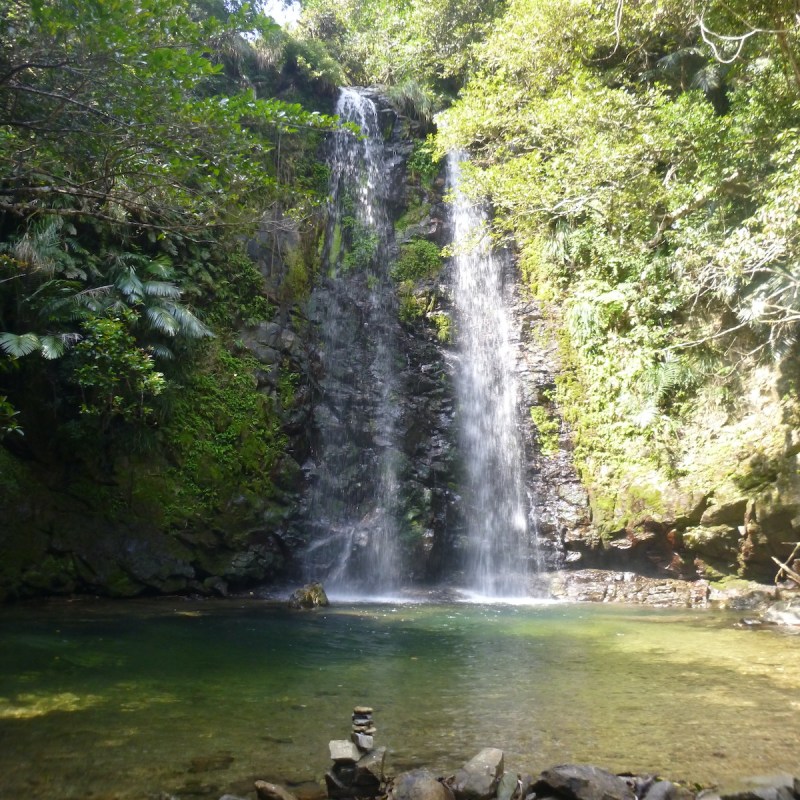 If you like to hike, rock climb, swim (or at the very least, get your feet wet), and if you have a good sense of adventure, there's a great hike waiting for you in Okinawa, Japan.
Okinawa is the largest of the Ryukyu Islands located between the East China and Philippine Seas. We traveled there to spend time with our military son, Mike, who was stationed there. We planned 2 weeks in the Naha (southern) area, and we did this hike during our week in Okuma, in the northern part.
The hike is 3 miles round trip (out and back) in the town of Ogimi, near Kunigami-Gun. It's an amazing combination of hiking, trekking through the Henan River (yes, you hike in the river), and rock climbing, all within a lush, tropical setting. The payoff is the remote, 50-foot-high Ta-Taki waterfall.
Here are my top tips for hiking to these gorgeous falls.
1. Know The Weather
I hate to start off with such a serious tip, but I must. You can't get this one wrong.
This hike is amazing, astounding, astonishing, and every other awe-inspiring superlative when the weather is good, but when the weather is not good, this hike is just as equally dangerous, hazardous, and even life-threatening. That's why weather is the first place to start.
Watch the weather. Know the weather. Be sure. This area is prone to flash flooding when it rains, and you don't want to mess with that. In September 2020, two Marines shifted from taking this adventurous hike to saving more than a dozen hikers in a flash flood here.
We did this hike in February, and we had a dry day without a drop of rain in sight.
2. Go Early To Avoid Crowds
It was a Friday, and we got to the parking lot right at 10 a.m. when they opened. We paid a modest fee to the parking lot attendant and parked our car, and we had the place to ourselves.
This sign in the parking lot showed the hiking route — you can river-hike the whole thing, or you can walk the road initially and then get in the river part way downstream (we did the second option). The red-headed character on this sign made it look like a fun little jaunt, but to be honest, I was a bit nervous.
The sign gives the ground rules, and mercifully, they were also translated into English:
Stay out of the river when it's raining. Flash floods can occur.
Don't touch or take home any creatures. [There was no one to ask about this curiosity.]
Don't leave garbage behind.
There are homes in the area. Please be respectful and keep the noise down.
The town of Ogimi is not liable for any accidents. Thank you for understanding.
3. Have A Guide
This isn't a must-have, but it's a nice-to-have. It's even nicer if the guide is your beloved military son who was stationed in Japan. He had done the hike before, so we knew we were in good hands.
In the absence of a guide, common sense goes a long way (see remaining tips). Since the route is out and back, you can't really do it wrong.
4. Enjoy The Initial Road Hike (But It Won't Last)
If you do the road hike to start, this part is harmless. We walked along a narrow, rural road with the Henan River to our right in a very thick, wooded setting. On the left beyond a black fence, we saw a residential area with blooming plants and flowers. Mike was carrying a drawstring bag and Dean was carrying water. I was a free agent, carrying only my camera (Dean always tells me to "travel light" and for once, I was).
There's another big sign at the entry point into the river. It reiterates the importance of Tip #1 about the weather: "Precaution for high waters in the upper reaches of Henan River during rain. Even when it is not raining in the lower reaches of the river, there may be heavy rain upstream. There are incidents every year where people are left behind due to sudden swelling of the river due to rain. We ask those visitors who are river trekking or partaking of other activities to be well informed of the weather reports."
Pro Tip: Since you'll be hiking in a river, bring a dry bag or plastic bag to keep your phone dry along the way (reception might be weak, anyway). Another packing tip that didn't apply to us is to bring some heavy-duty bug spray. From what I've read, this forested river hike can be buggy.
5. You'll Be Glad You Wore The Right Clothes And Shoes
And so — into the river we go. The water is low and shallow and rather warm. And it looked completely clear and clean!
Mike had told us to wear bathing suits under our clothes because we would be hiking in a river. We wore wicking clothes that were quick-dry if they got wet. Dean and Mike wore tennis shoes, and I wore my JBU by Jambu shoes (like these) with good treads on the bottom.
I had read online that sometimes the river gets waist deep! It was ankle deep for us — a lovely little hike in the river.
6. Use The Available Ropes And Vines
Sure, it's a lovely little hike in the river… until it isn't. The hike was up and down, in the river (mostly) and out of the river — over and past rocks and roots. It's a rugged hike. There were ropes and vines in place to help us navigate around the more rugged areas and several cliff-like areas.
7. Take Your Time, And Grab A Hand If You Need One
The key to this hike is to take your time and to lean on each other if you need to. Grab a hand to help steady you, if needed. There's no shame in that! The hike is steep in parts. It's rugged. It's amazing.
8. Bring A Snack To Enjoy At The Waterfall
It took us about half an hour from the entry point into the river to get to the waterfall. Dean and Mike went into the water. I guess it was a bit cold! Great father-son bonding, but I passed on that action. I liked hanging out there, taking photos, and listening to the roar of the waterfall echo against all the quiet.
Mike stayed in the water even after Dean got out and just splashed around a bit and enjoyed the break. It was good to see him relaxing and having fun. When he got out of the water, we sat on the rocks and talked and laughed. We drank some water (the day wasn't hot, but we've hiked enough to know the need for water even without thirst) and shared a snack.
9. Be Careful On The Hike Out
Depending on fitness and energy level, it's easy to get sloppy on the hike out. Remember those earlier tips about taking your time and grabbing ropes, vines, and helping hands? It all applies again. We got back to the car safely and chatted about the unique experience.
Pro Tip: You might realize all this river hiking has given you a powerful appetite. It's almost a crime to be in Okinawa and crave a burger, but if so, Captain Kangaroo Hamburger is the place to stop. Take your pick from a classic burger, or jazz it up with a taco burger, teriyaki chicken burger, or try the fried onion/bacon combo of a Sparky burger. This place draws a crowd, so try to go at an off time.
Bonus Tip: Stop At Shioya Bay For Incredible Views
About 4 miles north of Ta-Taki Falls, don't miss the overlook on Shioya Bay, rated one of the top eight views on Okinawa — and it's easy to see why.
We parked the car and followed the short path at the top of the mountain, past a trellis, to an observation platform. We saw a large sign in Japanese, which we couldn't read, but it might have said, "Drink in this gorgeous view and be glad to be alive." Indeed.
The hike through the Henan River to the gorgeous Ta-Taki Falls is another bucket list, memory-making adventure. These kinds of activities always make me grateful for the time, money, and health to travel. It's such a gift! And it was especially wonderful to see the father-son interaction between my husband and son. I soaked it all in.
When you go to Okinawa, check the weather, and if it's clear skies ahead and you're up for it, follow these nine key tips and take this hike through the crystal-clear Henan River to the gorgeous Ta-Taki Falls. You'll be so glad you did.
Related Reading: