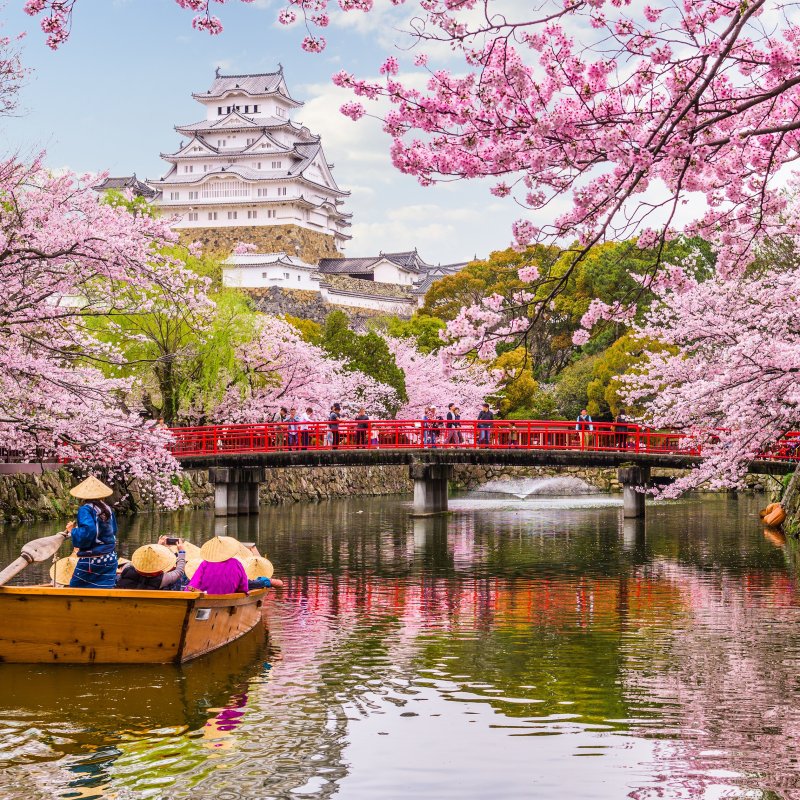 Cherry blossoms, or sakura, have a special place in Japanese culture. They usher in the arrival of spring, the beginning of the farming season, and a time to congregate with friends and family to enjoy the pleasant weather. Many Japanese hold parties to celebrate hanami, the practice of watching the blossoms and contemplating life.
I visited in April of 2019, just in time to see the cherry blossoms and decide for myself whether they were worth the hype. Spoiler alert: They are. In fact, you could visit Japan just to see the cherry blossoms in full bloom, provided that you know where, when, and how to plan your trip. Here's everything you need to know about cherry blossom season in Japan.
1. Peak Season Is Late January Through Early May
Booking your trip for optimal cherry blossom viewing will require some planning since sakura season starts early in southern Japan and then gradually moves north. According to the Japan Meteorological Corporation (JMC), in 2023 "Northern Japan and eastern Japan will see flowering earlier than normal, while western Japan will see flowering at the same level as normal."
In the south, Okinawa sees its first blooms in late January while Kyushu cities such as Fukuoka will start to see blooms in mid-March. Around Tokyo, the sakura bloom in mid to late March, while the Osaka area sakura trees begin blooming at the end of March. In mid-April, head to Aomori in the Tohoku region to see Ashino Park's cherry blossoms. Sapporo cherry blossoms are expected to bloom in late April, while other areas of Hokkaido pop in early May.
If you're planning a trip to a specific city, check the Japan cherry blossom forecast when booking your trip. It has data for cities such as Yokohama, Nagoya, Kumamoto, Kanazawa, Kyoto, and Kagoshima listed by region, including the Shikoku regions (home to Hiroshima) and the Kanto region (home to Tokyo), and more. The first forecasts of the year are typically released in early January.
When in doubt, book a few days later than the expected bloom date. Cherry blossoms only bloom for a week or two, and you'll want to land in Japan during the peak bloom period when most of the cherry blossom trees are flowering.
2. Different Varieties Bloom At Different Times
Because the cherry blossom season is fairly short, you might miss the peak bloom even if you plan carefully. The good news: Different varieties of cherry blossoms bloom at different times. Late bloomers and early bloomers aren't too difficult to find, and if you head to an area with a large number of trees, you'll still have a perfectly pleasant experience.
In Tokyo, for instance, Shinjuku Gyoen has more than 1,000 cherry trees of different varieties, so you'll see at least some of them blooming for at least a week after the peak bloom. If you miss the bloom in Nagano, you can head to Takato Castle Ruins Park, which has about 1,500 cherry trees.
When in doubt, ask the locals where to go or head to the largest public park you can find. As long as you're within a week or so of the bloom, you'll find some cherry trees showing their colors.
3. Be Flexible When Booking Your Accommodations
One morning in Tokyo, I started my day with a walk through Shinjuku Gyoen. Rows of beautiful cherry trees waved in the breeze, and I finally felt like the trip was worth the jet lag.
That incredible experience was an accident; I booked the cheapest hotel room I could find, which happened to be a few blocks away from Shinjuku Gyoen. When booking your accommodations, exercise a little more planning than I did. Look for hotels near parks or public transit lines. Japan's excellent public transportation infrastructure makes the latter fairly easy, but if you're hoping to stay near a park, you'll need to do some research.
More importantly, recognize that flexibility is key. You might need to change your flight or your hotel reservations to ensure that you actually arrive in cherry blossom season — a cold snap could delay your trip by a few days — so look for hotels that allow for late changes or cancellations. If your airline offers an add-on that allows you to change your flight for free, pay for it.
4. More Than 30,000 Cherry Trees Bloom On Mount Yoshino
Located in Nara Prefecture, Mount Yoshino is one of the most popular spots for cherry blossom seekers. More than 30,000 cherry trees bloom here each spring, covering the mountain in extraordinary color.
This is also a great place to try an onsen, or natural hot spring bath. The nearby town, Yoshinoyama, has quite a few hot spring hotels, and some allow travelers to use their onsen for a small fee. Take a stroll by the mountain, snap a few pictures, and then find a hotel with an onsen where you can relax and reset.
5. See Nakameguro Cherry Blossom Illuminations Mid-March Through Early April
Tokyo has plenty of beautiful outdoor spaces like Yoyogi Park and Shinjuku Gyoen, and if you head to the capital city, you'll have plenty of viewing spots to choose from.
However, one of the best places to experience hanami is the Meguro River near Nakameguro. Each year, a small portion of the river is lit with red lanterns; the sakura reflect off the water, creating a truly enchanting sight.
Pro Tip: One of the best cherry blossom spots in Tokyo is Ueno Park, which is home to the Ueno Zoo, museums, and over a thousand cherry trees.
6. Expect Crowds At Takato Castle Park In Nagano
The ruins of Takato Castle in Nagano Prefecture are well worth visiting at any time of year, but they're truly incredible in spring. Book in advance, since the castle is extremely popular during sakura season owing to the 1,500 blossoming trees that cover the trails.
You'll also get great views of the ruins, and if you're interested in Japanese history, you'll want to stop by the Takioyagura drum tower and the Shintokukan, a former samurai house. There's even an art museum onsite, so plan on spending quite a bit of time here.
Pro Tip: Takato Castle Park just has the remains of a castle, but Hirosaki Castle Park in the Aomori Prefecture, another popular place for cherry blossom viewing, boasts a three-story castle complete with petal-filled moat and a botanical garden.
7. Some Over-The-Counter Allergy Medicine Is Illegal In Japan
When you're surrounded by thousands of blossoms, they can certainly irritate your allergies. Of course, you can simply load up on allergy medication before your trip, but be careful. Some allergy medicines — including over-the-counter medications — can't be brought into Japan legally in large quantities. Check out the U.S. Embassy's page on the topic before your trip, and be sure to declare any and all medications when passing through customs.
You could also buy over-the-counter products during your trip, but note that they won't include stimulants like pseudoephedrine, so they may make you drowsy. This Japan Drugstore Guide has an overview of Japanese allergy medications, along with pictures of their packaging (extremely useful if you don't speak Japanese).
8. Cherry Blossoms Make Sweet Treats
Given that Japan has something of an obsession with cherry blossoms, it should come as no surprise that sakura-flavored desserts are a big deal throughout the country. To truly embrace the spirit of the season (and satisfy your sweet tooth), stop by a bakery and look for items adorned with cherry blossom petals.
If you're looking to try something you can't find anywhere else, stop by a café that serves sakura yokan. Yokan is a jelly made from the sweet red azuki bean mixed with honey or sugar. It's similar to gelatin but much, much more flavorful. Sakura mochi, or sweet rice cakes, are also fairly easy to find during cherry blossom season.
Wrap up your meal with a sakura sake or a sakura tea. Both have a light, fragrant quality to them, though sakura tea is a bit easier to find (and a bit easier to drink, if you're not a fan of rice wine).
Pro Tip: Be sure to follow proper dining etiquette; try to clean your plate completely, and if you use chopsticks, don't raise them above your mouth.
9. Cherry Trees Have Special Significance In Japanese Culture
Every city will have public celebrations of hanami, including cherry blossom festivals. Regardless of where you head on your trip, you'll encounter plenty of locals enjoying the sakura season.
For the Japanese, springtime isn't just a time to enjoy pretty views; it's a time to think about change and the impermanent nature of life. It's a bittersweet time; high school students are graduating and leaving for college, the winter is ending, and unlimited possibilities are on the horizon.
To put it another way, sakura season is a time to walk slowly, breathe deeply, and enjoy every moment. It's a time to stop and smell the flowers, literally. Keep that in mind during your visit, and you'll see why cherry blossoms are so enchanting — and why they're such an indispensable part of Japanese culture.
Pro Tip: How To Get The Best Photos Of Cherry Blossoms
If you're planning on photographing the trees — and you absolutely should, by the way — you'll want to turn off the automatic option on your camera or smartphone. Cherry blossoms tend to be light pastel colors, and cameras have trouble distinguishing them from the sky. If the blossoms make up the majority of your shot, it might end up looking underexposed.
Use your camera's manual exposure mode to change the aperture and shutter-speed settings. Generally speaking, a slower shutter will give you a better result. Consider picking up a tripod to accommodate the slower shutter speeds.
Experiment with different settings, but don't worry about editing your photos onsite. Try to shoot as much as possible. Remember, you can always edit out the mediocre pictures on your (extremely long) plane ride home.