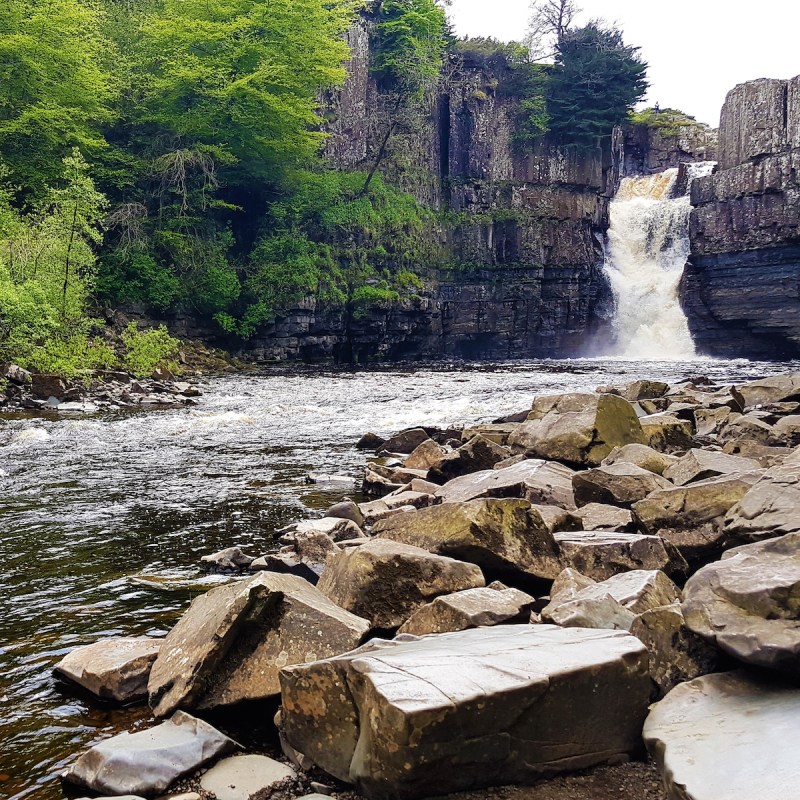 The UK might not be the first destination you think of when you imagine beautiful waterfalls, but when you consider our climate — wet and rainy a lot of the time — it's obvious that we would have our fair share of beautiful waterfalls. After all, all that water has to go somewhere. We might not have exotic locations for our falls or guaranteed sunshine, but we do have dramatic landscapes and interesting terrains.
Some of these waterfalls are very easy to reach, while others require a bit of an expedition to get to them, but that's all part of the fun. Here's my pick of the most beautiful waterfalls to visit in the UK.
1. Mallyan Spout
North Yorkshire
The North Yorkshire Moors has a few stunning waterfalls, but at 70 feet high, Mallyan Spout is the tallest. It is dramatic and incredible once you reach this waterfall, but it's not all that easy to get to. If you have any mobility issues or you're at all unsteady on your feet, this one might not be for you. But if you like an adventurous walk, getting to Mallyan Spout is part of the experience of this waterfall. The easiest way to get to the waterfall is to follow the path from The Mallyan Spout Hotel, but whichever way you go, you have to walk over some slippery rocks when you get closer to the waterfall. You can't see the waterfall without hiking down to it, but once you get down there, it is an incredible sight. On a warm sunny day, you can stand right under it. I took a picnic when I visited and sat on the rocks with the river in front of me, and it was idyllic.
2. Falls Of Glomach
Rosshire, Scotland
While Mallyan Spout is the tallest waterfall in Yorkshire at 70 feet, The Falls of Glomach are some of the tallest in the entire UK at 113 feet. The falls are even tougher to get to than Mallyan Spout, but it is a very remote location and you stand a good chance of having the waterfall all to yourself when you get there. This area can't be reached by car and it's a 6-hour round hike with no cell phone reception on the moor, so be prepared and make sure you've told someone where you are going. It's definitely not for anyone with any mobility issues, but if you like a good hike, you are rewarded with some spectacular scenery when you reach the falls. You can also look out for wildlife along the way, as this area has herds of red deer and golden eagles.
3. Aira Force
Lake District
For a waterfall that's much easier to get to, with a gentler walk, there's Aira Force in the Lake District, which is a very popular waterfall with visitors to this area — probably because it is so easy to get to. There's a car park nearby and you can easily walk the rest of the way from there, so it's completely doable for anyone to walk and you don't need to be an experienced hiker. The falls are 72 feet tall and you can view them from the bottom where you can see the water gushing through crags in the rocks, or there's a lovely old bridge over the falls at the top that you can stand on. The view down below is incredible and it makes a great stop for a photo. This is a lovely place to take a picnic, but it is very popular and there's likely to be a lot of people visiting no matter when you go.
4. Waterfall Country
Powys, Wales
Waterfall Country covers an area of the Brecon Beacons in Wales with a number of waterfalls in close proximity to one another. The most popular way to see some of these falls is by taking the four falls walk. The four falls walk takes about 3 hours to complete and features some really spectacular waterfalls, not to mention the scenery in between them. It's considered an easy hike and anyone with any walking experience will find it comfortable, but it's not accessible to wheelchairs and anyone with any mobility issues might find it difficult. Most people who do this walk are heading for Sgwd Yr Eira, a waterfall you can stand behind. It's a memorable experience and a great photo opportunity.
5. Gaping Gill
North Yorkshire
Gaping Gill is one of the tallest waterfalls in the UK, but that's not what makes it so special or unusual. This is a very tall waterfall that falls underground into a cave. The cave itself is used by potholers and is very popular with cavers, but members of the public can only descend into this cave twice a year when the weather is right and the Bradford and Craven Pothole Club sets up a winch over the edge. Yes, that's right: There is only one way to get down there and it's not for the faint-hearted. Personally, as someone with a fear of heights, I can't think of anything worse and I've never been down, but if you like the idea and can time it right, it's a once-in-a-lifetime experience. It actually might not be as scary as it sounds. You sit in what looks like a ski chair and you're lowered down into the cave. Who knows, maybe one day I'll give it a try!
6. High Force
County Durham
There's a clue in the name of this waterfall that tells you what you're going to find when you visit High Force. This isn't the tallest waterfall in the UK, but it does have the largest volume of water that falls over an unbroken drop. It's a force of nature, for sure, and it looks spectacular. This is an extremely popular waterfall with visitors; so popular that it has its own visitor center and gift shop, and it's the only waterfall on my list that has an admission charge. At around $2.75 for adults, it's not much of a charge, but it's still unusual. This charge goes towards maintaining the paths that lead to the waterfall, making it a very well-kept route that's easy for everyone to use. Part of the route does have some uneven ground underfoot and there's a big flight of stairs, but it is still one of the most accessible waterfalls in the UK.
7. Steal Falls
Highlands, Scotland
The area this waterfall is located in is more famous for Britain's highest mountain, Ben Nevis, but this mountainous landscape is also the perfect terrain for a beautiful waterfall or two. Steal Falls is also known locally as the White Spout; once you've seen it, it's easy to understand why. The water tumbles down the hillside almost delicately, as opposed to a gush of water, and it's quite mesmerizing to watch. It's a gentle walk to the falls that takes about an hour and although good footwear is recommended, the terrain is suitable for all levels of fitness and hiking experience. This is one of the most beautiful waterfalls you'll see in the UK. The combination of the awe-inspiring mountains and the water tumbling down its side is quite humbling.
Pro Tip
Most of these waterfalls, with a couple of exceptions, don't have any facilities nearby and are pretty remote, so taking a picnic is a good idea. Always wear good walking shoes and be prepared for any kind of weather. And if the waterfall is very remote, make sure someone knows where you have gone — cell phone reception can be patchy in remote areas. Stick to the footpaths and trails. Sometimes, all that guides you in the UK is a yellow arrow on a post, but make sure you follow this as surrounding areas may be private land.
To learn more about Samantha's UK adventures, check out these articles: