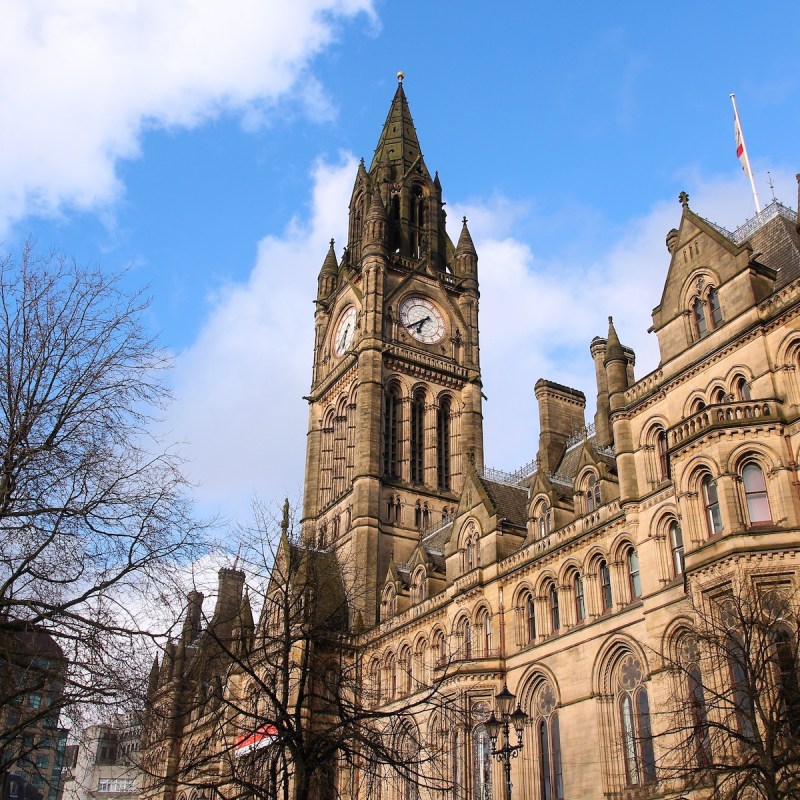 Most people outside of the UK know Manchester for its world-famous football (soccer) team — Manchester United — but Manchester, arguably England's second city, has a lot to offer visitors besides a historic football stadium. For many years, I only visited Manchester for its airport, but in more recent years, I've been to the city purely to enjoy it. And it has a lot going on.
Manchester is a culturally busy place with great transport links and unusual and quirky offerings. Here are seven fabulous things to do in Manchester, England.
1. Chinatown
Shop The Asian Supermarkets
Manchester's Chinatown is one of the main reasons it deserves to be England's second city. It's second only to London's Chinatown in size, but while London's is visually stunning and a great place to have a wander, I feel Manchester's is more authentic. The main reason for this is the supermarkets. There are more of them than in London, which is now mostly just restaurants, and they stock items you just can't find anywhere else. The restaurants are great here, too, and they feel less touristy than in London.
2. Float Level
New Islington
As I mentioned, you can find some unusual and quirky things to do in Manchester, and at Float Level, you can have a go at spending some time in a floatation tank. You have to book ahead for this, and be careful when you enter because you need to be quiet to not disturb other guests already in their tanks. If you've never tried this, now is the time while you're in Manchester. Floatation tanks help to reduce stress and anxiety, and when used regularly, can improve sleep and bring a more optimistic outlook. If nothing else, it's something different to experience while you're in the city. Float is a 20-minute walk from Piccadilly Station in the New Islington area of Manchester.
3. Manchester Art Gallery
See The Pre-Raphaelites
The building that houses The Manchester Art Gallery has been there since 1835 and has always been used for art; though originally, it was used for concerts and lectures as well as art exhibitions. It's a beautiful building and worth the visit alone. Once inside, the gallery has a range of permanent and temporary exhibitions. My favorite paintings in this gallery are the Pre-Raphaelites. It's so good to have a few famous ones together in one place and you can really get a feeling for the Pre-Raphaelite movement by spending some time with these incredible paintings. Entry is free and most of the exhibitions are free; though occasionally, there are some ticketed exhibitions and events with a fee attached. As well as art, you can find pottery and costumes from history, making this a gallery and museum in one. There's a café and shop on site too.
4. The Gay Village
Sit With Alan Turing
If you're traveling by train to Manchester, it's just a few steps from Manchester Piccadilly Station to the Gay Village. Situated on Canal Street, this small area of the city gets busy at night, but in the daytime, it's a quiet place to wander around. Apart from the many bars and cafés, there's also Sackville Gardens, where you can find a sculpture of WWII code breaker Alan Turing. This is a memorial to the great man who was sadly arrested for homosexuality — which was illegal in Britain at the time — and later took his own life. The sculpture is a life-sized statue of Turing, sitting on the middle seat of a bench in the gardens. Take a moment and sit with him. The Gay Village has been here since the 1940s, though it wasn't named as such back then and everything was much more hush-hush. Today, it's where Pride is held and if you do stay up into the small hours, everyone is welcome in the bars here.
5. The Trafford Centre
For shopping, you can browse the stores in the city center, and there are some great independent and vintage stores in the city, but for a shopping day out, head to The Trafford Centre. It's easy to get to from Manchester center. You can get a taxi or drive for about 20 minutes, or you can hop on the Manchester tram system and be there in around 40 minutes. There's a world of shopping inside this big mall, and also restaurants, cafés, and a cinema complex. In addition to the mall shops, there's also a Sealife Centre and a Legoland Discovery Centre. There's enough to do here for an entire day out, or maybe two.
Where To Eat In Manchester
Cottonopolis
Located in the Northern Quarter, Cottonopolis is an Asian-inspired restaurant and bar. The exterior is very much "old Manchester" and the name of this restaurant holds onto that. Cottonopolis was the name used locally for the city in its industrial heyday, due to its cotton production. The interior has a very industrial feeling. It's a large space with an open plan, high ceilings, and a lot of its original character remaining. But it's the food visitors are really coming here for. It is Japanese/Asian cuisine, something that's often a little tricky for vegans and vegetarians, but here, the plant-based menu is really impressive. The vegetable tempura is amazing, and the plant-based sushi is great for any vegans who once loved sushi. I recommend the shitake and king oyster mushrooms for your main and the toffee pudding for dessert.
The Laureate Restaurant
Located inside the Hyatt Regency Hotel on Oxford Road, a 15-minute walk from the city center, The Laureate Restaurant is a multi-cuisine restaurant that really does have something for everyone. From burgers to North African spiced koftas and a vegan platter to start, the menu is very varied. There's even a Lancashire hot pot, the local dish of the area. For dessert, I recommend the Manchester tart. If there's a local dish on the menu, I'm likely to choose it, just because you might not find it anywhere else. The Laureate Restaurant has a few local dishes, but I especially love a local dish for dessert. It's a bright, airy restaurant with an open-plan design that still manages to include cozy corners and intimate booth seating.
Where To Stay In Manchester
Native
Somewhere between a hotel and apartments, Native is located in an old industrial warehouse within easy walking distance of Piccadilly Station. These are apartments with everything you need to self-cater, but with a hotel-style reception, a café, and a restaurant — the best of both worlds. The apartments have a lot of character and retain the old-mill brick walls and high ceilings, keeping the personality of the building from its former life. I love how unusual Native is and I love that this old building is now being repurposed and used in this way. But it's more than just a hotel/apartment. Native also has an all-day deli counter, a sun terrace, and a cinema. It's hard to pin down exactly what this is, and I really like that. It's a place to stay that has so much more than just a simple hotel. It's like a mini-resort.
Hilton Deansgate
A world away from Native, the Hilton at Deansgate in Manchester is a 23-story hotel. It's a mile away from Piccadilly Station, in a different part of Manchester, but still a busy area with a lot going on and within easy reach of the city center. There's a restaurant, bar, and indoor heated swimming pool. Perhaps the best thing about this hotel is the views. Wherever your room is amongst the 23 floors, the views over the city are spectacular. I loved afternoon tea overlooking the metropolis of Manchester.