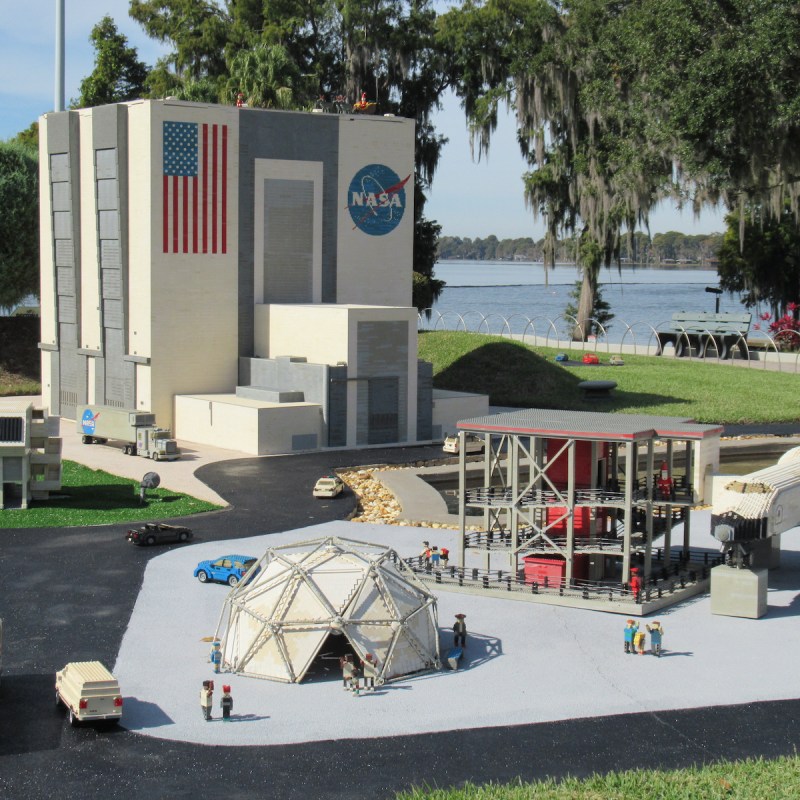 Winter Haven in central Florida offers amusement park enthusiasts LEGOLAND® Florida Resort and the Peppa Pig Theme Park. In addition, outdoor enthusiasts will enjoy Bok Tower Gardens and Bonnet Springs Park, while the entire family will remember their precious time away together.
The town sits between Orlando and Tampa, so you can fly into either Orlando International Airport (MCO) or Tampa International Airport (TPA). We rented a car for the hour's drive south of Orlando and east of Tampa.
Here are the seven places I love to take my grandkids when we visit Winter Haven, Florida.
Thank you to Visit Central Florida for hosting my stay. All opinions are my own.
1. LEGOLAND® Theme Park & Water Park
Located in Winter Haven, on the grounds of the former Cypress Gardens, LEGOLAND® Florida Resort & Water Park is a 150-acre field of fun designed for kids 2–12. It offers more than 50 rides, shows, attractions, a water park, and a stunning botanical garden.
Pirate River Quest
The Pirate River Quest is the newest ride at LEGOLAND® in 2023. The ride is approximately 25 minutes and is appropriate for all ages. While riding through the canals, you'll participate in a quest searching for gold bricks and counting jewels.
Brickbeard's Watersport Stunt Show
As you plan your day, note the showtimes, as you won't want to miss Brickbeard's Watersport Stunt Show. With pirates, barefoot skiing, a flyboard, wakeboarding, and the famous ski pyramid, you'll want to say, "Yes," when everyone asks, "Did you see the ski show?"
Botanical Gardens
When historic Cypress Gardens opened in 1939, they planted the seedling that today is the giant Banyan tree, the garden's focal point. Today, they incorporated it into LEGOLAND® Theme Park as the botanical gardens. In addition to the Banyan tree, you'll find 10 types of banana trees, 30 varieties of palms, and 15 kinds of azaleas.
You'll want to budget at least 1 full day for this park, but you'll find plenty to keep you busy for 2. When planning your trip, remember that on many days they are only open from 10 a.m.–5 p.m.
Pro Tip: Download the app before you go to help with your planning. It provides insights into show times and character appearances.
2. Peppa Pig Theme Park Florida
Located steps from LEGOLAND® Florida Resort, Peppa Pig Theme Park caters to the littles — preschoolers and early elementary. You'll find six rides, including a modest roller coaster driven by Daddy Pig, which even a timid 4-year-old will enjoy.
The splash pad is fun to cool down in the afternoon heat and jump in puddles, just like Peppa and her brother George. Have the kids wear their swimsuits under their clothes and pack some towels to dry off. Before leaving the park, I recommend making the water feature your last stop. That way, you can change and dry off without dealing with wet swimsuits for the rest of your time at the park.
Plan to spend a half-day at Peppa Pig Theme Park.
Pro Tip: If you're staying at LEGOLAND Florida Resort, they have a shuttle from the hotel to the Peppa Pig Theme Park. While it isn't a long walk, the shuttle is convenient if you have any issues walking. The Model Citizens (the theme park employees) will also call the resort to have the shuttle return you to the hotel.
3. Bok Tower Gardens
Situated amongst the Florida orange groves, Bok Tower Gardens, located in Lake Wales, is a National Historic Landmark. In 1929, Edward Bok, a Dutch immigrant and world peace advocate, dedicated the gardens as a gift to the American people.
The 205-foot Singing Tower carillon stands on one of Florida's highest points, surrounded by almost 700 acres of conservation land. You'll find rare plants and animals in this area.
We spent about 3 hours at the Bok Tower, and you could easily spend more time exploring every garden.
Hammock Hollow Children's Garden
The almost 3-acre Hammock Hollow Children's Garden allows families to experience nature in various ways. But, of course, the kiddos will have more things to do than stop and smell the flowers. It features a rope spider web for climbing, a shaded stage with costumes to perform an impromptu play, and a xylophone to make music similar to the Singing Tower. In addition, the kiddos can try out the vintage water hand pump and make some mud pies, of which even Peppa Pig would be proud.
Bok Tower
Every day, the Singing Tower carillon features concerts at 1 p.m. and 3 p.m. They also play short selections on the hour and half-hour. The concert schedule showcases live concerts by Geert D'hollander from mid-October through mid-May, from Thursday–Sunday. In addition, you'll hear the Bok Tower concerts throughout the garden, so you don't need a concert ticket.
Blue Palmetto Café
The Blue Palmetto Café offers sandwiches, salads, and snacks in an indoor-outdoor setting. Pick up lunch at the café, spread a blanket within the gardens, and enjoy a picnic lunch. In addition to lunch, they serve breakfast until 11 a.m.
You can rent scooters from the gift shop on a first come, first served basis.
Pro Tip: Bring quarters to purchase food to feed the koi fish in the moat around the Singing Tower.
4. Bonnet Springs Park
Bonnet Springs Park in Lakeland is a new 168-acre urban oasis that brings the natural beauty of central Florida to life. Even the dog will have fun at Bonnet Springs. Some park highlights include the Nature Center, Butterfly House, Botanical Gardens, and Canopy Walk.
Pro Tip: The park offers tram service to various stops throughout the park. You can board the shuttle every 15 minutes in the covered area behind the Florida Children's Museum.
5. Florida Children's Museum
Located within Bonnet Springs Park, the 47,800-square-foot Florida Children's Museum is a state-of-the-art facility. The two-story building opened in 2022, featuring activities for babies through early teens. Babies can play with mom and dad's help in the watermelon seeds area with brightly-colored stacking fruit. Preschoolers and early elementary kids will have fun in the city built for play. They can be whatever they dream of in the various buildings, from firefighters to veterinarians. Even grown-ups can get involved in adult-sized costumes. Older kids have an area where they can complete a stop-action video. We found something for everyone here, even the adults.
While entrance to Bonnet Springs Park is free, the Florida Children's Museum does have an admission fee.
Pro Tip: You'll find places to sit throughout the museum, so this grandma found it easy to watch her grandkids while they played.
6. Harborside Restaurant
Harborside Restaurant, situated on the shores of Lake Shipp in Winter Haven, offers stunning sunset views from its deck. While the menu is seafood-focused with dishes like gulf oysters on the half shell, gulf grouper, and shrimp, they offer substantial steak and pasta selections if you don't enjoy seafood. In addition, they have a kid's menu that will satisfy even the pickiest eater.
Pro Tip: Look for various specials throughout the week. For example, one day, you might find half-off appetizers, and another, a special on catfish.
7. Lake Morton
Charming downtown Lakeland, known as the "City of Swans," is Polk County's largest city. Queen Elizabeth II donated a pair of swans to Lakeland in 1957, making the graceful bird a beloved city symbol. Today, you'll see far more than two swans and an assortment of other waterfowl on Lake Morton.
Pro Tip: You can purchase food to feed the waterfowl from machines around the lake. Do not bring bread to feed the birds.
If you're looking for more grandparent recommendations for Florida travel, check out these articles: