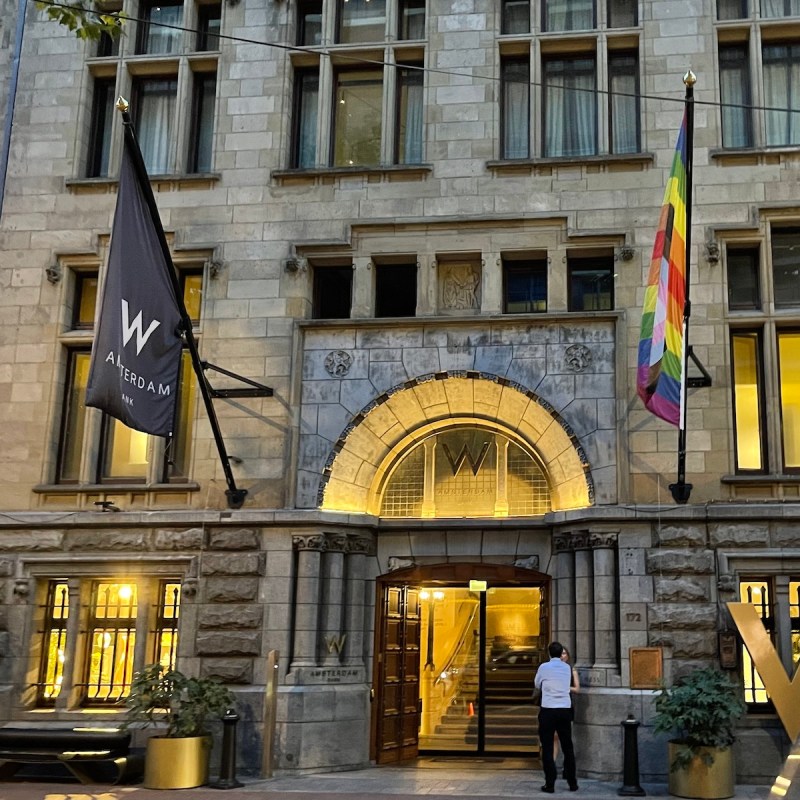 Choosing a hotel in Amsterdam can be an exciting challenge. The enchanting Dutch capital city has many vibrant neighborhoods to explore. There are places to suit your every interest and mood. Beautiful gardens, fascinating museums, historic monuments, romantic canals, delicious restaurants, and vibrant nightlife greet visitors from around the world. When it comes to deciding on where to stay, here are a few suggestions that might give you a clue based on your travel interests, personal needs, and style preferences.
1. Inntel Hotel Amsterdam Centre
In The Heart Of Amsterdam
Location, location, location. If you want to be in the middle of everything, Inntel Hotel Amsterdam Centre has one of the best locations you could find. It's in the heart of Amsterdam, literally steps away from restaurants, cafes, clubs, shops, and lots of side streets that are easily accessible for exploring all day and enjoying the nightlife as well.
Inntel Hotel Amsterdam Centre is in a pedestrian area between Amsterdam Central Station and Dam Square. Walking to many of Amsterdam's major attractions is easy. If you want to explore a little further like a local, you can even rent a bike at the front desk of the hotel.
We actually stayed here during a visit and were always happy after a long day of walking to head back to our clean, comfortable room without any hassle. Guests have access to free Wi-Fi, and there are wellness offerings ranging from saunas and steam rooms to on-site fitness equipment.
The regular rooms are reasonably priced and comfy. For a splurge, hotel rooms and suites can include a whirlpool, private sauna, or both. The "surprisingly sustainable" program is a welcome part of their overall commitment to corporate social responsibility too.
2. Hotel Estheréa
UNESCO World Heritage Site
Matching the colorful Amsterdam scenery is hard to do, but the Hotel Estheréa offers vibrant splashes in spectacular fashion. The wow factor here is in top form, and it's hard not to fall in love at first sight when walking through glass doors into an oasis wonderland. A table full of sweet treats and cool fruit waters beckons in the Blue Butterfly Room. Crystal chandeliers and exotic bird sculptures add to the hideaway retreat ambiance. With a perfect canal view location, set amid 17th-century residential canal houses this luxury hotel, which feels like one of the best secret getaways, is just downright fun.
Maria's Bar, named after the founder, is open 24/7 and offers colorful cocktails, small bites, and a relaxing lounge in which to enjoy them. Or have tea, coffee, or hot chocolate, if you prefer. A variety of rooms can offer canal views, family accommodations, quiet private quarters, and luxurious suites, all with decor that is both stunning and comfortable. What once began as a small boutique hotel purchased by a widow after World War II has blossomed over its 80 years with more than 90 rooms and a place on UNESCO's World Heritage list. For exquisite surroundings in a grand hotel that is anything but stuffy, this one should be high on the list.
3. Hotel Amsterdam De Roode Leeuw
Close To Amsterdam's Centraal Station
Amsterdam is always hopping, and for those who want to experience it, all Hotel Amsterdam De Roode Leeuw (Red Lion) is a great choice. It's right in the city center on the Damrak, the city's main avenue, and is within easy walking distance of many of the most popular attractions. Amsterdam Centraal Station is only 700 meters away, making this a great location for taking day trips as well.
For those who want to get a real taste of the Netherlands, try the hotel's Brasserie, which overlooks Dam Square and offers a modern take on Dutch cuisine. Croquettes, bitterballen, stoverij (stew), a Dutch cheese platter, or some seasonal treats will keep busy visitors from going hungry. They also serve high tea if you are so inclined.
The hotel itself was opened in 1911 by two directors of Amstel Brewery, making it one of the first hotels in Amsterdam, and it is still privately owned by descendants of the founders. Room rates are quite reasonable and cover a range of options, including views of the city.
Pro Tip: Shoppers can head right across the Damrak for Gucci, Louis Vuitton, Chanel, Saint Laurent, Hermes, Ralph Lauren, and more.
4. NH Collection Amsterdam Flower Market
Perfect For Art Lovers
For a hotel with all the modern comforts and a fantastic location, NH Collection Amsterdam Flower Market fits the bill. It's within walking distance to the Van Gogh Museum and Rijksmuseum as well as the Rembrandt Museum and other top attractions for art lovers.
Next to the flower market and plenty of shopping streets, this location offers convenience for those who want to explore a lot of the city's highlights. It's also one of the highest buildings in the historic center. The hotel is near the Muntplein, a busy square that has the Munttoren, or Mint Tower, one of the original walled city's bell towers, so named because the guard house next to it was used to mint coins.
The daily breakfast buffet is expansive, and the colorful Ter Marsh & Co bar and grill offering drinks and very popular burgers, among other delights, is open all day. We know the NH Collection as a great place for business travel with free Wi-Fi and great connectivity. But when traveling for pleasure, we like it too. We also like the NH Collection Amsterdam Flower Market is a pet-friendly hotel and offers accessibility too.
5. Die Port Van Cleve
Near The Anne Frank House
A gorgeous city hotel with a fascinating story Die Port Van Cleve is a piece of Amsterdam's history. With roots as a beer house serving only Heineken brew, the grand hotel has been crowded with everyone from royalty to titans of business to farmers, merchants, and everyday locals.
The "novelty" of electric lights all day and night drew in curious guests, who were eventually offered food, wine, and accommodations as well. The three buildings together offer all the amenities and variety of the best hotels. All rooms offer free Wi-Fi, a working area, a mini-fridge, and lots of creature comforts.
The hotel's restaurant Huschler's is well-known for its excellent steaks and offers lots of other local, organic, and tasty dishes. The breakfast buffet is also a favorite. The Bar-Bodega De Blauwe Parade, which started as the first official Heineken bar in the world, offers a fun and casual environment in which to enjoy an array of drinks and food.
The hotel enjoys a privileged location, easily reached by public transportation with a tram stop right in front. Anne Frank House, Jordaan, Prinsengracht, Herengracht, Leidseplein, and other popular sightseeing highlights are nearby. For a touch of old-world Dutch charm with today's modern conveniences, the Die Port Van Cleve is a great option.
6. INK Hotel — MGallery
A Short Walk From Amsterdam Centraal Station
For those with journalistic affinities or who just love a good story, INK Hotel Amsterdam offers the experience of staying in a place where "stories are yet to be written." Housed in the building where the Dutch newspaper De Tijd used to bring stories to life, this luxury hotel provides award-winning, modern accommodations with a taste of limitless possibility. Free Wi-Fi, a fitness center, all-day dining, and a fabulous location all make INK an appealing choice.
The location is great for seeing the best that Amsterdam has to offer. Vondelpark, Amstel River, the canal ring, Royal Palace, and Dam Square are just a few of the sites nearby. The hotel is right by a tram/bus stop and a few minutes walk to Amsterdam Centraal Station. Trams and trains leave for Schipol Airport every 5 and 15 minutes, respectively. With express check-in and check-out, you can spend more time exploring the city, with expert advice from the hotel's concierge.
7. W Amsterdam
Michelin-Star Restaurant On Site
Amsterdam is a city with many moods. But there's no denying that the buzzing activity in the city center is energizing and exciting. Staying in the W Amsterdam offers a fantastic way to take it all in while experiencing the luxurious accommodations of a truly excellent spa hotel. There's a choice of two buildings across the street from each other. The W Bank — located in a former bank building — has stunning views of the canals or the city. The Duchess is a Michelin-star restaurant that provides an unforgettable meal.
The W Amsterdam Exchange building is the side for those who want the pulse of the city coursing through them. Stylish rooms echo the emphasis on design, fashion, and music with views of the Royal Palace. Their other restaurant, Mr. Porter, offers great food and for those who want to shake things up the W Lounge cocktail bar is perfect for nightlife with a view. Most unique is the WET deck, a photographer's dream, on the top of the Exchange building, offering a pool as well as stunning views of the city.
The range of accommodations in Amsterdam is as varied as the city itself. These are just a few ideas to provide a little insight into some of the options. In our experience, regardless of your budget or your preferences, Amsterdam is a large city with lots to see and do. It's worthwhile to take some time to find a hotel in a location that is convenient to public transportation and the attractions that you are interested in most.
You will certainly do plenty of walking there as well. Amsterdam is a gorgeous city with much to offer. Its many hotels will provide something that is bound to make any visit comfortable and memorable.