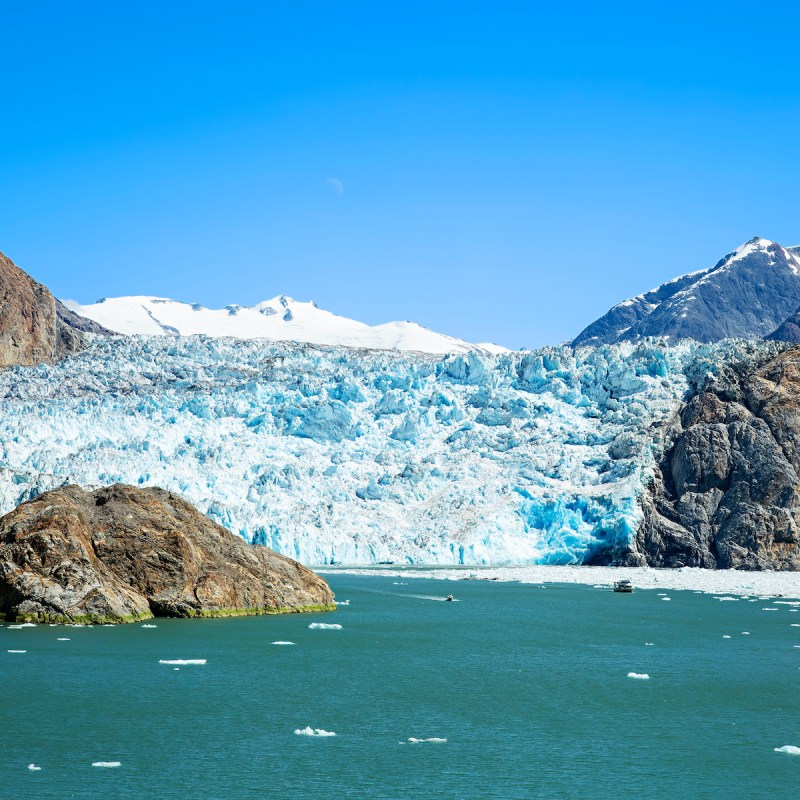 Cruising is a great way to experience several cities and countries without having to switch hotels. Your ship is always waiting for you at the end of the day.
My cruising experience has taken me to the beautiful Caribbean and Mexico, but we wanted to tap our experts to find out the top destinations for 2023. Ryan Baird, cruise director for Royal Caribbean; Jill Whelan, spokesperson for Princess Cruises (and former cast member on The Love Boat); and Anthony Meloro, Royal Caribbean International's director of business development support, shared their top places to visit in 2023 — just in time for wave season.
1. Santorini, Greece
This beautiful island is teeming with amazing snorkeling, gorgeous sunsets, and unique architecture. It's no wonder Santorini is one of the most popular places to visit in Greece. However, the beaches are not your typical beaches. The usual white sand is replaced by black and red lava rocks. One of the most visited beaches is Red Beach.
Whelan loves this port of call on a Mediterranean cruise. She especially enjoys the weather, the food, and the people. But Santorini isn't the only sought-after stop; Mykonos is also at the top. Check out the key differences between the two islands to see which might be the best port for your cruise.
Favorite Restaurant In Santorini
There is an amazing restaurant on the backside of the island, nestled in a cave right on the water. Whelan discovered it during one of her cruises. The restaurant is named for its owner: Taverna Katina. Katina was born in that cave, Whelan says, and gets fresh seafood delivered in a wheelbarrow each day. Whelan watched the fisherman bring it in as she was having lunch.
The owner is so warm, and the fish is very fresh and delicious! If you stop by, Whelan says to tell the owner "hi" from her.
You can check out Princess Cruises' Santorini excursions here.
Santorini Vineyards
You can also find some of the world's most breathtaking vineyards in Santorini. You have more than 18 to choose from. Santo is a beautiful spot to sip the evening away and watch the sunset, and Venetsanos Winery is a quaint vineyard to enjoy spectacular views. If you enjoy a great glass of wine surrounded by stunning scenery, here's more about wine tasting in Santorini.
2. Rome, Italy
Rome was not built in a day, nor is it realistic to see all that Rome has to offer in one. How could you choose between the Colosseum, Trevi Fountain, Pantheon, Sistine Chapel, and Spanish Steps? It is simple: Choose to see it all! That option is only possible if you allow a few days before or after your cruise.
Favorite Restaurants In Rome
If you are looking for an authentic dining experience in Rome, then it is all about the pasta Carbonara, the quintessential Roman dish. Baird always makes a point to visit Armando al Pantheon for this delicious pasta. Reservations are needed, so make sure to plan ahead.
Whelan says there is no better place for a cocktail than the Hotel De Russie. It's like you've entered into a gorgeous movie at the foot of the Villa Borghese, surrounded by elegant people from around the globe. They serve some of the most delicious cocktails she's ever had.
Roma Pass
For guests staying in Rome, Baird suggests the Roma Pass for your upcoming 2023 voyage. The Roma Pass offers free admission to your choice of two historic sites, discounted admission to others, skip-the-line options, and free public transportation in the city.
Pro Tip: With a number of sailing options available, Baird highly recommends embarking or disembarking your cruise vacation in Civitavecchia, the port of Rome. He always flies to the ship a few days before the start of the cruise or stays a few days after disembarking for two reasons. One, to give him a safety cushion for issues that might come up with air travel, like delayed flights or worse, lost luggage. Secondly, to see the sites!
If you're interested in visiting, check out Princess Cruises' Rome excursions.
3. Juneau, Alaska
Juneau is the one U.S. state capital accessible only by sea and air, so a cruise is the perfect way to visit this unique city. The city sits along the Gastineau Channel and at the foot of Mount Juneau and Mount Roberts. A great place to start exploring is the Sealaska Heritage Institute, and don't forget to say hi to the Patsy Ann statue, the official state greeter. TravelAwaits writer Jo-Anne Bowen found several other unique places to visit in this beautiful city.
Despite her many years of cruising, Whelan's first time to Alaska was in 2018. She was surprised by the temperate rainforests and vibrant green moss. The tempting but poisonous wild red mushrooms with white polka dots caught her eye but thankfully didn't make it onto her plate. Whelan said the helicopter to the glaciers was a magical experience. Princess has many options for onshore excursions when visiting Alaska.
Having spent several seasons in Alaska, Baird says Juneau is his favorite port of call. Over the course of a day, one can hike on a glacier, soar above mountains of ice, stroll the charming streets, and grab a drink at the historic Red Dog Saloon.
Favorite Juneau Restaurants
If you choose to stay in town, swing by Baird's favorite restaurant, Salt. Here, you can find the foods and flavors that made Alaska seafood famous, such as cedar plank salmon, halibut, or Dungeness crab, a local favorite. Make sure to give the spruce tip ale a try — a beer made from the tips of the Sitka spruce, the state tree of Alaska.
In downtown Juneau, Whelan loves a little outdoor takeaway and sit-down joint called Deckhand Dave's. She says they have the best salmon tots and sauce.
Air Tour
A trip to Juneau would not be complete without exploring the area. Baird's favorite tour would be a flight to Taku Lodge. You will fly high above the mountains and glaciers of Southeast Alaska and land in front of the historic Taku Lodge for a traditional salmon bake. Be sure to have your cameras ready, as black bears are often spotted in the vicinity. This is a very popular, often sold-out tour, so make sure to pre-book online before the start of your cruise to guarantee availability.
4. Buenos Aires, Argentina
If Machu Picchu, Iguazu Falls, Rio de Janeiro, Patagonia, and even a trip to Antarctica sound intriguing to you, then maybe a South American cruise in 2023 is what you are looking for. As a cruise director, Baird has spent many seasons cruising South America. Most South American cruises start or end in Buenos Aires, Argentina — which happens to be one of his favorite ports in the Southern Hemisphere.
Tango In Buenos Aires
Baird's favorite thing to do in Buenos Aires is to watch a tango show — after all, La Boca in Buenos Aires is the birthplace of tango. There are many ways to watch a tango show, from expensive all-inclusive dinner shows to tango on the street. Baird recommends heading to Plaza Dorrego in San Telmo, grabbing a table, and watching some of the most passionate dancers in the city in an open-air forum. Plaza Dorrego is also a great place for those looking for a bargain, as street vendors encircle the plaza.
Recoleta District
Another must-see in the city is the Recoleta district, famous for the Recoleta Cemetery. Considered one of the most unusual cemeteries in the world, it is also the final resting place of the famed Evita Peron. As you stroll the grounds, you will see elaborately carved scrollwork with a wide range of architectural styles spanning the centuries. Outside the cemetery, you will find an open market with vendors selling all sorts of local crafts and wares.
Cafe Tortoni
A trip to Buenos Aires would not be complete without visiting Café Tortoni for lunch. This iconic coffee house opened its doors in 1858 and was the local watering hole for the cultural elite — including Albert Einstein on his frequent visits to the city.
5. Naples, Italy
In the shadow of Mount Vesuvius and beloved for its pizza, Naples's historic center, Old Town Naples, is a UNESCO World Heritage Site. TravelAwaits writer Jo-Anne Bowen suggests some truly unique places to visit, including the church of skulls. You could spend your entire day just exploring the tremendous history, but then you would miss out on the fabulous food.
Naples is one of Meloro's favorite destinations for many reasons. First is family. His grandfather was from a very small village in Southern Italy called San Giuliano di Puglia. At the age of 14, he sailed from Naples to America to build a better life for himself and his future family.
Mount Vesuvius
Of course, a visit to the ruins of Pompeii and Herculaneum are must-dos, but make sure you add in time to conquer Vesuvius. If you have a choice, Meloro would recommend visiting in April and May or September and October to take advantage of cooler weather; he traveled in late June, and temps hovered in the high 90s.
But that hardly matters when you hike the magical Mount Vesuvius. The feeling you get looking down at Pompeii ruins and the hardened lava stream from the last major eruption in 1944 is humbling and awe-inspiring. Only upon arrival at the top do you realize the full majesty of this special place. The smoke coming up from the crater looks otherworldly. The views of the Bay of Naples to the northwest and Pompeii to the southeast simply take your breath away. As you look past Pompeii to the southwest, you can see Sorrento and Capri on a clear day.
Sorrentino Vesuvio Winery
Because of its proximity to where your ship docks, this can all be done in an unhurried full-day excursion. Meloro's lunch break was at Sorrentino Vesuvio Winery, where the grapes are manually harvested from vines planted in the volcanic soil on the slopes of Mt Vesuvius. Authentic home-cooked pasta dishes paired with their Lacryma Christi Del Vesuvio Rosso is Heaven on Earth!
6. Dubrovnik, Croatia
Croatia has increased in popularity in recent years. It's located across from Italy on the Adriatic Coast. The country's pristine beaches are a draw for most first-time visitors, and it also boasts some of the best Roman ruins outside of Italy. You can also see a castle or two.
Things To Do In Dubrovnik
A popular port of call is Dubrovnik. This city is one of the reasons Croatia is on Whelan's list for 2023. Located on the Dalmatian Coast, this city is a big draw for most folks because of its deep blue waters and sunny Mediterranean climate.
A popular place to visit is The Walls of Dubrovnik. They were designated a UNESCO World Heritage Site in 1979. This historic site has been renovated and modified over the years, but it's considered to be one of the greatest extant fortification systems of the Middle Ages.
This port is drenched with history. Dubrovnik Cathedral dates back to the seventh century. It's been rebuilt twice. Another fun activity to try is the Dubrovnik Cable Car; you can see the city in an entirely different way. And don't forget to enjoy some traditional dishes.
Whelan is looking forward to exploring this country and the excursions Princess Cruises has to offer. The cruise line has 24 different options for Dubrovnik.