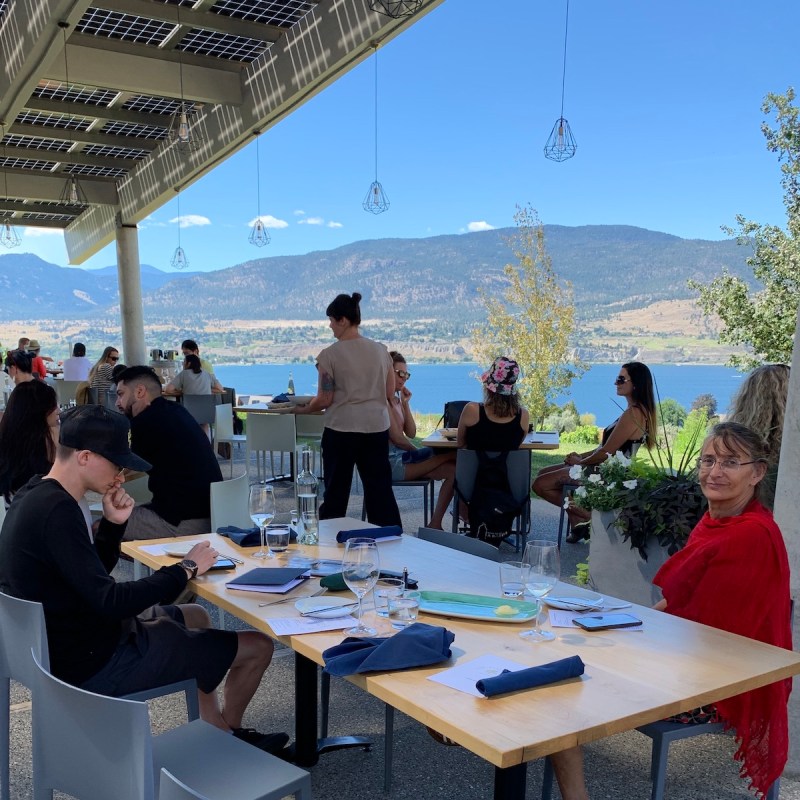 The Okanagan, a central valley in Canada's province of British Columbia, has a beauty that can't be compared to any place else on Earth. The weather is the best in Canada. This is a secret that was kept in the past, but it has not been lost on Canadians, and people from the world over in the last 30 or so years.
Wine has been produced in this valley for many years, but, fortunately, in 1990 a Vintners Quality Alliance (VQA) was formed to develop, maintain, and guarantee the quality of production. With quality wine comes the development of an epicurious culture that is attentive to the holistic experience of food, wine, and atmosphere. The number of wineries in the region has been growing too quickly for even the locals to keep up with, and many of them offer dining possibilities as well.
My son Brannen is a chef in the Okanagan and we decided to join our passion for food and wine and give a very small sampling of these possible winery restaurants. My wife, Magali, and her brother, Thierry, also joined in the dine/wine adventure. A common denominator for all of our visits was the incredible views to be had on each of the dining terraces. Our approach to each visit was the same. Arrive unannounced, choose our meals and wines, followed by dessert, and with our impressions in place, ask the owner, or manager at the time, for specific highlights.
Now, find out why these five places make for a fabulous combination of wineries and restaurants.
1. Poplar Grove
Penticton
Poplar Grove is a wonderful setting, overlooking the lake of Okanagan, with solar collectors aesthetically serving as shade above the terrace. We started with a white Blanc de Franc and Cabernet Franc white wine. This was the first time for us to try this red grape, but white wine due to no skin contact in the making. Brannen, with his chef's experience for tastes and nose, hit the description with "herbaceous and elderflower hints." It went very well with homemade parker rolls and was a decent balance for our different first plates.
My choice of Syrah was almost too powerful a pairing for the balanced spice of chicken Mafalda. We all found our portions were generous and creatively presented. Brannen noted the interesting use of crispy rice fried with egg yolk to create a sort of donut-shaped sandwich for his beef tartare. A wedding was planned for mid-afternoon, so we had a short moment to try a dessert. We did have a time with the Food and Beverage Manager, Michael, who spoke about a desire for, "refined nostalgia," and discussed the general attraction of the Okanagan and the dynamic and developing wine scene.
2. Terrafina At Hester Creek Estate Winery
Oliver
Terrafina offered a table for Magali and me, under the grape vines, overlooking the vineyards with the lake a bit obstructed by the parking lot. Generally an inspired site, that could just as easily have been in Tuscany. An entrée of beet hummus for Magali and roasted olives for me were particularly delicious, with a roasted, smoked, taste to both, with the addition of local blue cheese and hummus. This was a wonderful balance of strong flavors, paired with a slightly buttery/almond Chardonnay for the hummus, and a delicate citrusy Pinot Blanc for me.
The main plate of mussels for Magali was accompanied by a "journey" of wine tasting, very kindly offered by Robin, the Manager. We were generously served a sample of their Trebbiano, Pinot Gris, and Rosé to compare. Just the sort of journey we both enjoy. I chose a strong Syrah for my tuna. Magali very happily continued with the mild citrus/green apple notes of the Trebbiano. Throughout the meal, we admired Robin's attention to detail, concern for the clients, and willingness to put herself to any task. When asked for a highlight, she immediately said, "intimacy, never a table of more than eight," and a clear concern for each individual.
3. Mission Hill Family Estate
West Kelowna
Mission Hill is targeting exclusivity and refinement from the checkpoint at the entry to the parking, and through every step of a visit and meal. The winery is set upon Boucherie Mountain, overlooking the vines and the lake. The architecture is perhaps renaissance/modern, and very impressive. It is almost otherworldly to find this unique site, reminiscent perhaps of an Italian mission/monastery, not far from Kelowna and its architecture of rapid growth, yet, juxtaposed to the other, ancient beauty of the First Nations of British Columbia. This is a special experience.
Brannen and I arrived for lunch. This starts with an offering of a glass of rosé. Brannen with his refined nose and taste buds noted the excellent balance of the sourness of grapefruit, with the subtle sweetness of strawberries. This was paired with focaccia and olive oil combined with rosemary, thyme, and strawberry vinegar. The lunch menu was very professionally balanced with two offerings for the entrée, two for the meal, and three for dessert. Brannen and I were able to try everything offered. Every meal item came with a suggestion for wine pairing. Brannen was particularly expressive about his Scallop and Kohlrabi Vichyssoise saying, "delightfully light yet an explosion of flavors as soon as it hits your tongue. The balance of the scallops that melt in your mouth and the pork's sweetness is exquisite. Wine paired with a Reisling brings out the sweetness to counteract the saltiness of the dish. Gorgeous presentation."
I enjoyed the entrée and the main plate but did find the wine pairing of their Cabernet Franc for my plate of chicken and Espelette pepper a little overpowering. We shared the three desserts offered, and, again, Brannen is particularly expressive for the Sour Cherry and Apricot Coffee Cake, "The coffee cake is a wonderful blend of spices and wonderful to see it deconstructed. The pungent sourness of the cherries offsets the sweetness, and the spice is present yet not overpowering. The coffee cake itself is more like a sponge cake, as such polymerizes the whole together beautifully. By far my favorite."
The manager at the time of our meal was young and perhaps intimidated by my question about "highlights." However, her response was perfect. She offered us both a wine tasting of four wines, culminating with their elite, "Oculus." Brannen and I both felt that this is a place for very special occasions.
4. Dirty Laundry
Summerland
The Dirty Laundry winery is tucked into the vineyards, overlooking the lake, high above the town of Summerland. There is an atmosphere in the marketplace in Southern France that immediately makes visitors feel welcomed and comfortable. A canopy of multiple, individual red parasols gives color and shade to this wonderful terrace. Like a market, there are different stands for wine, food, beer, coffee, and gelatos. The visitor goes at an entirely relaxed pace from one place to the other, mixing with and talking to other visitors and the personnel. We started with a Reisling 2021 and again Brannen's descriptions were most perceptive: "Light color, sweetness, hints of honey, and nectar (syrup) of elderflower. Refreshing as the aroma is a touch more bitter than sweet. Green apples."
After a meal of pizza and pulled pork, we went to an excellent red Hush blend for wine. In the spirit of the Italian market, we finished with a tasty, light, black currant gelato. Throughout the meal, we watched a man attentive to everyone and everything. Herman turned out to be an owner. When asked about highlights, he responded with the ambiguous answer of, "expectations." With the name, location, and perhaps pre-conceptions from other wineries, visitors come here with unclear expectations. They leave with a feeling of complete comfort and contentment, and a desire to return. There is no ostentation here, only a desire for a special experience that one would like to repeat.
5. Nk'Mip Cellars (Inkameep)
Osoyoos
Nk'Mip Cellars is in the town of Osoyoos, the southernmost tip of the Okanagan in Canada. Real Canadian desert country. It is the first Indigenous-owned winery in North America, and that depth, history, beauty, and uniqueness can be felt in the wonderful location overlooking the lake of Osoyoos, in the beautiful architecture of the winery, the surrounding village, and in the food and wine. My wife (Magali), her brother (Thierry), and I started with an excellent wine tasting: a white Meritage blend of Semillon and Sauvignon Blanc which was light, delicate, and complex with notes of vanilla and almond; a Chardonnay with a perfect balance of light butter and vanilla; a Pinot Noir which was a bit sharp in its tannins and finally a Syrah with the proper complexity and smooth notes of violets and pepper.
Our meals were excellent with a special recommendation for the wedge salad of pickled sea beans, ember aioli, sourdough, and bacon crumbs. Highlights here were expressed as the particular attention to the balance of earth, water, fire, and air in the food, with excellent choice and coordination between the chef and winemaker for wine pairings.
Winemaking in the Okanagan was started by a priest, presumably making wine for the sacrament. It has become an industry targeting epicurean experiences. The area and the industry are very dynamic.
Pro Tip: We took time to research winery restaurants and spoke to multiple people in the trade when choosing our five wineries. Much information can be found online, and speaking with professionals will guide you in choosing among the very many possibilities for wining and dining in the lovely Okanagan valley. There is such a broad and diverse offering that everyone should be able to find favorites. Enjoy the journey.
For more information on traveling to British Columbia, check out these articles: