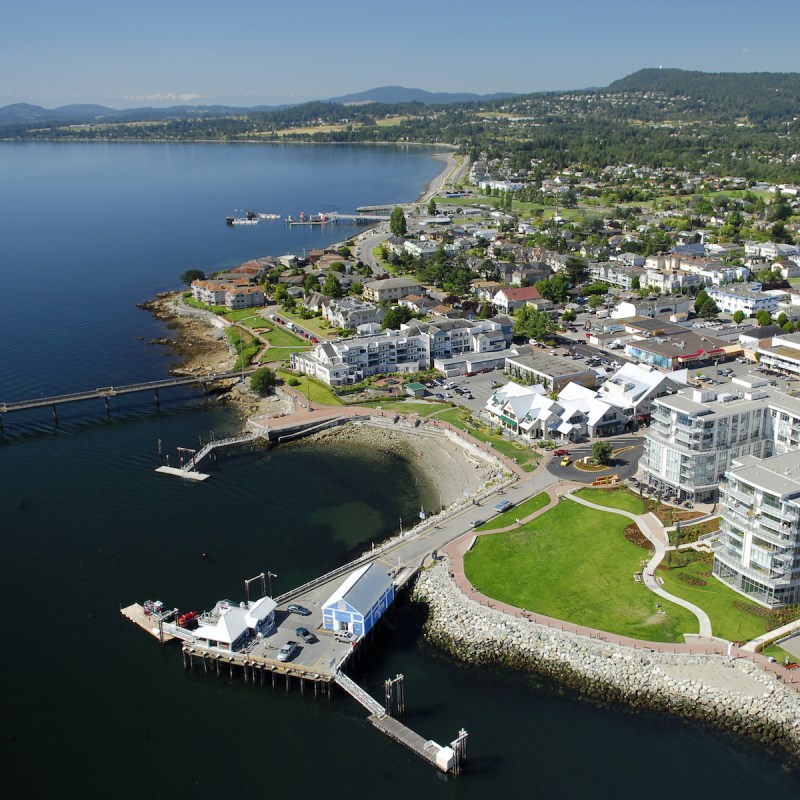 For years I drove right by Sidney, BC. We arrived at the Swartz Bay Ferry Terminal minutes from Sidney on our yearly family vacations and had the end destination in mind: a freshwater-saltwater lake called Nitinat.
I was always curious about Sidney by the Sea. I had heard tales from boating friends mooring their boats here and wanting to stay longer. What was this town at the southern tip of Vancouver Island and the northern tip of the Saanich Peninsula that was so appealing and that I had driven by a million times?
Fast forward many years, and I have now had the opportunity to spend time in Sidney by the Sea and know first hand its appeal and seaside charm.
Where Is Sidney, British Columbia?
Sidney, BC, is located on the northern tip of the Saanich Peninsula on Vancouver Island, British Columbia, Canada. It is located less than 2 miles from the Victoria International Airport. Sidney is also located less than a 10-minute drive from the Swartz Bay Ferry Terminal, where ferries come and go regularly between mainland BC (Vancouver) and the Southern Gulf Islands.
Sidney is also the only Canadian port of call in the Washington State Ferries system with ferry connections to the San Juan Islands and the Anacortes.
Note: Due to COVID, this route is not currently in service (October 2021).
Sidney is a great base for exploring Canada's Gulf Islands, is only a short drive to the famous Butchart Gardens, and a 25-minute drive to downtown Victoria. Sidney, though, warrants some dedicated time.
Explore Sidney at the beginning of a trip to Vancouver Island or as the grand finale and plan on more time than less. It's laid back. You'll want to slow your walking pace. Here is how to spend a day in Sidney by the Sea.
1. Stroll The Sidney Waterfront Walkway
Sidney is nestled right into the shoreline and without question has amazing seaside walks. The Waterfront Walkway, a flat, paved walkway that is 2.2 miles long, hugs the shoreline and has interesting statues to examine. The views along the Sidney Waterfront Walkway are spectacular and include Mt. Baker and nearby Sidney Island. The fresh salty air, the seabird life, and the changing shore with high and low tides will thrill any curious ocean loving soul!
If you want a longer walk keep heading south towards Lochside Drive. Walk past the Sidney- Anacortes Ferry Terminal and Tulista Park and choose to stroll either the upper or lower pathway or perhaps a combination of both. I love the naturally stacked-up, bleached driftwood. Perch on a carefully selected piece of driftwood, or on one of the available benches, face the Salish Sea and contemplate life.
2. Browse To Your Heart's Content In Sidney, Canada's Only Booktown
I'm always drawn to the bookshops in a town or city. I love browsing, soaking up the literary atmosphere, and seeing what second-hand titles I can add to my collection. If you are a bibliophile, you're going to love Sidney, BC. There are at last count six, but I did read somewhere that there are nine, independent bookstores, which in Canada is quite something. Thus Sidney's title, Canada's Only Booktown!
These inviting bookshops are all within walking distance. Four are located on Beacon Ave, Sidney's main street and the others are around the corner. Here are a few names to get you started: Tanner's Books, Beacon Books, The Haunted Bookshop, and Galleon Books and Antiques. Allow some time for the book-lover in your group to peruse the bookstores in Sidney BC! Who knows what title will be found!
3. Watch The Crab Fishing On Sidney's Pier
Walk down to Sidney's pier and just watch. Crab traps are pulled up, captured crabs examined, and either kept or tossed back in the sea. More bait is added to the traps before being dropped back into the water. There's a hum of concentrated delight on the Sidney pier.
4. Visit The World-Class Aquarium
One of only two aquariums on Vancouver Island, The Shaw Centre For The Salish Sea in Sidney, is a not-for-profit aquarium dedicated to the ecological diversity of the Salish Sea. The Shaw Centre For The Salish Sea, situated on Sidney's waterfront on WSANEC Coast Salish Indigenous territories, has over 3,500 animals representing 160 species from the Salish Sea. Gorgeous displays of sea life, a hands-on touch pool, a rare orca skeleton, and displays of Coast Salish art make this a "must-do" on your visit to Sidney.
Admission Prices: Adult: $14.50; Senior (65+): $11.70 (USD)
5. Go On A Whale Watching Tour
There are many places on Vancouver Island to access whale watching tours. Right here in Sidney, which is located in the midst of the Gulf Islands, is a great choice. This area sees transient orca pods, seals and sea lion colonies, and plenty of seabirds. Hit the water and be wowed by stunning scenery and remarkable wildlife. Book a tour with Sidney Whale Watching.
6. Enjoy Some Gin And Craft Beer Tasting
Victoria Distillers, situated on the waterfront in Sidney, creates award-winning spirits, most notably gin. Tastings are available Thursdays-Sundays from 12-6 p.m. and, of course, the retail store is the perfect place to pick up a gorgeous bottle of the unique indigo-hued Empress 1908 Gin for the gin lover you know.
Canada is crazy for micro-breweries. It is great fun for the beer lovers in the group to taste-test different flavored small batch beers. Just opened in October 2021 is the newest one on the block. Beacon Brewing Ltd, a family-owned distillery, is in the heart of Sidney. Swing on by and sample its beers. How about a Better Late Than Never Pale Ale or a Ladder Truck Lager?
7. Cycle Sidney
The outdoorsy side of you might be elated in Sidney! Rent a bike and hit the trails. Ride along the seaside paths in Sidney and take a break here and there at a restaurant or pub. If you're up for a longer ride, head over to The Flight Path, a mostly flat 5.8-mile trail that circles the Victoria Airport. This bike trail on the Saanich Peninsula passes through farmland and has views of Mt. Baker and the Salish Sea.
If you feel like having a cool drink and a Vancouver Island cider tasting experience, cycle about 25-minutes to Sea Cider Farm and Ciderhouse.
Pro Tip: Rent a bicycle in Sidney here.
8. Where To Eat In Sidney
There are plenty of places to eat in Sidney. There are unique local restaurants as well as chain food outlets. Here are my suggestions:
The Farmer's Daughter: One of my favorite experiences in Sidney was going to the Farmer's Daughter for a cheese and wine flight. Perhaps it was my experience living in France or possibly just a love of cheese and wine but the careful pairing of artisan cheese and wine was a winner. I had the white wine flight while my daughter had the red. The Farmer's Daughter has a warm ambiance that invites you to sip and savor. If you don't have time to linger, why not purchase a carefully sourced cheese from its storefront and add it to a picnic feast by the Salish Sea.
The Rumrunner Pub and Restaurant: No visit to Sidney is complete without sitting on an outdoor patio (weather permitting) and sipping a refreshing drink with a spectacular sea view. At the Rumrunner, there are two outdoor patios and fireplaces indoors for the colder weather. A focus on west coast cuisine, including plenty of seafood choices, paired with an inviting, fun atmosphere is a good reason to pop over to the Rumrunner Pub and try it out!
9. Where To Stay In Sidney
The Sidney Pier Hotel And Spa
Stay at the lovely Sidney Pier Hotel And Spa. Staying by the ocean, it is always a bonus to have a glorious view from your hotel room. Book a room with a view and with the hotel's central location, you can park the car and walk everywhere.
The Beacon Inn
The Beacon Inn, a Bed and Breakfast with nine uniquely designed rooms is right in the heart of Sidney and provides that cozy, homey feel.
The Brentwood Bay Resort
Although not right in Sidney, Brentwood Bay is just a short drive away. The Brentwood Bay Resort is a luxurious resort with views over Brentwood Bay and the marina. The dining room is excellent.
Pro Tip
Located just off the shore of Sidney is Sidney Island. At the northern tip of Sidney Island is Canada's newest national park, Sidney Spit Marine Park. The long sandbar or sandy spit is ideal for a day trip from Sidney. Pack a picnic and plan on exploring tidal flats, salt marshes, and hiking along beaches or through conservation areas. Birdlife alone will keep you interested for hours.
Sidney Spit is accessible all year by boat or kayak. A passenger ferry runs from the wharf on Beacon Street in Sidney from mid-May until Labor Day weekend in September.
Related Reading: