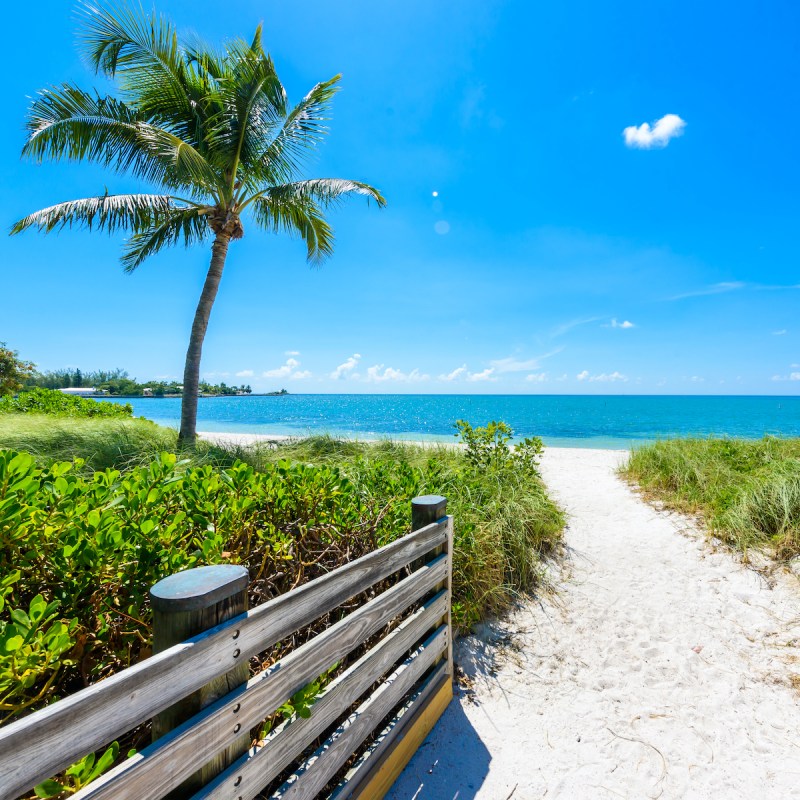 I've found that when it comes to Florida, people are usually in one of two camps: fans of the Florida East Coast or those that love the Gulf side. I've been up and down the Florida Atlantic Coast, driven the busy I-95 from north to south all the way to the Keys, and visited many great beaches along the way. I've also enjoyed the irresistible Gulf side of the Sunshine State.
Both sides of Florida have awesome beaches, but they're different experiences. The Atlantic side offers beautiful ocean views and great surfing. On the Gulf side, no real waves are crashing, but the calm, warm turquoise waters are idyllic for many. And those Gulf sunsets are simply spectacular.
While all beaches can be busy, some are decidedly less crowded than others. To increase your chances of finding fewer people on the beach, go on a weekday. Grab a towel and make your way to any one of these fabulous uncrowded Florida beaches.
Note: Some information in this article was obtained via a hosted stay. All opinions are my own.
1. Bunche Beach Preserve At San Carlos Bay
Cape Coral
Bunche Beach is a small, uncommercialized picturesque beach tucked away from it all near Cape Coral, Florida. There are no services here and very little in the way of amenities, but that's part of its beauty! There's almost nothing here except the beach, a birding trail, and a place to rent kayaks. It's a natural, unspoiled environment that's perfect if you want to get off the beaten path.
Grab a chair and take in the amazing views, or walk the beach and watch the birds and shell critters. Do what people were doing while we visited and cast a line from shore. The fisherman we chatted with told me he purposely came to Bunche Beach to avoid crowds. Though you may have to walk a little ways from your parking spot to the beach — as parking is not plentiful — it is worth it.
Bunche Beach sustained damage from recent Hurrican Ian. Some portions of the beach may be unusable at this time. Please keep this in mind when making plans to visit the area.
2. Coquina Beach
Anna Maria Island
Directly over the bridge from Longboat Key lies Coquina Beach on laid-back Anna Maria Island. The turquoise waters are some of the most stunning I've seen. This beach is absolutely gorgeous with breathtaking water views! It offers concessions at Coquina Beach Cafe, lots of parking, covered picnic tables, playgrounds, private changing rooms, and showers. Swimming is allowed in designated areas and there's plenty of sand so you can stretch out and not bump into other beach-goers.
This is one of the best beaches in the state. You can easily spend your entire vacation soaking up the sun on Coquina Beach and enjoying Anna Maria Island and nearby Longboat Key. In addition to amazing beaches, both areas offer a variety of places to stay, from upscale resorts to beachy cottages and unmatched waterfront dining experiences!
3. Lido Beach
Lido Key — Sarasota, Florida
Lido Key is a hidden gem near Sarasota on Florida's Gulf side. Located between Longboat Key to the north and Siesta Key to the south, gorgeous Lido Beach is the spot to be. While the beach is smaller than the more well-known Siesta Key Beach, it's also less crowded.
This convenient beach offers easy parking and a very large, wide beach with plenty of room to set up your spot for the day. It's also located within walking distance from St. Armand's Circle where you can do some shopping or have lunch. Lido Beach offers exceptionally soft, white sand, glorious views, and warm Gulf waters. The vibe here is laid-back and relaxed — you won't find a big party crowd here. Plan to stay for sunset; the views here are spectacular.
4. Manatee Beach
Anna Maria Island
The public beaches on Anna Maria Island are some of the best beaches in Florida. If you're looking for a gorgeous beach with all the comforts of home, you may enjoy Manatee Beach. Located in the town of Holmes Beach on Anna Maria Island, Manatee Public Beach is a popular family-friendly beach that can get crowded — especially on weekends. But it's quite a large stretch of sand, so you're able to find your own space and not feel crowded.
As for conveniences, Manatee offers a ton: a large cafe on the beach, nice bathrooms, beach chairs for rent, volleyball courts, and a kid's playground. It's all set alongside stunning turquoise waters, and clean, white sand dotted with palm trees. You may even catch a glimpse of dolphins and manatees from shore.
Pro Tip: Anna Maria Island offers a free trolley that makes stops through town and at the beaches. Take the trolley to avoid parking hassles.
5. Yacht Club Community Park
Cape Coral
A drive around Cape Coral allowed us to find one of the best uncrowded beaches of our trip. Yacht Club Community Park is a hidden gem. Not only is there a good beach with calm water on the Caloosahatchee River, but the park also offers bathrooms, showers, a playground, picnic tables, barbecues, great parking, and a good view of Cape Coral.
We enjoyed walking out on the pier and watching the fisherman reel in the catch of the day. The Boathouse Tiki Bar and Grill, located adjacent to the park and the Yacht Club, is open to the public. The tables out back line the water and are just about as close as you can get to the water without getting wet. It's a perfect place to enjoy breakfast.
Cape Coral sustained damage from recent Hurricane Ian. Some portions of the beach may be unusable at this time. Please keep this in mind when making plans to visit the area. The Boathouse Tiki Bar and Grill is temporarily closed as they work on rebuilding efforts after Hurricane Ian.
6. Beach At Canaveral National Seashore
Cocoa Beach
Located at Canaveral National Seashore on Florida's Space Coast, Playalinda Beach offers miles of beaches, all seemingly untouched and just waiting for you to explore. This barrier island is home to thousands of species of plants and animals, making it a wildlife paradise. It's also home to world-class surfing as well.
7. South Inlet Park Beach
Boca Raton
One of my favorite uncrowded beaches in Florida is on the Atlantic side in Boca Raton. A favorite among locals, South Inlet Park Beach offers a pristine beach, clear waters, and a quiet environment. Located approximately 5 miles southeast of downtown Boca, South Inlet Park is open every day from sunrise to sunset.
This relaxed waterfront features not only a beach but also a playground, picnic area, barbecue pits, and benches to relax. A family-friendly beach, South Inlet Park has something for everyone to enjoy. In addition to lounging on the beach, you can take a walk on the jetty, watch boats at the inlet, barbecue with friends, or simply enjoy nature.
8. Englewood Beach
Manasota Key — Englewood, Florida
Another great beach for the family, Englewood Beach is a well-maintained, scenic spot with gazebos, a boardwalk, and pretty landscaping. Located on Manasota Key, the beach offers beautiful clear water, a tranquil setting, and lots to do. Amenities include a boardwalk, accessible parking and restrooms, showers, water stations, volleyball courts, a basketball court, horseshoe pits, a playground area, picnic shelters, and barbeque grills. Umbrella and chair rentals are available, making your beach day even better.
Englewood sustained damage from recent Hurrican Ian. Some portions of the beach may be unusable at this time. Please keep this in mind when making plans to visit the area.
9. Stump Pass Beach State Park
Manasota Key — Englewood, Florida
With no commercialization, Stump Pass Beach is for you if you like a quiet and natural surrounding. Here, you can discover all kinds of birds and plants, search for shark teeth and shells, and bask in the unspoiled wilderness of the park.
Look for wildlife as you walk the 1.3-mile hiking trail that goes through the park's five distinct natural communities. Enjoy the amenities that will make your visit more comfortable including showers, bathrooms, and a picnic pavilion. Stump Pass Beach also offers accessible amenities including restrooms, parking, and free beach wheelchairs.
Stump Pass Beach State Park sustained damage from recent Hurrican Ian and is temporarily closed. Please check the Florida State Parks website for updated information on reopening.
10. Pelican Beach
Satellite Beach
Pelican Beach, in the small town of Satellite Beach on Florida's Space Coast, offers a quiet getaway. With a shaded green space adjacent to the beach, the picnic tables here are a perfect place to have a casual lunch by the sea. Chances are you won't see a lot of people while you're at this pretty, under-the-radar beach. The on-site bathrooms and showers are a bonus.
11. Sombrero Beach
Marathon
Located between Key Largo and Key West, Sombrero Beach is a lovely, accessible beach right in the middle of the beautiful Florida Keys. While weekends can get crowded here, weekdays are usually fairly uncrowded. The calm, shallow waters make this a perfect beach for swimming and snorkeling, or for hanging out with your pup — dogs on leases are welcome!
Located right near Mile Marker 50, Sombrero Beach promises gorgeous views and aquamarine-colored seas. There are no concessions or beach equipment vendors, so bring your chair and umbrella as well as snacks for the best beach day. This is one of the best beaches in the Keys, with free parking, nice bathrooms, and a playground for the kids.
Pro Tip: Sombrero Beach is a turtle-nesting beach. During active turtle nesting season (April through October), the city limits human activities in the vicinity of active turtle nest establishments, so parts of the beach may be closed. This is typically not more than 10 percent of the beach — the rest is open.