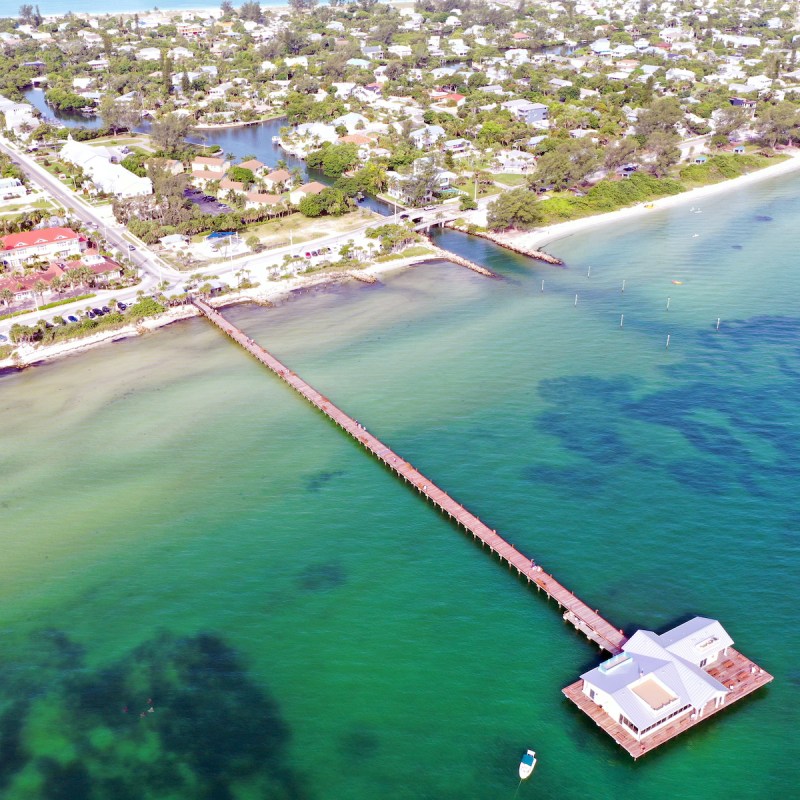 Anna Maria Island is a breathtaking barrier island famous for its powder white sand and teal-blue water. The island beckons visitors to stretch out on the wide beaches along the Gulf of Mexico on its west side and take part in the various water excursions on the Intra-Coastal Waterway on the east side. If you drive north, you'll reach a secluded spot known as Bean Point, where you can play in Tampa Bay.
Anna Maria Island is a boating paradise. Anglers enjoy the water for fishing, and nature lovers admire the dolphins frolicking in the water. But there are many ways to experience the area. If you fly into Sarasota/Bradenton International Airport, you can get to the island by bus, taxi, or car. Since parking can be challenging, you can rent bicycles or a golf cart or use the free trolley to get around. There's no shortage of things to see, and the following are nine suggestions from the southern end to the northern tip once you arrive in this slice of Florida heaven.
I was a guest of the Bradenton Area Visitors Bureau for this visit but all opinions are my own.
1. Collect Sea Shells On Coquina Beach
As you drive onto the island, the first beach is Coquina, the southern end of Bradenton Beach. Bradenton Beach is one of the longest shorelines on Anna Maria. It's a natural setting with dunes, grasses, sea oats, and loggerhead sea turtles' nests (May through October). It's a gorgeous place to relax with calm water, which is excellent for swimming. There's ample parking and rentals for beach chairs, umbrellas, and casual food available at the Coquina Beach Café. Or there's a park with shady picnic areas if you packed a lunch. While there are many things to do on Coquina, shell collecting is incredible. It's known as one of the best places to find beautiful specimens. If you tire of walking along the water, walk across the street to Leffis Key, a stunning nature park with panoramic views of Sarasota Bay.
2. Visit Historic Bridge Street
A wooden bridge was the only way to reach Anna Maria Island back in the day. Now, this beloved shopping street offers unique treasures in the eclectic shops, art galleries, restaurants, and activities on and off the water. Back Alley Treasures has funky, local artists' works plus smoothies, coffee, wine, or beer for afternoon refreshment. Another stop, Fish Hole Mini Golf, has an 18-hole mini-green with misters to help you cool off and a 3,000-gallon koi pond. It's fun to play around at this lush course. If you are looking for something relaxing, Sea-renity Spa and Eco Boutique will offer clients services inside their spa. Or, for a romantic experience, set up a massage for two on the beach. The street is walkable and has water views on either end, so find a perch to enjoy the scenery.
3. Book An Eco-Tour To Admire Wildlife
Paradise Boat Tours is on the pier at the end of Bridge Street. The company guarantees dolphin sightings in the Intra-Coastal Waterway and The Gulf of Mexico. If you don't see them, you'll get another free tour. The 90-minute narrated, small-group excursion brings you to open water to observe sea birds, dolphins, and occasionally, rays and manatees. It's the perfect way to enjoy gazing at these beautiful creatures in their natural habitat. The boat seats 28 passengers and offers covered and open viewing areas. Relax and enjoy the sun and the ocean breezes. The boat cruises into the Gulf of Mexico and glides past the fishing village of Cortez, where you'll learn about the history of the area. You can bring refreshments on board for this tour, and water and sunscreen are recommended.
4. Hop On The Free Trolley To See The Island
A free trolley begins at the Anna Maria City Pier on the island's north side. It runs from 6 a.m. to 10 p.m. and has fourteen stops along the way ending at Coquina Beach. If you're waiting for the trolley, you'll have shade under the covered, well-designated stops located every two to four blocks. Some trolleys are air-conditioned, and some are open air. Dogs are allowed, plus they're wheelchair accessible and have bike racks on the front. The nice thing about the trolley is you don't have to worry about parking, and it gets you everywhere you want to go. Check the website for the map and enjoy the leisurely ride as it visits every stop. If you miss the trolley, you can expect the next one in about 20 minutes. I took it all around the island, and it was a fantastic way to travel.
Pro Tip: There's a main stop at Manatee Public Beach where you'll find Anna Maria Island Beach Café. The café is famous for all-you-can-eat pancakes from 8 a.m. until 11:00 a.m. You can enjoy an entire day from breakfast to dinner with live music in the evenings and a tiki bar open to serve drinks.
5. Take The Trolley And Shop Along Pine Avenue
Pine Avenue is a charming street to stroll and enjoy a little bit of history, art, and beach activities. One must stop The Shiny Fish Emporium. It's a family-friendly retail store that's "Classic 1950s Florida meets the artistic flair of Soho with a touch of beach glam." It's a great place to bring children (or your group of girlfriends) because you can decorate sand dollars with paint and afterward shop for gifts, candles, or trendy clothing. You'll always find something unique. There's also a sweet shop with haute couture cupcakes and treats and a spot to enjoy them on the front porch.
For a cute selection of shoes, T-shirts, and clothing, visit Pink & Navy Boutique. It's a great place to find gifts or take home a treasure for yourself.
Island Charms has a lovely selection of jewelry and fine home accessories.
6. Rent A Bike, Kayak, Or Paddle Board
Beach Bums is favorite for rentals and souvenirs on AMI. It's consistently voted Small Business Of The Year for its attentive staff and reasonable rates. You'll find well-maintained bikes, surrey bikes, golf carts, chairs, umbrellas, other beach items, kayaks, and paddleboards. And they offer guided eco-kayaking tours. Rentals range from an hour to a week for their equipment — which they'll deliver to your accommodations at no extra charge. A whole store of fun beach accessories or souvenirs is for sale inside the shop.
7. Fish Off Anna Maria City Pier
In the 1900s, the only way to reach Anna Maria Island was by boat. From 1911 to 1912, the town built the 678-foot Anna Maria City Pier to dock ships coming from the mainland. The structure suffered damage and destruction from age and Hurricane Irma in 2017. The famous attraction is newly refurbished with the original wharf building at the end. You'll reach the City Pier Grill & Bait Shop if you walk the entire length and find breakfast and lunch items, ice cream, beer, and wine. Also, all your bait and tackle need to fish for Redfish, Snook, and Spanish Mackerel (among others) off the pier. And if you like to watch wildlife, dolphins and manatees are often spotted swimming nearby.
8. Learn About The History Of AMI
The Anna Maria Island Historical Society Museum Complex is a fascinating stop on Pine Avenue. The museum building was first constructed in 1920 as an icehouse; it took many forms until 1992, when the City of Anna Maria leased it to the Historical Society for use as a museum. The museum exhibits tell many island stories, beginning with the Native Americans and later with the first settlers. The island's baseball, fishing, and WWII memorabilia are on display. Island archives are available for research.
9. Visit Belle Haven And The Old City Jail
Belle Haven, a historical cottage built initially on the City Pier, fell into the Bay in 1926. After its rescue, it became a family home on the island for 50 years. In 2001, it was restored and placed in the Historical Park. It's furnished with heirlooms and antiques to represent early island life.
Next door is the Old City Jail. The jail, circa 1927, held rowdy "drunks" who consumed a bit too much at the local dancehall. The prison had a door, bars on the windows, and no screens, so if you spent the night, you enjoyed the company of mosquitos until you were released the next day. A fire burned the wooden roof, but the structure remained and is now a popular photo opportunity. It's one of the most photographed places on the island.
Pro Tips: Bean Point is a must-see while you're on AMI. It's a quiet secluded beach on the northernmost point of Anna Maria Island. It's named after the first permanent resident, George Emerson Bean. There are no facilities out there, but it's gorgeous.
An excellent place to stop for lunch or drinks near Pine Avenue is the Sandbar Restaurant. The Sandbar offers "toes in the sand dining," great seafood dishes, and incredible cocktails. There are no reservations, but the wait is worth it, especially if you grab a drink and watch a fantastic sunset off the back patio.