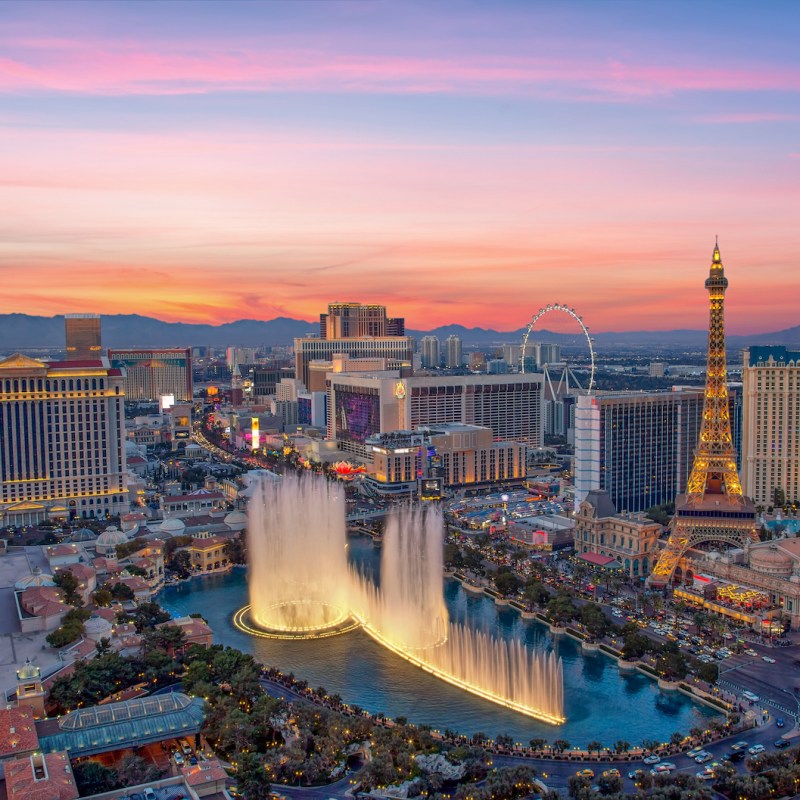 Dubbed "America's Playground," Las Vegas offers plenty to see and do, from shows and shopping to gambling and celeb-owned restaurants. Much of Sin City's entertainment is packed into the four miles of South Las Vegas Boulevard referred to as the Strip. Once you're done at the slots and tables, check out these 10 things to do on the Las Vegas Strip.
1. See A Show
All you need to do is step off the plane to know the selection of shows in Las Vegas is beyond abundant. There are musicals, big-name performers, magic shows, comedy sets — the list goes on. Trying to narrow down your choices may be the most difficult part of your entire trip.
I've never heard anyone say anything but wonderful things about Cirque du Soleil shows, especially The Beatles LOVE. It's at the Mirage; the gentleman in front of me was actually crying when it ended. If you haven't been to Vegas in a while, Cirque now offers a show with the music of Michael Jackson at Mandalay Bay Resort & Casino called Michael Jackson ONE. It's also fabulous, as you would expect.
2. Eat At A Buffet
I know this isn't a novel concept — buffets and Vegas are practically synonymous. But instead of one big plate, there's been a small-plate revolution in recent years… and at a buffet, that's actually a good thing. If you're like me, you leave a buffet ready to burst but wishing you could try one or two more things. This allows you to do that, without bursting.
Wicked Spoon at The Cosmopolitan and Bacchanal at Caesars Palace are leaders in the small-plate buffet experience. They're pricey but offer everything you want on a buffet and so much more. At Bacchanal, there's an entire section dedicated to hot and cold seafood items. The meat station will make you salivate — when is the last time you've seen roasted bone marrow and lamb on a buffet? There are Asian and Italian options and a dessert area that would make even Willy Wonka jealous.
Pro Tip: If the dinner price is out of your range, plan to get there just before brunch ends and dinner begins so you can pay the brunch price without feeling like you're eating too early. Staff members will tell you they limit each table to two hours, but I've never seen anyone get kicked out.
3. Take In Some Free "Art"
There isn't much that's free in Vegas, but there are a few places that'll give your wallet a break. The most well-known free show is The Fountains of Bellagio, which combines water, light, and music. Depending on the time of day, the show runs either every half hour or every 15 minutes and the music varies, so you can watch it repeatedly and not see the same show.
The Bliss Dance sculpture is something you may just stumble across. It's located in the park outside of T-Mobile Arena between New York-New York and Monte Carlo resorts. The 40-foot-tall sculpture was created by artist Marco Cochrane. His first experience at Burning Man inspired the work, which shows female strength, self-confidence, and expression. The sculpture is illuminated at night by 3,000 colored LED lights.
The Lake of Dreams at Wynn puts on an interesting show which you can enjoy on the balcony or terrace overlooking the lake, or while enjoying a cocktail at Parasol Down. It only lasts a few minutes, but it's definitely unique. There's puppetry, holograms, and thousands of lights. Again, it's a quick show, which runs at the top and bottom of every hour starting at 7:30 p.m. and ending at 12:30 a.m.
4. Eat at Gordon Ramsay's Hell's Kitchen
This one is especially for fans of the reality show, but the food is really good regardless. The Hell's Kitchen restaurant is located at Caesars Palace on Roman Plaza just outside of the hotel registration lobby. You'll see the red and blue teams in the kitchen crafting their dishes, and you'll be able to enjoy the view through floor-to-ceiling windows.
Fans rave about the beef Wellington and the sticky toffee pudding, so be sure to save some room. It's pricey but worth the splurge. Check out the prix fixe menu if you want to try the two favorites. You never know, you might even see a recent Hell's Kitchen winner running the show in the kitchen!
5. Ride In A Gondola
The only thing better than clouds that dot the sky-blue roof at The Venetian are the gondolas that float beneath them. Gondoliers are waiting indoors and out, all day, every day to take you for a romantic ride. While it isn't Venice, it's a unique and relaxing experience. Even if you don't want to hop in a boat, be sure to take a walk around the Venetian and watch the gondoliers do their work.
6. Get A Bird's-Eye View Of The Strip From The High Roller Observation Wheel
See the Las Vegas Strip from 550 feet above on North America's largest observation wheel. Offering 360-degree views of Vegas, The High Roller Observation Wheel is located in the heart of the strip at The LINQ hotel and casino. The ride lasts about half an hour. Go at dusk to see the sunset over the mountains, or wait until nightfall to see the Strip lit up in all of its neon glory.
7. Shop 'Til You Drop
Home to high-end brand names like Prada and Versace, the Vegas Strip is every shopaholic's dream come true. Even if you gambled all of your money away, it can still be fun to window shop! Find labels like Tiffany, Chanel, and Hermès at these stores:
On a budget? Shop discounts and deals at Las Vegas Premium Outlet Malls.
8. Treat Yourself To A Restorative Spa Day
After walking from shop to shop, and resort to resort, you'll be ready for a relaxing spa day! Treat yourself to a massage, facial, manicure, and pedicure at the Waldorf Astoria Spa & Salon, The Spa at Wynn, Kalologie Medspa, the Four Seasons Spa, or Amina Spa at SAHARA.
9. Relax In A Cabana By The Pool
What better way to relax, or recover from the previous evening, than poolside in the shade of a cabana? Private cabanas also offer a little seclusion from what can turn into a wild party scene. Rentals can be pretty pricey, so it's nice if you're with a group so you can all enjoy the spot and share the cost. Just about every hotel on the Strip that has a pool also has cabanas, but we're particularly partial to the Garden of the Gods Pool Oasis at Caesars Palace.
10. Meet A Dolphin
Instead of getting up-close-and-personal with exotic dancers at a Las Vegas club, get face-to-face with exotic animals at Siegfried & Roy's Secret Garden and Dolphin Habitat. Located by the pool at The Mirage, the habitat is home to bottlenose dolphins, white tigers, white lions, and leopards. While special experiences like yoga with dolphins and painting with dolphins are temporarily suspended at the time of this writing, you can still get your picture taken with a dolphin. Meet, feed, and touch a bottlenose dolphin, then pose for a photo to serve as a souvenir.
Related Reading: