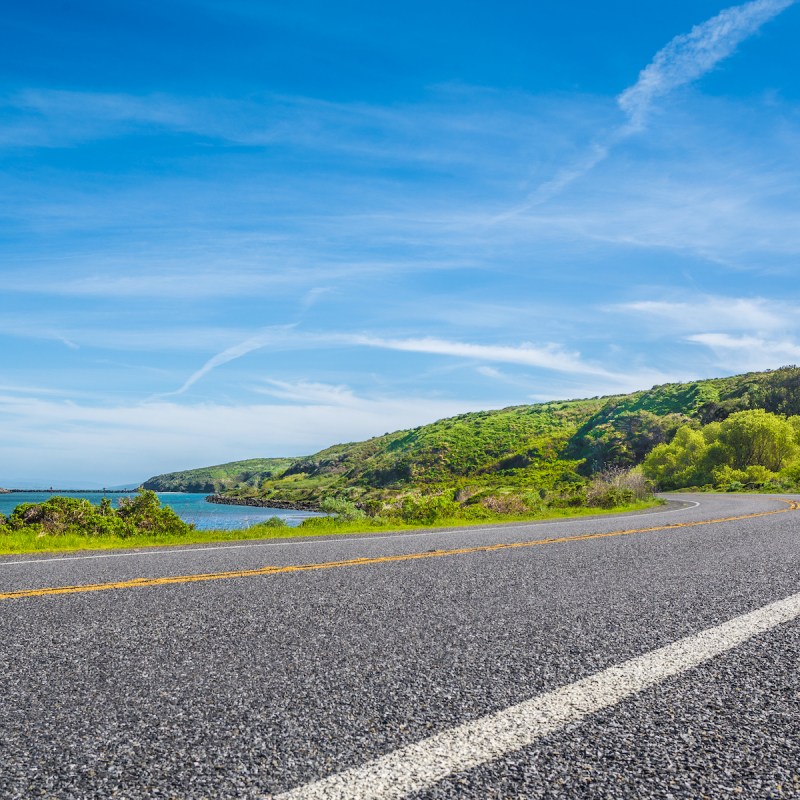 Gualala is a Pomo name meaning "where the waters flow down." Pronounced "wa-LA-la," it's a scenic 115 miles from the center of San Francisco perfect for a budget-friendly road trip.
The name is descriptive of this small northern California coastal town. Conifer forests grow down the slopes of the coastals to the Pacific's edge. The Gualala River empties the watershed from countless creeks and streams into the Pacific. The coastline is wild and rugged, with few beaches. Magnificent cliffs and blufftop trails are standard.
Gualala is at the southern end of the Mendocino Coast on the county line of Sonoma County. The rugged and wild coastline is known for its towering bluffs, coastal trails, and driftwood beaches. The small town is an artist and nature lover's nirvana and the ideal location to unplug and unwind with waves, wilderness, and wine.
Some Of The Best Things To Do In Gualala
1. Art In The Redwoods
Gualala Arts Center and Theater has been the heart of Gualala's art community since 1961. The center hosts classical and popular music performances, theater, art exhibits, classes, workshops, lectures, and more. Youth programs are offered as well, and some classes are drop-in. Stop in for a music or painting workshop.
The arts center is a gorgeous 15,000-square-foot building designed by Paul Styskal. It was dedicated in 1998. Three gardens embrace the building — Mendocino Stone Zone, Frog Song, and Gualala Arts' Global Harmony Sculpture Garden. Each garden displays art among redwoods, conifers, woodland trees, and native flowering shrubs.
Go to the Events Page for a schedule of festivals, exhibits, performances, and classes. You may also purchase tickets online.
Pro Tip: Many art lovers plan a trip to Gualala for Art In The Redwoods, a 4-day celebration of local art, music, food, and wine.
2. Honor The Elders
Gualala Point Regional Park has some of Gualala's most breathtaking vistas of where the Gualala River enters the Pacific Ocean. The park has a variety of landscapes, including beaches, coastal bluffs, an estuary, redwoods, a forest, and a river.
One of the park's manmade features is Serge Posts (pronunced sayr-gay). The ceremonial posts were carved by artisans from the Sakha Republic of northeastern Russia. The artists came to the park in 2014 to carve the Serge and honor their heritage in the region. Russian fur traders were among the first non-native settlers in the Gualala area.
While at the park, enjoy beach combing, driftwood sculptures, cycling, birding, wildlife viewing, hiking, tent camping, and fishing. There are numerous picnic spots, including one with a fabulous vista and a wind barrier at the visitor center.
3. Visit Some Small Trees
Salt Point State Park's Pygmy Forest is home to miniature versions of pine, cypress, and redwood trees. These are the same type of trees that flourish in forests in the region, just smaller. The stunted growth is a result of acidic soils devoid of nutrients. In addition, hard-pan soil is not far below the surface, which prevents drainage and root growth necessary to prosper.
The 3.8-mile Pygmy Forest Trail is a loop, averaging 2 hours to complete. It's rated easy, with a gradual elevation gain of 793 feet. In addition to the pygmy trees, you will pass through eucalyptus, madrone, Douglas fir, and tan oaks. The prairie section of the trail is stunning during a spring wildflower bloom.
4. Gallery Crawl
Cypress Village is a lovely little shopping mall at the corner of South Highway 1 and Ocean Drive. Businesses are interconnected by balconies and stairs, looking more like an upscale townhouse complex than a mall; it's perfect for an art afternoon. Galleries featuring local artists mingle with a book store, clothing shops, home décor, kitchen shop, offices, and eateries.
Climb the Widow's Walk for a magnificent coastal view. The Widow's Walk has a clock tower on top.
Pro Tip: After visiting galleries in Cypress Village, cross Highway 1 and walk north. Stop in at the galleries you pass or have a coffee break in a local café.
5. Wave At Whales
Whale Watch Point on the Bluff Top Coastal Access Trail is an excellent place to watch for migrating whales from November through March.
Bluff Top is 3 miles one way. The trail begins in Gualala Regional Park and concludes at Walk On Beach Trail. You'll also view stunning off-shore rock formations, beaches, and coves. Plenty of wildlife can be encountered on land, sea, and air.
Whales can be easily spotted from shore. Keep an eye out for their misty spouts. I think the best viewing times from shore are at high tides in the late afternoon.
Pro Tip: Don't forget binoculars!
6. Camp With BIG Trees
Gualala River Redwood Park's slogan is: "There is no better place to disconnect. Connect with the redwoods, explore, breathe, run, enjoy, and disconnect from the urban life."
This campground in the redwoods is made for a city getaway. Whether tent or RV, spaces are available on the river or in the forest. Hiking, cycling, swimming, picnicking, fishing, kayaking, and stargazing are popular activities at this privately-owned outdoor resort. Pets are welcome but must be on a leash at all times.
Pro Tip: You can see photos of each campsite on the park's website. Make your choice and book online before you arrive.
7. Build A Driftwood Masterpiece
Sculptures, shelters, and some undefinable structures populate most beaches along the Mendocino-Sonoma Coast. That's because it has some of the best driftwood beaches in the state.
Building your masterpiece solo or with a group is fun and good exercise. So first, gather driftwood from the beach. Then, let your imagination and inner-engineer/artist loose. There is no right or wrong way to go about it; just have fun. Finally, take photos of your genius work; it will most likely be gone with the next incoming tide.
In Gualala, a good driftwood beach is at Guala Point Beach at Gualala Regional Point Park. There is an accessible path to the beach. All-terrain wheelchairs are available from park staff on a first come, first served basis.
Pro Tip: You can gather and build with all the driftwood you can find that is not in use. However, you can't take it with you or burn it.
8. Bring A Cooler And Fill The Larder
Stock up at Surf Market on California Highway 1 in Gualala. You can get a complete taste of Mendocino and Sonoma County at Surf. Family-owned since 1956, the shelves are stocked with local wine, beer, veggies, fruit, cheese, seafood, and meat.
If you're coming from San Francisco, plan to do some serious shopping at Surf. Bring a cooler for perishables and make space in the trunk for lots of wine. The deli can fill the picnic basket with sandwiches, prepared dishes, baked goods, and don't pass up the fudge — yummm!
Pro Tip: The Gualala Farmers Market is Saturday mornings at the Gualala Community Center, on Center Street. It's not only an exceptional place for locally-produced goods; it's a friendly way to meet locals.
9. Sip The Sun Down
This one is simple and can be done anywhere you can see the sun dropping into the Pacific. First, open the bottle of wine you purchased at Surf Market. Then, pour the wine. Next, sip the wine as you watch the sunset. Finally, applaud when the last spec of that golden ball has disappeared below the horizon.
Pro Tip: Winter months have the most gold and red sunsets on the Mendocino Coast.
Sleep
I suggest a vacation rental if you plan to spend a night or two in Gualala. Rentals are available, from small cabins in the forest to oceanfront Architectural Digest-worthy dwellings. Sea Ranch just south of Gualala is a popular rental location. There is a golf course on the development property.
Camping is one of the best options in the numerous state and private parks. Check with Glamping Hub and Hipcamp for some unique camping and glamping spots.
Getting There
The drive to Gualala is part of the experience as you head north on California Highway 1 at Bodega Bay. From there, the next 47 miles are the stuff sports car commercials are made of. Twisting and climbing along the very edge of the Pacific's wild north coast, you'll want to stop at every turnout to savor the vista.
Pro Tip: After the hectic drive getting out of San Francisco, I suggest stopping in Bodega Bay for a break or perhaps lunch. One of the last small fishing villages on the West Coast, Bodega Bay will be an easy-going spot for a road-trip break and a taste of the hook-to-mouth seafood served in restaurants.
Why Gualala?
Gualala runs on "Mendo Time." It's relaxed and never in a hurry. Locals are warm, creative, and love to share their little slice of paradise. Gualala is a bit remote, keeping the tourist buses at bay. Instead, you'll find pristine old-growth forests, clean and fresh air, trails where you're unlikely to encounter others, and plenty of room for your driftwood sculpture on the beach.
Explore the best ideas for a Mendocino getaway, including: