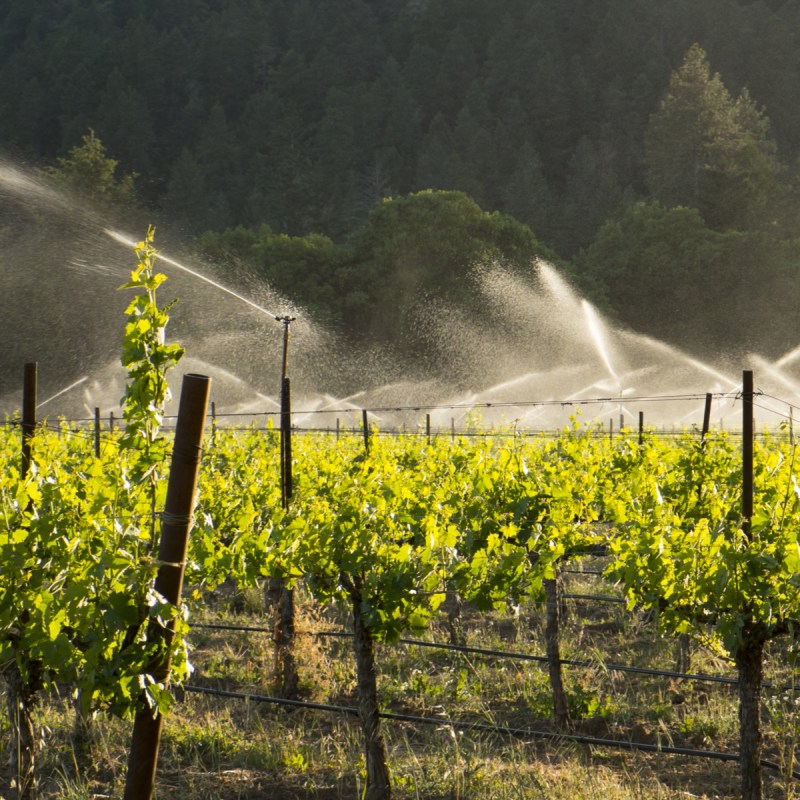 Cross the Golden Gate Bridge and head north. You're in Mendocino County, America's Greenest Wine Region, 90 minutes later.
A tour of Mendocino County's green and organic wineries and vineyards is an unplug, unwind trip. The laid-back region operates on Mendo Time — a slower pace. Its natural beauty is world-renowned. Climates range from Mediterranean coasts to hot interior valleys. Towns are small, people are welcoming, businesses are locally owned. There are more pickups than Porsches. Jeans, fleece, and flannel never go out of style.
Green Everywhere You Go
Thirteen AVAs (American Viticultural Areas) have been recognized within Mendocino County. Occupying valleys, hillsides, and ridges, some are sheltered by redwoods; others overlook the Pacific. Over 4,000 vineyard acres are CCOF (California Certified Organic Farmers). Mendocino County is the world leader in organically grown grapes.
The county is home to Frey, the first U.S. organic and biodynamic vineyards and winery; Bonterra, one of the largest U.S. organic wine producers; and Parducci, the first US Carbon Neutral Winery. The list of organic vineyards and wineries, large and small, is long and well-established in Mendocino County.
Road Trip Through The Vineyards
Follow my curated road trip through Mendocino wine country and stop at some of America's greenest wineries and vineyards. The tour is a loop that begins on Hwy 101, just north of Hopland. From there, we'll head north to Redwood Valley and cross the Coastal Mountains through conifer forests to the Mendocino Coast to explore one of California's most scenic coastlines. From there, we'll turn back east through a redwood forest that opens into Anderson Valley, where organic is the only acceptable way to grow. The tour ends at HWY 101 near your start.
1. Hopland
One mile north of Hopland, within sight of Hwy 101, pass through stone and iron gates to Jeriko Estates. You'll easily imagine yourself in Italy. Jeriko's first Mediterranean-style estate-house was built in 1898 by a San Francisco judge. Surrounding the estate are gardens landscaped to emphasize vineyards and mountain vistas.
Today the estate house is bounded by 200 acres of biodynamically farmed vineyards and woodlands. Jeriko Estate is certified biodynamic by Demeter and is CCOF Certified Organic.
A survey of the vineyards includes pinot noir, chardonnay, and Sangiovese. The show-stopping wine bar and tasting room hours differ seasonally. Check the website for current times. In addition, Jeriko participates in regional wine and food events and hosts its own food and wine lovers' happenings.
2. Ukiah – South
Six miles north of Jeriko Estate, turn west into strawberry fields. Shortly, you're surrounded by vineyards and the Nelson Family Ranch.
The Nelsons have owned and worked the land for over 60 years. Today organic and Fish Friendly Farming practices are used for sustainable vineyards, Bartlett pears, olives, and live Christmas tree farming.
Nelson Family Vineyards grow and produce cabernet sauvignon, chardonnay, orange muscat, pinot grigio, pinot noir, riesling, viognier, and zinfandel.
Taste Nelson Family wines daily from 10 till 5. Call ahead to set up a tour of the winery and vineyards.
3. Ukiah – North
Located north of Ukiah, Parducci is part of Mendocino Wine Company, the producer of Parducci and six other distinctive, sustainable brands. The tasting room offers outdoor seating among olive trees. If you prefer, fireside seating is available indoors. Stop by or make a reservation. Tasting hours are Tuesday to Saturday from 10 to 5.
4. Redwood Valley
"Our first grapes were organic by neglect," confesses Katrina Frey (pronounced fry), Executive Director of Frey Winery. Twenty-two miles north of Nelson in Redwood Valley, Frey is a family-owned and operated farm, vineyard, and winery.
Three generations of the Frey family are stewards of the land, using biodynamic principles that foster ecological self-sufficiency. The vegetable, fruit, and bee gardens play a part in each glass. They raise cows, goats, sheep, and chickens that contribute to every drop. The farm isn't divided into separate systems. Still, it is a continuous circle of all plant and animal life in balance and respect with soil, water, and air.
Frey Vineyards Winery produces Merlot, pinot noir, sangiovese, pinot grigio, petite syrah, cabernet sauvignon, white zinfandel, charbono, syrah, and zinfandel. All Frey wines are CCOF certified organic, Demeter certified biodynamic, vegan, and gluten-free. Check the website for seasonal hours of operation and special events.
5. Mendocino Coast
Spend a day or two on the coast before continuing on with your tour. A bit remote and a whole lot beautiful, the Mendocino Coast is where folks come to unplug, unwind, and immerse in nature. You'll find plenty of opportunities to savor Mendocino County's organic wines, fruit, veg, and meat. Hook-to-mouth seafood is served everywhere and sold in Noyo Harbor markets and restaurants.
Play On The Coast
Nature walks and hikes are one of the best ways to unplug and unwind. Tracks and trails on the Mendocino Coast will take you to the shore where you'll find windswept cliffs, caves, and secret beaches. Walk through a fern canyon and forest bathe among the redwoods. Walk along Big River or 10-Mile River. Now protected and restored, both rivers were once mighty logging highways.
Mendocino Coast Lodging And Wine
The Brewery Gulch Inn is an excellent choice for wine lovers. The multi-award-winning establishment offers local wine tasting each evening for guests. In addition, you can purchase your favorite to sip at sunset. The inn serves breakfast and a light dinner made from ingredients sourced in the county. In addition, BGI has arranged special tastings and discounts for guests at Anderson Valley wineries.
Are you a camper? Camping on the Mendocino Coast comes in all shapes and sizes. You can camp on the beach or in a redwood forest. If you aren't into tents, some campgrounds have cabins. There's even a glamping spot with forest and ocean views.
Mendocino Coast Food And Wine
Little River Inn has indoor and outdoor dining. The wine list will introduce you to local wine, beer, and hard cider. The menu is a cornucopia of local fish, meat, and produce.
Noyo River Grill in Noyo Harbor has a deck overlooking the river and the Pacific. They serve local wine and beer you can pair with fresh seafood. Don't miss the housemade fettucini; it is heavenly.
Harvest Market (Fort Bragg and Mendocino) is the best place to stock up on local wine, beer, and picnic supplies. They offer a wide selection of food and adult beverages in a locally owned market.
6. Philo – North
Head South on CA HWY 1 until you join HWY 128. North of Philo, 59 acres of Anderson Valley is home to Handley Cellars vineyards, winery, and tasting room. A restored ranch house, barn, and water tower from the old Holmes Ranch are a historical backdrop to the vineyards.
Producing 12,000 cases per year, Handley was bonded in 1982. They grow pinot noir, chardonnay, and gewürztraminer in one of California's chilliest grape-growing regions.
CCOF certified in 2005, Handley works daily to minimize its environmental impact. Providing a safe and healthy workplace for employees and the community is a top priority. The winery and tasting room harvest 75 percent of their electricity from solar.
Vine-covered courtyard and sculpture gardens are offered for a picnic or glass of wine. A complimentary EV charging station is available. The art-filled tasting room is open daily from 10 till 5. Winery tours can be arranged in advance of your visit.
7. Philo – South
At Domaine Anderson, organic and biodynamic chardonnay and pinot noir grapes are complemented by vegetable and bee gardens. Fifty acres are family-owned and managed.
All grapes are picked and sorted by hand in small lots. Fermenting and aging take place in the winery at the vineyards.
The winery and tasting room are beautifully designed to fit the landscape. Many reclaimed materials have created a casual elegance and comfort so true to easy-going Anderson Valley.
Relax and picnic in the sun or under the shady pergola. The tasting room is open Thursday to Monday from 11 till 5.
8. Philo Ridge
Philo Ridge Vineyards are located off the grid. Over 5 miles up a dirt road, Philo Ridge is powered 100 percent by wind and solar. But don't worry, the tasting room is in Boonville on the main street.
Bonded in 2001, Philo's first vintage was 2004. All Philo Ridge wines are 100 percent vegan. They produce 2,500 cases per year. The vineyards include cabernet sauvignon, merlot, pinot noir, and pinot gris. The Boonville tasting room is open from Thursday to Monday, 11 to 5.
More On Mendocino Wine: What Is Organic Wine?
Organic foods (including wine and wine grapes) are produced using standards set by the USDA National Organic Program. No harmful or toxic pesticides, sewage sludge, petroleum-based synthetic fertilizers, genetically modified organisms (GMOs), bioengineering, or ionizing radiation are used on these products at any time.
What Is Biodynamic Wine?
Biodynamic agriculture is a holistic, ecological, and ethical approach to farming, gardening, food, and nutrition. Biodynamic farming creates a balanced and diversified farm ecosystem with three sustainability approaches: environmental, social, and economic. Demeter Association is a leader in biodynamic agriculture education and certification. Its mission is "to enable people to farm successfully, in accordance with Biodynamic practices and principles."
More On Your Mendocino Coast Vacation: When You Go
A vehicle and GPS are best for this tour. The closest international airports are San Francisco (SFO), Oakland (OAK), and Sacramento (SMF). Consider the Santa Rosa regional, Charles M. Shultz, Sonoma County Airport (STS). It's closer to Mendocino County. It is small and easy to maneuver but has connections to many major cities on several major airlines.
Pro Tip: Dress in layers when you make the Mendocino County wine country tour. It can be 90+ inland in summer and in the 60s on the coast.
Visiting all the green vineyards and wineries in Mendocino County is a delightful but lengthy quest. A long weekend of exploring will get you started. Some green wineries and vineyards are remote and require 4-wheel drive and an appointment, but many are just off a main road. The places I'm suggesting are easy to find and can be accessed by the average passenger vehicle.
Explore Mendocino County, America's Greenest Wine Region. Folks here are welcoming and glad to share their story and their wine. Learn more at Visit Mendocino County.