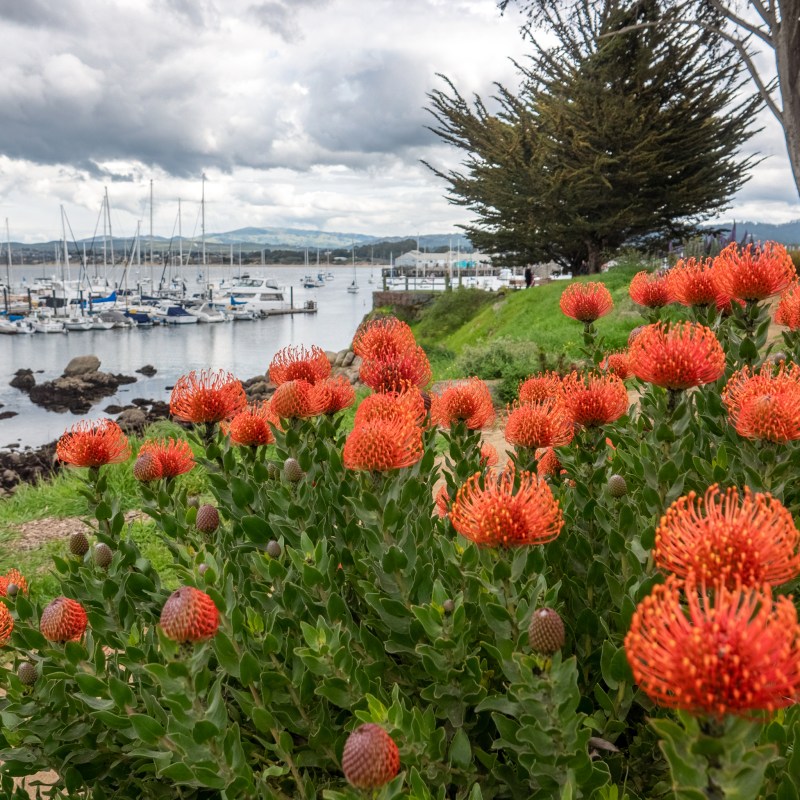 Northern California offers stunning vistas, a rich history, and plenty of outdoor adventure. It's also home to one of the world's great wine regions and some of the country's best restaurants.
Visitors exploring this region may drive along the coast, head inland to wine country, or explore the mountains, and along the way, there are plenty of quaint towns to visit. Each small town has its own story it's waiting to share with visitors.
Pacific Grove
Located on the rugged Central Coast of California, Pacific Grove offers visitors a peaceful retreat. This quiet town is well-known for its long stretch of undeveloped coastline that provides lovely views of the Pacific Ocean. The historic downtown is full of Victorian-era buildings that house small boutiques and restaurants.
Start your day in Pacific Grove with a stroll along the oceanfront. Whether you opt for the paved sidewalk or prefer the more adventurous rock climbing on the sand, the smell of salty sea air combined with the sound of crashing waves will wash away your worries. Along the way, look out for the abundant marine life that is hiding in tidepools. Look closely, and you'll see crabs, abalone, mussels, sea anemones, starfish, sand dollars, sea urchins, and more.
After a long walk and fresh air, it's time to eat, so head to Pacific Grove's historic downtown. Here you'll find excellent restaurants and charming boutiques. Whether you're looking for breakfast, lunch, or dinner, you can't go wrong with Red House Cafe, a local favorite for over two decades. For delicious and sustainable seafood, head to Passionfish. To learn more about the town, take the self-guided architecture and history tour.
Petaluma
If you're visiting Sonoma Wine Country, carve out time to explore the historic town of Petaluma, located about an hour north of San Francisco. Explore the well-preserved, 19th-century architecture, paddleboard along the Petaluma River, or sample local wines at a number of tasting rooms. This quaint town offers plenty of things to do along with great shopping and dining.
Listed on the National Register of Historic Places, the downtown is a great starting point. Here you'll find some of the best examples of iron-front architecture in the U.S. If you appreciate ports and after-dinner wines, pop into Portworks for a tasting. After sampling their DECO Port with dark chocolate essences, you'll understand their tagline, "Drink Dessert!" And if you enjoy antique stores, you'll be happy to know that Petaluma claims more antique stores per capita than any other Bay Area city.
Whether you enjoy beer, wine, or spirits, there are plenty of places to sample all of them in and around Petaluma. Drive through the countryside visiting nearby wineries, or if you're limited on time, try one of the wine bars or tasting rooms in town.
When it's time to eat, head to the waterfront and enjoy Peruvian cuisine at Ayawaska RestoBar, well known for the ceviche trio. Or head to Brewsters Beer Garden for a large selection of draft beer and delicious BBQ.
Carmel-By-The-Sea
On the Monterey Peninsula, just 2 hours south of San Francisco, is one of California's most charming seaside towns. From the quiet, white sand beach to the village's tree-lined streets, Carmel-by-the-Sea is a peaceful retreat. This very upscale enclave is not a budget destination but does offer gourmet dining and one-of-a-kind shopping.
The town's main street, Ocean Ave., is a wealth of specialty stores selling jewelry, clothing, home decor, antiques, and more. If you've arrived with a sweet tooth, be sure to visit Cottage of Sweets, a shop selling British-style candies. Fjorn sells Scandanavian furniture, home goods, and gifts and is the ideal shop if you like hygge decor.
Nearby is Point Lobos State Natural Reserve, a scenic destination for seaside hiking. Walk along the rocky bluffs while keeping your eyes peeled for sea otters and sea lions in the water below. You'll likely see local artists with their canvas on the easel and paintbrush in hand. If you're visiting on a weekend, arrive early to claim a parking space.
After all that hiking, you're likely hungry. If you're seeking a cozy space for lunch, try Stationaery specializing in elegant comfort food. If you're more in the mood for pub fare, head to Brophy's Tavern. Pair their excellent grilled cheese sandwich with a cold draft beer.
Yountville
True oenophiles should head to Yountville, located in the heart of Napa Valley, an hour north of San Francisco. With 15 wineries in town and seven in the surrounding area, there are plenty of places to sip wine. After you're done sampling vino, get outdoors, go shopping, or peruse one of the many art galleries. Wrap up the whole day with a memorable meal in Napa's culinary capital.
Among Yountville's best-known wineries is Chandon, highly respected for their sparkling wines. Book a tasting, a food pairing, or learn to make champagne cocktails. For something really romantic, reserve a picnic on the lawn. To enjoy several wineries without drinking and driving, try Beau Tours.
Drive around Yountville in the morning and you'll see colorful hot air balloons rising through the sky. To experience one of these rides, make reservations with Napa Valley Aloft. Another popular way to see the area is on bicycles. Napa Valley Bike Tours will guide you through the vineyards and stop at two popular wineries.
Before heading to Yountville, be sure to make reservations at one of their many award-winning restaurants like Thomas Keller's Ad Hoc and Bouchon Bistro. For excellent American fare, head to Mustards Grill, a local favorite for over 30 years.
Tahoe City
If you prefer a mountain getaway, the small town of Tahoe City is perfect. Located on the banks of Lake Tahoe in the Sierra Nevada Mountain Range, this is the place to go for both water and snow sports. And when visitors aren't outdoors, they are enjoying good food, fun shopping, and art galleries. No matter what time of year you come, there is plenty to do.
If visiting during the winter, plan to ski, snowboard, sled, skate, or snowshoe. Nearby Squaw Valley Ski Resort offers 34 lifts and 6,000 skiable acres across two mountains. For something more low-key, try Granlibakken for skiing, snowboarding, and sledding. Tahoe City Winter Sports Park is a nice option for snowshoeing, cross country skiing, and ice skating.
Summer is a lovely time to bike ride along the Truckee River to Squaw Valley. This mostly flat trail is ideal for a leisurely ride with kids or grandkids. To get out on the water, rent a boat at the Tahoe City Marina. Whether you opt for a powerboat or sailboat, you'll definitely enjoy the views of the tree-lined shore and surrounding snow-capped mountains.
When it's time to eat, you won't want to miss Fire Sign Cafe, a place well known for its generous breakfast portions. For something more upscale, try River Grill. Their location on the Truckee River is a lovely backdrop for their gourmet food.
Nevada City
Drive along historic Highway 49 and you'll find several quaint towns that were established in response to the Gold Rush in the late 1800s. Among these is Nevada City, a former mining camp that grew to become a successful town. Located 2.5 hours northeast of San Francisco, this was once the third-largest city in California. It's full of architectural beauty and a diversity of styles.
Start with a walk along Broad Street, the town's main thoroughfare. You may feel like you've entered a movie set, but tucked inside these historic buildings are boutique shops, cafes, restaurants, and art galleries. Among the most unique places to visit is the Crystal Rock Shop which packs a large collection of crystals and rocks into a very small house.
If you enjoy hiking, head to the Cascade Canal Trail for excellent views of Nevada City and the surrounding pine forests. This 4.5-mile trail is completely flat, making it a leisurely way to spend some time.
For such a small town, Nevada City is home to an impressive number of yoga studios. This has become a destination for healers, and the supporting businesses have followed. If you enjoy yoga, head to Inner Path or Wild Mountain Yoga Center.
Don't leave town without enjoying a meal at South Pine Cafe, a place with a menu that will appeal to any appetite or dietary restrictions. Locals rave about the breakfast, especially the eggs benedict. If you're looking for a drink in a classic setting, head to the Golden Era Lounge on Broad Street. With a dark wood bar and dim lighting, you'll definitely enjoy the ambiance here.
Related Articles: