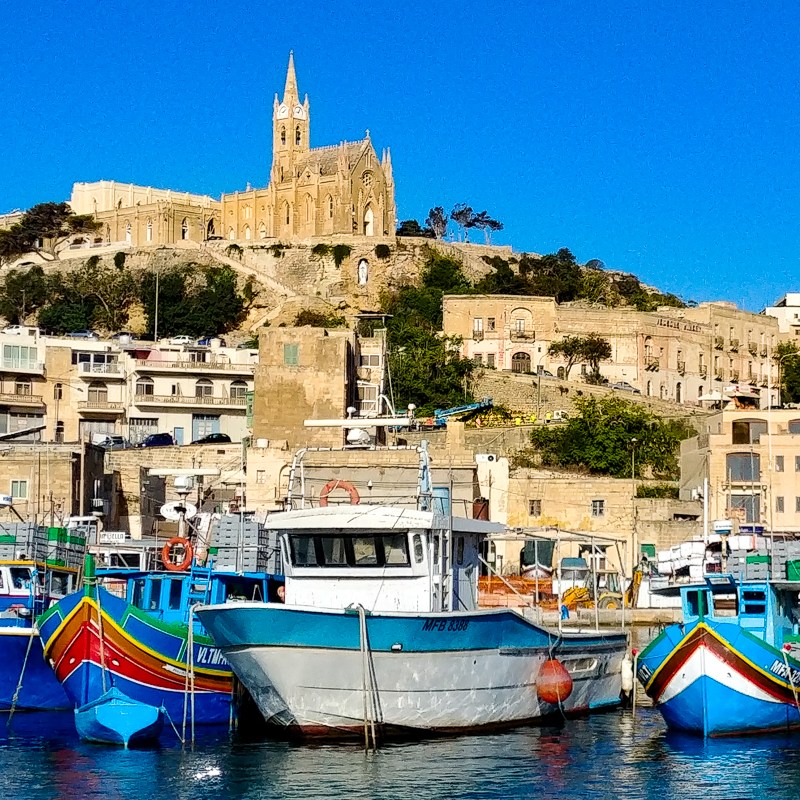 The ferry moves smoothly across the 2.5 miles of impossibly blue Mediterranean water between Malta and Gozo. The village of Għajnsielem and its golden sandstone buildings sit upon the terraces climbing from the harbor to the hilltop.
The crossing is quick, about 25 minutes, just enough time for a cool beverage before deboarding. The tiny island of Gozo and its 10,000 years of history await.
Where Is Gozo (And Why Haven't I Heard Of It)?
Tell someone you're going to Gozo, and their reaction might be, "Well, where is that, and why are you going?"
The Republic of Malta is an archipelago in the center of the Mediterranean. The three inhabited islands are Malta, Comino, and Gozo. The diminutive island nation has that celebrated Mediterranean climate; clean, sparkling, warm water; and hook-to-mouth seafood brought in daily.
When visiting Malta, most folks never make it to Gozo. As a result, they miss a journey to a slower pace and a rural culture practiced for centuries. Gozo may be small and slow paced, but there is plenty to do. I've spent weeks there and still haven't seen the entire island.
My photographer companion, Kevin, and I have picked seven reasons we believe will make you fall in love with the Mediterranean island of Gozo.
1. Location, Location, Location
Gozo is 60 miles south of Italy, 176 miles east of Tunisia, and 207 miles north of Libya. Further away, but still close, are Greece, Türkiye, Syria, Israel, Egypt, Algeria, Morocco, Spain, and France. This tiny island nation is in the center of the Mediterranean — the crossroads of history — surrounded by Europe, the Middle East, and Africa. All are a ferry ride or a short flight away.
The strategic location has made it a valuable naval base. Many powers have conquered and occupied Malta, including Phoenicians, Carthaginians, Romans, Greeks, Byzantines, Arabs, Normans, Sicilians, Spaniards, Knights of St. John, the French, and the British. Each new conqueror left a mark on the country's ancient culture. Today Malta is a magnificent mélange of food, music, art, architecture, language, and history.
2. Scouting The Island
Gozo is small, 9.5 miles long by 4.5 miles wide. That's an area of 26 square miles. It's easy to scout in a few hours. I suggest a guided tuk-tuk (small group) tour with Yippee. You will see places the big tour busses can't go. It's a perfect Gozo overview.
Yippee is locally owned and operated. They arrange chauffeur-driven tuk-tuk tours, quad tours, self-drive e-Jeeps, and GoCar adventures. All drivers and tour guides are multi-lingual and deeply knowledgeable about Gozo, its geography, culture, and history.
The tuk-tuk tours include a traditional Maltese lunch in a beachside café that will give you a taste of that famous Mediterranean diet. Weather permitting, you'll hop aboard the SS Yippee and head to Camino Island for a swim or walk on the cliffs.
You join your tour or pick up your self-drive vehicle in Mġarr Harbor. Tour start and end times are coordinated with the Gozo Channel ferry arrival and departure times.
3. Food, Food, Food
Eat the local cuisine if you can only do one thing on Gozo. The food in Malta is sublime. Seafood is on every menu and in the food stores. It comes from beautifully clean waters daily. Common fish on Gozo are lampuka (mahi-mahi), swordfish, seabass, grouper, sea bream, shrimp, king prawns, mussels, clams, oysters, and urchins. All are available most of the year.
Gozo grows a surprising amount of fruit and vegetables on the available farmland. Fantastic olives, dates, figs, lemons, tomatoes, potatoes, broad beans, arugula, fennel, pumpkins, and melons are typical.
Of course, you can't forget libations. Maltese wine has been made for centuries. Local wine is widely available and very reasonably priced in shops and restaurants. Red, white, and sparkling wines are made for Maltese food or for sipping the sun down.
My favorite white was the girgentina. The Maltese grape has been cultivated on the island for eons, but its origin is unknown. Some say it's like chardonnay, but I found it to be lighter and a better pair with fish.
Cisk beer (pronounced ch-isk) has been Malta's favorite since 1929. Available in six styles, I enjoyed the easy-going pilsner with most foods and as an afternoon cooler. Cisk is everywhere in restaurants, bars, kiosks, and shops.
Two Culinary Experiences Not To Miss
Have a lingering alfresco meal at Country Terrace in upper Għajnsielem. Tables on the tiered stone terrace overlook the harbor, Camino, and Malta. It's the best restaurant view in Gozo or Malta.
Country Terrace is the beautiful marriage of Gozation hospitality and Italian–Mediterranean cuisine. Savor alfresco dining with the best Gozo offers from land and sea, accented by Italy, 60 miles away. The service is exceptional. You will feel like part of the family the minute you arrive.
Fill your larder and picnic basket at Ta Mena Winery and food shop. You'll discover a varied and genuine taste of Gozo farmland. Try the Ta Mena Experience to sample wine, cheese, charcuterie, the world's best tomato paste, honey, jams, spreads, and all kinds of goodness. Everything sold in the shop is grown on Ta Mena Estate and produced at the winery and kitchens in the building. Ask for a tour of the winery or the estate for an even deeper immersion into Gozation food.
4. Exploring The Giant
One of the world's earliest free-standing stone buildings is on Gozo. Ġgantija Temples were built between 3600 and 3200 B.C. — before Stonehenge, before the pyramids in Egypt. People now referred to as "temple builders" created temples large and small all over Gozo. As the name implies, Ġgantija is enormous.
Before wandering through the temples, spend some time in the museum. The exhibits, artifacts, and films do an outstanding job explaining the culture, how it was built, the discovery of the runes, and the preservation scheme.
Pro Tip: Plan on stopping in at Ta Mina Winery after you visit Ġgantija. They are in the same town, about 1.5 miles apart.
5. Seizing The Citadel On Foot
Seeing Gozo on foot is the best way to get up close and personal. Gozo is circled and crisscrossed by footpaths connecting the 18 villages on the island. Some have been in use for thousands of years.
One of my favorites is the Saltpans walk. Beginning and ending in Victoria, you'll make a loop from the Citadel to the coast and back.
Victoria's Citadel, a fortification built in the 1600s, is your starting point. This magnificent fortress houses a cathedral, chapels, museums, historic buildings, shops, and restaurants. At the top of the ramparts, you will have a 360-degree view of Gozo and Malta beyond. You can easily spend several hours at the Citadel learning how it protected the area's citizens from pirates and invading armies over the centuries.
At the shore, you can explore the salt farms that have been in use for hundreds of years. Then return to Victoria via a different trail. Along the way, you will encounter swimming zones, villages, churches, aqueducts, and farms. In addition, there are rest areas with breathtaking vistas, cafes, shops, B&Bs, and friendly folks to help if you get lost.
Pro Tip: Several curated walks of Gozo will immerse you into the lovely, slower way of life. Explore them virtually here, under "Walks in Gozo."
6. Getting To Know The Locals
The Maltese, the vast majority of which speak English, are the warmest people I know. Friendly, happy, and always willing to help a confused visitor, they make you feel welcome everywhere you go.
Offer a greeting or friendly smile, and you will make an immediate friend. Try stopping into a sidewalk café or coffee shop. Strike up a conversation with someone. Ask for directions or a suggestion for eating or shopping. Before you know it, you are chatting like old schoolmates.
7. Getting There — It's Half The Fun
There is only one way to get to Gozo — by boat. No bridges or tunnels span the 2.5-mile channel between the main island, Malta, and Gozo. So ferries are the way to get there if you don't have a boat.
Ferry Service To Gozo
Gozo Channel ferry service serves Gozo from Ċirkewwa at the north end of Malta to Mġarr Harbor on the southeast side of Gozo. The large ferry accommodates cars, motorcycles, bicycles, and foot passengers. There is indoor and outdoor seating and a kiosk serving snacks and libations. Fares range from free to €15.70 round trip. Ferries run 24-hours per day.
Gozo Fast Ferry and Virtu Ferries Gozo serve Gozo from Malta. Both operators use a dock on the East side of Valletta, next to the Three Cities Ferry dock. Both companies use high-speed boats that make the trip from Valletta to Gozo in about 45 minutes. Onboard is very comfy seating with Wi-Fi. They offer sandwiches, snacks, beer, and wine in addition to coffee, tea, and soft drinks. Fares range from €4 to €12 one way. The last ferry is at 9 p.m.
Independent operators are often in the Gozo harbor. They offer shuttles to Camino Island and other famous caves, blue lagoons, rock formations, and more. Some larger operators will approach you as you exit the ferry building, but they aren't pushy. Lined up along the harbor wall are several tour vendors. Be sure to ask the exact price and how long the trip lasts to avoid misunderstandings.
Air Service To Malta
Of course, before you get to Gozo, you need to get to Malta. You fly into Malta International Airport (MLA). There are direct flights from many EU countries. If you are coming from the U.S., expect to change planes in one of those countries.
To Get To The Gozo Channel Ferry From Mla
By taxi, this costs about €38. Go to the taxi desk inside the airport. You book and pay for your cab based on your destination. A tip can be included. A cab will take 35–45 minutes.
The X1 bus directly to Ċirkewwa is around €2. The bus has plenty of room for luggage and takes about an hour and 15 minutes. The bus stops in front of the ferry building entrance.
A trip to Gozo is a visit back in time, where life takes a slower pace, folks are welcoming, and history runs deep. Take your time there; take your time, whether you have a day or a week. Sit just a bit longer over breakfast, stop and sit on the park bench. Listen to the ferry's horns and whistles as they come and go in the harbor. Ask to share a table at a sidewalk cafe, and offer your bus seat to a local. Watch sunrise and sunset. Stand in the steps of Bronze Age man. Take your time.
Interested in Malta? Even retiring in Malta? Check out: