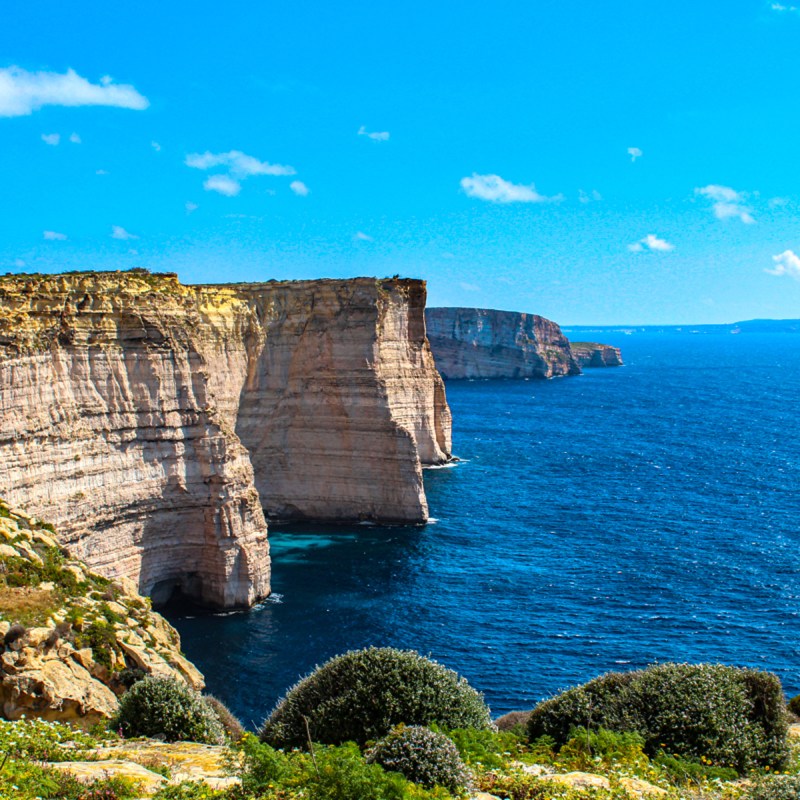 The seafood hawker's melodic horn sounds as he parks his small lorry in the village square. I join others in selecting fish from his bounty cradled in ice. A few hours earlier, fishermen were hauling seafood from the Mediterranean surrounding the archipelago of Malta. Their colorful luzzus leave the small fishing villages each morning and return with the season's treasures. I chose octopus and a few king prawns for our evening's dinner.
Shopping daily for food is one of the delightful things I have learned about life in Gozo, Malta. So when Kevin and I decided to give retirement in Malta a one-year trial, living like Gozitan locals was at the top of our list. Here are some other things we have learned in the first 90 days of living in Nadur, Gozo, Malta.
1. Finding A Home
We decided Malta's small sister island, Gozo, was the place for us instead of the more developed main island, Malta. Gozo is tiny, 9 by 4.5 miles, and is primarily agricultural. Small farms fill valleys with terraced hillsides. Time has lagged on Gozo. The slower pace of life seems like at least 20 years in the past.
After visiting all 18 villages, we decided on three potentials — Ghajnsielem, Qala, and Nadur. They are on major bus lines and situated on the island's east side, close to the ferry terminal for trips to Malta, the main island.
Looking For A Flat
We listed the "must have" and "must not have" features we fancied. Then we spent hours researching online. Finally, we got an idea of what our "must have" flat would cost and the inventory available in each of the three villages.
We returned to Gozo, allowing a month to find our new home, sign a lease, get utilities and phones, and explore our new village.
Signing The Lease
Much to our surprise, we found our apartment within a week. Our research paid off with the help of a real estate agent that listened to our needs and worked diligently to fulfill them.
Rental Property Leases In Malta
One month's rent, a deposit equal to one month's rent, an agent's fee equal to a half month's rent, and 18 percent VAT (Value Added Tax) on one month's rent are due at the lease signing.
Cash may be required for the rent, deposits, fees, and taxes. Foreign checks are not accepted. Some will receive a credit card, but not usually.
To be valid, the lease must be registered with the Rent Registration Office, part of the Housing Authority.
2. What We Needed
Deciding what to bring with us took lots of thought and conversation. Our Nadur flat is wholly furnished with beautiful furniture, linen, dishes, cookware, and small appliances. So we eliminated any household or kitchen goods. The only exception was my set of chef's knives. I've used them for 30 years; I knew I couldn't cook without them.
We brought our laptops, cameras, and a small amount of clothing. Important documents made the trip but were scanned first in case of loss or theft. Everything we brought came on the plane in four checked bags, two carry-ons, and two daypacks.
3. Getting Around
A car and driving were out of the question. Neither of us wanted the challenge of a right-hand drive car on the left side of narrow streets, meandering through villages designed when donkeys and carts were the primary modes of travel.
We opted for our feet and public transit. Bus service is plentiful, efficient, clean, and safe. Best of all, it's free to residents. Occasionally we use BOLT, an inexpensive taxi service called via a smartphone.
We take one of the two ferry services when we go to the main island, Malta. At the time of writing this article, roundtrip senior foot passenger tickets are €4.56 for the Gozo Channel Ferry and €6 for the Gozo Fast Ferry.
4. Differences In Banking
Banking in Gozo is slightly different than expected but not that dissimilar from California. Opening an account required proving that we have a residence here; our registered lease worked for that. Then, we needed a Tax ID number (like a Social Security number). That was easy and free at the tax office. Next, we had to prove our Social Security income (called pension here). Again, no problem; Social Security gave us an official letter. Finally, our passports and euros were required to open the account.
No checks were issued; technically, it is a savings account. However, we have a debit card for purchases, bill payments, and cash withdrawals. We've noticed Gozo works on cash in many of the smaller businesses. We've been told it is due to the bank's high merchant fees for credit card purchases.
5. Choosing Healthcare
Once we have our permanent residency status, we will be eligible for the National Healthcare System. It is provided at no cost to all permanent residents and citizens.
Until then, we have a policy designed for expats. It costs us almost two-thirds less than our Medicare premium, which we have canceled through Social Security. The policy has no deductible and pays 100 percent of the bill. However, it does not include elective procedures.
6. Shopping
I've never been a shop-til-you-drop kind of person, but I must admit, I enjoy shopping in Nadur. In the village, there are small shops that specialize in different things. For example, the butcher sells only meat. The baker only makes and sells fresh bread, cakes, and pies daily. The "family needs" shop sells household goods. There are three small grocers, yes you've got it, they sell groceries and deli items. In addition, there are clothing stores, a sundries/newsstand, a pharmacy, and a pet supply store.
Mobile hawkers are my favorite merchants. Small trucks and vans with unique melodic horns pass through the village, sounding their horns. Then, they stop and open shops at their particular locations. There is a baker, a greengrocer, a fishmonger, a general goods seller, and a gas man. For the gas man, you leave your empty gas canister on your stoop and an envelope with €15. He will leave you a full canister.
Street markets are my second favorite place to shop. On Wednesdays in Nadur, vendors fill the square with everything from apples to zippers. I love the Wednesday market. It's a social and shopping event. I'm learning the art of bartering. It is the way to get a bargain.
There are supermarkets and malls in Victoria, a 15-minute bus ride from my home. I occasionally shop there, but I've come to know the folks that have shops in my village, and I like supporting them. The village's prices, especially food, are just a little lower than the larger stores in Victoria.
One thing that took some getting used to is the hours of many village shops. They open at 7-8 a.m., close at noon, then reopen at 4 p.m. until 7 p.m. Now it seems normal, but at first, it was a bit confusing.
7. Making Friends
Making friends has been easy. The Maltese are good-natured and love to help newcomers settle into daily life. I made most of my friends at the bus stop and the café in the village square.
The village has lots of activities in the square. At least once a week, there is a concert, traditional Maltese music performance, festa, or car show. It is the perfect place to meet folks and join in the fun.
The village church is also a fruitful source of activities. Spaghetti dinners are my favorite, but there are classes, social gatherings, bingo, and activities for seniors, teens, and toddlers.
In addition, there are expat social groups, web pages, and social media sites. They have been a rich source of new acquaintances and information.
What's Next?
We will continue our new life in this old world. Our next step is registering for Permanent Residency. While it is relatively easy, it takes time and lots of paperwork. However, since the end of 2022, applications have been submitted online. The fee is €25. Once you receive approval, you appear for your identity card in person. The permanent residency will give us all the rights of a Maltese citizen except voting.
So far, we have made an excellent choice in Nadur. We will check in again in another 90 days.
For more information on visiting Malta, check out these articles: