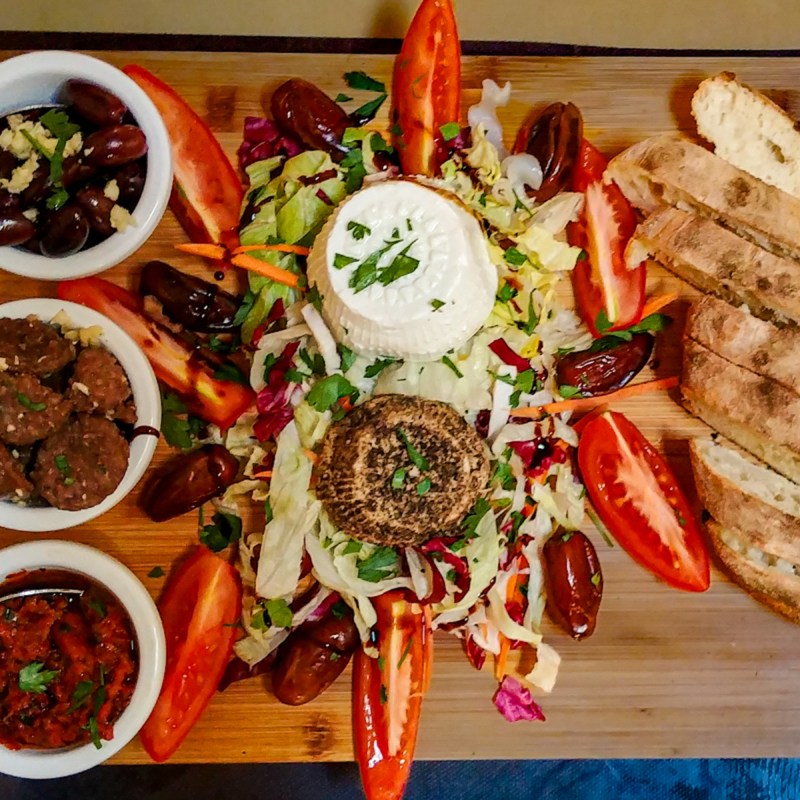 Visiting the Mediterranean is a bucket list adventure. Time spent on sun-drenched beaches next to sparkling blue water will always be remembered. In addition, architecture, landscape, history, and cultural events annually bring millions to the Mediterranean Sea. But one thing no one forgets is the food — the Mediterranean diet.
I want to share (in no particular order) some exceptional restaurants serving Mediterranean cuisine on a tiny island many folks have never heard of: Gozo, in the Republic of Malta. Each locally-owned eatery prepares its dishes from ingredients grown and produced within a few miles. Things like fresh fish, lamb, rabbit, potatoes, olives, lemons, oranges, dairy from goats, and a wide variety of fruit and veg are included in recipes handed down from generation to generation utilizing Gozo's bounty.
1. Country Terrace
With the most spectacular view from any restaurant on Gozo, Country Terrace has an exceptional atmosphere, delightful food, and tasty libations. It's located in Ghajnsielem, overlooking Mgarr Harbor and the islands of Malta and Camino. You can eat indoors or on the stunning tiered terrace.
Country Terrace is a beautiful combination of Maltese and Italian cuisine. Lunch and dinner are served from à la carte or entrée menus. Entrees of fresh fish, pork, lamb, chicken, beef, and game are large and come with several side dishes, including potatoes two ways (common with entrees in Malta) and fresh garden vegetables. The full-service bar has a well-curated selection of local and international spirits, beer, and wine.
What To Order At Country Terrace
Start with the mushrooms gratin. I could eat a bucket of these pan-seared mushrooms in a cream sauce. Next, try the day's fish caught that morning and prepared with a white wine sauce or grilled. The Beef Wellington is a special treat if you are a beef lover. Finally, leave room for one of the delicate desserts made in-house daily.
2. Eat & Live Italy
With Sicily only 60 miles away, the Italian influence is strong in Maltese cuisine. Eat & Live Italy offers house-made pasta, fresh fish, pizza, traditional Maltese cheese salad, beef steaks, and several burgers.
Located in Victoria's St. George Square, all seating is outdoors under a canopy. Everything is made to order and served with bread and sides such as potatoes and veggies. There is a lovely wine list with reasonably priced Maltese and Italian wines. We took our time with a bottle of prosecco. Please don't pass on the desserts; they are unforgettable.
The service is efficient and very friendly. When Kevin and I had lunch there one day, our server moved our table twice as a very ferocious thunderstorm drove the rain under the canopy. All the while, he smiled and laughed and replaced our bread when it got a bit wet.
What To Order At Eat And Live Italy
Pasta with Bolognese is the best I've had anywhere, including Italy. Combined with a Maltese cheese salad (like a charcuterie board), it is more than enough to share.
3. Giuseppe Cafe And Bistro
Giuseppe is a neighborhood eatery in Ghajnsielm's village square. It's a popular meeting place for locals and ex-pats. Casual, welcoming, and a friend to your budget, there is inside and outdoor seating.
Giuseppe's serves Maltese and Italian entrees, pizza, and delectable sandwiches. The dessert case is filled with"can't resist" pastries. A full-service bar offers spirits, beer, and wine. This is a great place to pick up a sandwich, a bag of crisps, and a bottle of local wine for a picnic on the beach.
What To Order At Giuseppe Cafe And Bistro
I love the lasagna, and so do others. Be sure to come in for dinner early if you want to try it. It sells out quickly.
4. Jon's Coffee And Snack Corner
Jon's is a kiosk in Mgarr Harbor next to the Gozo Channel Ferry Terminal. It's a popular place for local fishermen and ferry passengers. As with all kiosks, John's specializes in local fare.
Breakfast, lunch, and dinner are served. I think John's ricotta-filled pastizzi are the best on the island. This local pastry also comes filled with peas. There are sandwiches, burgers, pasta, and salads. Everything is made in the open kitchen every day. Grab a Kinnie (a local soft drink made from oranges and spices), a Cisk beer (brewed in Malta since 1929), or a local wine from the cooler and order at the counter. Then find a seat inside or out. Your order will be delivered to your table.
What To Order At Jon's Coffee And Snack Corner
My favorite is the crispy chicken wrap. The chicken is breaded and fried, giving it a crunchy outside and a tender, juicy inside. Lettuce and tomatoes are added, and the whole thing is wrapped and then grilled in the panini press. Kevin is crazy about the avocado toast — while not traditional Maltese, it is delicious and served on crunchy Maltese bread.
5. one80 Kitchen At Mgarr Yacht Marina
Do you love boats? Then one80 Kitchen is your place for lunch or dinner. It's the only restaurant that sits at water level in the yacht marina in Mgarr Harbor. Ceiling-to-floor windows surround you and give the feeling of alfresco dining no matter the weather.
Everything on the one80 menu is caught, grown, and produced locally. Your meal begins with house-baked Maltese bread served with a round of fresh goat cheese and a canister of locally grown and pressed EVOO. This crunchy crust and soft, tender inside bread could be a meal for me.
All dishes come in small, medium, and large sizes. Choose from the freshest fish, shellfish, chicken, meat, game, and plant-based dishes. If you have a group of six or more, try the Sharing Feast. It's a selection of bread, fish, beef, sausages, and pastries.
What To Order At one80 Kitchen
The grilled octopus is terrific. It's a popular local treat and available year-round. The Crudi On Ice is sublime. It's a selection of oysters, king prawns, sashimi, fresh fish crudo, tartare, and ceviche. Perfect with a bottle of prosecco.
6. Roza
Step inside Roza and leave behind bustling St. George Square. The simple interior is quiet, comfortable, and a relaxing spot for a long lazy lunch or an unhurried dinner.
Roza is a new eatery on St. George Square in Victoria. Open just over 30 days (at this writing), Raza is quickly making regular fans for their traditional Mediterranean dishes and modern atmosphere.
The menu has seasonal offerings of locally sourced ingredients. Rabbit, lamb, beef, chicken, and fish can be enjoyed in starters, soups, salads, and entrees. Shared Maltese platters and cheese boards are a perfect way to taste Gozo. The soup of the day is always delicious. I love the creamed veggie.
What To Order At Roza
Bruschetta, bruschetta, bruschetta! Kevin and I are searching for the best bruschetta available on Gozo. Bruschetta is one of our favorite Maltese dishes. Roza's is at the top of the list. Four pieces are served, two in the traditional style with tomatoes, olives, onions, Baretta cheese, and basil. Two pieces are a perfect companion with a smooth mixture of cream cheese, cucumbers, and herbs.
7. Il Kantra Lido Bar & Restaurant
Kantra Lido is as Mediterranean as it gets. This place is fantastic! It may be hard to pay attention to the menu — the spectacular view of Kantra Cove, Malta, Camino, and the blue Med is mesmerizing. Small boats cruise in and out of the cove, bringing swimmers and snorkelers. Birds nesting in the cliffs put on a continual show as they feed the nestlings. Divers boldly free-fall from the cliffs — a breathtaking sight — and sunbathers relax on lounges dotted around terraces leading to the cove.
Covered and open-air seating is available. Before taking a seat, look at the day's catch displayed on ice as you enter the restaurant. Kantra serves seafood caught that day, beef, chicken, and vegetarian dishes. A full-service bar has an international selection of spirits, wine, and beer.
What To Order At Kantra Lido
Choose a fish from the day's catch and have it grilled. If there are king prawns or oysters offered, add a couple. As with many Maltese restaurants, the desserts are heavenly, especially the chocolate/coffee mousse.
8. Tal-Furnar Bar And Restaurant
Located in Xaghra, Tal-Furnar is one of my most highly recommended eateries in Gozo.
I urge you to book one of their experiences, such as traditional Gozation bread making or Ftira (sort of like a pizza, only better). Anna and John — the chefs and owners — are excellent and fun teachers. They note that their 100-year-old wood-burning pizza oven has been in their family for four generations. They also "believe in the farm-to-table concept," producing as much food themselves as possible.
You'll be given all you need and hands-on guidance to make your time-honored Gozation specialty. After you've finished your creation, you'll watch John put it into the wood-burning oven. While it bakes, you will snack on a Tal-Furnar platter of their special sundried tomato dip, olives, goat cheese, sausages, and more seasonal delights. These experiences must be booked in advance. It is a fantastic activity for a group, and children are welcome.
What To Order At Tal-Furnar
Suckling pig cooked in the wood-fired oven is a treat, unlike anything you will eat anywhere. It is crunchy on the outside and juicy and tender on the inside.
9. Tamun
Tamun is often the place Kevin and I stop for a meal when arriving in Gozo on the ferry. The location in Mgarr Harbor is just a few steps from the ferry/bus terminal. One of Gozo's most revered chefs, Paul Buttigieg, creates dishes from the sea and land. The menu is seasonally based and influenced by other Mediterranean cultures.
Shellfish is a particular specialty. The oysters are sweet and succulent. They are served with ponzu & yuzu gel cucumber, Hendrick's Gin & basil, and nori & miso au gratin dipping sauces. Another choice for a starter is the sharing menu offered with 7, 9, or 12 plates. Choose from salads, ceviche, foie gras, octopus, asparagus, lobster, calamari, pork belly, and more.
Soups, salads, and fish starters set the stage for your main course of lamb, pork, beef, or more fish.
What To Order At Tamun
The seafood risotto is cooked to perfection. Creamy rice is joined with seasonal fish, shellfish, and peas.
10. Victoria Central
Most folks would call Victoria Central a coffee shop, but it is so much more. It's a coffee roastery, tea shop, café, and meeting place for locals and visitors.
Victoria Central is located at the foot of Victoria's Cittadella and across the street from Independence Square. Seating is available inside or across the street in the square. I recommend the square if you are a people watcher.
The café serves breakfast, lunch, and dinner in addition to coffee drinks and cups or pots of tea. The selection of soups, sandwiches, and pizzas is very popular. Breakfast selections include sandwiches, French toast, and vegan avocado toast.
What To Order At Victoria Central
Order Shakshuka, a North African/Middle Eastern breakfast dish made from baked tomatoes, onions, peppers, and earthy spices like cumin, paprika, and chili powder. I love this dish, and Victoria Central makes a lovely version.
Why Eat In Gozo?
Gozo is the little sister of Malta in the center of the Mediterranean. It's a place that will take you back in time, with its rural culture and slow pace. Farming is king in Gozo. Most farmland is protected from development, reducing the need to import food to the growing Maltese population.
Gozitan food will immerse you in the culture and, best of all, the Mediterranean diet, the best reason to visit.