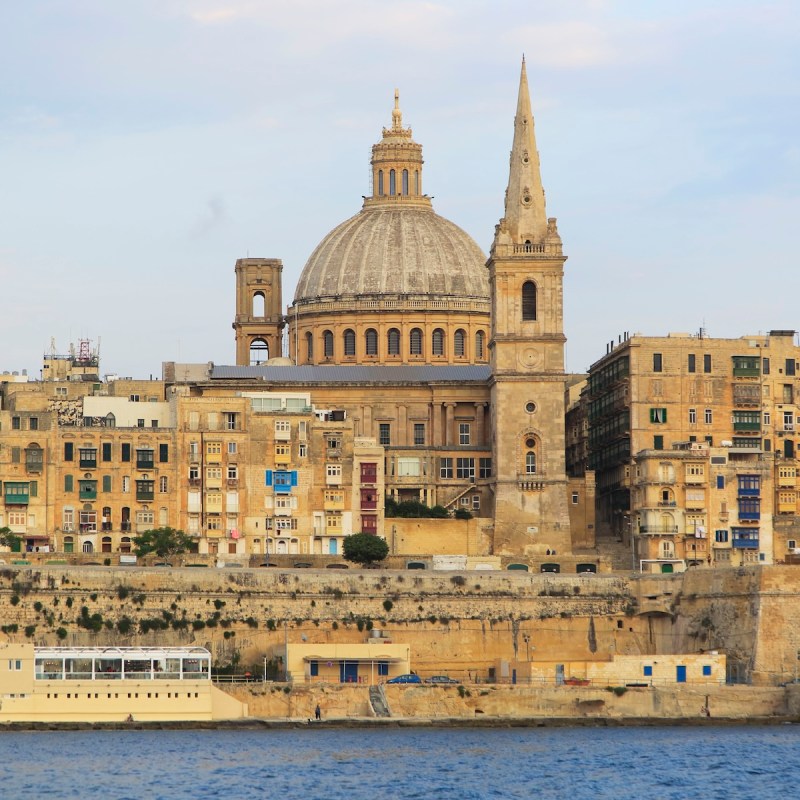 Malta is an archipelago in the Mediterranean Sea. The EU island nation overflows with natural beauty, deep history, and exciting culture. With its pristine beaches, crystal-clear waters, and rugged coastline, Malta is a paradise for nature lovers and adventure seekers.
The island's sandstone architecture, ancient temples, and medieval fortresses testify to its diverse cultural heritage. The people of Malta are warm and welcoming, and their passion for life is infectious.
Whether you want to explore the island's magnificent landscapes, dive into its abundant history, or relax and soak up the sun, Malta is a destination that has it all, with unique hotels that provide outstanding views of everything.
1. Phoenicia Malta
Your stay at Phoenicia Malta will be unforgettable. The Phoenicia is a five-star hotel with world-renowned elegance and sophistication. Located just outside the walls of Valletta, the hotel has magnificent views of the city, the Grand Harbor, the yacht basin, and the breathtaking landscapes of the hotel's gardens.
Phoenicia's rooms and suites are tastefully designed and equipped with modern amenities. The hotel has five restaurants and lounges that offer Mediterranean and European cuisine and drinks.
You can indulge in hotel activities like swimming, relaxing at the spa, or exploring Valletta's wide boulevards and narrow streets. Phoenicia Malta is the perfect destination for those seeking exquisite service and luxurious surroundings.
2. Corinthia St George's Bay
Corinthia St George's Bay is a splendid hotel in one of Malta's most sought-after locations. The hotel has outstanding views of the Mediterranean Sea and is just a stone's throw from the vibrant town of St. Julian's.
With its elegant and contemporary design, Corinthia St George's Bay provides comfort, style, and sophistication. The hotel's rooms and suites have modern amenities that will ensure a comfortable and enjoyable stay.
The hotel has various dining options, including an award-winning restaurant and a rooftop bar with bay views. Whether looking for a romantic getaway or a family vacation, Corinthia St George's Bay is the perfect destination for a treasured Mediterranean experience.
3. Seaview Hotel
Snuggled in the heart of the village of Sliema, the Seaview Hotel is a hidden gem with spectacular views of the Mediterranean Sea. The hotel's strategic location provides easy access to the beach, restaurants, and shopping areas. It is an ideal destination for your stay on Malta.
The Seaview Hotel features elegantly designed rooms and suites with up-to-date amenities. The hotel also has a rooftop lounge where you can relax and gaze out over the Mediterranean Sea. Seaview Hotel is a lovely choice for travelers to combine beauty and convenience during their trip to Malta.
4. Grand Hotel
The Grand Hotel is on Malta's sister island, Gozo. It's a luxurious retreat with a blend of comfort, style, and sophistication. Located above Mgarr Harbor, the hotel's views of the busy ferry terminal and marina, with the islands of Camino and Malta, are outstanding. The Grand is minutes from the vibrant town of Victoria.
The hotel's spacious rooms and suites have modern amenities to ensure a comfortable stay. Some rooms have a terrace perfect for sunbathing or stargazing. The hotel offers dining options, including a rooftop restaurant with panoramic island and Mediterranean views.
The atmosphere of the Grand is perfect for those looking for Mediterranean hospitality on Gozo. The hotel's strategic location provides easy access to beaches and historic and cultural landmarks.
5. Ta-Pinu Guesthouse
Ta-Pinu Guesthouse is a 500-year-old converted farmhouse located in the heart of Gozo in the village of Gharb. The guest house is in the bucolic countryside, surrounded by farms and country landscapes. The views of the Gozitan countryside are mesmerizing. It is a serene and rejuvenating atmosphere.
The rooms at Ta-Pinu are unique, with 500-year-old stone walls and steps, but thoroughly modern amenities and furnishings. The guesthouse also has a lovely outdoor pool and a terrace to relax and soak up the sun.
Ta-Pinu's hospitality, unique rooms, and fabulous views make it ideal for those who want to immerse themselves in the countryside of Gozo.
Conclusion
Malta is a destination that everyone falls in love with. Whether you're looking to relax on pristine beaches, explore historic landmarks, or indulge in delicious cuisine, Malta has it all.
Staying in one of the unique hotels on Malta with outstanding views is an excellent way to experience the island's charm and beauty. From luxurious accommodations with harbor views to quaint guest houses in the countryside, Malta's hotels offer options for every taste and budget. With warm hospitality and exceptional service, staying in a Malta hotel is an unmatched experience. It will make your trip to this jewel of the Mediterranean a bucket-list vacation.