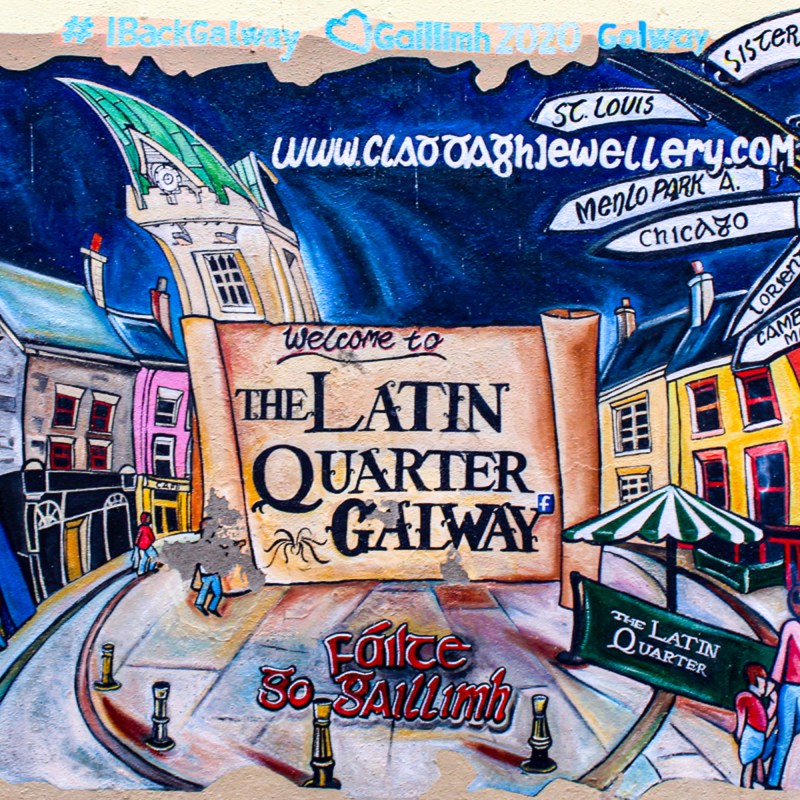 It's a chilly and rainy night in Galway, so we duck into a pub for a drink by the fire while scouting a traditional pub to call our "local" while in the city for a few days.
A few minutes later, we sit with a pint of ale and a glass of prosecco. Then, warming our wet boots on the fireplace rail, we relax, listening to the music and conversation around us.
The barman kept up a lively banter with locals sitting and standing at the small bar. A fiddler played "The Fields of Athenry" in a corner while a vocalist sang the melancholy lyrics.
Folks sat at tables in friendly conversation. It was warm, inviting, and fulfilled our hopes of finding a "local" while staying in Galway's Latin Quarter.
What Is A Traditional Irish Pub?
There is no exact definition for an Irish pub, even in Ireland. There are modern and traditional pubs, each with its version of pub life. But there are a few things most folks would agree upon, whether a new or historic establishment.
It's a community center open to the public without the need for membership or specific residency.
A pub is licensed to serve alcohol to be consumed on the premises.
Everyone is welcome; however, pubs in neighborhoods away from tourist areas may not see many travelers or "blow-ins" as they are often called.
Traditional pubs are low-key and often have "trad" (traditional Irish music) played by performers most nights of the week.
If food is served, it will usually be classic Irish fare, although some serve food from around the globe.
Pubs are often family-owned and operated. Therefore, they are typically named after the family that owns it, or in some cases, the family that founded the establishment.
Galway is known for pubs, especially in the Latin Quarter. It would take quite a while to visit them all. Here are eight we visited and highly recommend. They are in alphabetical order; we enjoyed them all and couldn't play favorites.
1. The Crane Bar
The Crane is located on Little Crane Square in the West End of Galway City. The two-story Victorian building is one of Galway's most popular trad music pubs. Opened around 1930 by the Smith family, it remains family-owned.
Music is offered on both floors. The ground floor is casual for musicians and patrons, with pints and conversation freely flowing. Upstairs, professional trad players and special guests perform in a "listening room" environment. Get there early if you plan to go upstairs; it's a popular venue. Soup and sandwiches are available for a light bite. The Crane is in Sea Road in Galway City.
2. Darcy's Bar
Once a mill for grinding corn, the stone building is over 100 years old. Music is on offer 7 nights a week. There is a fireplace for chasing the notorious Galway chill. Enjoy a full food menu, 15 beers on tap, and a large selection of spirits. Watch your favorite sport on TV in this spacious pub. It's 2 minutes to the train and bus station and is across from Eyre Square. You can find Darcy's Pub at 2 Forster Street in Galway.
3. Barr An Chaladh
Woodquay is the home of Barr An Chaladh. Considered the first inhabited village of Galway City, this area is home to many historic buildings and events. Lively Irish bands perform nightly. Enjoy beer, stouts, spirits, and wine. The fireplace is always burning in this family-friendly compact pub with a bar but limited seating. Check out the humorous signs everywhere. Food can be ordered and delivered by the Asian eatery on the second floor. Barr An Chaladh is located at Daly Place, 3 Woodquay, Galway.
4. M.P. Walsh
Formerly a post office, this traditional-style but modern pub was opened in 2008. They serve beer, whiskey, and other spirits. In addition, mixologists make an eclectic array of cocktails. Located in Galway City's West End, the pub has a local neighborhood feel. Stop in and peruse the historical art, posters, and signage — the type you expect to find in a pub. Unfortunately, M.P. Walsh does not have a kitchen. M.P. Walsh's address is 55 Dominick Street, West End, Galway.
5. Monroe's Tavern
Family-owned by the Monroes since 1964, this large traditional pub has two floors featuring Irish dancing and music. On Tuesday nights, you may join in the dancing if you like. Award-winning food is served all day. The full menu includes brunch, lunch, and dinner. The longest bar in Galway serves beer, spirits, and wine. Monroe's Tavern is on Dominick Street in Galway.
6. Taaffes
In the heart of the lively Latin Quarter, this traditional pub has operated as Taaffes for over 150 years in a 400-year-old stone building. Serving pub food all day, you can also enjoy trad music at 5 p.m. and Irish ballads at 9:30. There is a small front room with a tiny bar and fireplace seating. The larger back room has a big bar where the 9:30 performances occur. The walls sport GAA (Gaelic Athletic Association) photos and posters of champion football teams. Indoor and outside seating is available. Taaffes is located at 19-20 Shop Street.
7. Tig Cóilí
Inside Tig Cóilí, the walls are decorated with photos of the many artists that have performed in the 100+-year-old building. The traditional pub has had many lives, including as a barbershop, a mortician, and other pubs. Trad is performed twice a day in the small front room. It can be a tight squeeze with most listeners standing. Seats are available in the back room, where the music can still be heard. Serving beer, ale, spirits, and wine, it's a time-honored place for locals and visitors. Tig Cóilí can be found on Mainguard Street.
8. Trigh Nora
This modern pub serves over 200 types of gin. Ask the server to see the "Gin Bible" to find a favorite or try a new one. The diminutive front room has bar and table seating for lively craic and group gatherings. Next to the bar area are quiet, private tables where you can enjoy a drink and conversation. The gin bar is the first pub in Ireland to make its own gin, named "Nora's Irish Gin." The namesake is Nora Barnacle, the wife and inspiration of James Joyce. Trigh Nora is located at 8 Cross Street in the Latin Quarter.
What's To Drink In A Pub?
Adult beverages are always on offer in a pub. Guinness and other beers will be available on draft, served in pints or half-pints. World-famous Guinness is an Irish dry stout made from barley, hops, water, and ale yeast. It's brewed in Ireland and is the local favorite everywhere.
Other beer brands are served; many are locally-made craft beers available nowhere else. In addition, there will often be hard cider on tap. It's my favorite pub drink. Give this low alcohol beverage a try. Cider is traditionally made from apples and can be sweet or dry. While there are national brands, I suggest asking for one made locally.
Most pubs will have a selection of spirits, with Irish whiskey being the star. It is commonly served in a glass with no ice. However, if you ask for a mixer, it will come to you in a small bottle that you add to your spirits as you like. Some pubs may have ice available; ask the barman or server. If you aren't drinking beer or spirits, wine will be available in addition to non-alcoholic libations.
Pro Tip: When you order a Guinness, it may be served a short time after others in your party have received their non-Guinness drinks. This is because the "black stuff" requires a rest after the glass is three-quarters filled. Once the bubbles have settled, a second push of the tap is made to add the creamy head to your perfect pint.
Will There Be Live Entertainment In Pubs?
Yes, many pubs have live entertainment. Most feature trad (traditional Irish music) played acoustically by local performers. One or more players will perform Irish folk music in jigs, reels, and ballads. The musicians play fiddles, flutes, whistles, accordion, guitar, mandolin, and other acoustic instruments. Vocals are added by the players or occasionally a member of the audience. Stages aren't standard; players sit around a table while performing.
Pro Tip: Enjoying trad in a pub is one of the most meaningful experiences you can have while in Ireland. Songs tell the stories of love and loss, success and defeat, history and family. Some are lively dance tunes, while others will make you misty-eyed. Music usually begins around 9 p.m., but there are places where the fun starts at 5 p.m. Don't miss the trad no matter what time you choose.
What's To Eat In A Pub?
Many pubs serve traditional Irish fare. Dishes like shepherd's pie, Irish stew, fish and chips, hearty homemade soup with a thick slice of Irish brown bread, and Irish lasagna (yes, it's a thing) are on most pub menus. Some pubs even serve breakfast.
You can count on dishes being house-made with fresh local ingredients. Seasonal vegetables are included with main courses.
In more modernized pubs, you may find not only the traditional Irish dishes but some not so traditional. Curry is popular; pasta, steaks and chops, burgers, and sandwiches are offered.
Pro Tip: That Irish lasagna I mentioned earlier is ubiquitous. It is made with bechamel sauce. The pasta is layered with minced Irish beef simmered in ragu-style tomato paste, then topped with a cheesy bechamel. While I made many jokes about "traditional Irish lasagna," it was the dish I often had. I love it!
Pub Etiquette
Relax, you are always among friends in an Irish pub. There aren't many rules, but there are some traditions you might like to try.
What's the craic? Irish folks are friendly and love to chat, sharing news, fun, local interest, and maybe a bit of gossip. It's called craic (krak). When you ask, "What's the craic?" you are asking, "How are you?" Even if you only say "Hello," you'll make a new friend instantly.
Take your time. Eating and drinking in an Irish Pub is a social event, so put your phone away and converse with your companions and those around you. It's part of the experience.
Your turn to buy. When you are included when someone buys a round of drinks, you must return the favor. Not doing so will put you in bad standing with locals.
Pay for each drink when ordered. Tabs are unusual in Irish pubs. You are expected to pay each time you order. Cash or card are accepted in most places.
Tipping. Tipping is not expected when ordering at the bar, although after a night of good service, it's good to leave a little something and invite the barman to have one for himself. When ordering and being served at a table, 10-15 percent gratuity is customary.
What age? The drinking age is 18 in Ireland, although people of all ages frequent pubs. It's a family-oriented place, and children of all ages are welcome. However, all under 18s must leave before 9 p.m.
Dress codes. There are none; casual is fine.
Finding Your Favorite Traditional Pub While In Galway
It's easy. Pop into a place that appeals. Sit or stand at the bar or find a seat at a table. Order a drink, snack, or meal. Say hello to someone near you, and you'll feel like a local in no time. Pub culture can be found in every city, town, or village in Ireland. It's been a way of life for hundreds of years. You will be welcomed like an old friend.
For more ideas and inspiration on Ireland, explore these articles: