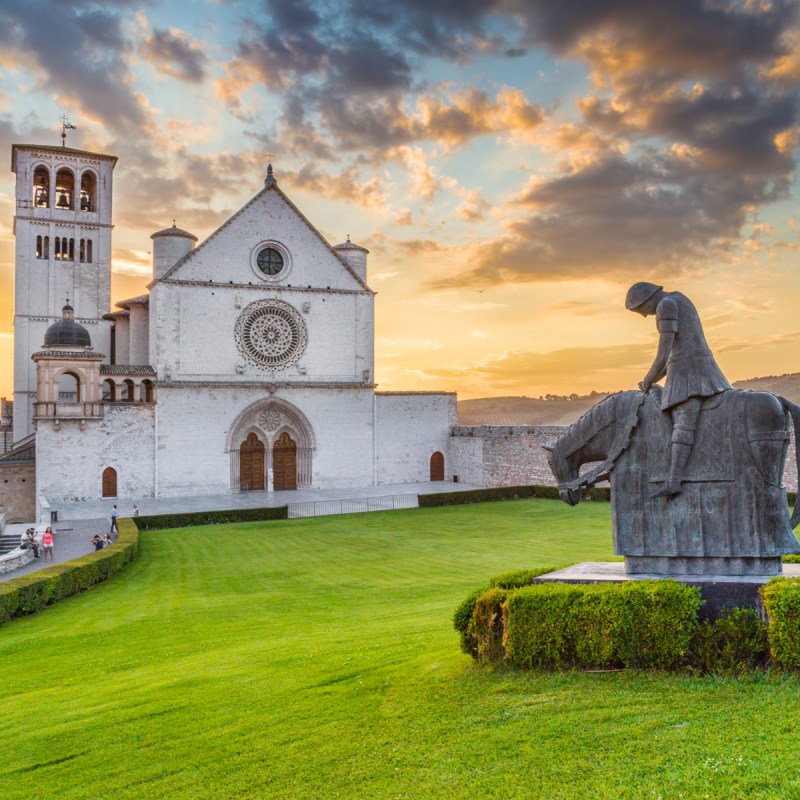 It's imperative to feel comfortable and safe while traveling.
Medjet
provides premier air medical transport, travel security, and crisis response memberships, providing peace of mind for an affordable price.
Driving on a road full of curves past olive groves shimmering silver in the morning light, I am always elated by the first sight of Assisi. Perched on a hilltop, the Umbrian medieval city is small enough that you can wander around without getting lost, yet it's big enough to spend an entire day.
While most people visit Assisi for its religious monuments and to view the masterpieces of Giotto and Cimabue, it is a great city to wander around on foot for anybody interested in stumbling upon Roman ruins, medieval architecture, and majestic views of the Umbrian landscape. The easiest way to arrive in the city and visit its environs is by car or tour bus, but you can also take the train. However, the train station is far from the city center, so be prepared to take a taxi or bus into town.
If you have difficulty walking, Assisi is probably not for you. Many of the main sights, such as the Basilica of St. Francis, are full of stairs and the streets can become steep in places. Italian medieval towns, in general, are not well-adapted for wheelchairs.
Assisi is the kind of place where, no matter how much time you spend or where you visit, you can't help but capture a moment of peace, beauty, and profound gratefulness. Thanks to the town's two famous saints — Saints Francis and Clare — Assisi possesses its own spirit and depth: a special gift waiting for you to quietly discover. Here are my six favorite places to visit.
1. Basilica Of St. Francis
As a saint that touches most people's hearts, Francis's greeting, Pace e bene (Peace and all that is good), goes beyond divisions, confessions, and institutions as it appeals to the humanity that we all share. The Basilica was built soon after his death, and its Gothic church was consecrated in 1253. But the saint had already been secretly buried there for 23 years. Why the secret? Church officials feared that his tomb might be raided by looters. Today the tomb is visited by thousands of pilgrims every year (in silence and without any looting).
In addition, you can admire Giotto's frescoes of the life of St. Francis in the Upper Basilica and visit the Lower Basilica with its smaller chapels (including one with frescos of Mary Magdalene by students of Giotto).
Today Italy's patron saint could be identified as the patron saint of ecologists. His "Canticle of the Creatures" is one of the oldest works of Italian literature, and this poetic prayer embraces all living creatures.
As testimony to Francis's love of animals, near the exit in the Upper Basilica, you can find the famous Giotto fresco of St. Francis preaching to a multitude of birds on this way to Bevagna (another enchanting medieval town to visit nearby). In the painting, the birds joyfully stretch out their necks, flap their wings, open their beaks, and even peck at Francis's habit.
2. Church Of Saint Margherita
A short walk up from the Basilica, you will find the unimposing Church of Saint Margherita nestled inside the quartiere of Sant'Andrea. Upon entering this small quiet sanctuary, I once surprised a Franciscan monk who was alone and singing in prayer, his voice tenderly lifting itself up to the heavens. What makes this church so special is its off-the-beaten-track piazza with an astonishing view of both the Basilica and the surrounding countryside. It's the perfect quiet angle to enjoy a sandwich at lunch, as there are trees and benches to relax and soak up the view.
3. Il Bosco Di San Francesco (The Woods Of Saint Francis)
If you have time and feel like getting away from the crowds, you might consider spending an entire day at the Il Bosco di San Francesco. This special park is about 160 acres and full of peace, beauty, and nature. You will find its entrance to the right of the Upper Basilica when you are facing the church. For the less hearty (Umbria is known for its hilly climbs), there is also a bottom entrance outside of the city center near the former monastery of Santa Croce.
The park is managed by the Fondo Ambiente Italiano, a non-profit foundation that defends Italy's art, nature, and landscapes. There is a small entrance fee, which goes to maintain the park.
I spent one glorious autumn day here with my dog, hiking through the oak trees, forests, and landscaped olive fields. Despite being close to the bustling town (which can be very hot and crowded during the summer months), the park harbors a special corner of serenity. Along its paths, you will discover remnants of a 13th century Benedictine convent, including a Romanesque church. After visiting the church, you can enjoy the sights and sounds of the nearby Tascio stream and a travertine waterfall, deliciously cool in the heat of summer.
Continue walking, and you arrive at a 14th century fortified mill, once used to grind wheat, olive oil, and then to make lime. If you dare, you can climb up the iron staircase to the top of the tower and see a fantastic view of 121 olive trees arranged as "land art," called The Third Paradise by artist Michelangelo Pistoletto.
If you don't have much time, it's still worthwhile to enter the park by the Upper Basilica and visit the Peace Bell which is just a short walk from the entrance. It stands on four columns, each representing a different religion: Christianity, Judaism, Islam, and Buddhism. You are also welcome to ring the Peace Bell, a sweet sound that reverberates across the park (as well as in your ears and ribcage!)
4. St. Damian's Convent
Many tourists briefly stop in Assisi just to visit the Basilica of San Francesco. But one of the more tranquil and perhaps spiritual church complexes is St. Damian's Convent, established by St. Clare and her companions in 1212.
Clare was in many ways Francis's spiritual twin and partner. Inspired by Francis, she ran away in the night from her wealthy family to follow his teachings. Clare ultimately became a woman of great independence and exceptional spiritual stature. Due to cultural and religious norms, it was impossible for her and her first sisters to join their brothers in a life of pilgrimage and preaching. Being forced to live within the confines of a cloister, Clare and her sisters created their own independent way of life that satisfied their longing for complete inner freedom.
Even St. Francis would retire to St. Damian's Convent when in need of rest, and it is there that he wrote his prayer "Canticle of the Creatures." Outside of the church, you will find a portico and, to its right, the Chapel of St. Hieronymus (Cappella di S. Girolamo) with frescoes by Tiberio d'Assisi.
I always love wandering the Convent halls and imagining the women going about their daily lives in prayer and service, Francis in their garden composing his poetry, and Clare writing her Rule of Life, the first monastic guidelines written by a woman.
5. Temple Of Minerva
At the age of 25, Francis renounced his vast inherited wealth from his father by symbolically stripping naked in front of Bishop Guido and a great crowd. Giotto's fresco depicts this scene of Francis devoting himself to "Lady Poverty" in front of the Temple of Minerva. Located in the main piazza across from the tourist office, this 2,100-year-old temple was thought to have been dedicated to Minerva after a female statue was unearthed. But later, a votive plaque to Hercules was discovered, causing others to believe that the temple was dedicated to him.
Standing in front of the façade of the temple always instantly brings me back to the antiquity of the city. Its tall, well-proportioned Corinthian capitals are in very good condition. What strikes me is how the structure is majestic and yet very human at the same time.
The temple is now a Baroque church, a style that is definitely not my favorite, so I rarely go inside. Nevertheless, I always make a point to pass by and imagine what might happen in the 21st century if a young rich man were to stand there with his father, the Bishop, and villagers, tearing off his clothes and declaring his devotion to God.
Francis is often referred to as the "Poor Man of Assisi." His initial followers were not permitted to own any possessions, lived in straw huts, and preached and begged in the streets.
6. The Sanctuary Of Eremo Delle Carceri (Hermitage Of The Cells)
The one place you should try not to miss is the Eremo delle Carceri. It's about 3 miles out of town, up beyond the amphitheater, on a road full of hair-pin turns. Everyone I've ever brought to this sacred place has loved it. Do take your time driving up the hill that eventually brings you to the Eremo and then onto Mount Subasio, where you can find cool shady picnic tables along the side of the road.
As part of the age-old Italian tradition of hermits and monks, Francis spent most of his life in caves or huts in the wilderness of the Apennines, deeply experiencing nature as a gateway into mystery. This Eremo is one such place. Francis would often spend time here with his companions in prayer, each sleeping in his own cave. You can enter the Eremo and wander (in silence) along cool shaded paths through the ilex-wood, and even spend some time in any number of caves where the good monks once slept.
For more quaint Italy getaways like the town of Assisi, check out these popular and lesser-known towns: