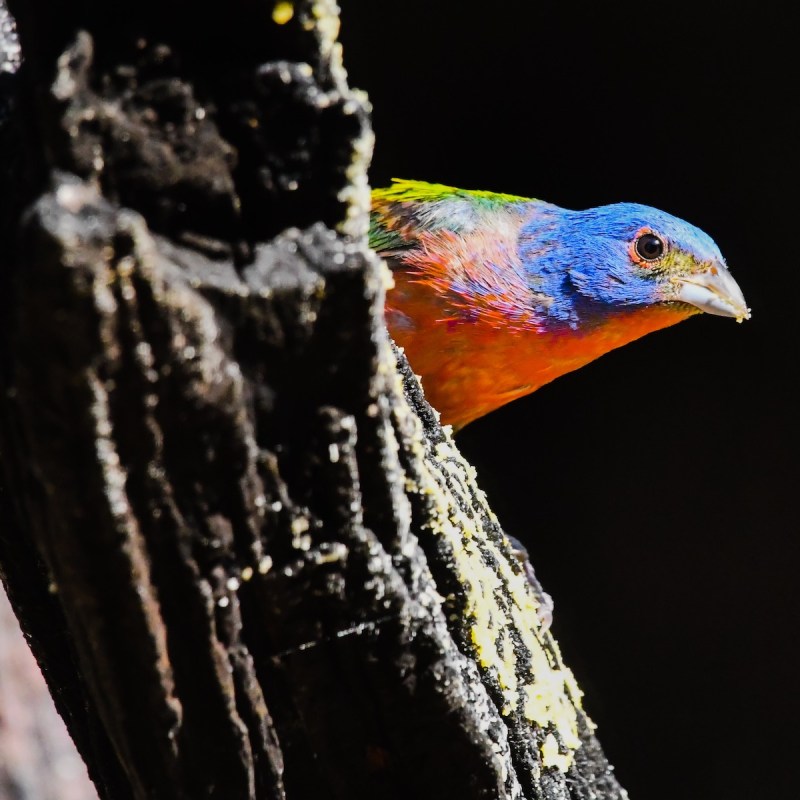 Join Texas and the country's fastest-growing leisure sport, birding. Breaking down the state into its seven regions, you'll see many zones home to bird species as varied as the territories in which they live. In the Lubbock-Amarillo area, in the Texas Panhandle, Palo Duro Canyon State Park is home to blue grosbeaks, golden-fronted woodpeckers, and ash-throated flycatchers, to name a few.
In West Texas, Trans Pecos Region hosts more than 300 varieties of birds annually in San Angelo State Park, the Concho Valley, or along the North Concho River. The Texas Hill Country is known for great wine, fantastic barbecue, scenic overlooks, and a plethora of birding hot spots, including Kickapoo Cavern State Park, Jacob's Well Natural Area, and Honey Creek State Natural Area featuring black-capped vireo, varied bunting, and the zone-tailed hawk.
The Lower and Upper Gulf Coast Birding Trails make up three regions. Port Arthur to Port Isabel is home to the roseate spoonbill, green jay, plain chachalaca, and red-cockaded woodpecker. Goose Island State Park near Rockport boasts more than 20 species of warblers along with tanagers, buntings, and orioles. East Texas boasts the thick Piney Woods and lakes hosting yellow-throated songbirds, wood ducks, herons, and egrets.
In Texas, the World Birding Center is a network of nine different birding sites along a 120-mile river road, each sponsored by one of the valley's nine partner communities, including Mission, Edinburg, Harlingen, and McAllen. These Rio Grande Valley locations coordinate more than 500 bird species between the Texas Parks and Wildlife Department, Rio Grande Valley Communities, and U.S. Fish and Wildlife Service.
Download the Cornell Lab of Ornithology eBird app, where you can enter your bird sightings into a worldwide database.
In celebration of World Migratory Bird Day on the second Saturday of May, here is a look at a dozen of my favorite birding sites in Texas, which hosts more bird-watching festivals than any other state.
1. Hagerman National Wildlife Refuge
Located north of Dallas, west of Denison, and south of the Red River that divides Texas and Oklahoma, Hagerman National Wildlife Refuge is one of the best inland locations in Texas with geese, pelicans, and ducks by the thousands. The refuge is only one of four inland hotspots to break 325 species in Texas, including mallards, northern pintails, and gadwall. A magnificent sight in the winter is seeing snow geese by the thousands take flight when a bald eagle flies low over the fields. In the woodlands, see a bald eagle, up to six woodpecker species, the brown thrasher, and brown creeper.
Pro Tip: Come early in the morning to see the most activity.
2. Lost Maples State Natural Area
Where the Uvalde big toothed maple trees turn brilliant colors in the fall, Lost Maples State Natural Area is 5 miles north of Vanderpool, southwest of Kerrville. You can see rare species of birds here, like the golden-cheeked warbler, green kingfisher, and black-capped vireo that nest and feed in the spring and summer. Download a Lost Maples bird checklist (PDF).
Pro Tip: Schedule visits during the week since there are only 250 spaces for parking.
3. Guadalupe River State Park
A paradise for bird watchers in the Hill Country with 240 documented bird species, Guadalupe River State Park is located 30 miles north of San Antonio at the north end of Park Road 31, northwest of Bulverde. You'll find the endangered golden-cheeked warbler, the goldfinch of Texas, and the only bird species with a breeding range limited to Texas. Thirteen miles of hiking trails include the 2.86-mile Painted Bunting Trail to spot one of these colorful birds.
Pro Tip: Reserve one of 85 hookup campsites here. Purchase an annual Texas State Park Pass for free entry to more than 80 state parks.
4. Hornsby Bend Bird Observatory
You'll find over 352 bird species at Hornsby Bend in Travis County, northeast of Austin-Bergstrom International Airport, near the Colorado River. The monthly Bird Survey has been happening since 1999, where you can meet up at 7 a.m. (coffee and donuts at 6:30 am) on the second Saturday of each month at the Hornsby Bend Center for Environmental Research for a morning survey. Experienced and novice birders match up, and different teams cover various areas to count the number of birds spotted. The rare cinnamon teal was spotted here, plus the blue-winged teal, green wing teal, and the black-bellied whistling duck.
5. Mitchell Lake Audubon Center
This southside San Antonio wetland habitat, Mitchell Lake Audubon Center, is where 98.5 percent of long-distance migratory birds pass through or stop over before flying hours or days over the open ocean. Over 340 bird species frequent the 1,200-acre sanctuary annually, including four habitats: wetlands, woodlands, brushlands, and grasslands. There are 30 species on Mitchell's watchlist for Bexar County, highlighting birds with the most significant conservation needs.
You'll see the black-crested titmouse, white-eyed vireo, summer tanager, belted kingfisher, barn owl, Franklin's gull, great blue heron, etc.
6. Big Bend National Park
Most birding hotspots in Big Bend National Park are close to a water source. Rio Grande Village hosts 305 species along the Nature Trail, mesquite thickets, cottonwood trees, the floodplain behind the store, and the silt ponds at Daniels Ranch. The Chisos Mountains host 312 species, including the colima warbler, one of the specialty birds. Cottonwood campground and the nearby river corridor are home to 248 species, including shorebirds, sparrows, and the ladder-backed woodpecker. Dugout Wells and Sam Nail Ranch near the benches boast sightings of the scaled quail, painted bunting, and green-tailed towhee.
7. Quintana Neotropical Bird Sanctuary
Home to salt cedars, brackish marshes, beach dunes, and gulf frontage, Quintana Neotropical Bird Sanctuary south of Brazosport hosts an observation tower and trails through one of the hottest birding spots on the Texas Gulf Coast. This central flyway is home to more than 300 species of native and migratory birds. See the black and white warbler, spotted towhee, indigo bunting, and the purple finch.
8. Santa Ana National Wildlife Refuge & Bentsen-Rio Grande Valley State Park
The canopy bridge at Santa Ana National Wildlife Refuge leads off a three-story hawk watchtower over 2,088-acres of subtropical woodland, open fields with small lakes, and a sheltered wetland. Its headquarters in Alamo's Lower Rio Grande Valley features a bird blind viewable from inside. The refuge is one of the best hotspots in South Texas, with multiple bird blinds and feeding stations. You'll see green jays, chachalacas, and the hooked-bill kite.
Bentsen-Rio Grande Valley State Park is south of the city of Mission and is the headquarters of the World Birding Center. Walk the boardwalks and see up to 360 species of birds, butterflies, and wildlife galore. No cars are allowed in the park. Park at the headquarters and explore via tram, bike, or foot. Download the bird checklist here (PDF). See the Altamira oriole and the green jay.
9. Aransas National Wildlife Refuge
Known as the winter home of the last wild flock of endangered whooping cranes, the Aransas National Wildlife Refuge is a 115,324-acre protected area northeast of Rockport on the Gulf Coast and the southwest side of San Antonio Bay. Established in 1937 for migratory waterfowl and local wildlife, you'll find a variety of almost 400 species of birds here as you stroll the boardwalks and trails.
Pro Tip: The refuge is remote with no available food or drinking water. Bring your own
snacks and water.
10. High Island
High Island has a salt dome and mineral spring at the edge of the Gulf of Mexico and rises 32 feet above the surrounding marshes. High Island is a spectacular birding location in the spring when migrating birds pour in from across the gulf. Watch for a fast-moving cold front in the fall to see large numbers of birds invade the area. Four bird sanctuaries managed by the Houston Audubon Society are great for birding: Boy Scout Woods Bird Sanctuary, Smith Oaks Bird Sanctuary, plus Eubanks and SE Gast Red Bay Sanctuary.
Pro Tip: Large cities in Texas are hosting "Lights Out!" turning off non-essential lights during the bird migration period in the spring and fall.
11. Bolivar Flats
The Houston Audubon Society's Bolivar Flats is a shorebird sanctuary, an international site in the Western Hemisphere Shorebird Reserve network. Take the ferry over from Galveston Island, follow Highway 87 for 3.7 miles to Rettilon Road, turn right, and drive to the beach. (Park at the barricade.) Here, you'll see plovers, laughing gulls, and the ruddy turnstone. Over 10,000 American avocets and thousands of western sandpipers winter here.
Pro Tip: Parking permits ($10) purchased locally are required to park on the beach.
12. Guadalupe Mountains National Park
The highland forests of the Guadalupe Mountains National Park in far west Texas support nesting birds only found in Texas: the spotted and northern saw-whet owls, Steller's jay, and the pygmy nuthatch. You might see the migrating mourning warbler with a solid grey hood and bright yellow chest. You'll also see the American robin, white-winged doves, lark sparrows, and scaled quail.
Make each of these destinations a fun weekend getaway and enjoy all that each place offers.
Pro Tip: Here are seven simple actions to help birds: make windows safer, make your backyard a bird sanctuary, avoid pesticides, protect our planet from plastic, drink shade-grown coffee, keep cats inside, place native plants in your backyard, and finally, watch the birds and share what you see.