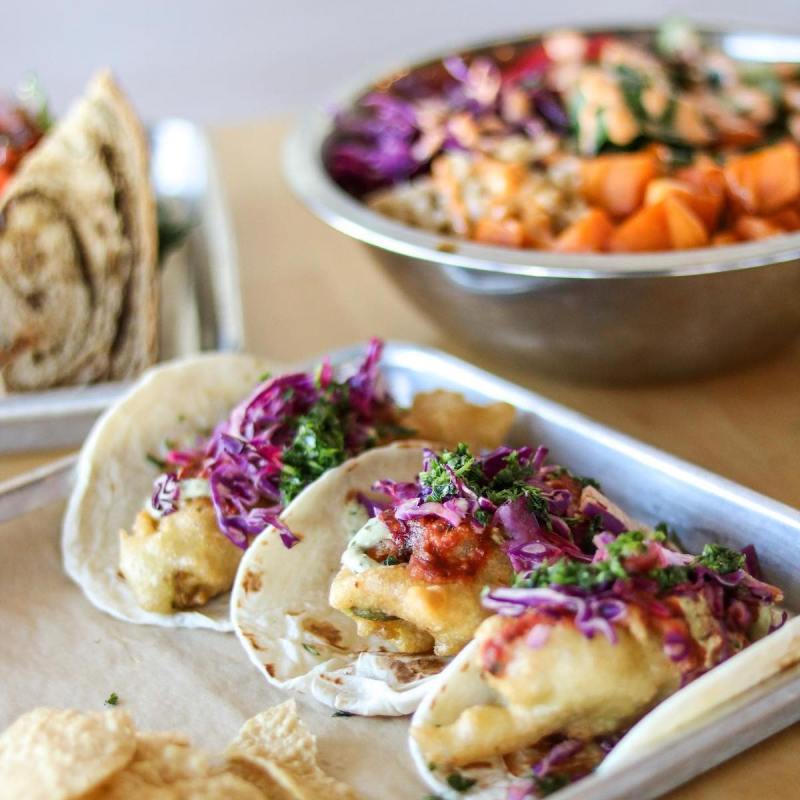 While Texas may be known for its barbecue and Tex-Mex, there's more to explore when visiting the state's Hill Country. Texas is often associated with its Mexican history, but the state has been home to several ethnic groups, each bringing with them food and culture from their homelands. So it's not odd that the oldest restaurant in San Antonio happens to be a German deli, or that Austin is home to great New York-style pizza. In between, you'll find Spanish and Mediterranean eateries as well as the comfy fallbacks of Tex-Mex, Mexican, and good ol' barbecue.
As we explored Hill Country, my wife and I fell in love with the variety and amazing cuisine restaurants offered. Our taste buds sampled both unique and familiar foods. I enjoyed reliving memories of my military career with visits to German eateries. Whatever your culinary preference, Texas Hill Country has you covered. With San Antonio on the western edge of Hill Country (we recommend this helpful map for getting a sense of the region), I thought it worthwhile to include the city's cuisine with the rest of the region. Here's a look at some of the outstanding restaurants and other stops we enjoyed during our trip. While numbered, there is no rhyme or reason to their order.
1. Aba, Austin
Located on South Congress Avenue, Aba is a chic Mediterranean restaurant offering a mix of dishes based on cuisine from Israel, Lebanon, Turkey, and Greece. Austin is one of only two locations of Aba outside of the Windy City (where the restaurant is based). With indoor and outdoor dining available, you may prefer the patio because its ambiance makes you feel like you're dining in the middle of a botanical garden with bushes and trees. You'll find a tasty twist on Mediterranean dishes. For example, Aba's hummus features six flavors from classic hummus and smoky garlic with Aleppo and Urfa peppers to crispy short rib with grilled onions and sherry. Aba also serves a delicious spread including the Muhammara, starring roasted pepper, Isot chili, walnuts, and pomegranate molasses. The dish is also served with flatbread. Entrees include crispy pork belly with a side of honeycrisp apple, harissa honey, coriander, and lemon.
2. Industry, San Marcos
It's easy to understand why people love Industry – it's the restaurant you'd dream of opening if customer service was important to you. From the wait staff to the kitchen crew, each person seeks to ensure guests have an outstanding experience. As one of San Marcos' favorite spots, friends gather to enjoy the fun atmosphere of the bar with specialty cocktails, boozy milkshakes, and great craft beer. The restaurant challenges the city's others in creating amazing dishes centered around Industry's live oak smoker. From brisket tacos featuring guajillo salsa to the smoked salmon burger topped with chipotle aioli, pickled onion, poblano ranch, tomato, and greens, your taste buds may think they've gone to culinary heaven. Located in front of Aqua Brewing, Industry is perfectly situated for a night out on the town or a great spot for weekend relaxation.
3. Schilo's Delicatessen, San Antonio
A short jaunt from the Alamo and the Riverwalk, Schilo's Delicatessen is the oldest restaurant in San Antonio. Started as a saloon in Beeville in the early 1900s, it moved when the family relocated to San Antonio in 1914. Serving food since 1917, Schilo's is open for breakfast and lunch. With a menu featuring traditional eggs and bacon, you can also enjoy a taste of Tex-Mex with a variety of breakfast tacos, and journey across the Atlantic by adding a bratwurst to your plate. When in the South, I always order a side of grits for breakfast; it brings back memories of visiting my grandfather in Arkansas. Schilo's biscuits and gravy are also delicious. The lunch menu includes sandwiches like the Reuben as well as German schnitzel plates. While at Schilo's, it's a must to enjoy an ice-cold mug of their homemade root beer.
4. Vaudeville, Fredericksburg
For a decade, Vaudeville's owners have lived their dream of creating a space where they could share their love for art and food. Vaudeville's boutique features beautiful works as well as impressive and unique objects on display. The Bistro offers gourmet dinners in the heart of Hill Country. With a creative spin on classic dishes ranging from a French Dip sandwich, featuring 100 percent Angus prime beef, herbed capers, and veal au jus, to grilled sushi-grade Scottish salmon served on brown rice with miso broth.
5. Boudro's Texas Bistro On The Riverwalk, San Antonio
You'll want to grab a table outdoors so you can enjoy the views along the San Antonio Riverwalk which are almost as much fun as dining at Boudro's Texas Bistro at the Riverwalk. With guacamole made fresh tableside, Boudro's is a true Texas dining experience. Whether you prefer seafood or Tex-Mex, Boudro's creates amazing dishes. The blackened prime rib is truly two meals in one, so you'll want to plan for leftovers. The medium-rare prime is perfectly blackened on the outside with the right amount of pink in the middle. With a side of rosemary potatoes and roasted vegetables, the entrée was one of the best I've ever had (and to say I love prime rib is an understatement). Plan for desserts such as the crème brule with vanilla bean or Louisiana bread pudding with whiskey sauce so you can sit back and soak in the scenery of tour boats cruising the Riverwalk, people watching, and mariachi bands performing outside the eatery.
6. North Street, San Marcos
Only in Texas would you find an Indian-inspired menu with curry queso, but it's a must when visiting North Street. Add some tortilla chips, and the curry queso is a Texas-style curry. Curry tacos and fried chicken with a curry twang are among the Texas-style Indian dishes you'll find at North Street. However, if you prefer a more standard Indian dish, the restaurant offers chicken tikka masala and chicken curry as well.
7. Alpine Haus, New Braunfels
Sitting down at the table, it's easy to think you're in Bavaria or Rhineland, with Alpine Haus's décor resembling that of a German Gasthaus. With a menu highlighting dishes such as jaeger schnitzel, cordon bleu schnitzel (my favorite), sauerbraten, and a sausage platter, the food is reminiscent of evenings spent enjoying Germany's best cuisine. With New Braunfels' German immigrant history – its annual Wurstfest attracts thousands from around the world – Alpine Haus is a natural fit and a true treasure.
8. Home Slice Pizza, Austin
It's a little slice of New York City along Austin's South Congress Avenue. With a "Willie Nelson for President" mural painted on the side of its takeout spot, Home Slice Pizza has been sharing its love for New York-style pizza with Texas for more than 15 years. The original location opened on Congress in 2005, and its takeout building was added a few years later across the parking lot. While it's nice to enjoy pizza inside a restaurant, you may want to order a slice and sit outside at the picnic tables. With each slice so huge that you'll want to fold it and eat like a real New Yawka, you'll have a chance to meet new people and learn all kinds of fun things, like the lady at your table happens to live about 20 minutes from your kids in Tacoma, Washington, and she's in town to dog sit. Congress is a fun place to explore, and Home Slice, with its Neapolitan-style cooked pizza, adds to the Austin experience. Home Slice has a third Austin location on the North Loop.
9. Toro Kitchen And Bar, San Antonio
Its founder grew up between Mexico and Texas while embracing his Spanish roots. All that comes together with tapas, paella, montaditos, and pulpo gallego (grilled octopus) at Toro Kitchen and Bar. With almost two dozen types of tapas on its menu, Toro challenges your senses and taste buds with amazing combinations, including fried steak calamari with aioli sauce.
10. Sage Restaurant And Lounge, Fredericksburg
With an international flavor, Sage Restaurant and Lounge's menu ranges from venison to carbonara. The unique combination of flavors offers a culinary tour of the world. If you're in the mood for a romantic dinner, consider having the staff pair a bottle of wine with a tomahawk steak dinner for two. Or, perhaps, try the cod dinner with a cauliflower okra pilaf.
11. La Margarita, San Antonio
Preparing skirt steak on cast iron plates with sizzling vegetables, La Margarita has been a star among Mexican restaurants in San Antonio. You can watch fajitas being prepared in the kitchen while waiting for your order to arrive. Arriving at your table, steam rises from the sizzling fajitas. A favorite in Market Square, dining outdoors adds to the ambiance of the center, with fun Latino decorations and colorfully-painted storefronts.
12. Visconti Ristorante, Austin
Located at the Hotel Granduca Austin, the Visconti Ristorante hosts monthly themed dinners such as a tour of Italy. Diners receive props, such as Mardi Gras party masks to wear during dinner, and the chef prepares a bounty of entrees for guests to sample. From Margherita pizza to pasta dishes, each dinner ends with a unique dessert. As with most themed dinners, a sommelier offers a look at the wines that have been paired with the entrees, including a history of the drink and why it's an excellent choice. Dinners are open to the public but require reservations.
13. Smoke BBQ And Skybar, San Antonio
San Antonio's largest outdoor restaurant and bar, Smoke BBQ and Skybar combines Texas barbecue, a sky bar, live music, and outdoor games. With a brisket second to none, Smoke BBQ challenges the best barbecue joints in creating outstanding combinations and platters. Add pulled pork, turkey, and a slab of ribs with sides like charro beans, potato salad, and cream corn, and you have a meal fit for a vaquero. The combination of games like cornhole and an outdoor bar make an afternoon or evening at Smoke a great adventure.
For more on the Texas Hill Country, check out the following articles: