Different folks like different types of vacation spots. If you are among the crowd that wants to stay near a river — specifically the Frio River in Texas — you've come to the right place. The Frio River is surrounded by gorgeous views and is a fantastic spot to go fishing, take a ride in a canoe or tube, or even swim in — an extremely popular destination located in the great state of Texas.
As a matter of fact, one Texas native and TravelAwaits contributor happens to think the Frio River is also a great place to kayak — especially in the less crowded autumn months. With crystal-clear spring-fed waters, the Frio River also happens to run through Garner State Park, offering guests a great place to cool off when it heats up down south. 
If you're looking to enjoy some river time, chances are you might want to take a look at some cabins near said river, right? Great! We've pulled together 10 extremely popular, highly-rated Frio River cabin rentals, all near the river. We arranged them in order from north to south for easy browsing. This large selection of cabins offers space for anywhere from two to 10 people, giving you plenty of options for a getaway. Happy travels!
Real County, Texas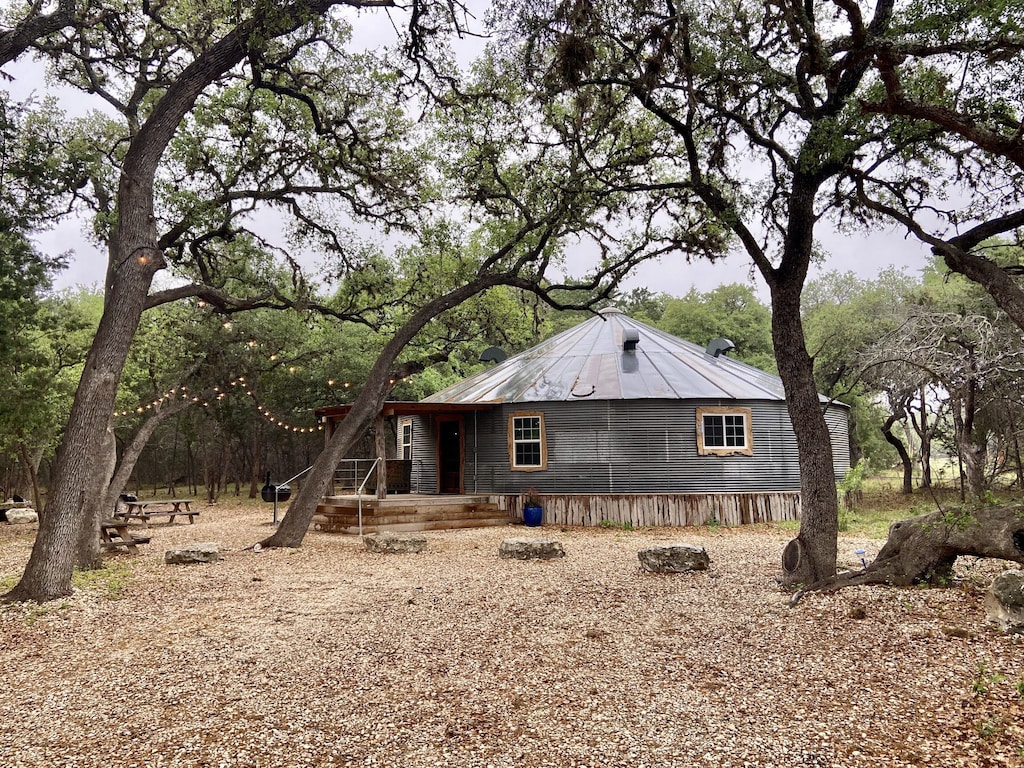 Enjoy beautiful natural surroundings, oak and pecan trees, and lots of shade in this incredibly unique upcycled grain bin secluded cabin with a private swimming hole. On the outside, it's exactly what you think. Then, step inside and prepare to be amazed! An impressive interior is complimented nicely by exterior opportunities for campfires, barbecues, picnics, games, and more. Sit back and relax in the wide-open areas that provide great stargazing and bird watching. This is a truly rare find!
Dreaming of Leakey – your dream vacation awaits you
Top guest reviews
Without a doubt one of my favorite cabins Ive stayed in. Upon arrival rick prompted us with directions and even gave us his personal # in case we needed anything else. This grain bin cabin is a unique and cozy build with plenty of land to yourself and only 15 minutes from garner state park. We loved it and will be returning before the year is over. It's very clean and has everything you need!
This is our second time staying here we enjoyed it just as much as the first time! Location is excellent, very clean and the owners are friendly & very attentive to any of your needs! We are looking forward to coming back again in the future! Perfect for all families!
Great location just right outside of town and the cabin was super clean with everything you need. We will be back!
Such a wonderful location to stay when visiting the frio! Short drive to garner and also close river access! We loved this place and can't wait to come back again!
Although the River wasn't running, the property was well maintained and comfortable.
Read Less ∧
Read More ∨
With over 2 acres of private river frontage on the Frio River, this cabin is less than 1 mile from the shops and restaurants of downtown Leakey. This recently updated cabin with absolutely amazing outdoor spaces has a fully-equipped kitchen, sheets, and towels. Enjoy the shaded backyard while you barbecue or soak in some rays on the banks of the Frio. Warm and inviting on the inside with plenty of space to relax and enjoy the outside, this vacation rental is a great option for up to seven guests. Here, fun times await!
Dreaming of Leakey – your dream vacation awaits you
Top guest reviews
This house was perfect for our long weekend in Leakey. We wanted a place near Lost Maples State Park and Garner State Park and the house is about 20 min from both. It is stocked with everything you could ever need and the host is one of THE nicest and most responsive I've ever had the pleasure of renting from! Love that there is working Wi-Fi available too!!!!! 5 stars!
We enjoyed a great Labor Day on the Frio river. House was as described and the host was very accommodating.
We had a great time. The only thing that would have made it better was if the River had water but you can't help the drought. The house was perfect. Great A/C and nice hot water!
Thank you so much our stay was beyond explanatory the home was so home feeling super clean and everything available for your needs…. Once again thank you and we will definitely be staying again…… my family loved it!!!!!!!!
We enjoyed staying at this property. The water was low but there were other areas nearby to use to get in the water. We used the grill and firepit for S'Mores.
Read Less ∧
Read More ∨
Leakey, Texas
Set on 20 acres, this Texas A-frame built in 2020 sits in a wonderful wooded area that creates plenty of shade to enjoy your outside time. Scroll through the photos and feel relaxation and bliss come over you with the peaceful and gorgeous outdoor areas, including bbq and fire pits, . Inside, prepare to be impressed with its great use of space and just the right decor. There aren't too many open dates on this one, so be sure to book your stay soon!
Dreaming of Leakey – your dream vacation awaits you
Top guest reviews
Great host, will stay again.
Our family really enjoyed the outdoors space for our motorcycle trip! The host was accommodating and stayed in communication on a regular basis.
We came to the Hill Country to drive, as we do every spring and fall. If you love driving 337 like I do, you won't find a better location. The A frame tucked back right off 337. It is almost brand new and very nice. With 2 queen beds and a couple of twins upstairs, there was plenty of room for the crew. It's also located right near downtown Leakey so grabbing meals and groceries we're 10 minute trips. Fantastic place to stay!
I definitely recommend this beautiful home! Typically when your on vacation you get homesick… but not here we made ourselves at home and had a blast! We loved how it was away from everything but not to far! The home owners are as sweet as pie! They accommodated us as best as they could and I couldn't thank them enough to let us stay in their beautiful cabin!
Very nice cabin for a getaway. Owners are very helpful and informative about things yo do on your stay. Kids loved it.
Read Less ∧
Read More ∨
Rio Frio, Texas
Another outstanding vacation rental located in the heart of Texas Hill Country and Frio Canyon, this luxury log cabin is right on the banks of the Frio River. You will love the quiet, secluded surroundings with direct river access in this 2,200-square-foot cabin with a native Limestone rock fireplace that boasts a mantle made from cypress wood from one of the property's trees. With space for up to 10 guests, the cabin comes with a king bedroom, a queen bedroom, and a third bedroom with bunk beds. This one offers beautiful views and is a must-see!
Dreaming of Leakey – your dream vacation awaits you
Top guest reviews
We were running from the city, and found a quiet place, and we found it..
We absolutely loved our stay at Cypress Banks Cabin #2. The cabin was well manicured and maintained. Very clean and had everything we needed. The location was perfect. Right on the water, 5 minutes from Leakey and 5 minutes from Garner State Park.
The cabin is absolutely perfect for two families traveling with children who want to getaway and relax, play in the water and explore nature! Even with the Texas drought, the water level was great for playing and sitting in tubes. The oldest child in the group was 6 and the youngest was 4 and they all had a blast, while us parents weren't concerned about too deep of water or currents. A short walk up the river and they could swim in slightly deeper water. We cooked in often and found the kitchen to be well-stocked for our needs. The small town of Leakey is close enough for beer runs or to the mercantile shop and we ate out one night at Gypsy Sally's…their tacos are so yummy!!! We will definitely be back!!
This was a great experience. It was nice not having to fight large crowds for water space and could quietly watch nature. You can see the water from the deck and there was enough water just to float or a small little rapid to enjoy. Many amenities came with this cabin. We already booked it again for next summer.
Read Less ∧
Read More ∨
Welcome to the Hondo Cabin at Whiskey Mountain, offering you a great location, ambiance, and amazing outdoor space. Located near the Garner and Frio River, this vacation home is great for those on a solo adventure, couples, families, or groups. Pets are welcome! This cabin can sleep up to nine guests and comes with a fully-equipped kitchen, a bbq pit, some picnic tables, and a covered front porch. It also comes with patio furniture for you to enjoy the beautiful Texas Hill Country views! This cabin has heat and air conditioning, but take note: You will need to bring your own towels, linens, and pillowcases for a queen, two full, and two twin beds. This is a charming option with great decor. Check it out!
Dreaming of Leakey – your dream vacation awaits you
Top guest reviews
Need directions how to find it. There is no service out there.
Enjoyed our stay, owners were very accommodating.
We were only in for one night, but the cabin was great. Communication was fast, and check-in/out was easy. Will recommend and stay here again. Thank you!
Great place just a few miles from Garner state park. Great ac that we needed in the hot summer. The only issue we had was the shower/tub had very slow drainage (Hondo cabin). Not sure if it was clogged or other.
Read Less ∧
Read More ∨
Another spot that is set to host solo travelers, couples, families, and is pet-friendly, the Ranch Cabin at Whiskey Mountain comes with a fully-equipped kitchen, a bbq pit, a picnic table, and has both heat and air conditioning. For those that love to sit outside and relax, the covered front porch will be your oasis where you can enjoy great conversation, read, or just take in the views. Be sure to bring your own towels, sheets, and pillowcases.
Dreaming of Leakey – your dream vacation awaits you
Top guest reviews
We had a blast our boys loved it. All the humming birds at feeders were so beautiful to watch. It is super close to Garner State Park. We really enjoyed our stay. Most definitely will be back again.
I liked the bird feeder on the front porch and bird watching while having coffee. It was very nice. The cabin had everything we needed.
It was an amazing weekend and the cabin was cozy and spacious!! I strongly recommend staying here and will stay here again!
decent place to stay. close to the highway so can be noisy. property entrance can be dangerous to exit since its on the back side of a hill with high speed traffic.
The only one thing I disliked was that the bathtub. My mother fell down, it is very slippery and easy to fall down.
Read Less ∧
Read More ∨
Aptly named, the Cozy Cabin at Whiskey Mountain has space for just the two of you — the ultimate private getaway! While a smaller option for a cabin, this rental includes a fully-equipped kitchen with a small refrigerator, a two-burner stove, a countertop oven, a microwave, a coffee pot, a toaster, and more! You'll love the queen-sized bed and covered front porch. Cozy, indeed! You will need to supply your own towels, sheets, and pillowcases for the Cozy Cabin's queen-sized bed.
Dreaming of Leakey – your dream vacation awaits you
Top guest reviews
Very nice cozy cabana. 3 miles from the town.
It was indeed cozy! Perfect for two! We worried about the road noise but once inside we didn't notice a thing. It was very pleasant.
For the location and price it cannot be beat. The only down side is you have to clean up after yourself and some of the amenities arent the best. But all in all its an amazing place and deal if you dont mind keeping it simple and cleaning up after yourself. Id recommend this place to any person who is a responsible adult because thats what this place is for i think. People who want to keep it simple and dont mind picking up after themselves.
Is perfect for a couple. Is clean an have all you need in the cabin. Near from parks. The better pet friendly. The cabin is awsome
Good but I was expecting to take my husband fishing but lakes were dry
Read Less ∧
Read More ∨
Utopia, Texas
Welcome to your own personal utopia! The Four Sisters Ranch Cabin is nestled in the Texas Hill Country, located between Lost Maples State Natural Area and Garner State Park. This secluded ranch cabin offers you the chance to hike, bike, and explore 500 acres of a working family ranch. You can even bring your dog to this pet-friendly cabin, allowing you to enjoy country air with your furry friend and no nearby neighbors, city lights, or traffic. This cabin is large and has two queen beds on one end and a full kitchen on the other. Check out the front porch and back patio!
Dreaming of Utopia – your dream vacation awaits you
Top guest reviews
This place is Heaven. The lowest score you can give for this place is five stars. If you really love nature and live in Texas, you do not need to spend several hours traveling all the way to California or Colorado, you have it in Texas. Everything was more than perfect. Thanks for the opportunity
A very rustic cabin in the country with quiet solitude!
Great stay! Very peaceful and quiet. We will come back!
The property was nice and not to far to drive to all the popular spots on area. Honestly I could have just stayed in the lounge chair on backnporch for 2 days. Fail asleep there more than once. No one too close by so dog was able to run free also.
The property is amazing and the cabin is super comfortable and clean. I would highly recommend
Read Less ∧
Read More ∨
Concan, Texas
This romantic rock cottage is known as La Casita! Nestled among lots of foliage and offering amazing views, you will immediately feel like you're on vacation when you enter this cabin. It's the perfect getaway to escape the ordinary. The exterior decor and views will make you want to sit outside. Inside, you'll love the cozy and warm atmosphere that offers the scents of cedar from the walls and ceiling. Start the day off by building a fire in the wood burning stove, then spend time taking it all in on your private covered deck. Welcome to La Casita, a true gem.
Dreaming of concan – your dream vacation awaits you
Top guest reviews
This place is ADORABLE! We had the most amazing trip to the river with our family. It was so magical. The view is breathtaking and the river is as well. The owners are also the sweetest people ever! We loved everything about our stay and plan to definitely come back. Also even though we were in the middle of a drought there were still a ton of different places on the river to go swim!
By far the best place we've stayed in the area of Concan. The views were amazing, beautiful cabin, and the host was great! I recommend and definitely will return in the near future!
"La Casita" was the ideal place for our family of 4 to get away and relax. We really enjoyed the scenery and overall experience.
Was off River Road in a good location and we Loved the all the views and the hummingbirds!
Our stay at La Casita was wonderful. We woke up to spectacular sunrises and birdsong. The variety of birds is incredible. The area is quiet, peaceful and the cabin is beautifully decorated and very well maintained. The owners next door are friendly and helpful. We were visiting family for a reunion and this was the perfect place to get away for some quiet time and recharge.
Read Less ∧
Read More ∨
Looking for a little cabin for just the two of you? The newly listed Little Frio Cabin might be the place you're looking for! Recently refreshed from ceiling to floor, this one-bedroom, one-bathroom rental offers the ultimate log cabin feel. Quaint and tucked among the trees, this is a fantastic getaway destination for those looking for an intimate retreat. With such a unique exterior, the Little Frio Cabin is fun and inviting!
Dreaming of Concan – your dream vacation awaits you
Top guest reviews
Property was super cute and nice to stay at, but the well water had a horrible smell. I couldn't shower or wash dishes because the odor was so strong. Also, hope they put the ac unit on before check in because it took FOREVER to cool the cabin down
It is a perfect location and will definitely return !
I would say that, overall, our stay at the property was a positive experience. The location was perfect for accessing Garner State Park. It was well-decorated and had a nice kitchen.A couple of things to note:The furniture out back around the fire pit looked nicer in the picture than in person. When my husband went to sit down; one of the chairs broke, and his foot flew up and hit the fire pit. It really hurt.The chairs in the living room and the bed could have been more comfortable.I may have also left a throw at the cabin (a teddy-bear themed one) but am not sure.
I would stay here again. I especially appreciate the small details and very nice woodwork of the interior. The metal ceiling is super cool and the sound of the rain was nice. The bed and reclining chairs were comfortable. Because we both snore I should have asked about how to access the loft bed. Make sure to bring your own bedding and towels which are not avaliable due to the covids. Nice to see the stars at night. Great little cabin.
Loved staying here. It was super cute, clean, and private.
Read Less ∧
Read More ∨
To discover more things to do in Texas Hill Country, check out:
Disclosure: TravelAwaits selects the listings in our articles independently. Some of the listings in this article contain affiliate links.