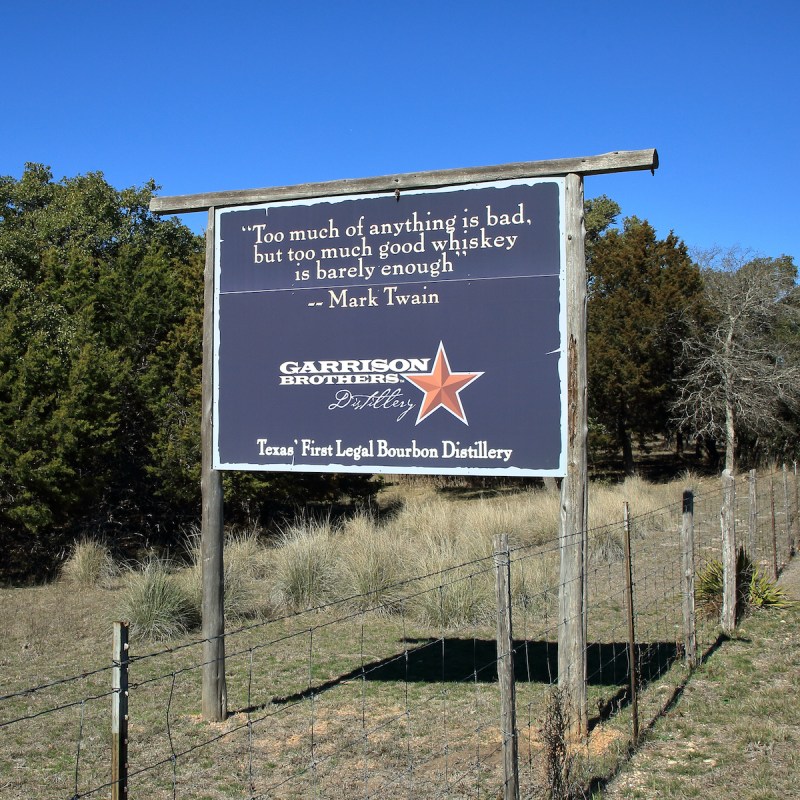 Everything is bigger in Texas. There are 28 distilleries on the Texas Whiskey Trail. This eclipses the 18 distilleries on the Kentucky Bourbon Trail. Craft whiskey distilleries are a traveler's delight. Texas has four regions and I chose to visit the beautiful Texas Hill Country area in the central-east part of the state.
This part of the Texas Whiskey Trail stretches from Fredericksburg and Blanco, east to Austin. There are 10 distilleries in this region but don't expect to hit them all at once. Whiskey is to be savored and there are too many fun things to do in the heart of Hill Country or in Austin to spend all your time in the bottle shop.
1. Less Is More When Tasting Whiskey
Tasting whiskey is not like tasting wine. The alcohol content is much higher in whiskey and what you taste at the distillery may include 100 to 150 proof batches. Plan on visiting no more than two or three in a day. Flights range from $10 to $15 for 3–5 samples. Cocktails run $5 and up. Onsite bottles range from $50 to over $100.
2. Enjoy All The Activities At The Distilleries
In Hill Country, you will find the distilleries have more land, more leisure, and more scenery than the tasting rooms in the big cities. One of the largest distilleries is Garrison Brothers Distillery in Hye, Texas, halfway between Fredericksburg and Blanco. It has a large working ranch as well as a sprawling "front lawn" where you do your tasting. Take a tour of the ranch, see the distillery and barrel aging area, as well as the working livestock area, all from the comfort of your seat in the back of an open-air wagon pulled by a tractor. The staff is knowledgeable, Texas friendly, and dripping with an attitude about their famous product. Sit on the front lawn in big wooden rocking chairs or at picnic tables. You order food (sandwiches and barbecue), cocktails, and tasting flights using a scan code and a server brings it to you. Kick back, sip, eat, and relax in the beautiful countryside.
Twenty miles down the road you'll find the Andalusia Whiskey Company, the first of three Blanco stops. Comfy couches and tables fill two floors. There's also inside seating in a reading room and at the bar to enjoy your beverages. Outside there are tables under a roof (shade is essential in Texas) and a food truck is onsite. You can sit outside and look out over the working ranch that belongs to the distillery owners.
Ten miles farther south is the town of Blanco, where you can visit Milam & Greene Whiskey and Real Spirits. Milam & Greene is run by two women distillers with Tennessee heritage. Their distillery exterior is rustic and decorated with loads of flowers. There are picnic tables and garden chairs under a huge oak tree, and comfy club chairs inside to enjoy your spirits. Their vibe is relaxation and savoring the taste of what they offer. Of course, they also have one of the biggest stills in Texas, holding 1,000 gallons. Everything is bigger in Texas.
The Real Spirits distillery started out as a brewery and it still makes beer and ages some of its whiskey in the beer barrels. You can do both a whiskey and a beer tasting and tour the distillery and the brewery.
For a nice interlude, visit the historic town of Blanco. You can stop by the Buggy Barn Museum and see antique buggies, carriages, and wagons along with a wild west movie lot with a replica of a western town, ready for your close-up. You might also visit the Blanco Pioneer Museum with local exhibits. A history museum is also open at the Old County Courthouse. There are plenty of local restaurants available to refuel for your next stop.
3. Plan To Spend Extra Time Visiting Hill Country
I think the Hill Country is the most beautiful part of Texas. Gently rolling hills, bountiful spring wildflowers, and acres of ranchland can be found on back roads that wind over creeks, rivers, and through tiny towns. There are so many things to do in the area, you may need to make several visits. The old German town of Fredericksburg is charming. German immigrants settled here and today the main street is filled with shops, restaurants, and interesting places to browse. One of the favorite stops in town is the National Museum of the Pacific War. There are numerous wineries in the area offering plenty of wine, food, and live entertainment. Weekends can get crowded.
If you crave some natural settings, head to one of several Texas state parks in the area. Pedernales Falls and Marble Falls are within an easy drive from a cozy inn or hotel in Fredericksburg. You might want to visit the nearby Enchanted Rock State Natural Area. You can hike to the top of this pink granite rock dome for spectacular views of the Hill Country.
For history buffs, don't miss the LBJ Ranch and family homestead west of Johnson City and just outside the town of Hye. The state park commemorates President Lyndon Johnson's birthplace and the farming origins of the area. The national historic park has restored and preserved the western White House where LBJ and Lady Bird lived before, during, and after his presidency. You can tour the house, enjoy exhibits, and do a self-driving tour of the ranch. The Pedernales River runs between the two historic areas and was a place of respite for the President throughout his life. There is no charge for visiting the ranch as per LBJ's instructions.
4. Head East To Austin For Whiskey And Fun Sites
The Hill Country trail would not be complete without visiting the iconic Still Austin Whiskey Company. Located within the city, it is a tribute to all things Austin. You can tour the distillery, have a cocktail or flight on its patio, and enjoy food from that staple of Austin culture — a food truck. The company hosts daily fun events at Still Austin including trivia contests and live music.
There is much to do and see in Austin. After the distillery, stop by 6th Street downtown for the best in live music and bars. Head over to the Colorado River for some hiking or a boat ride. Watch the bats come out at dusk from the bat cave near the Congress Avenue bridge. 
5. Step Outside Hill Country And Visit Waco
It's worth the drive a couple hours north to Waco for a fun day or weekend. You can visit Balcones Distilling in the North Texas Trail region) and taste one of the most popular Texas whiskey brands. Its distillery is in an old multi-story factory building that it has repurposed. The tasting room has an industrial vibe, very different from the Hill Country distilleries, but very cool. You can enjoy cocktails, flights, and small plates of food. Of course, the other major reason to visit Waco is Magnolia — the small village-like retail and entertainment complex built by Chip and Joanna Gaines of Fixer Upper television show fame. It is a lovely spot in the middle of downtown that has food trucks, picnic tables, and lots of green space. A few miles away you can visit Baylor University on the Brazos River or head over to the Woolly Mammoth National Monument.
6. Plan Ahead To Make Your Visits Memorable
The Hill Country is very popular in the spring when the bounty of wildflowers bloom. Reservations may be scarce and there will be crowds at all the attractions. But the crowds are worth it to see the riot of colorful flowers.
If you prefer a more involved distillery experience, reserve a tour spot. Due to COVID, not every distillery is offering tours. Tours give you an inside look at the still and barrel aging processes and often include a visit with one of the distillers who will talk about how they come up with unique flavors. Your tour price may include a tasting as well.
Check for limited release dates to snag a bottle that will only be available at the distillery. While many of the larger distilleries have their most popular bottles available in liquor stores, some limited-release bottles can only be bought onsite. You may find a crowd of aficionados on these dates, but who better to drink with and learn a thing or two about your new acquisition.
For more on the Texas Hill Country, read these articles: