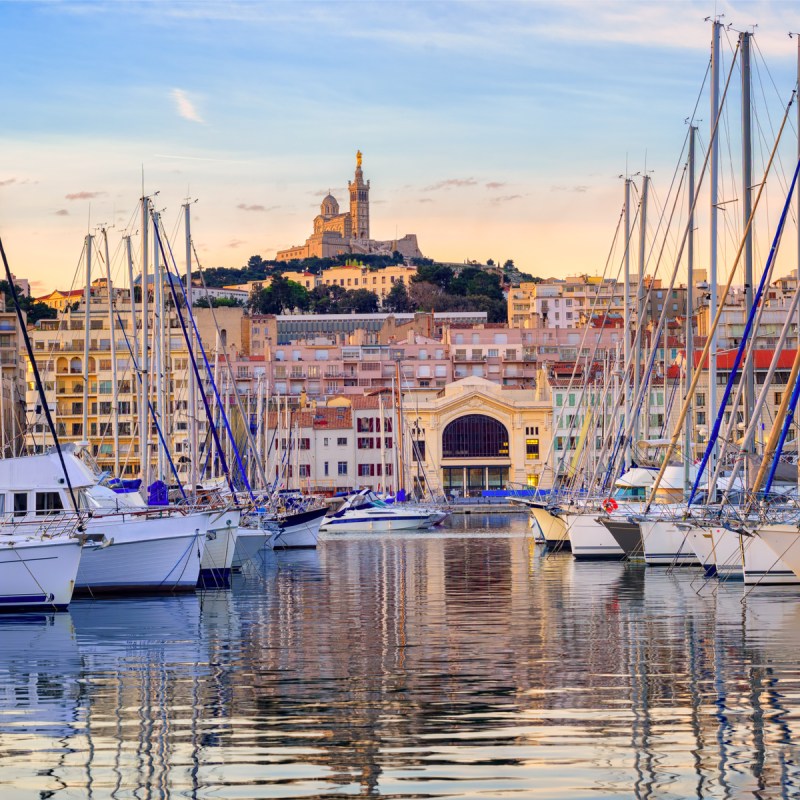 I recently had the opportunity to do an early winter/late fall cruise around the Mediterranean on the magnificent Oceania Cruise Line and was reminded of how much I love visiting Europe in the off-season, especially my former home, Provence and the South of France.
Oceania Marina is such a luxurious ship and the staff spoils each guest with individual attention and caters to specific needs, which is not an easy feat during times of COVID awareness. We masked and sanitized and had to test for COVID a few times, but the experience of the off-the-charts food and wine onboard — and the interesting ports we checked in at — was worth a little inconvenience.
Italy remained tightly controlled so, while we could put in at Bari, Naples, and Sicily, guests had to be escorted by a local tour guide and were instructed not to shop, eat, or enter any businesses while touring. For many, this was extremely frustrating, so, when we got to the ports in southern France, freedom was calling.
I have lived in Aix-en-Provence, spent time studying there during the winter months a few years ago, and recently went back via ship. Here are some highlights of the beautiful region when you are one of a handful of tourists instead of a mob.
1. Marvel At The Fountains Of Aix-en-Provence
The word Aix, in ancient Provencal French, means "water" and should give you your first hint about this magnificent center of sophistication in southern France. There are fountains everywhere, hundreds of them, and each one is unique and different. Most have been around for hundreds of years, yet the locals still fill water jugs and containers at the fountain like their ancestors did hundreds of years before.
Fountains provide a glimpse of the past in this historic city as well as a kind of background music to daily life. You can tell which fountains are tapping into natural hot springs from the moss growing all over and the most famous of these is smack in the middle of Cours Mirabeau, the main drag into this city made for walking. At the base of Cours Mirabeau, the spectacular roundabout called Place de la Rotonde is centered by a dramatic fountain sculpture of horses and scenes of battle.
Thermes Sextius is an ancient and still thriving spa in Aix-en-Provence (or just "Aix") where, after a day of shopping all of the well-known luxury brands with outposts in Aix, a massage and hot springs soak may be just the thing before a dinner of local specialties like ratatouille and lamb.
2. Eat A Socca In Nice While Strolling The Flower Market
I had heard about this phenomenon made of chickpeas found only in Nice, France, but had never actually had one. That was my goal during this last November stop in Nice but, fortunately, I had a bit more on my plate. 
The socca was fine. A fried slab of chickpeas, flour, and a little salt served warm was interesting but could have used more flavor or a "topper" like local goat cheese or fig jam. Once the socca was history, I moved onto one of the other Nicoise specialties, the Pissaladiere, a kind of focaccia bread baked like a pizza with caramelized onions, anchovies, and black olives. Absolutely delicious even if anchovies have never been your thing.
I took my pissaladiere on a walk through the flower market which also featured sellers of local soaps, oils, fruits, and vegetables. The markets in southern France are open year-round. I also adore the antique and art markets found here and just think of how much better the bargains will be in the off-season when the competition and crowds are minimal.
Other cuisine highlights of Nice are the true Salade Nicoise offerings of olives, egg, anchovies, and fresh tuna or the pan bagnat, a sandwich of egg, cheese, lettuce, and meat that is sold along the Promenade (worth strolling along the beach) and in bakeries.
3. Climb The Heights Of Eze Without The Traffic
Eze is this adorable hilltop town clinging to a cliff overlooking the Mediterranean. It is an old town built as a fortress and protection from invading warriors from other lands. As you may imagine, this is a town you must climb up to, it takes some energy but will be a decent cardio workout to make it to the top and pastis and pizza as a reward.
Eze is one of those places that is just so much easier to access in the winter and with the number of sunny days in the south of France, you can rarely go wrong. The downside is that some of the shops and restaurants may be closed or on limited hours because of the lack of tourists. Well worth seeing here is the garden at the top of the climb called "Le Jardin Exotique" of the exotic garden. And, after paying a few euros, stroll this garden with a sea view from every angle, and take in the exotic succulents, cacti, and more. Easy to spend an hour or more and there are lounge chairs if reading a book in a garden overlooking the Med is calling you.
4. Dine In The Plaza At St. Paul-De-Vence
A couple of years ago when I spent several months in Aix-en-Provence, a friend came to visit for just a quick week, where we managed to squeeze in so many highlights. I felt I may have a career as a fast-track tour guide.
On my birthday, February 12, we cruised up to the famous hilltop city of St. Paul de Vence. It was practically empty on a weekend afternoon and the sun was warm as we explored this city of arts which was an inspiration to Marc Chagall, Pablo Picasso, Henri Matisse, and Jean-Michel Folon. Art is everywhere and galleries plentiful but the highlight for contemporary art lovers is the Fondation Maeght, which began as a personal project for founders Aime and Marquerite Maeght after losing a child, has now been around for over 50 years, and represents one of the most important collections of 20th century art.
La Colombe d'Or is probably the most well-known restaurant in St. Paul but any restaurants in the Plaza are perfect for a late lunch, which is how I celebrated my birthday. And, in the category of small world, the Chicago Cubs had just won the World Series and the manager and his wife (who sparked up when they heard us speaking English) were seated next to us, their daughter had just pledged the same sorority as my daughter at Tulane University. Quel coincidence!
5. Learn The Legends Of Perfume In Grasse
Grasse is considered the center of the perfume industry in France and this makes a lot of sense when you see — and smell — the herbs and flowers naturally growing in this town make the base of most of the perfumes in the world. You can smell it everywhere and Grasse is intoxicating.
The perfume industry dates back to the 18th century in this town that sits above Cannes and there is a museum documenting this scent-filled history. Take a tour at one of the major scent factories like Fragonard, Molinard, or Galimard. Take a break from inhaling lavender, jasmine, and rose, and visit the Grasse Cathedral if you are a fan of the painter Rubens.
6. Eat Seafood And Watch The Boats Rock In Cassis 
As you descend into Cassis, you may think you are dropping into a fairytale seaside village, complete with world-class wines, fresh seafood, and the seas glimmering on the colorful house tucked around the small harbor. Add to that the bright fishing boats bouncing in the tidal currents and you can see why getting to Cassis without the summer crowds is far better than fighting for parking spaces and tables at charming cafes.
Here is Cassis, rose wine, oysters, sea urchin, and other shellfish from the Mediterranean and, with so many days of sunshine annually, a late afternoon snack as the sun begins to set and bring the colors of the harborside homes and businesses to glowing life. It also beats having to escape from the heat and crowds during the summer months. 
Pro Tip: Within close driving distance is La Ciotat, another seaside town with beaches and a boardwalk. A day in each small town will give you a magical look into life in coastal Provence.
7. Walk The Old Port Of Marseilles
Quite a different experience from the small fishing towns just explored, Marseille is a major port with a colorful and not always reputable history. This has been a rough town and, while Marseilles still has character, the city has worked hard in cleaning up its act. 
The Old, or Vieux, Port, is the center of the city and a fabulous walk around a massive harbor full of luxury yachts and fishing boats. There is so much personality at the Vieux Port that one day of walking may not be enough. Characters you will pass, fishermen you will hear shouting, millionaires sunning on the decks of their yachts, all make up Marseilles's unique personality. The restaurants and boutiques around the Old Port will not disappoint and there are several charming squares behind the historic buildings overlooking the harbor. A worthwhile day or three can be spent right in downtown Marseilles.
Pro Tip: Get outside of Marseilles to the rolling Calanques jutting into the Med. Hiking or driving these chalky white beauties is good for both the body and the soul.
8. Stroll The Cours Mirabeau's Christmas Markets
As mentioned earlier, the Cours Mirabeau is the main artery of Aix-en-Provence but becomes a pedestrian street during the holidays when the sidewalks are lined with vendors selling Christmas specialties like oyster, charcuterie, calissons, and other sweets, crepes, toys, and the traditional Santons of Provence — small figures and scenes that reflect life in Provence hundreds of years ago.
Pro Tip: Park the car in a pay lot and just walk Aix for the day or take a hotel; park once and you will not see your car until you leave!
For more stories on southern France, check out our coverage: