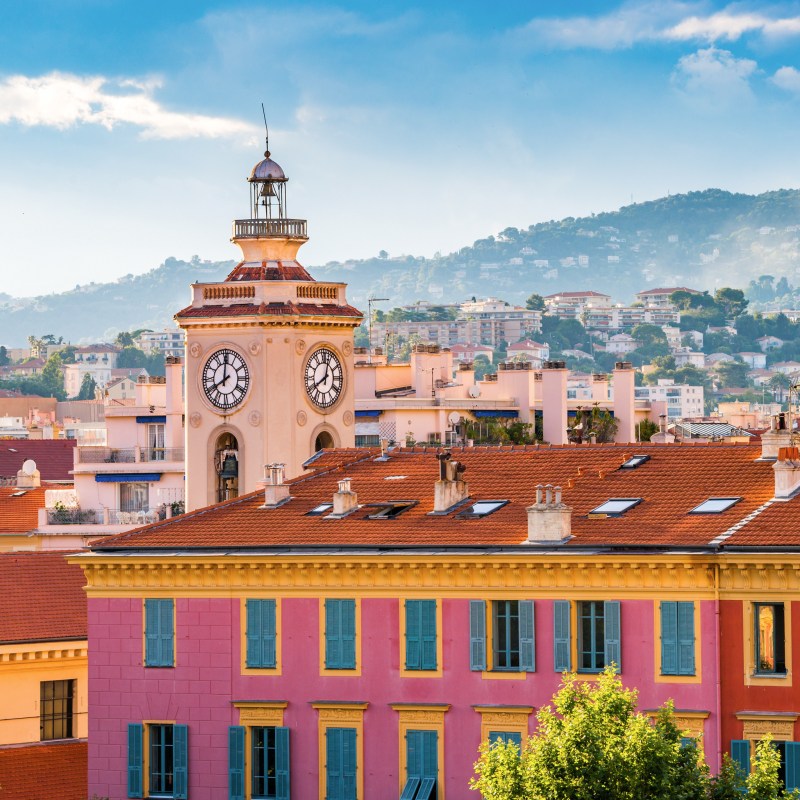 Nice is the main hub of the south of France and the iconic French Riviera. It's a combination of a city and beach resort with a mild climate all year round. We've planned a perfect weekend in Nice for you with sun, fun, culture, food, and shopping. Get ready to have a Nice weekend!
Friday
Afternoon
Hotel Negresco
Check into the iconic Hotel Negresco and walk through the sumptuous lobby and the public rooms on the main floor. In 1912, Nicolas Negrescu, who was the manager of the municipal casino, saw the potential for Nice as a destination for the wealthy and famous and hired the top architect in France to build the first ultra-luxury hotel. The sumptuous belle epoque decor included a massive Baccarat chandelier with 16,309 crystals, commissioned by Russian czar Nicholas II.
In 1957, the hotel was purchased by Jeanne Augier, who personally welcomed celebrity guests Salvador Dali, the Beatles, Elton John, Princess Grace of Monaco, and Louis Armstrong, among others. She also amassed an eclectic and valuable collection of objets d'art, furniture, and artworks, which today are still very much part of the hotel.
Pro Tip: Read on for additional hotel recommendations if you can't or don't want to make a reservation at Hotel Negresco.
Promenade Des Anglais
Take a stroll down Promenade des Anglais, the most famous "boardwalk" in the world, and admire the brilliant blue Mediterranean sea and the rocky beach. It was named for the influx of well-to-do, English tourists who started to frequent Nice in the early 1800s because of its mild weather.
Evening
Drinks With A View
On the 10th floor of the Meridien Hotel is an expansive terrace bar facing the sea with panoramic views of Nice. Relax and have a refreshing glass of rose or prosecco, or a designer cocktail, such as the Jasmine Royal with prosecco and jasmine syrup, or a Berry Boost with Absolut vodka and strawberry syrup, raspberry liqueur, and lime juice. If you are feeling peckish, they have a snack menu with slices of dried, Iberian ham, a carpaccio with Angus beef, and a selection of French cheeses.
Dinner At A Local's Favorite
It's so popular at the height of the season in July and August that making a reservation a few weeks before you arrive is essential if you want to eat at Le Petite Maison. A longtime hot spot for locals and for seasonal visitors, Le Petite Maison changes the menu every week, and specialties include macaroni and cheese with truffles, a whole sole meuniere for two, and pizzaladiere, a Nicoise-inspired pizza. Try to book a table outdoors for great people watching.
Saturday
Morning
Cours Saleya Market And The Old Town Of Nice
One of the great food markets of France, Cours Saleya is a culinary showstopper for foodies.
Under colorful awnings, local vendors are proud to offer Nicoise-style prepared foods such as ratatouille, pan bagnat (tuna Nicoise on bread drizzled with olive oil), les Petits Farcis (roasted eggplant, peppers, tomatoes, and zucchini stuffed with ground beef, garlic, and breadcrumbs). Socca, a pancake or crepe of crushed chickpeas that is crispy on the outside and soft inside and baked in a pizza oven, is a popular street food.
Fresh figs, anchovies, green beans, tomatoes, peppers, French olive oil, and Nicoise olives are just a few of the other fresh foods available. Within the market are spin-off markets that sell antiques, flowers, artisan products, arts and crafts, and fresh fish.
After the market, walk through the old city, also known as Vieux Nice. Admire the 17th-century buildings painted in hues of pink, marigold, apricot, and sky blue. If you want to purchase souvenirs of locally made products, Old Nice has boutiques that sell milled soaps, honey, Nicoise olives, and linens.
Pro Tip: Cours Saleya market is open until 12:30 p.m. and closed on Monday, as are most shops in Old Nice.
After being dazzled by the abundance of food at the market, you may get hungry for lunch. Go to Chez Palmyre in the old town for an authentic salad Nicoise, made with green beans, canned tuna in oil, new potatoes, tomatoes, anchovies, and wedges of hard-boiled eggs.
Early Afternoon
Following your morning market visit, you may want to chill out for some R and R on the beach. The Negresco has its own private beach area for guests of the hotel. Another alternative is Place Beau Rivage Beach Club, which is part of the five-star Beau Rivage Hotel. The beach club has blue-and-white-striped chaise lounges with white parasols for a half-day fee of under 20 euros per person, plus another 5 euros for an umbrella and towel. A double lounge is available for couples, and drinks and light food are offered and can be delivered to your chair.
Pro Tip: Nice has rock beaches, which are very hard on the feet. Bring waterproof rubber shoes, or buy a pair in a nearby shop for about 10 to 12 euros a pair.
Late Afternoon
The World Of Matisse
Artist Henri Matisse, who lived in Nice from 1917 to 1954, captured the beauty and magic of the city and environs in many of his sketches and paintings. The Matisse Museum contains one of the largest collections of his works in the world, with over 500 pieces including sketches, paintings, sculptures, and books he illustrated. There's also a collection of his personal effects such as furniture, artworks, ceramics, and stained glass. The museum is housed in a 17th-century villa.
Sunday
Morning
Hop a train to Beaulieu-sur-Mer, just a 12-minute ride from Nice, to visit a 20th-century replica of an ancient Greek villa. Villa Kerylos was built between 1902 and 1908 for a wealthy heiress, Fanny Kann, who was a descendant of the Ephrussi fortune, and her archeologist husband, Theodore Reinach. Although it's a faithful reproduction of an ancient Greek aristocratic home, Villa Kerylos featured some of the most modern conveniences of its day, including heated floors, indoor plumbing, and electricity. Marvel at the gorgeous architectural details such as the carved-wood furniture, mosaics, wall etchings and murals, extravagant marble bathrooms, and hand-painted, wood-beamed ceilings. Make sure to visit the wraparound terrace with beautiful views of the Cote d'Azur coastline and the Mediterranean sea.
Pro Tip: Beaulieu-sur-Mer is one of seven perfect day trips from Nice. Consider the rest if you're still filling out your itinerary.
Afternoon
A Scenic Park
A historic site at the top of Nice, Castle Hill was the first area in Nice where ancient Greeks settled over 2,000 years ago. It was later turned into a citadel but was toppled by soldiers under the reign of King Louis XIV in 1706. Today it's a lovely park with waterfalls, shady trees, flowers, and pathways with views of the Bay of Angels, the Old City, and the Nice harbor. There are restaurants and cafes in the park and also two historic churches.
Evening
Treat yourself to a farewell dinner at Les Sens, a bistro serving contemporary French cuisine in a cozy, welcoming atmosphere. Menu specialties include foie gras with figs and gingerbread, John Dory fish with slivered almonds, macaroni with roasted eggplant, squid with artichokes, sun-dried tomatoes, and Nicoise olives, and filet mignon with roasted potatoes with flecks of truffle. Leave room for a dessert of Cherries Jubilee or the famous lemon souffle served with tart lemon sorbet.
Late Evening
Enjoy the exciting nightlife in Nice by heading over to Le Shapko. Le Shapko presents live jazz, funk, soul, and Brazilian music with different musicians and singers every night of the week. Cocktails, beer, and wine are available at the bar and tables, and Le Shapko also serves food.
Other Nice Hotels
Hotel Windsor was originally built in the early 1900s to house the staff of the British royal family when they visited Nice. Today it's a fun and eclectically decorated hotel with each room individually appointed by a local designer. There's also a pool surrounded by tropical plants and a small gym. The hotel restaurant has an all-organic menu focusing mainly on vegetables and also offers vegan dishes.
A rooftop pool on the 10th floor with stunning views of the city is enough of a reason to stay at the Hotel Aston La Scala. Modern rooms with air conditioning and free Wi-Fi, plus a central location, make the hotel a winner all around.
Want to rent a private, luxury villa on the French Riviera? Contact Jameson Farn with Luxury French Riviera Life.
Other Nice Cafes And Restaurants
Chez Acchiardo in Old Nice has been a family-run bistro since 1927. The simple menu has classic Nicoise dishes, and you can order the house wine, which is stored in barrels.
A Nice institution since 1940, Cafes Indien imports and roasts its own coffee beans, guaranteeing a great cup of java. They have a small stand-up bar and also serve variations on iced coffee.
One of a handful of bakery-cafes in Nice, Au Ble d'Azur bakes croissants, pain au chocolat, and almond croissants fresh daily on the premises.
Pro Tip: The best time to visit Nice is from the end of April to the end of June or in September or October. Temperatures during these months range from 65 degrees Fahrenheit to 80 degrees Fahrenheit, and it's warm enough to swim in the sea.