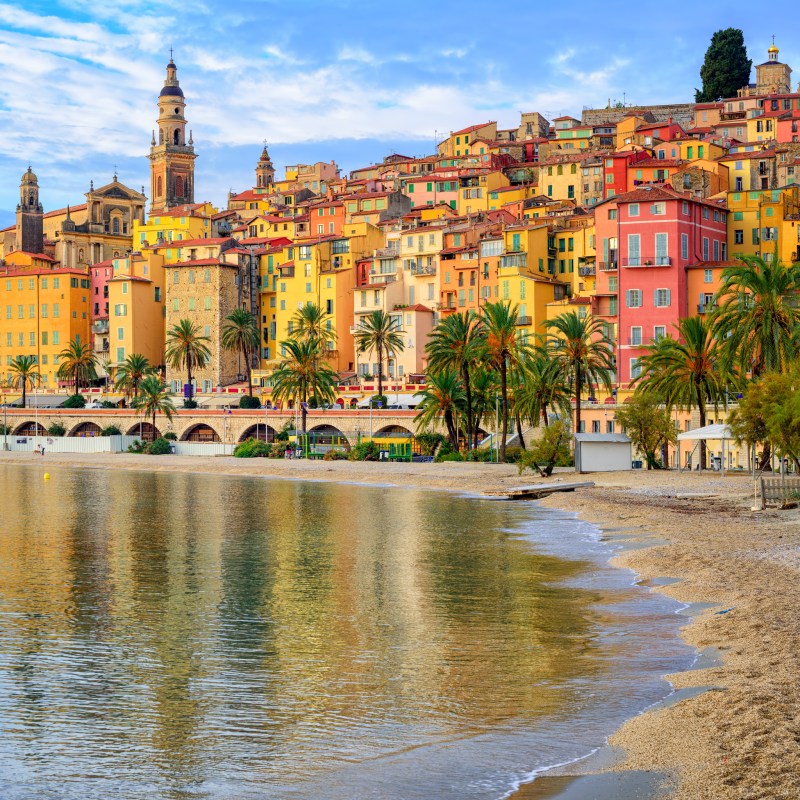 Menton is a lovely small city in the south of France that has the best of everything: a warm climate year-round, beautiful gardens, excellent French and Italian food, sandy beaches at the foot of the aqua blue Mediterranean sea, and a colorful and historic old town.
So why is it still the best-kept destination secret in the south of France — and mostly unknown by American travelers? Perhaps because Americans tend to flock to the city of Nice and the glamor and glitter of Monte Carlo and Cannes.
A special micro-climate separates Menton from the other villages of the Cote d'Azure dotting the Mediterranean, as it has more sunny days in a year than any other place in France. Smaller than Nice and Monte Carlo but larger than Eze or Villefranche, Menton is a city with a village feel to it.
Historically, Menton was ruled by the Grimaldi family of Monaco starting in the mid-1300s. (The Grimaldi royal family still reigns over the tiny principality of Monaco today. Prince Albert II, the son of the late Grace Kelly and Prince Rainier, is the principal ruler.)
In the mid-1800s, Menton was discovered to have a healing effect on tuberculosis sufferers, and it also attracted Russian and English aristocrats because of its pleasant climate. The aristocrats erected extravagant mansions, palaces, and luxury hotels, including many that are still standing today.
Things To Do In Menton
Old Quarter
The first thing you should do when you arrive in Menton is to take a stroll through the old quarter. Walking from the base near the seaside, you will discover narrow lanes and passageways lined with large pebbles that will take you past quaint buildings washed in pastel yellow, pink, green, and blue. Foliage sprouts from many of the buildings along with window boxes filled with seasonal flowers.
Pro Tip: The old town is an uphill climb, in between a walk and a hike, so make sure to pace yourself and also wear thick, rubber-soled sneakers or shoes.
Basilica Saint-Michel-Archange And The Russian Cemetery
When you reach the top of the old town, you will arrive at Basilica Saint-Michel-Archange, a 17th-century cathedral with an ornate, baroque-style facade that was added in 1819. The impressive interior is also done in the baroque style. Don't miss the original organ from 1866.
After the Basilica Saint-Michel-Archange, climb to the top of the hill, where you'll find a peaceful cemetery. Since Menton had a community of Russian nobles and aristocrats in the 1800s, a cemetery was installed. The cemetery is filled with marble and stone mausoleums and tombstones, urns, flowers, and statues. Although it's officially a Russian cemetery, many other countries are represented, including England, Germany, and Prussia. Since you are on the top of the hill and the highest point of Menton, the views of the harbor and the town are unparalleled.
Jean Cocteau Museum
Jean Cocteau was a legendary French artist, writer, filmmaker, poet, playwright, and designer in the early to mid-1900s. He fell in love with Menton when he first visited in 1955 and became friends with the mayor. The mayor invited Cocteau to design a town wedding chapel and Cocteau was declared an honorary citizen. Cocteau was invited by the mayor again to design a museum, which he worked on until his death in 1966.
In 2003, a major new museum was dedicated to Cocteau and completed in 2011. The one-story museum is divided into seven parts featuring over 1,000 of Cocteau's works including films, drawings, paintings, designs, and written pieces including poetry. Most of the collection was donated by Severin Wunderman, an American who amassed one of the largest collections of Cocteau's work in the world.
Le Val Rahmeh-Menton Garden
A rich history is as much a part of the beautiful Le Val Rahmeh-Menton Botanical Garden as the plants are. Built for a noble Menton family as an estate with extensive gardens, it was later acquired by a general in the British army, Lord Percy Radcliffe, and his wife. Radcliffe commissioned an architect to redesign the house in a Provencal Italian style. Radcliffe's wife died unexpectedly before the house was completed, and it was named Val Rahmeh, which means "valley of tranquility" in Arabic, in memory of her. The last resident, a wealthy English woman, took over the estate in 1952 and added rare plant species from around the world.
Today the home and garden are owned and operated by the Museum of Natural History. They've been open to the public since 1967.
Some of the rare flower and plant species include Chinese yam, giant Dutchman's pipe, Santa Cruz water lily, Japanese medlar, Mexican weeping bamboo, and a Mickey Mouse plant.
Maria Serena Villa
At one time, Maria Serena Villa was the summer residence of Charles Garnier, the architect who designed the opulent 19th-century Paris opera hall. Perched high on a hill in Menton, Maria Serena Villa has almost four acres of gardens that cascade on different levels going down the hill. Plant and tree varieties include cycas, palm trees, cypress trees, and dracaena. A pond with a stone dragon has delicate water lilies floating in it.
Citrus Festival: Fete Du Citron
A local event in Menton has turned into an international sensation. Menton is known for its citrus, especially its intensely flavored lemons, which are coveted worldwide. Every year, Menton celebrates its citrus by hosting the Fete du Citron during carnival time, from mid to late February. There are daily and nightly parades with extravagantly decorated floats made of citrus fruits and dancers wearing citrus-inspired costumes. Every year there's a theme, and when I attended the festival in 2017, it was Broadway musicals. I still remember the clever floats in the parade and the elaborate displays in the city center including Broadway shows Grease, The Phantom of the Opera, The Lion King, Little Shop of Horrors, Cats, Annie, and Cabaret. Imagine a replica of the car from Grease flying into the air — and it's made of oranges!
The festival, which runs for 17 days, attracts almost 250,000 people, and 145 tons of citrus are used.
Pro Tip: The weather is fairly mild during the day at that time of the year, ranging in the low to mid-60s Fahrenheit, but it cools down at night into the 50s, so, as your mother always said, take a jacket. And be sure to make your hotel reservations at least three months ahead.
Au Pays Du Citron
Au Pays du Citron is a shop that sources products made with the famed Menton lemons. Local Limoncello and lemon-scented jams, marshmallows, honeys, and soap are just a shortlist of their product line.
Shop In Nearby Ventimiglia, Italy
Since Menton is on the Italian border, you can be in Italy in 15 minutes by train. The first town on the Italian side is Ventimiglia, and every Friday there's an enormous open-air market. Not only are there bargain-priced Italian foods such as olive oil, cheeses, and pasta; there are many stalls that sell clothing, shoes, small leather goods, purses, and bags. I got a three-ply cashmere sweater for 50 euros and a pair of Italian leather shoes for 60 euros. Enjoy an authentic Italian meal at the good selection of restaurants near the market.
Best Restaurants In Menton
Since Menton is neighbors with Italy, the cuisine leans mostly on the Italian side with casual restaurants serving pizza and pasta.
Mirazur
One of the few places in Menton that serves only French food, Mirazur, is also a three-star Michelin restaurant. Recognized as not only one of the best restaurants in the south of France, Mirazur has been on top 50 restaurants lists. Chef Mauro Colagreco's menu offers four variations based on the biodynamic lunar calendar. In 2008, Colagreco installed three private vegetable, plant, and herb gardens for use in the restaurant.
Pecora Negra is a recently opened Colagreco pizzeria that serves authentic pizza made in wood-burning ovens.
Le Galion
Located on the port of Menton overlooking the boats and the bay, Le Galion serves up some of the best seafood in Menton. You can dine on the pleasant outdoor terrace or in the more formal inside dining room with its plush decor. Calamari, a mixed grill of fish and vegetables, fritto misto, oysters, and lobster from Brittany are just a few of the long list of seafood specialties. In case seafood isn't your thing, the menu has a selection of pasta and beef dishes.
Where To Stay In Menton
Hotel Napoleon
Just opposite the beach and a 10-minute walk to the center of town, Hotel Napoleon is one of the best and most reasonable places to stay in Menton. The contemporary rooms are spacious, and many have balconies with terrific views of the sea. The hotel also has an outdoor swimming pool and an exercise room.
Villa Philae
A five-minute drive from the center of town takes you to a luxury five-star villa. Villa Philae has three well-appointed suites with en-suite bathrooms. There's also an elegant living room, a roomy and well-equipped kitchen, and an outdoor swimming pool that overlooks Menton and the sea.