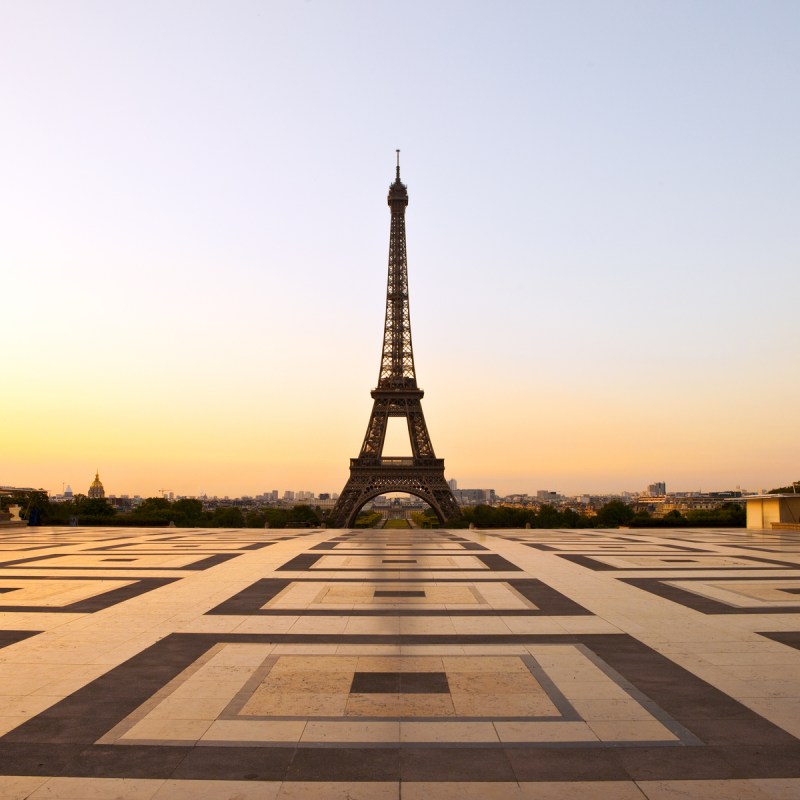 When it comes to romance, Europe does it very well. Be it locations that seem to be innately romantic for so many reasons, like Paris; places inspired by romances in literature, or simply beautiful settings that make you sigh and become all lovely and fuzzy with your significant other, Europe offers romantic spots for all tastes.
Here I have listed some personal favorites, for a myriad of different reasons. I will let you know why I think it is a worthwhile romantic spot, where to go for an extra dose of romance, and some other things to do while you are there for Valentine's.
1. Trocadéro, Paris, France
It is a cliché but you simply cannot go wrong with Paris. There is romance in the air even when it is pouring down with rain, and you sigh contentedly even when just looking at a residential, honey-hued building with a pretty balcony. But ask anyone — anyone not from Paris that is — and it is the Eiffel Tower that ticks all the boxes. And even though I called Paris home for 6 years and, admittedly, started to ignore the Eiffel Tower on occasions, I get it. It is the symbol of Paris, the sure sign that you are in the city of love. Standing at Trocadéro, looking down to the Seine, Pont d' Iena, and the Eiffel Tower behind is one of the most magical views to be had in Paris. And go after dark, on the full hour, when the Eiffel Tower bursts into sparkles for 5 minutes, and you will be forgiven if you go all mushy inside.
Pro Tip: Book dinner at Girafe Restaurant in the Palais de Chaillot, on the left side of Trocadéro when you are looking at the Eiffel Tower, for a romantic dinner with a view.
2. Juliet's Balcony, Verona, Italy
Italy is another one of those destinations where you stumble across romance at every step without even trying. Be it lovely cities, grand landscapes or colorful seaside towns Italy has always inspired romance. One such inspired individual was The Bard himself, Mr Shakespeare, who set the world's best known tragic love story Romeo and Juliet in Italy — Verona to be more precise. A Valentine's weekend in Verona is simply perfect, considering you are not only surrounded by the wine region that produces Prosecco, you have an entire town full of tiny winding roads, romantic squares where to sip said prosecco, but also, last but not least, you can visit Juliet's Balcony. Obviously, Juliet was fictional, but her tragic story comes to life in Juliet's House. Did you know that every day, this place receives letters from lovelorn people from around the world, and often enough, they are answered?
Pro Tip: Go on a romantic Romeo and Juliet walking tour with a local guide and learn more about Shakespeare's inspiration.
3. Grand Canal, Venice, Italy
While you are in Verona, it would be rude not to pop across to Venice, a mere 75 miles away. The name itself is one of those that melts on the tongue and conjures up pure romance: Venice. La Serenissima, the Most Serene Republic, is so beautiful it makes your heart beat faster. Getting lost in narrow alleyways, coming across dead ends on a canal, crossing countless bridges, and marveling at stunning city palaces, in addition to sipping a nice Spritz Veneziano or, considering it's February, a warming hot chocolate in gorgeous Caffé Florian, and your day will be pure romance. For an extra dash of Venetian romance, splash out on a Grand Canal tour in one of those sleek water taxis, all gleaming wood and rather suave drivers in favor of the overrated gondolas.
Pro Tip: For a special occasion, choose a special restaurant. Quadri is an old palace with an incredible interior serving up traditional Venetian dishes.
4. Burgh Island, Devon, UK
Burgh Island is many things to many people: from a tidal island off the Devon Coast and a fabulous summer vacation spot, to a superb and historic Art Deco hotel on its own island, to a spot along a beautiful coast that is rugged and historic and wildly romantic. For me, it is the combination of all of the above. A walk along the coastline with its sandy beaches brings you to this island, which you can reach on foot at low tide, and then climb up to the top of the island, past the ancient pub and the luxurious hotel, across solid meadows with flowers in the summer, but equally stunning in winter. The views from here are breath-taking, and the walk past the ruins of a chapel brazing, but nothing if not romantic.
Pro Tip: Is there anything better than to snuggle up with your partner after a windy walk in an ancient pub with a glass of warm wine in your hand? Head straight to the Pilchard Inn, which has been on the island since the early 1300s.
5. Place Saint Armand, Rouen, France
There are so many cute spots in Rouen, it is difficult to select the best. Rouen is filled with lovely corners, from old cathedrals that inspired Monet, to tiny canals in the middle of the city, crooked and colorful houses in the half-timbered style, an ornate clock, and so much more. It is a perfect location for walking hand-in-hand on Valentine's Day. I particularly love the little Place Saint Armand in the heart of the old town for its tininess, its small restaurants, and its raised area on which to sit and have dinner in a lovely romantic spot. Surrounded by half-timbered buildings, this is medieval Europe at its best, while also catering to our modern desires, such as good food, excellent wine, and a bit of antiquing, which always makes for a romantic diversion and, more often than not, a souvenir that will always remind you of this trip.
Pro Tip: For a superbly medieval as well as romantic stay, head to the Hotel Bourgtheroulde, stay the night and indulge in a few select couple treatments in the in-house day spa and hammam after your day out exploring.
6. Gorey, Jersey Island
The tiny village of Gorey, nestled around a small fishing harbor, and presided over by an enormous, 800-year-old fortified castle is so romantic, it hurts. There is not much to do, except walk along the coast, climb up to the castle, look down from the tower over the island of Jersey with France in the distance, and sit in the handful of cafes and enjoy a lovely English afternoon tea. But then, what more do you need for romance? A picturesque setting, some stunning scenery, a glorious backdrop, and maybe a chateau to stay for the night? Just a couple of miles north from Gorey, you can spend some time in a glorious countryside chateau, Chateau la Chaire complete with four-poster beds, beautiful private gardens, and woodlands for walks. With just a few rooms, it allows privacy, while the in-house restaurant and bar mean you can snuggle up for the night without having to leave again.
Pro Tip: Nearby you'll find Jersey Zoo, founded by Gerald Durrell. A superb zoo that specializes on rare and endangered species and is trying to create natural habitats without many fences, you might as well say hello to a friendly monkey outside its enclosure.
7. The Canals Of Bruges, Belgium
Sauntering along the canals of Bruges is a romantic treat like no other. The typically Flemish canal houses line the canals, willow trees overhang walled gardens into the water, tiny bridges invite you to cross to the other side, while small parks invite you to stay a while. Quaint cobblestoned streets are full of history and lined with inviting cafes and restaurants. Bruges is picture-postcard-perfect and invites you to stroll and get lost in the moment. But this is Belgium, so the romance also comes with the added bonus of reportedly the best beer in the world, the best fries in the world, the best chocolate in the world, and the best waffles in the world. And, according to a regional proverb, as love goes through the stomach, you are in the best place for love and romance. For fabulous food, take an after-dark walk along the lit canals, and head to the Belgian Pigeon House located in a 13th century gabled mansion.
Pro Tip: For even more romance and a superb place to snuggle up warm after a chilly Valentine's Day by the canals, the Canal Deluxe bed and breakfast offers not only cozy rooms, but also large open fireplaces with roaring fires and cozy armchairs in front of them.
A Final Word
Valentine's Day might be filled with heartwarming romance, but in Europe, it is also in the middle of the coldest month, so don't rely on the fire of burning love to keep you warm and pack wisely. Bring layers to be shed when you enter cafes and restaurants but keep you warm and dry outside.
If you're looking for more romantic destinations like these: