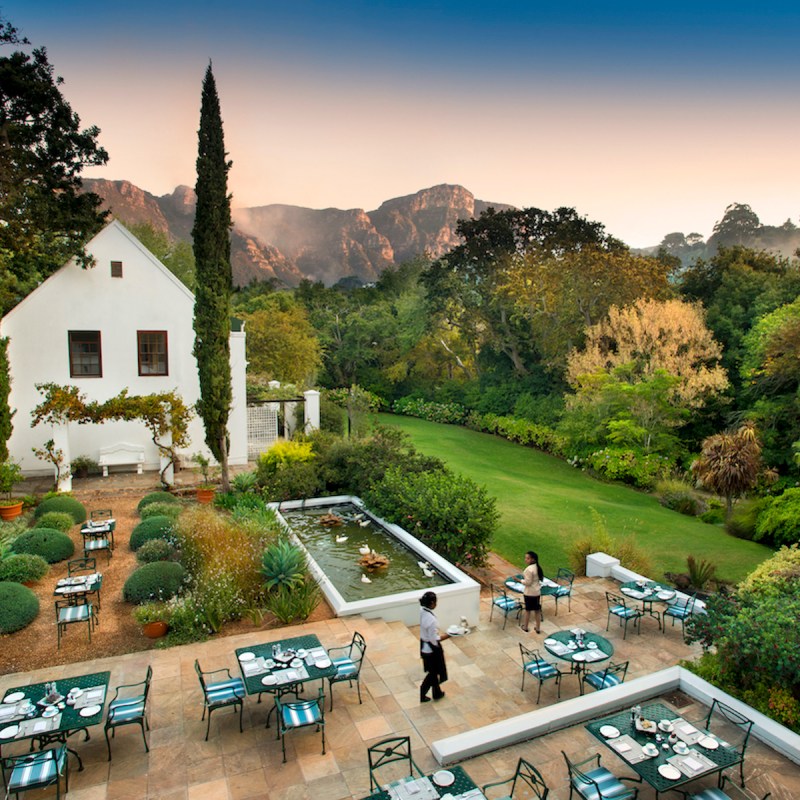 Sandwiched between a rugged mountain range and the icy Atlantic Ocean, Cape Town, the oldest and second-largest city in South Africa, is one of the most popular tourist destinations on the continent. It is also one of the most beautiful cities in the world. Voted "Best City in The World" by the Telegraph, for 7 years in a row, this is a multicultural, cosmopolitan city, with spectacular natural surroundings, superb beaches, exceptional food, fantastic and exciting things to see and do, and a mild, Mediterranean climate.
Beautiful, stylish, and quirky accommodation options abound all over Cape Town, so where does one start when booking a place to stay? To save you the legwork, I'm going to give you the rundown on my six favorite places to stay in Cape Town, using the following criteria: great location, fantastic design, great service, inconspicuous luxury, and unique personality.
1. The Silo Hotel
Where: V&A Waterfront
The Silo Hotel is a luxurious celebration of art, style, architecture, and design. Built in the grain elevator section of a historic silo complex, the Silo Hotel soars above the surrounding area. The hotel occupies six floors above the Zeitz Museum of Contemporary African Art (MOCAA), which houses Africa's largest collection of contemporary art. With its impressive architecture, especially its eye-catching geometric windows, this magical hotel towers over the famous V&A waterfront and is surrounded on all sides by the natural wonders of Cape Town. It's not hard to see why it won the award for Best City Hotel in Africa in 2020.
The Silo is renowned for its fabulous High Tea, the perfect place to spoil a friend or family member on a special occasion — I've celebrated a number of my friends' birthdays here. The rooftop has a swimming pool and is a lovely place for sundowners. Aside from sparkling wine on arrival, and delicious eggs Benedict for breakfast, one of my favorite things about the hotel is actually the bath! A freestanding bath, in a bathroom with expansive views of Table Mountain, Signal Hill, the V&A waterfront, and out over the ocean — I can spend hours simply lying in the bath, immersed in the views, watching the sunset and the city lights turn on until the water gets cold and my fingers and toes have shriveled to raisins!
Pro Tip: If you can drag yourself away from the hotel, the Zeitz MOCAA is well worth a visit. The exhibition space covers almost 20,000 square feet, over nine floors, with 100 gallery spaces. Set aside a full day to visit.
2. The Twelve Apostles Hotel And Spa
Where: Camps Bay
The Twelve Apostles is a five-star boutique hotel at the foot of the Twelve Apostles Mountain Range, from which, obviously enough, the hotel takes its name. Its location is what sets it apart from a lot of other accommodations in Cape Town. Nestled below the mountains, surrounded by beautiful native flora, and hovering above the Atlantic, the glistening ocean provides the perfect backdrop to this coastal sanctuary. The Twelve Apostles is close enough to the city to be part of it, but remote enough to feel like you are surrounded by nature. With four different restaurants and bars to choose from and a terrace that probably has the best ocean view from a hotel in Cape Town, you really can't go wrong with The Twelve Apostles.
My favorite place in the hotel is the terrace, jutting out toward the ocean. The uninterrupted views from here are spectacular; both looking back along the coastal beaches and especially out to sea. Sunset from here is truly fantastic, watching the sun sink slowly toward the horizon, lighting the sky vivid orange, red, and pink; and even better with a chilled glass of South African wine, a craft beer, or one of the locally produced gins that Cape Town is getting a name for.
3. The Winchester Hotel
Where: Sea Point
Situated along the Sea Point Promenade, on Cape Town's so-called platinum mile, The Winchester Hotel, set against the backdrop of the mountains and overlooking the swell of the Atlantic Ocean, is an exclusive, privately-owned, 4-star hotel. The hotel has earned a reputation as one of Cape Town's iconic hotels, with its original Cape Dutch architecture, personalized hospitality, and professional service. I first visited the Winchester Hotel a decade ago, for afternoon tea in the hotel's beautiful courtyard, with my boys, who had just started boarding school in Cape Town. I loved its quiet understated elegance. I've recently been to stay again and was seriously impressed with the hotel's new look after some just completed renovations. A crisp, classic black-and-white color scheme, with beautiful, white paneled walls and decorative ceilings, striking geometric floor tiles, all accented by quirky décor and antiques that highlight the building's history and personality.
The hotel is close to the V&A waterfront, the beaches, and all of Cape Town's sights. In a destination such as Cape Town, with so much to see and do, it's unlikely you'll be spending much time in your room, but just in case you do, all the rooms have either sea or mountain views, ensuring you don't forget where you are!
4. Table Bay Hotel
Where: V&A Waterfront
The Table Bay, a landmark in Cape Town, sits in a prime spot at the tip of the V&A waterfront, with fabulous views of the working harbor, Table Mountain, and the Atlantic Ocean, through huge picture windows on all sides.
Michael Jackson, the Obamas, Charlize Theron, Chris Rock, and Sean Connery have all walked through this hotel's grand lobby. Though perhaps a name more important to the history of the hotel is that of Nelson Mandela, who opened the hotel in May 1997, when he was still president of South Africa.
The hotel has all the amenities you would expect, from pool to business center, even having direct entrance to the V&A shopping mall, making it super convenient and especially good for first-time visitors to Cape Town, or those nervous of urban exploration. The waterfront is the place for restaurants and food stalls, buskers, an aquarium, shopping for everything from couture to curios, and booking tours out on the water or up in a helicopter. If it's culture that you want, there's a museum about Robben Island and, at the other end of the waterfront is the jumping off point for tours to the island itself, where Nelson Mandela was imprisoned for years.
Pro Tip: If you're looking for cutting-edge style, this hotel probably isn't for you as it's much more of a traditional, stately kind of place.
5. The Cellars-Hohenort Hotel
Where: Constantia
The Cellars-Hohenort, a five-star hotel, is situated only 15-minutes' drive from Cape Town's city center. This small but perfectly formed hotel boasts breathtaking views of the Table Mountain range and the property's 9 acres of award winning, extraordinary gardens. The hotel somehow combines modern luxury with historic charm. Set in the picturesque Constantia Winelands, with a backdrop of gardens and vineyards and Table Mountain in the distance, this is the perfect place to recharge your batteries after a busy day in Cape Town
At the risk of sounding like a broken record, or someone unhealthily obsessed with High Tea (I promise you it's not my only criteria for fabulous hotels!), I am going to tell you that High Tea at Cellars-Hohenort is definitely something not to be missed! I went for tea there recently, and invited a friend I hadn't seen for a couple of years (thanks COVID!), and even though she was late, an hour late in fact (I'd forgotten how tardy she could be), nothing could dampen my High Tea experience. Granted, a glass of sparkling wine while I waited soothed any potential distress or irritation, but the food, when she finally arrived (with effusive apologies about getting lost), was amazing. We ate and drank to our heart's content, a platter of savory treats followed by a three tiered tray of sweet temptations, we did our best to do it justice, but couldn't eat it all.
6. Pineapple House
Where: Sea Point
Looking for a change of pace? Looking for something a little different? Looking for something a little stylish and modern? Then check out this quirky, pink-walled boutique hotel. Warm and welcoming, colorful décor and deluxe comfort, the hotel is just a short walk from bars, restaurants, shops, and the buzzing Sea Point Promenade, where I've spent hours running over the years. Running or walking along the Promenade is a Cape Town must-do and a popular activity with locals and tourists alike, I strongly recommend you join them.
The hotel's owners believe pineapples are synonymous with luxury and leisure the world over, and so named their stylish little boutique hotel for them. There are only 9 rooms here, so you are never going to be lost in a crowd of guests, and you can count on personal attention.
So there you have my roundup of favorite places to stay in Cape Town.
Cape Town is a city that offers a captivating combination of laid-back beach town and edgy urban lifestyle, a world city steeped in history and set in one of the most magnificent natural settings. This is a little city that packs a big punch. For years, when my boys were at boarding school there, Cape Town became my second home, and I enjoyed every minute of every visit. I hope you will enjoy your travels there as much as I do.
Remember to experience these other Cape Town adventures: