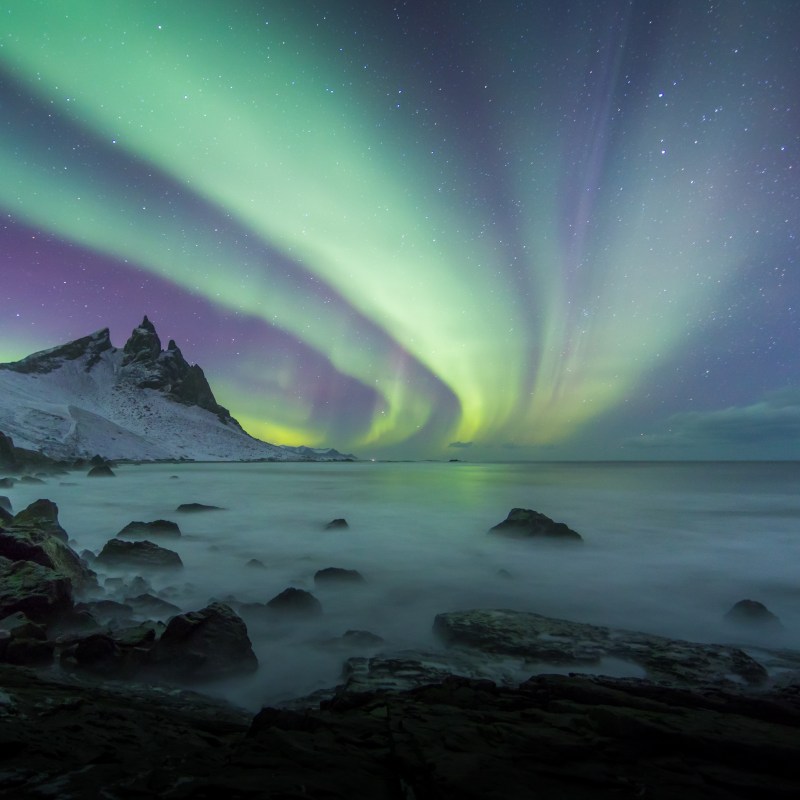 Iceland is one of the best countries to see the dazzling spectacle of undulating colors called the northern lights. For those who have always dreamed of them, just choose the right season, the right time of evening, and the best viewing position, and you may well hit the jackpot.
When To See The Northern Lights In Iceland
In order to experience the best of the northern lights, there need to be clear skies, little light, and strong solar activity. The best viewing season in Iceland is from October through March (although I saw them clearly at the end of September). The prime time to see the lights is between 11 p.m. and 2 a.m. — the darkest time of the night. That said, other elements, such as cloud cover and storms, determine activity.
Here is a good online resource for checking your chances once you are in Iceland. And don't forget to ask at your hotel desk — they usually know if it will be a good night to see the lights.
What To Bring And How To Dress
Clothing that you need — depending on the season, the weather, and the activities you plan — includes:
An insulated jacket or a rainproof/windproof jacket (or just a fleece in warmer weather)
Thermal underwear
Sturdy walking shoes or waterproof hiking boots (test them out beforehand and you won't have to limp through town, as I did)
Warm socks
Gloves, scarf, and hat
A swimsuit
Sunglasses
Sunscreen
You can pick up what you are missing in Reykjavik shops, but you should be aware of how expensive good quality warm weather gear (and almost everything) is in Iceland.
To Tour Or Not To Tour
Tours to see the northern lights are widely available from Reykjavik, if you don't drive or don't want to face the challenges of navigating the roads. There are guided tours available in (and on) everything from buses, jeeps, and vans to boats and ponies. A smaller or private tour will enable you to leave the crowds behind but may be more expensive than are bus tours (which may stop at all the same crowded sites). If you decide on a tour, they can be booked online before or after you arrive, through your hotel, or at one of the information offices in Reykjavik on Laugavegur, the main street in Reykjavik.
Seeing The Northern Lights By Car
You have more freedom to wander where you like in a car. It is best to rent cars online ahead of time for pickup either at Keflavik airport, about 40 minutes from Reykjavik, or in the city. A four-wheel-drive vehicle is recommended in the winter (and sometimes during fall and spring), due to ice and snow on the roads. Gas is expensive and not always available on the road; information about driving and the location of gas stations are available online.
Pro Tips
There are Costco gas stations in Iceland, so be sure to bring your card. One Costco Iceland station is about six miles south of Reykjavik in the suburb of Gardabaer. To travel to vantage points in and near Reykjavik, you can walk, drive, hail a taxi (no Ubers here), or hop on a public bus.
Best Places To See The Northern Lights, From Nearest To Farthest
In And Near Reykjavik
Steps away from the City Center is the Old Harbor, where a number of boats vie to take tourists to view the northern lights at sea. Some trips provide online photographs of the lights — certainly better than the ones I took on my iPhone. Most places provide waterproof and warm jumpsuits onboard, but make sure you bring a hat and gloves. Trips last about two hours, and many boats are wheelchair accessible.
Although not as dark as out at sea, you may be able to spot the lights near the Harpa Concert Hall, which at night features shifting panels of multicolored waves on the building's facade, or at Perlan, a fascinating exhibition center situated on a hill just outside of town.
Just 10 minutes by car or a short ride on the public bus, the Seltjarnarnes Peninsula extends into the ocean, with the famous Grotta lighthouse on a small island off the tip. Don't walk out to the lighthouse unless you check the tides schedule or you may get stuck!
Pro Tip
Places to stay in Reykjavik include the luxury Reykjavik Konsulat Hotel, the mid-range Reykjavik Residence (especially good for families), and a popular Airbnb dubbed Beautiful Reykjavik Studio. And don't miss my favorite hot dog stand, Baejarins Beztu Pylsur (translation: "The best hot dog in town").
Thingvellir
From 930 A.D. to 1789 A.D., Thingvellir was the site of Iceland's first parliament and is considered the birthplace of the country's democracy. A UNESCO World Heritage site, it is Iceland's oldest national park and a natural and cultural wonder.
Located less than an hour east of Reykjavik on the Ring Road, Thingvellir is Tourist Central every day and is the first stop on most guided tours. However, at night it is quite a different world. Drive past the tourist center for about 10 minutes and you will reach a hill with views of the national park. Then, if the conditions are right, look north and you'll have a lovely view of the lights.
Thingvellir is also the point at which two continental tectonic plates meet. During the daytime, you can walk alongside the gorge at Almannagia, which marks the eastern boundary of the North American plate (and is one of the sites in the park that was used in Game of Thrones).
Pro Tip
Just 15 minutes from the park is the modern Ion Adventure Hotel, which is designed so that all of its rooms (and the bar) have windows from which to see the northern lights.
Seljalandsfoss
Photo buffs often flock to Seljalandsfoss waterfall for dramatic pictures of the northern lights. Situated off the Ring Road about 1.5 hours from Reykjavik, Seljalandsfoss has one of the most famous waterfalls in the country, and tourists vie to walk behind the waterfall. (Note: Walk with care, especially at night. The ground is especially slippery and water spray may freeze on your camera's lens).
Pro Tip
Located about a half-hour east of Seljalandsfoss on the main road, Hotel Ranga is a luxury hotel with a stargazing observatory on site.
Vik
The small village of Vik is just over 100 miles from Reykjavik on the Ring Road. Here you'll find the famed Reynisfjara black sand beach, with its basalt columns, cliffs, caves, and undulating volcanic formations. Whether you watch the northern lights from the iconic Reyniskyrka church on the hill opposite or from the beach itself, you will have a life-enhancing experience when the sky comes alive with color and movement.
Jokulsarlon
About five hours from Reykjavik on the south coast, Jokulsarlon is a dramatic glacial lagoon and one of Iceland's most popular attractions. The coastline here is known as Diamond Beach because of the glittering ice that floats ashore. Wildlife abounds in and around the sea, with seals, Arctic terns, and skuas all plentiful.
Crowds are sparse in the winter, especially at night, but seeing the northern lights hover over the glacial lagoon can be pretty jaw-dropping. Jokulsarlon's unique topography has been featured in several James Bond films as well as in Lara Croft: Tomb Raider and Batman Begins.
Pro Tip
Some nearby places to stay include Guesthouse Skalafell and Fosshotel Glacier Lagoon.
Kirkjufell
Some call Kirkjufell mountain (1,500 feet above sea level) the prime place to photograph the northern lights in Iceland. Two and a half hours from Reykjavik on the north shore of the west coast's Snaefellsnes Peninsula, Kirkjufell ("Church Mountain") is a dramatic peak formed by many volcanic eruptions. The shape is instantly recognizable to Icelanders, with its sharp top and long curved sides — and also recognized by fans as "the mountain like an arrowhead" on Game of Thrones. Even though the area may seem remote, lights watchers gather early on clear nights in season. The town of Grundarfjordur is nearby and is the base for golf, hiking, or horseback riding trips.
Pro Tip
Although about 30 minutes away, Hotel Budir is a high-end destination hotel with a lovely view of the sea, a lava field, mountains, and the Snaefell Glacier. It also boasts a popular restaurant that specializes, unsurprisingly, in fish.
Asbyrgi Canyon
Asbyrgi Canyon, or "Shelter of the Gods," is part of Vatnajokull National Park, the second-largest national park in Europe. It is about a 6.5-hour drive from Reykjavik. Since there are few people in this remote area in the winter and it is thus removed from light pollution that clouds aurora viewing, it is an especially good place for seeing and photographing the northern lights.
Activities near the canyon include camping, land and ice-hiking, pony-trekking, and snowmobile rides. Those who are less active, or just want a more relaxed activity, can drive around the 160-mile Diamond Circle, a loop that includes Husavik, Dettifoss Waterfall (Europe's most powerful), Lake Myvatn, and Asbyrgi, with stops along the way.
Pro Tips
Husavik has several reasonable hotels and guest houses: Fosshotel Husavik, Husavik Cape Hotel, and, in Asbyrgi, Dettifoss Guest House.
Iceland is a marvel for the day tripper or the die-hard explorer, whether or not you get to see the northern lights. If you rent a car, plan on at least 10 days (or more) to travel the country, with time to stop and experience the climbs, hikes, and culture; however, a week will provide you with a good introduction to this fascinating country and an enticement to return. For more Icelandic inspiration, consider: