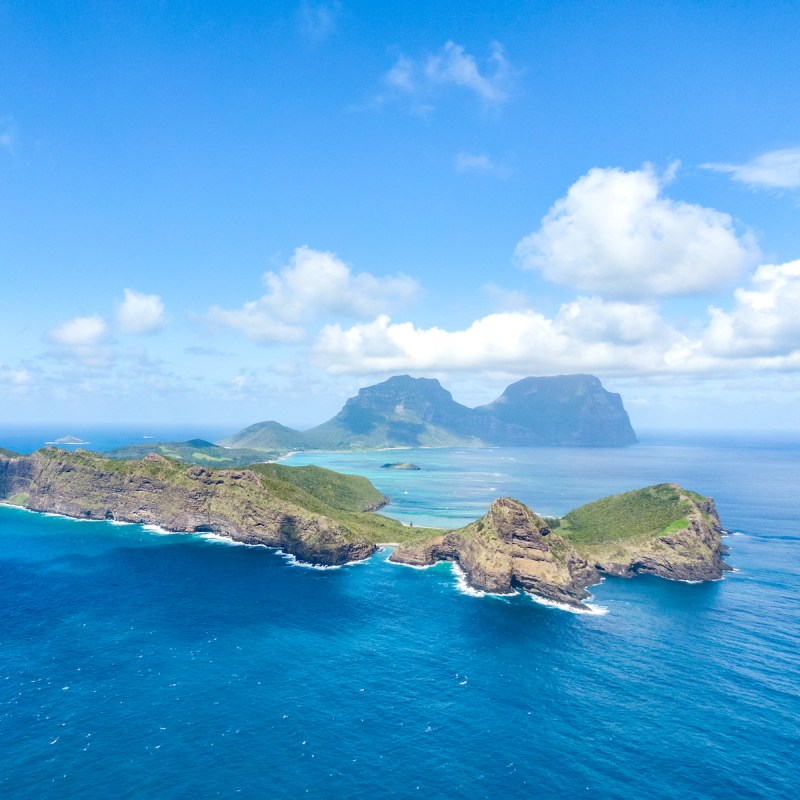 It's imperative to feel comfortable and safe while traveling.
Medjet
provides premier air medical transport, travel security, and crisis response memberships, providing peace of mind for an affordable price.
If you haven't heard of Lord Howe, you're not alone. It's one of Australia's best-kept secrets. Lord Howe Island, a remnant of a now extinct volcano, dating back 7 million years, has been eroded to one-40th of its original size. Now 7 miles long and less than 1.5 miles wide, this tiny, idyllic boomerang-shaped sliver of land is just 430 miles northeast of Sydney. The island wraps around a turquoise lagoon and is rimmed by the world's southernmost coral reef. Listed as a UNESCO World Heritage Site for its spectacular volcanic geography, rare endemic fauna, and native plant species found nowhere else on earth, this is a piece of paradise. British natural historian Sir David Attenborough described the island as "so extraordinary it is almost unbelievable… few islands, surely, can be so accessible, so remarkable, yet so unspoilt." This is a spectacularly beautiful island with magical mountains, crystal-clear waters, and wonderful beaches, and with a maximum of 400 guests allowed on the island at any one time, it's easy to find your own secluded piece of this paradise.
So what does one do, and where does one start when exploring this hidden gem of the Pacific Ocean? Here are my suggestions for the top things to do on a visit to Lord Howe Island.
1. Scuba Dive
Surrounded by Marine Park, Lord Howe Island's marine life is pristine and plentiful, and crystal clear waters attract divers from around the world, who come to explore some of the best dive sites on the planet. The coral reefs at Lord Howe Island are the most southerly, and among the most spectacular, in the world.
The island is located at the crossroads of five major ocean currents, including the warm East Australian Current, which runs down from the Great Barrier Reef and mingles with Lord Howe's cooler waters. This mixture creates a rich and unusual collection of critters and corals that are not normally found rubbing shoulders, like temperate tuna and salmon, alongside tropical angelfish, plus 500 other species of fish and 90 types of coral. Lord Howe's underwater topography of trenches, caves, and volcanic drop-offs adds to the awe-inspiring diving experience at the island.
There are over 100 dive sites, from "resort dives" in shallow water from the beach to more adventurous locations such as the island's most spectacular dive site, under the vertical rock spire of Balls Pyramid — the world's tallest sea stack, located 16 miles south of the island. Advanced divers (certification required) can expect to see massive schools of Violet Sweep, Amberjack, Kingfish, Silver Drummer, Rainbow Runners, Trevally, and occasionally Marlin, Dolphins, and Wahoo. Try Pro Dive if you are keen to dive on your visit. 
2. Snorkel 
Lord Howe Island sits on the southernmost part of the Great Barrier Reef, so there is some exceptional snorkeling to be done, and snorkeling amongst a myriad of colorful fish is the norm. An extensive barrier coral reef protects a broad sheltered lagoon and sandy beach on the western side of the island, while fringing coral reefs lie immediately offshore of the beaches on the eastern side. Lord Howe is the only place in Australia where such a diversity of fish, coral, algae, and associated creatures can be seen while snorkeling just a few meters from the beach.
One of my best memories of Lord Howe Island is wading into the crystal clear water at Ned's Beach with my then very young children. We were immediately surrounded by a feeding frenzy of fish. Nowadays you can pay $1 for some fish pellets, but on that particular trip it was Easter, and we were armed with some rather stale Hot Cross Buns, which seemed to be very popular with the fish.
Snorkeling is also wonderful at Ned's Beach, where you can swim amongst these thousands of fish once you're done feeding them. Snorkeling at Old Settlement Beach can be rewarding, as you'll often find yourself in the company of magnificent green turtles. The calm waters of the lagoon are ideal for kids and beginners alike, as here you can paddle at the edge or snorkel above colorful corals just feet from the shore. Tour operators like Reef and Beyond offer guided snorkel tours for small groups to a number of areas where rare and unusual species are reliably seen. You can also rent snorkeling gear from the dive shops or at Ned's Beach where there are masks, fins, and snorkels to use for the cost of your contribution to the so-called honesty box.
3. Birdwatch
Lord Howe Island is one of Australia's premier bird-watching destinations. Almost 170 species of sea and land birds live on or visit the island, and hundreds of thousands nest here each year. You can watch red-tailed tropicbirds performing their acrobatic, airborne courting rituals from the Malabar cliffs. At dusk, you can witness thousands of flesh-footed shearwaters (known locally as Muttonbirds) returning from their daily foraging at sea. Walk the Little Island track between March and November and view the spectacular aerial courtship displays of one of the world's rarest birds, the Providence Petrel. Masked Boobies can be seen nesting along the sea cliffs at Muttonbird Point all year round, and if you're lucky you'll see the endemic Lord Howe Island woodhen, a small, endemic, flightless bird, saved from extinction by local conservation efforts. 
Local guides like Lord Howe Nature Tours can show you the best locations and provide information on different species. Whether you're a seasoned birdwatcher or a novice with a passing interest, it would be nearly impossible to leave this island without coming across some of the unique bird species — so you might want to pack your binoculars!
4. Hike
Some of the world's best hikes and day walks are right here on Lord Howe Island, with diverse tracks so there's something for everyone.
Mt Gower: You'll need a fair degree of fitness and no fear of heights to conquer this one, but if you have the stamina, I'd highly recommend doing the eight-hour return hike to the top of Mt Gower (you will need a guide for this). Located at the southern end of the island this 2,870-foot mountain contains one of the tallest sea cliffs in Australia and is covered with cloud forest and rainforest. It's a steep and exposed track and definitely not for the faint-hearted — get ready for cliffs, ledges, ropes, and dizzying sheer drops, but also plenty of wildlife and spectacular views. This hike is rated one of Australia's best day walks. Jack Shick, a fifth-generation islander and third-generation mountain guide with Sea to Summit Tours can take you up Mt Gower.
My other favorite hikes include one from Ned's Beach to Malabar Hill, a relatively short hike (25 minutes to get to the top) but it offers incredible views and is great for sunrise or sunset. Another great hike is up to Goat House Cave. It's a short hike, but you will be relying on ropes, so not for the faint-hearted. Last but not least, hike to Kim's Lookout for stunning views. Several bird species call this area their home, and it is rather spectacular to see them flying overhead.
5. Bike
Lord Howe offers great cycling, and with the island's compact size and eight miles of scenic roads and tracks, this is an excellent way to explore. Roads and tracks wind around the island through lush rainforest and, with a speed limit set at 15 miles per hour, cyclists rule the roads and pedal power is the favored mode of transport. The island lends itself to discovery on two wheels, with visitors and locals alike using bikes to tour the island and reach the beaches, shops, and restaurants. Bikes can be rented at reasonable rates on the island, with some lodges and guest houses providing guests with bikes for their stays. Note that helmets are required at all times.
6. Kayaking
Kayaks are a great way to explore the sheltered water of Lord Howe Island's 3.5-mile-long lagoon. You can kayak solo or with family and friends (double and single kayaks are available for rent. I'd suggest circumnavigating Rabbit Island, or taking a picnic lunch and exploring the beaches of North Bay and Old Settlement Beach.
7. Get To Know The Locals
With only about 350 residents, and a maximum of 400 tourists allowed at any one time, there's only ever a maximum of 800 people on the island, so Lord Howe maintains a small-town feel. Everyone knows everyone else, and their business, and it's impossible to walk down the street without receiving greetings from everyone that passes. The friendliness of the small community means that Lord Howe is virtually crime-free, there are no locks on doors, and even the bar fridge at the Pinetrees Lodge Boat Shed, a great place for a sunset drink, operates on an honesty system.
8. Fishing
There are dozens of hot spots for hooking monster pelagics, such as Lord Howe Kingfish, Yellowfin Tuna, and Wahoo, as well as several species unique to the seas around the island. There is a virtually untouched game fishery, featuring Black, Blue, and Striped Marlin, half an hour from the island. A variety of dedicated charter fishing boats operate from the island, with half, full-day, and private charter tours on offer. All boats provide quality fishing tackle suited to Lord Howe's conditions.
9. Discover The Island's Endemic Stick Bug
More than 1,600 terrestrial insect species have been recorded on Lord Howe, of which approximately 60 percent are found nowhere else in the world. One of the most spectacular insects is the Lord Howe Island Phasmid, a large stick insect — once thought to be extinct, but rediscovered in recent years on Balls Pyramid. These bugs are quite large and are sometimes called land lobsters.
10. Learn About The Island's History
The island may be small, but it has a fascinating history, and there's a small but intriguing Lord Howe Island Museum covering local heritage, history, shipwrecks, and nature. The curator, Ian Hutton, is both resident naturalist and author of 10 books on the island, including A Guide to World Heritage – Lord Howe Island.
There's plenty more to see and do, from scouting for sea turtles to a round of golf, a glass-bottom boat tour, sampling local gin infused with wild lemon and hibiscus, or stargazing in a night sky that's so dark that the stars seem to shine much brighter than just about anywhere else in the world. One of the best things about it being such a tiny island is that you can witness both sunrise and sunset!
I've visited Lord Howe Island several times over the years, starting when I was a young child and most recently with my own children and their grandparents (my parents). I can happily say that the island has changed very little in the intervening years. It remains charmingly retro, uncrowded, undeveloped, and strongly community oriented and is even more environmentally pristine than it was 40 years ago.
Pro Tip: A trip to Lord Howe Island will give you a digital detox. With no mobile phone coverage and limited Wi-Fi, you can completely escape from the stresses of work and life.